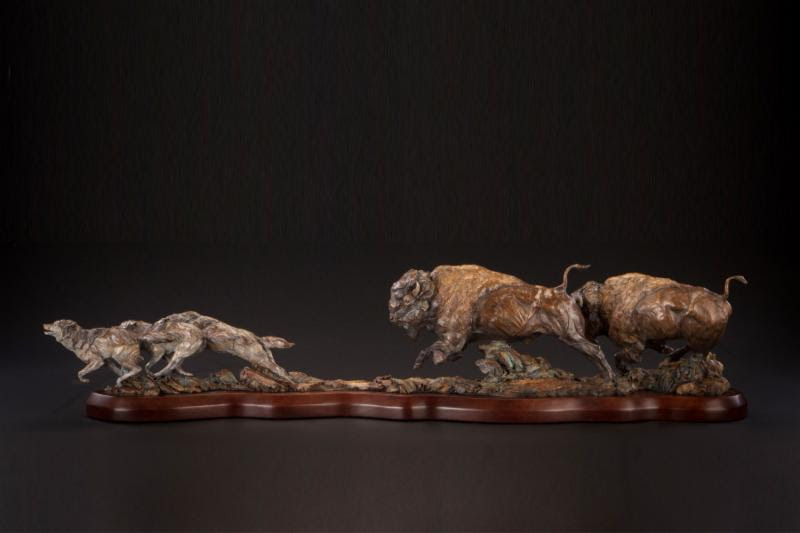 02 Apr

New Art At The Mountain Trails Gallery

in

Mountain Trails Gallery

would like to share two new precast pieces from wildlife bronze artist

Ken Rowe

.  Additionally, a selection of some staff favorites from Ken Rowe are also listed below.
"From Here to the Horizon – Precast" 21″H x 24″W x 11″D, Bronze Ed. 35, $10,500 (deposit of $5,250 required)
The trail of the bison seemed to stretch to the horizon and beyond in days long gone. Bison herds roamed the prairies of North America for tens of thousands of years and have survived everything from the Ice Age to near extinction from over-hunting in the late 1800s and early 1900s.
In 2016, the bison finally received the recognition they deserve through passage of the National Bison Legacy Act which makes the North American bison the first official mammal of the United States.
According to the National Bison Legacy Act, the bison is designated the official mammal of the United States to honor their history and significance to the economic and spiritual lives of many Native American tribes. For thousands of years, Natives Americans hunted bison and relied heavily upon them for their survival. Every part of the bison was used for some purpose; nothing was ever wasted. This mammal not only provided food, but also clothing and shelter, with their bones and horns made into tools and weapons. For many tribes, the bison was and still is central to their way of life. Buffalo horn headdresses were traditionally worn by male Lakotas while participating in the Buffalo Dance.
In 1908, President Theodore Roosevelt signed legislation that allowed for federal funds to purchase land that would be suitable for the conservation of the bison. This legislation was the first time in American history that the U.S. Congress allocated tax money to help conserve wildlife.
"Answering the Challenge – Precast" 24″H x 20″W x 10″D, Bronze Ed. 35, $4,200 (deposit of $2,100 required)
"Anticipation" 18″H x 16″W x 32″D, Bronze Ed. 35, $12,000
PO Box 4702
Jackson, Wyoming 83001
(307) 734-8150