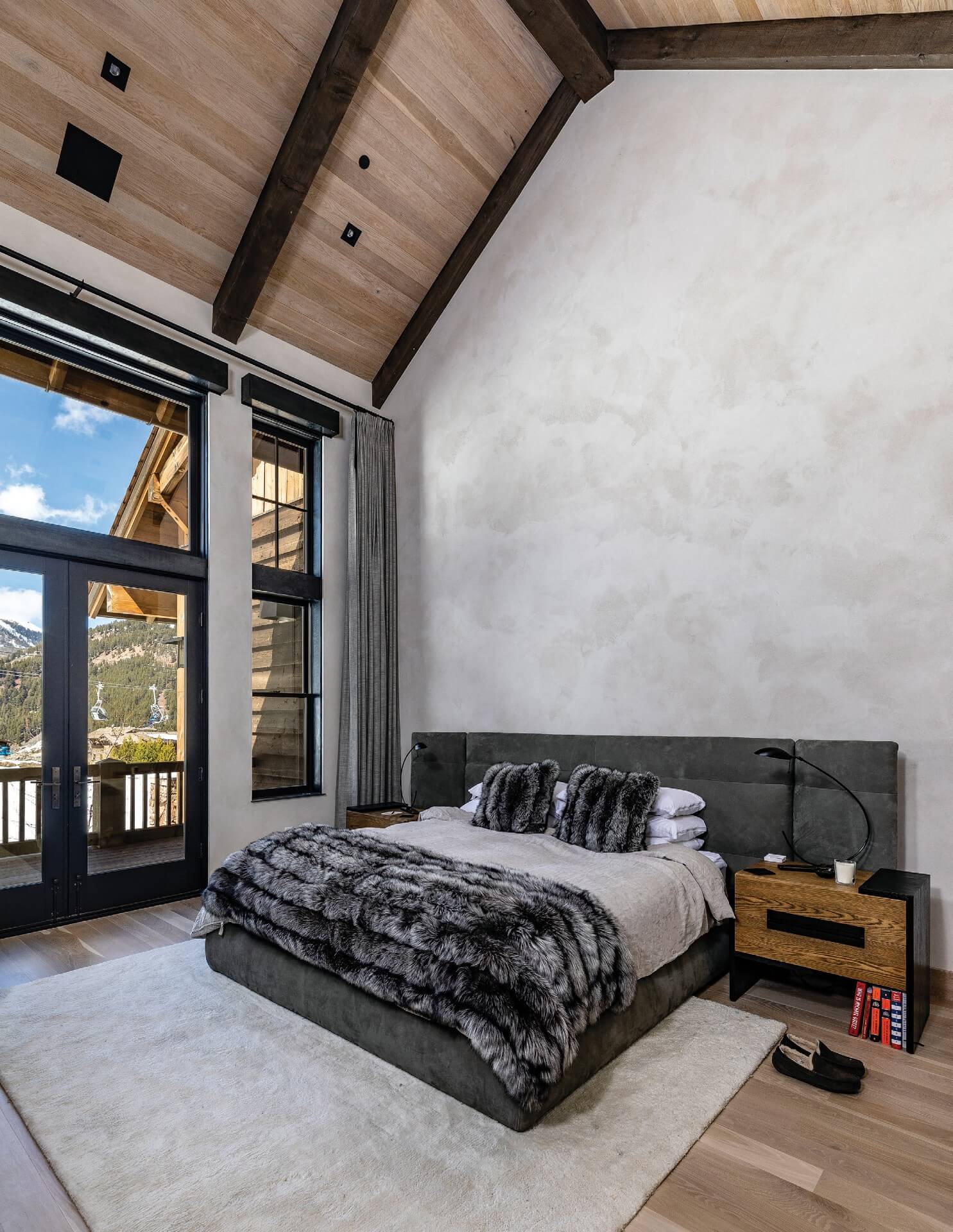 When a wall calls for the sophistication, depth, and timelessness of hand-applied plaster — as this bedroom in a Yellowstone Club home did — New Age Artisans is southwest Montana's go-to authority
08 Apr

New Age Artisans: Master of Plaster

in

For Jeremy Mistretta, it's been a long journey: from growing up back East to attending college in Bozeman, Montana, dabbling in freelance writing, starting a painting business, and, ultimately, studying the art of Tadelakt (an artisanal wall surface created with lime-plastered black soap made from olives) in Morocco, where he was mentored by local craftspeople. But each step of that journey had a role to play in his eventual mastery of the ancient art of plaster.

Mistretta didn't set out to become southwest Montana's expert on plaster techniques. Nevertheless, New Age Artisans — the company he founded in 2006 that now includes 10 employees — has become the go-to source for richly textured walls in design projects that call for warm, timeless backdrops for art, furniture, and living.

Plaster is imbued with intangible aesthetic qualities, according to Rain Houser and Skye Anderson of Urbaine Home, who specify plaster walls in their one-of-a-kind interior design projects as often as budgets permit. "We love the depth and soul that plaster lends to a space," says Houser. "It really changes the entire dynamic of a room. Walls that were flat and nondescript suddenly turn into something that feels alive. It's a pretty special material."

Mistretta initially found his way to this special material through painting. After doing restoration painting work when he was younger, starting a business in his early 20s seemed logical. He soon realized, however, that it was quite the contrary. "I was in way over my head; I had lots of clients and lots of responsibility, and I found out I didn't really like painting," Mistretta recalls. "I was always waiting for drywallers to come fix things. I got tired of waiting and learned to do it myself. I didn't really like drywall, but two negatives made a positive: You have to have color knowledge for painting and you have to have tool knowledge for drywall, and you need both for plaster. I made a cognizant decision that I was no longer going to be a painter, and decided instead to be a plasterer."

For five or six years, Mistretta received his education "in the School of Hard Knocks," but he persevered because, in addition to its aesthetic qualities, plaster is prized for its durability and longevity, as well as its ability to outperform drywall in insulation, soundproofing, waterproofing, fireproofing, and mold resistance. "There are a few different types of plaster: clay, lime, and gypsum," he explains. "I started with clay plaster, which is kind of a gateway drug for the plaster world because it's easy to apply. But I found it wasn't as durable as I wanted it to be, so I started messing around with gypsum plaster. Gypsum sets really fast and you have to have a sterile job site to be able to apply it effectively. Ultimately, I found lime plaster as kind of a nice door prize. It's rather easy to apply, like clay, and also quite durable, like gypsum. Since I started working with lime plaster in 2007, I've fallen in love with it."

As Mistretta's experience, expertise, and team has grown, so has his reputation. Today, he primarily works in lime plasters but uses various types and techniques according to what's needed. (To that end, he employs two talented faux painters who specialize in exact matches for repairs of all types.) Southwest Montana has been booming in recent years, and New Age Artisans has been hustling to keep pace. The company maintains a showroom in Bozeman, where clients and designers can bring flooring and countertop samples and select colors and finishes. Soon to launch on the upper level is a gallery, which will showcase plaster art that celebrates form and function, such as tabletops, as well as eclectic abstract pieces made by the New Age Artisans crew. Recently, Mistretta and one of his colleagues created an online program for teaching the Tadelakt process as a response to all the calls and queries they'd been receiving about it. "We're not even advertising," he says, "and people are banging on the door."

The team's focus, however, is on creating artisan-made plaster surfaces in high-end bespoke interiors, where the quality, attention to detail, and aesthetic effect of the work speaks for itself. "I think it's Jeremy's curiosity and energy toward the history and traditional techniques of plaster, and how to implement those into a modern-day setting, that really sets New Age Artisans apart from the rest," Urbaine Home designer Skye Anderson says. "When someone has a passion for their art, it's contagious, and you want to be part of it."

Chase Reynolds Ewald has been writing about Western design, food, art, travel, and rustic style for more than 25 years. A consultant and freelancer, her recent books include the National Outdoor Book Award-winning Bison: Portrait of an Icon (her sixth collaboration with photographer Audrey Hall), Modern Americana, and At Home in the Wine Country; chasereynoldsewald.com.