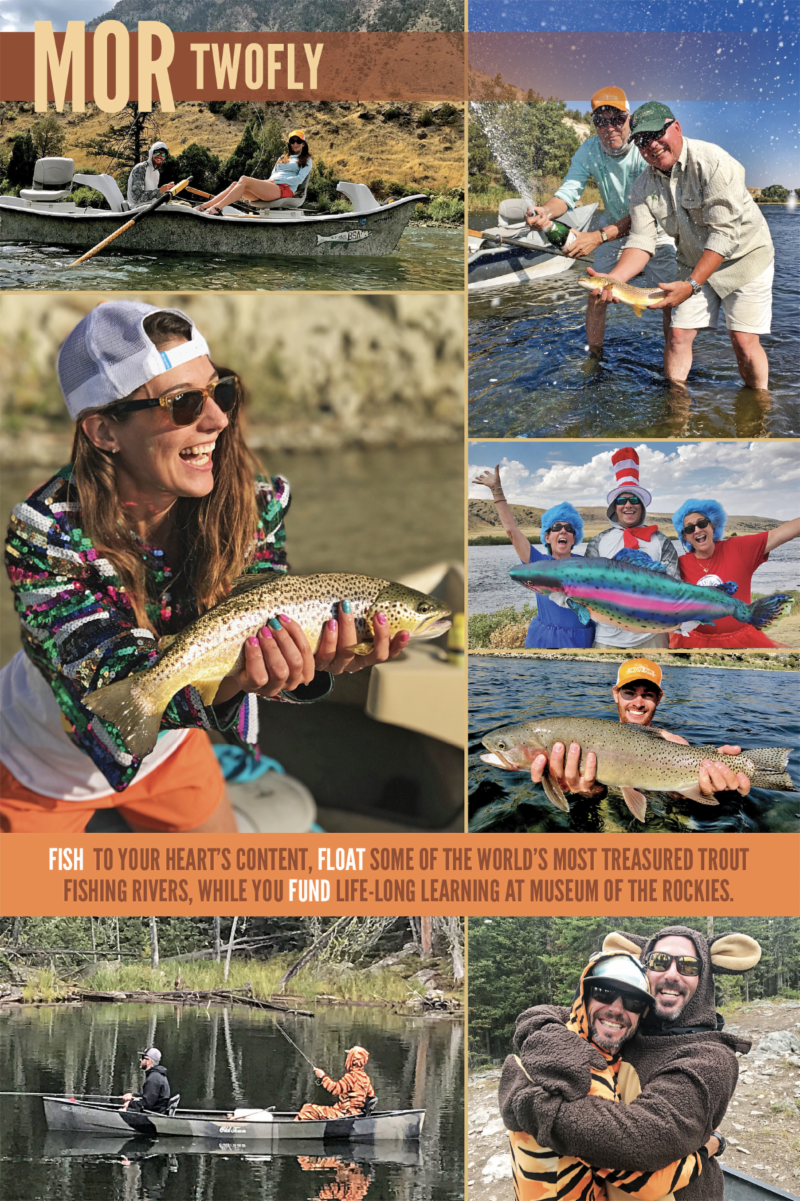 07 Aug

Museum of the Rockies TwoFly Benefit Weekend Starts Sept 7

in

Starting Friday, September 7, Museum of the Rockies will send 35 boats, each with two participants and a guide, on a fully hosted and guided adventure to some of the most impressive fly fishing rivers in the entire world.

Participants will fish on rivers within a few hours of Bozeman: the Yellowstone, Madison, Jefferson, Missouri, or private waters. These amazing fisheries draw anglers from all over the world, and they're found in our own backyards!

By participating, you will be supporting one of Montana's premier cultural and educational institutions, ensuring that Museum of the Rockies remains vibrant and accessible to all.

Check out the weekend's schedule below, or visit the site.

Friday, September 7
Golf Scramble & Opening Reception for Guides & Participants | Riverside Country Club

1 p.m. | Optional "Hook & Slice" Golf Scramble | $150/player + dinner, drinks, and fun after the tournament
Enjoy an 18-hole golf scramble prior to the party. Check the Slice and Hook box on the registration form if you would like to participate.
Or register for the scramble here if you are not fishing on Saturday.

5:30 p.m. | Opening Reception and a Participant & Guide Orientation
Dinner and Drinks, Meet your Guide, Beat Selection, and Participant Orientation

Saturday, September 8
Full Day of Fishing & Dinner with Awards Ceremony

7 a.m. | Breakfast at MOR
Depart for the Yellowstone, Madison, Gallatin and Jefferson Rivers.

5 – 7 p.m. | Reception at MOR | Dinner, Cocktails, Awards, and Raffle benefiting Museum of the Rockies
We offer photo awards as an alternative due to Montana, Fish, Wildlife & Parks' regulations stating that no contests are allowed involving any Montana listed species of a special concern or for wild trout in rivers or streams.
TwoFly TOO BIG A SMILE: A Big Fish and a Big Smile.
TwoFly TOP GUIDE: Best demonstration of Top Guide.
TwoFly TOO MUCH FUN: Props encouraged; photograph must include a fish.
TwoFly TOP SCENIC PHOTO: An angler amongst Montana's majestic scenery.
TwoFly CASTING COMPETITION WINNERS: Non-photographic award. The Guide & Participant with the most points from Friday nights casting competition.
To register for TwoFly, please call 406.994.1998, or complete and email this PDF to events@montana.edu. View our complete sponsorship packet here.