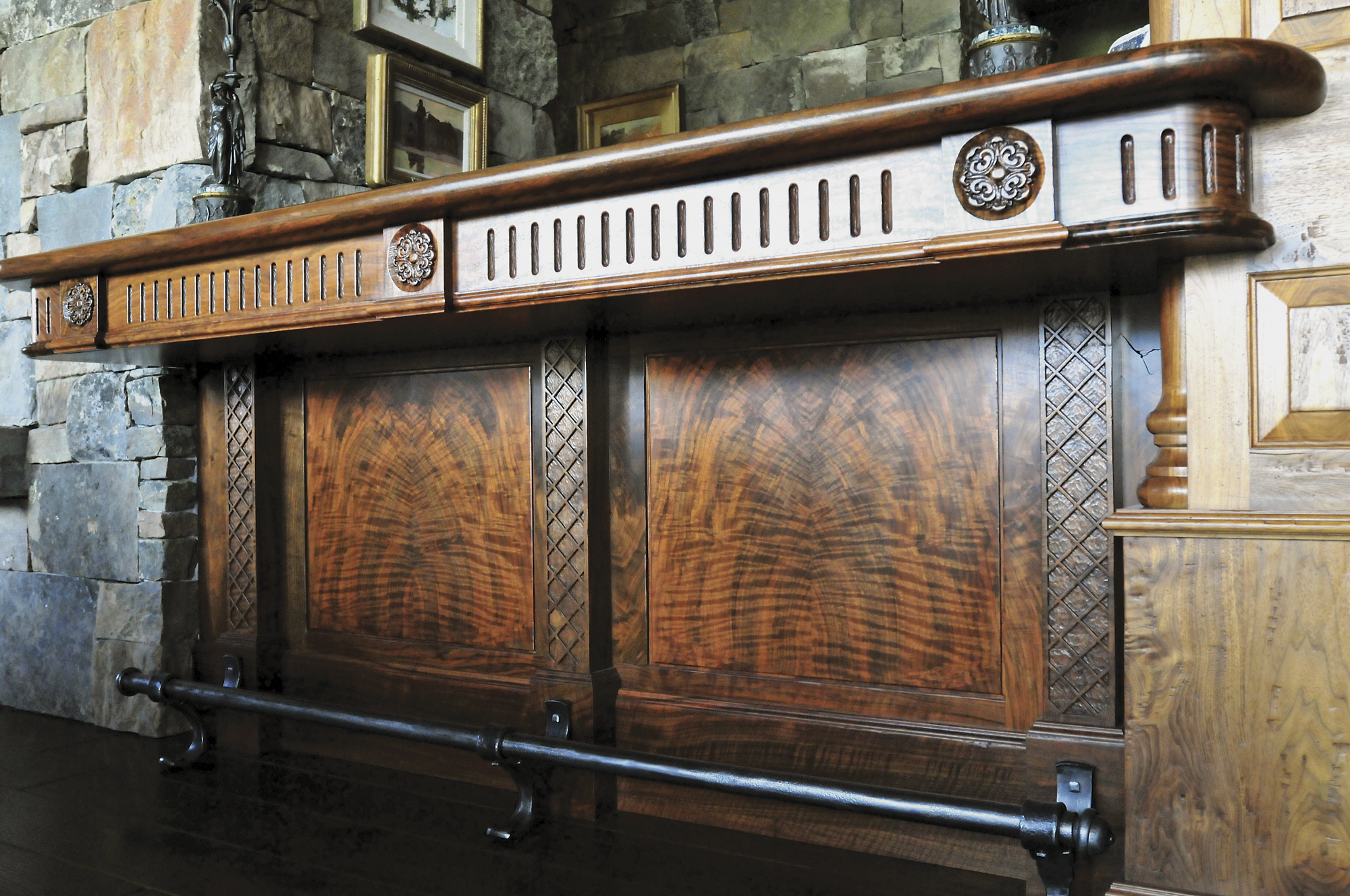 23 Jul

Mountain High Woodworks

in

Mountain High Woodworks, one of the premiere high-end custom cabinetry shops in the region, is the brainchild of Richard Garwood. Three decades ago Garwood began in a little shop up a logging road in the Bridger Mountains. Business has been lively for Garwood and his longtime staff, including facility manager Shawn Green, who has been with the business for 25 years.

Today, when Garwood opens the door to his Mountain High Woodworks showroom, the room seems a little unfinished, although it's been in operation for years.

"We just haven't had the time to get it done," he says, his eyes smiling as he opens another door to the workroom. Mountain High Woodworks has grown into a 13,000 square foot woodworking facility that is dedicated to the design and fabrication of premium grade custom cabinetry and furniture for some of the most attractive homes in the mountain West.

Home to stunningly crafted cabinetry, using finishes and patinas beyond compare, Mountain High Woodworks turns the highly creative ideas of architects and designers into reality. "We've been lucky enough to work with the premiere area architects and builders who bring in design concepts that challenge our abilities and help bring us to a new level of craftsmanship," Garwood says, walking into the first room of the work area. The sound of a high-powered vacuum nearly drowns out his words as the CNC (Computer Numerical Control) machine lines up a panel for milling. "We've done projects from Oregon to California, from Kansas City to Aspen, from Jackson to Minneapolis."

Mountain High Woodworks recently finished up a large project — a two story octagonal library with walnut and claro walnut built-ins, coffered ceilings as well as a spiral staircase with curved glass insets. His personal joy in completing a project of that caliber is palpable. It is the kind of pride of work that places Mountain High Woodworks in the top echelon of their class.

"It's been wonderful working with clients that have an appreciation for the kind of quality work we do," Garwood says, walking from the CNC room to another where the heavy musk of freshly cut wood permeates the air. He delights in his company's ability to complete extremely large projects on schedule. "Whether it's a $30,000 job or an $800,000 job, I learned a long time ago, if you don't meet your deadline news travels fast."

After making a name for himself with Mountain High Woodworks, Garwood reached out to Southwest Door Company in Tucson, Arizona, for their highly customized Old World style doors. There he found something that hadn't been seen in the Northwest before and soon he represented the company — now Architectural Traditions, in Montana. That partnership marked the beginning of Montana Sash & Door.

"We found the scrub planed and distressed finishes they used at AT complemented our high-end cabinetry," Garwood says, standing in the finish room among work tables, the sting of turpentine hovering. "We deal with a lot of old wood with character and there are challenges that go with it. Building a perfectly stable piece of furniture-style cabinetry from unstable materials using engineered cores, or creating 'antique' doors, is an art. And there's no limit to our finish capabilities."

Mountain High Woodworks and Montana Sash & Door work together to offer clients an unparalleled result in coordinating styles and finishes for the ultimate one of a kind home.
Recycled antique White Oak doors with scrub planed distress and a stain and glaze finish. Photo courtesy of Richard Garwood
Book matched Claro Walnut bar with hand carvings and clearcoat with glaze finish. Photo courtesy of Richard Garwood