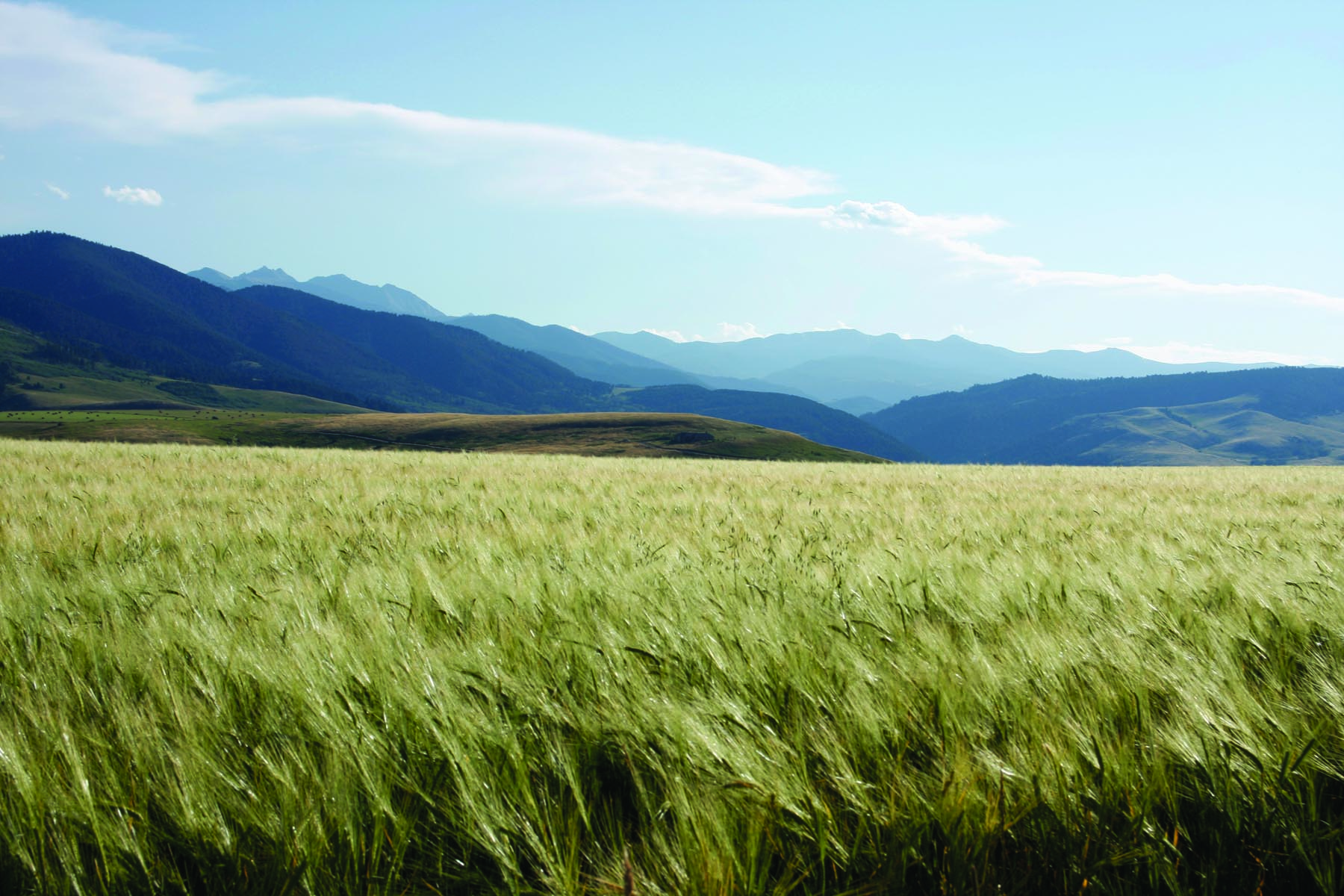 01 Sep

Montana's Food Pioneers

in

FRESHER FOOD, A BOOST TO THE LOCAL economy and more open space are just a few of the reasons why a local food system is important, but like any system, there are a lot of moving parts that need to come together to make it successful and sustainable. In Montana, agriculture remains the largest industry, made up mostly of cattle, wheat, barley, hay and sugar beets. Every year Montanans purchase more than $4 billion in food, yet only 10 percent of that is produced in the state where we live. In response, many growers, ranchers, nonprofit organizations and consumers have been dedicated to changing that by creating a local food system that will last for future generations. Although there are many, here's a look at some of the Treasure State's influential food pioneers.
---
Western Sustainability Exchange
In a bustling conference room at a Bozeman hotel, a bell rings signaling the start of the first round of a "speed dating" event. A cowboy-hat-and-boot-clad rancher takes a seat next to a woman and starts chatting her up. But instead of touting his own good attributes, he's explaining the intricacies of his business, Yellowstone Grassfed Beef. This is part of the annual Commerce Day event, hosted by the Livingston-based Western Sustainability Exchange (WSE).
For 20 years, WSE has been focusing on sustainable agricultural practices as the first step in creating a sustainable local food system. "We have one of the last intact ecosystems on the planet here in Montana," says WSE Executive Director Lil Erickson. "We feel strongly that it's our place to steward that in the most sustainable way."
WSE has developed a certification system that includes training and specific criteria for farmers and ranchers. Once certified, WSE helps to connect them to local buyers through Commerce Day events, farmers' markets and a farm to restaurant connection program, among other things.
With a mission that's rooted in a healthy environment, Erickson feels that they can help farmers and ranchers produce more and sell more, while protecting the natural resources they depend on for their livelihood. "By advocating for sustainable agriculture we can help to create a sustainable food system that's healthy for people and the land and humane to livestock and wildlife," Erickson says. "It's just good for the whole community."
---
Bozeman's Community Food Co•Op
Like the story of "The Little Engine That Could," with enough motivation and momentum, lofty ideas can turn into colossal achievements.
Thirty-five years ago, the Bozeman Community Food Co-op (then Crossroads Food Center) started out in a wee little house, where a handful of volunteers would toss around ideas about healthy food and a healthy community. Today, it's the largest natural foods cooperative in Montana, with over 22,000 member-owners and two locations: a modern flagship store and a downtown shop. Those ideas turned into programs like the Farm to Food Bank, in which the Co-op purchases food from local growers and donates it to area food banks, and 4 percent day grants, in which 4 percent of that day's sales go to local food producers and other organizations. In 2012, they doubled their local food purchases, buying 20 tons of vegetables and meat for their prepared food department alone and much more for their grocery aisles.
"Our mission has really never swayed," says general manager Kelly Dean, who has worked at the Co-op since 1989. "Back then we had local farm eggs and as much local food as we could fit in the produce case, and once you get going with that, you just can't quit."
Dean describes the Co-op's mission and their abundant use of local foods as a holistic way of thinking. "The idea of our food coming from the soil in our valley, it helps local growers, helps the economy, and helps preserve the open space here," he says. "The deeper we dig, the more we find we can do."
---
Wheat Montana
Dean Folkvord, owner of Wheat Montana, clearly remembers selling bags of freshly ground flour at a roadside stand near Three Forks to supplement the farm that his father started in 1958. He remembers the hard work and money that was put into the first Wheat Montana bakery. Now with a $32-million-a-year, 200-employee operation, Folkvord realizes that much of his success lies in the fact that he found ways to turn his crops into food, inadvertently creating a model for successful agriculture in Montana.
"I think we've influenced the way people think about food in Montana, and how producers see the possibilities," he says. "What you grow is not food until it's turned into food, and that adds a lot of value to an agricultural business."        Wheat Montana delivers fresh baked bread daily to almost every food store in Montana and beyond. They also sell cereals, flour, pancake and waffle mixes, among other products. "The bread is baked here and delivered the next morning, and you have to have a dynamic delivery system for that," he explains. "The other products can be distributed further away."
Folkvord values the Montana families that buy his bread each week, and understands firsthand how important it is to invest back into the local economy. Wheat Montana remains a family business, with his wife, Hope, and their two daughters integral to the continued success. "Companies like ours can really have an impact on the state of Montana," Folkvord says. "When a consumer buys our bread, they are voting with their purchases for sustainable agriculture, employing Montanans and boosting the local economy."
---
Western Montana Growers Cooperative
Imagine if you were a chef, and every day different farmers knocked on your door to sell you a specific product. Imagine if you were a farmer, and you had to peddle your product to all the different chefs. In both scenarios, neither person would have enough time to do what they do best: cook and grow.
Through a "community food systems" grant provided by Lake County Community Development in 2002, farmers throughout Flathead, Jocko, Mission and Bitterroot valleys joined together to change that system, creating a distribution model that offers a variety of products to a variety of buyers. Called the Western Montana Growers Cooperative, they've gone from eight founding members to 40, supplying restaurants, the University of Montana, public schools, hospitals and homes, with annual sales exceeding $1 million.
"We modeled our business after a few others in the country," explains general manager Dave Prather. "But when we began there was nothing like it around here, and it was a big step forward for the local food community."
Now, a produce manager or chef can access products from 40 farms through one phone call, the food producers can concentrate on producing more to fill the orders and local communities can enjoy an abundance of local food.
---
Timeless Foods
As if foreseeing a future where sustainable farming is commonplace, organic foods are in high demand and gourmet chefs are scrambling to find a niche lentil or grain, Timeless Natural Foods, based in Conrad, Mont., started focusing on such things way before its time. In 1987, four Montana farmers came together to promote environmental farming practices. "The four of us consisted of 50 percent of the organic farmers around the state," laughs co-founder and CEO David Oien. "We were part of the first wave of organic farming in Montana."
Timeless evolved from seeds into raising their own crops of organic edible legumes and grains, which did not yet fit into the traditional Montana meat and potatoes diet. "The specialty crops we deal with were not part of the Montana cuisine at that time," admits Oien. "We always hoped that Montana shoppers and restaurants would be interested, but we were selling these to California and New York City where food trends were hitting."
But ever since the organic and local food movement took hold in Montana, Timeless products have become a staple on the shelves of many food retailers and chefs, including their bestselling black beluga, french green, and crimson lentils and their purple prairie barley.
"Consumers buy organic foods to build their health, nutritional density and reduce exposure to pesticides," Oien explains. "Some also like to support ecologically-based practices and small family farms, and they can vote for that by buying local products."
---
Root Cellar Foods
Bozeman farmer Dean Williamson, Livingston farmer Mark Rehder and former Bozeman Community Food Co-op's central kitchen manager, Christina Waller, have recently formed Root Cellar Foods, a produce processing facility with equipment that can churn out washed salad greens, peeled and cubed or shredded produce to be distributed "recipe-ready" directly to area restaurants and food institutions from Butte to Billings.
"There are all kinds of advantages," explains Williamson. "It will create more demand for the produce so farmers can grow more, and it reduces the labor and makes local food so much more accessible."
Some restaurants could go through thousands of pounds of locally grown produce, but it would take months to peel and chop them all by hand. Root Cellar Foods can process up to 1,000 pounds per day and wash 500 pounds of lettuce greens in an hour. They have equipment to freeze produce and preserve some of the season's bounty for food services to use throughout the winter months. Also be on the lookout for prepared soups, pesto and sauces made from local foods and sold through southwest Montana retailers.
"We hope to create a more stable economy for existing farmers, a better market for new farmers, and to level out the seasonality issues," Williamson says.