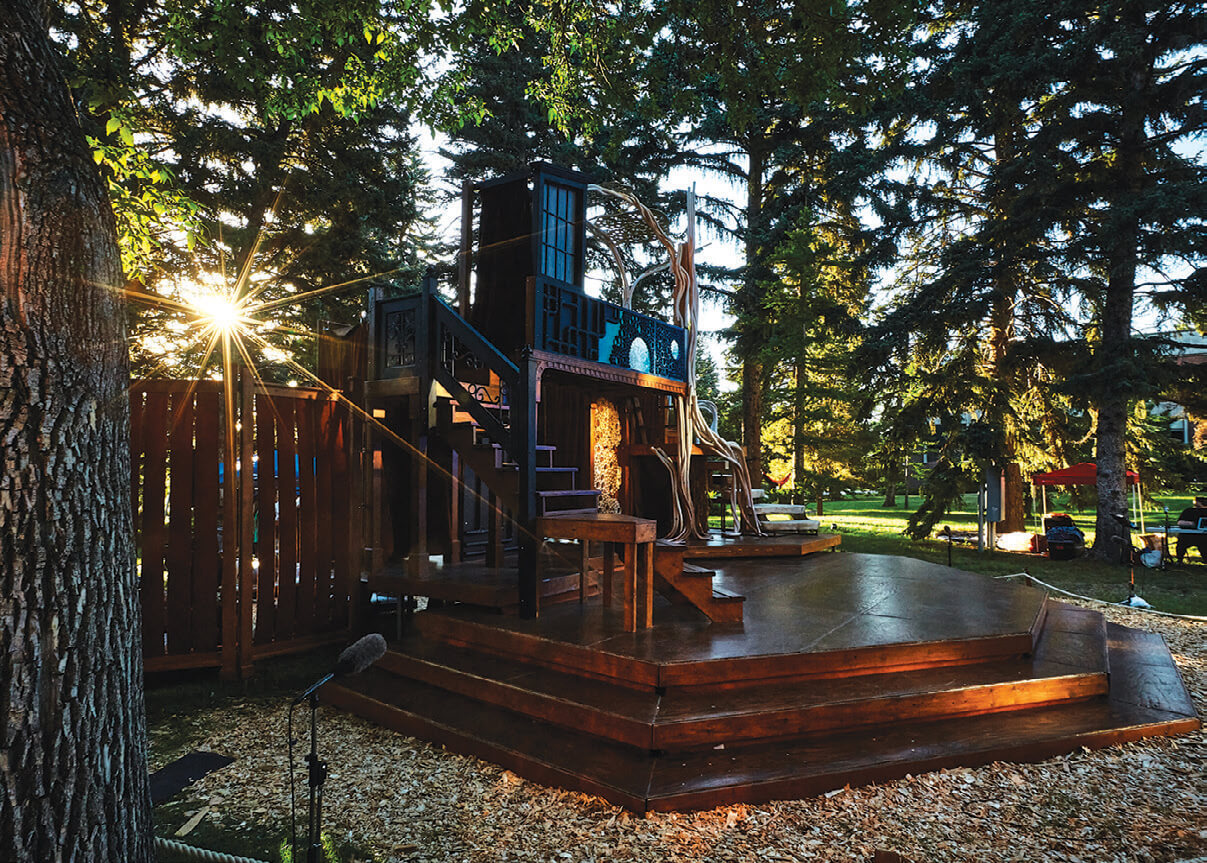 The stage is set for the opening of Cymbeline on June 16, 2021, at Montana State University's duck pond. Photography by Adrian Sanchez-Gonzalez
01 Jun

Montana Shakespeare in the Parks

in

In the summer of 1974, a senior theater major from Montana State University (MSU) named John Hosking signed on to be part of Montana Shakespeare in the Parks' first full tour across the state. The troupe traveled to 20 locations, performing The Taming of the Shrew and The Merchant of Venice on a stage they transported and set up in each community. Since that time, Hosking has played a significant role in regional theater, appearing with the Virginia City Players and Vigilante Theatre Company, among others. And this year, he is returning to Montana Shakespeare in the Parks' summer tour for the first time since 1982, to take on the title role in Shakespeare's epic tragedy, King Lear.

This summer is the 50th anniversary of Montana Shakespeare in the Parks (MSIP), and over the years, hundreds of actors, directors, designers, and administrators have worked together — some for a short time, others for multiple decades — as a family bonded by the remarkable experience of bringing Shakespeare to small communities, free of charge, every summer. To celebrate the milestone, the goal of Hosking and other members of the organization is to make 2022 a year to remember.

MSU theater professor Bruce Jacobsen founded MSIP in 1973 because he passionately believed in providing the residents of Montana opportunities to enjoy high-quality arts events. After several years under Jacobsen's direction, the company was significantly expanded by his colleague Joel Jahnke from 1980 to 2013, giving MSIP prominence as an outreach program of MSU. In 2014, the artistic director torch passed to Kevin Asselin, who has further augmented the program.

Through all of the changes and developments over the past 50 years, MSIP's mission has remained clear and consistent: to engage and enrich underserved communities with professional productions of Shakespeare and other classics. MSIP is one of the oldest Shakespeare companies in the U.S. thanks to the tremendous support from the people of this region. "We wouldn't be here without the immense enthusiasm, generosity, and grassroots support of the communities that we serve," Asselin says.

Staging Shakespeare plays in the late 20th and early 21st centuries is an ambitious and challenging task, given the competition with film, television, social media, and the myriad distractions of contemporary life. But MSIP has been more than up to the challenge. Beginning with the 1974 tour, they've featured two plays performed by professionally trained actors each summer. To date, the repertoire has included 23 Shakespeare plays — nearly two-thirds of his canon — as well as works by other playwrights, such as George Bernard Shaw and Molière. Enthusiasm for the company and the quality of the productions have grown steadily, making MSIP one of the most treasured cultural organizations in the Treasure State.

"I like theater because I know what I'm doing for two-and-a-half hours," Hosking says when asked why he chose a career as an actor. "There's a group of people united by a common purpose, and I know what my role is in it. Real life isn't like that at all — there's no script." He also explains that the shared work of putting on a play extends far beyond the roles of actors and directors: Theater is the most collaborative of art forms, involving an extensive team of designers.

Set and costume design are crucial, inspiring the imaginative landscape of each performance. Since the 1990s, Tom Watson, a professor in MSU's School of Film and Photography, has designed MSIP sets that have included staircases, backdrops, and other adornments — all of which can be packed into a trailer. Costume design, which helps audiences identify with characters, involves details such as fabric choices, colors, and even stitching. Last March, the MSIP family was devastated by the passing of Claudia Boddy, whose costume designs lit up the stages for more than two decades. And since she had worked on costumes for the 2022 production of Twelfth Night, her creative aesthetic will be carried forward through the summer.

The word "magic" comes up often in regards to the impact MSIP performances have had on audience members of all ages. Susan Wolfe, a long-time tour coordinator in Forsyth, Montana, explains that her appreciation is heightened by "the boldness of being outside, for there is wind rustling in the trees and unpredictable weather, creating spontaneity and truly magical moments."

Outdoor performances create one kind of magic, but theater for young people creates another. MSIP's Shakespeare in the School program brings a troupe of touring professional actors to middle and high schools every fall to perform Shakespeare plays and run related workshops for the students. Susan Felder, who has filled many roles in the company since the 1990s, is returning to direct the fall production of Macbeth — a play that's popular with students because it deals with the supernatural, but also depicts the rise and fall of tyranny. Felder recalls her early work with the educational program, when she realized that it was crucial to travel to the schools to ask the teachers what they and their students needed. Building upon those relationships across this region, MSIP's Montana Shakes! program travels to approximately 60 elementary schools throughout the state each spring, bringing workshops and interactive original plays that include scenes from Shakespeare works. The 2022 show presented a version of A Midsummer Night's Dream, entitled Bottom's Dream, which focuses on Shakespeare's underdogs and encourages the kids to embrace the magical transformations of childhood and theater.

Matt Foss, who began acting with the company 20 years ago, wrote and directed Bottom's Dream. He's unfailingly enthusiastic about the impact of MSIP and its programs, explaining that they embody "the idea of creating theater that seeks to include all and remove those traditional obstacles that keep people from these incredible stories." Whether it is kids in a school, families in a park, or individuals who return year after year, the irresistible pull of stories unites people from the moment they hear the magical words of Shakespeare's plays, which begin with striking lines such as "Who's there?" (Hamlet); "When shall we three meet again?" (Macbeth); and "If music be the food of love, play on" (Twelfth Night).

Shakespeare's plays make both the artists and the audiences work hard, but the rewards are immeasurable. During the two hours' traffic on the stage, the performances tell stories that encourage people to think and feel in ways they might not otherwise. The dramas deal with difficult subjects: broken families, loss, misogyny, racism, tyranny, and societal collapse. At the same time, Shakespeare's works elicit vital moments of laughter and healing. This year's summer comedy, Twelfth Night, is set in a mystical place called Illyria, where shipwreck fractures families and heartache is the main topic. Happily, however, the festive ending unites couples and reunites separated twins, reveling in the wonder of renewed hope.

Bill Brown, director of this summer's Twelfth Night, has worked with MSIP in various capacities since 1980. He chose to set this production in modern-day New Orleans, where music, culture, and class inequity form a complex society. Over the years, the settings of MSIP performances have run the gamut, from Medieval Europe to 19th-century Montana, from the Napoleonic era to the 1950s. The transportability of the characters and stories to different settings and eras infuses new aesthetic energy into each production and is a testament to how Shakespeare belongs to each place and each historical moment, most of all our own.

When Hosking is asked why he decided to rejoin the MSIP tour, he answers without hesitation, "I miss the road." From his first experience in 1974, he says that he fell in love with touring theater. This summer, MSIP actors will be traveling nearly 7,000 miles across the wide expanses of the region on interstates, state highways, county roads, and even gravel byways. Because many of the performers typically come from cities such as Chicago, Minneapolis, and Houston, they never cease to be amazed by the variety of landscapes and the natural beauty in Montana. The mystique of life on the road lends to spontaneity and adrenaline, and also to the bonding that comes from the hard work that characterizes this tour.

It is one thing to drive alone through one of our country's most rural states (and now to locations in five surrounding states as well) seeking isolation on a road trip. But it is another thing to travel in a truck with nine other people, looking for an audience along the way. Hosking remembers that, in 1974, when MSIP was still unknown to most people, the actors would drive into a tiny town, put up the set, don their costumes, and then speculate if anyone would come to see the play. "Everything was a surprise. … But, no matter where we were, people kept showing up," he says.

Brown remembers that same phenomenon: audiences emerging from a seemingly empty landscape. When he first traveled to Poker Jim Butte in southeast Montana, he recalls watching dust rise as trucks came up the road carrying people to the Shakespeare show. Even after a long career as a director in Chicago, Brown notes that "doing Shakespeare all over Montana, in small rural communities, on reservations, and bigger towns, in parks, and on buttes, always clarified for me why I do theater."

MSIP actors are welcomed by Montana audiences in a way that never ceases to amaze them. Aside from the opportunity to see high-quality productions, these free performances serve as a community event that's rooted in art. Local residents often get to know the actors, forming what Susan Wolfe refers to as a "chain of relationships and connections" that "build unforgettable bonds over the years." In the summer tour's early years, homestays were the norm and actors often found themselves talking late into the night with host families and volunteering to wake up early to help them do chores. Although homestays are less common now, the tour coordinators organize meals that allow actors and audience members to mingle. Foss keeps in touch with people he met on tours long ago, reflecting that when he sees them again, "conversations pick up right where they did when we'd share a late meal after tearing down the set and sneaking in some food before grabbing a little sleep and hitting the road the next day."

These long-term and life-changing connections mean that the actors are invariably impacted when they hear about the loss of family members, land, or the rural way of life. King Lear depicts just such a tragic scenario, and it is artistic director Kevin Asselin's hope that the 19th-century Montana setting of this summer's production will strike a chord with audiences as they consider the relationship between past and present hardships. Community and theater offer the tools for survival and resilience.

Shakespeare would have first seen troubadour-style actors as they toured through his hometown of Stratford-upon-Avon when he was a young boy. Several of Shakespeare's plays include scenes involving a group of characters putting on a play for other characters. He never tired of reflecting upon what a difference theater can make to a community, so it is fitting that MSIP has carried on this tradition in a state unborn, and an accent yet unknown, to this playwright. This milestone in MSIP's history offers an opportunity to celebrate the inspiring mission of bringing these plays to our region and making them an integral part of our culture.

Hosking realizes that he has signed on for what he calls "the greatest — but also the hardest — job in the world." He's excited to reconnect with community members he's known since his first touring days, and he also looks forward to forming bonds with new, young actors. A mixture of veterans and first-timers are treading the boards of the MSIP stage this summer, and the voices that ring out in Montana's parks are augmented by all of those who have participated in the company, in every imaginable way, for the last half century.

Gretchen E. Minton is the author of Shakespeare in Montana, winner of the 2020 Montana Book of the Year and the 2021 High Plains Big Sky Award. She also serves as the dramaturg for Montana Shakespeare in the Parks.