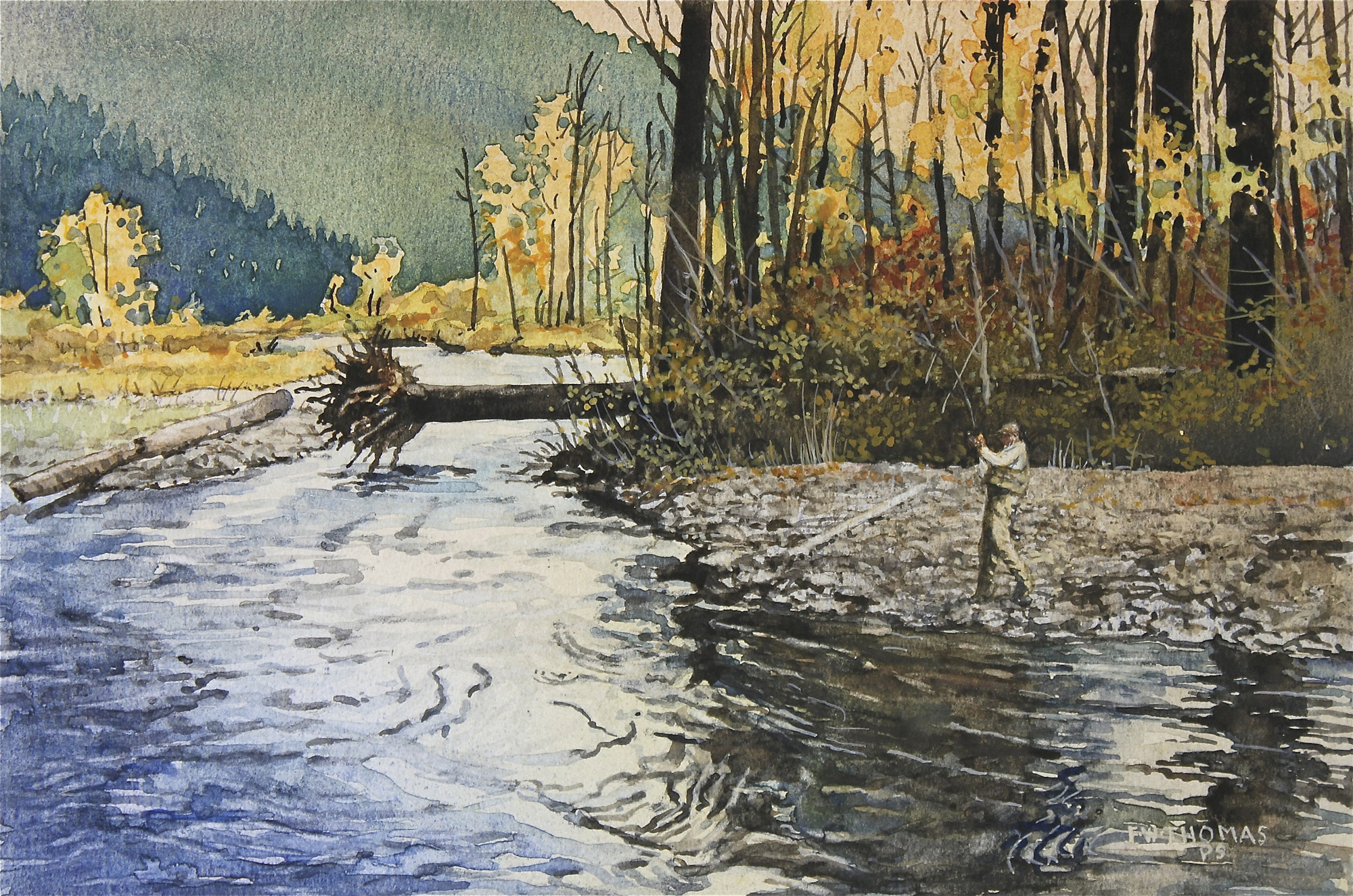 23 Jul

Outside: Minimalist on Rock Creek

in
---
Last June, I started a website called Angler's Tonic and like any major project it began with great optimism and excitement, but as weeks went by it lagged into burden and felt like a death sentence.
That supports my opinion that more than one person working on a project is setup for disaster and my Web designer was beginning to feel the wrath. I trace that tack to my upbringing where personal accountability and timeliness were required. I wouldn't exchange those qualities for aloofness, but it sure would be easier if I didn't expect so much of myself and others, because demonstrating that deficiency reveals my Edward Hyde.
Hyde was in the house last summer when my wife and I were supposed to vacation along the Oregon coast. All the Web-madness created havoc and we couldn't secure assistance to be kids-free for more than a few days. So our visions of the ocean and surfing and fishing died with the last days of summer.
Fortunately, in the Northern Rockies we get summer-like days into late September and that's when my wife and I decided to take a shorter trip, just a few days, to camp and fish on western Montana's Rock Creek.
Rock Creek is one of Montana's medium-size streams, big enough to drown a person during runoff, but small enough to wade in most places through summer and fall. It's also one of the state's most scenic areas; the water winds for 60 miles along golden cliffs and passes below massive pine-carpeted mountain slopes. Whitetail and mule deer abound. Mountain lion and black bear are abundant, yet rarely seen. Moose and bighorn sheep are often sighted. Campers find improved campsites, located next to the river in stands of giant ponderosa pine. And the creek is loaded with trout, mostly browns, with lots of rainbow and native cutthroat, too.
Rock Creek used to see as much pressure as any stream in the state, but somewhere along the line people stopped viewing it as a major destination, although anglers in Missoula might argue that assertion, especially if they fish during spring or early summer when its most noted hatches arrive: the early skwala stonefly and, later, the giant salmonfly.
After July 4, however, the crowds thin, possibly because anglers are more interested in the large trout found on the Clark Fork, Blackfoot and Bitterroot rivers, and farther east on the glamour streams. More likely, that angler-exodus occurs because you can't float and fish on Rock Creek between July 1 and November 30.
I truly believe that visiting anglers and many of us who call the Northern Rockies home consider the perfect angling day to include floating down a broad river in a McKenzie-style drift boat or a raft. More so these days, we see tourism brochures touting Montana fishing with shots of drift boats gliding over glassy rivers under snowcapped mountains and between vibrant green banks. A solitary angler, standing in the river with a daypack on his or her back is, well, so passé.
I have a driven friend who lives in Los Angeles and makes about $600,000 a year. He called one day and said, "I want to learn to fly fish because it requires so much gear. Just tell me what I need and I'll order it." My initial thought was to call Simms and Sage and tell them I would bring this sport to them for a cut, mostly because I don't make $600,000 a year. When I really thought about my friend's attraction to fly fishing I couldn't say many of us are much different — we're gear mongers, no doubt about it, and the more we carry on the stream with us the better. More reason for a boat, right?
I can't deny that a big cooler, filled with ice-chilled beverage and fixings for an epic sandwich, isn't a good thing. And carrying a backup rod, plus extra clothing and waders is a major bonus. But, there's also something cool about minimalism and just packing two beers, some jerky and seeds, one fly box, a few tippet spools and all the small accouterments that support a great day on the water. I look at a day on the water with a driftboat versus a day spent on foot wade-fishing and see a lot of American culture wrapped into the former method.
That's why I took Becky, a fledgling fly fisher, to Rock Creek. Instead of launching a boat on a broad river and saying, "We're committed to a full day, come wind, rain or electricity," we spent portions of each day fishing and other times we lounged around camp or returned to the truck to hydrate and snack. Occasionally we whipped out the bocce balls for an impromptu match. Being the all-in type I would have preferred to fish until last dying light, but I understood the risk in that.
Fishing-wise, there's no reason anglers shouldn't hit Rock Creek during summer and early fall. Once spring runoff subsides, the creek offers one great hatch after another, including an awesome June and July golden stonefly emergence. Pale morning duns and caddis hatches run from May into August. In late summer and fall, fish look for the larger fall caddis plus large mayflies, including gray drakes and red quills. There are enough 12- to 18-inch browns to challenge all anglers, yet there are scads of rainbow and cutthroat that allow for some pretty straightforward fishing.
Becky and I spent most mornings around a campfire drinking coffee and eating oatmeal before driving to one spot or another. One day we decided to really make a push so we got on the water early and hiked upstream from a bridge to a portion where the main river braids significantly. Before the hatches began we banged the banks with Galloup's Ant-Acid, a red ant imitation with a deer-hair wing that's easy to spot on the water. The fish weren't exactly tearing up that pattern but enough nosed it, some ate it, and by noon Becky and I had released a dozen or more fish.
We sat on the bank for a while watching a bull moose harass a cow moose on the other side of the creek while three ewe bighorns foraged on the slopes above. Becky was rolling through a bag of David's sunflower seeds and a couple bottles of Mike's Hard Lemonade when I asked her, "What were you saying when you were upstream of me and pointing to the far bank?" She said, "Oh I missed a nice fish, like five times. I couldn't believe he kept coming up for that Parachute Adams. When we head back down I want to fish that spot again. I have to catch that fish."
I wouldn't call Becky an avid fly fisher and some of that has to do with the way I introduced her to the sport — on the broad Madison River, during spring, on windy and cold days, throwing long casts with tandem nymph rigs and split shot. Picture a wrecked spider web at the end of her leader every third cast and cold hands trying to salvage the mess. It's no wonder she still has visions of a warm coastal climate and continues to hold me in contempt for pulling her away from the lifeguard tower at Huntington Beach and promising that the surf is great in Montana — "Well, there's this famous wave in Missoula … It's like the Wedge!" To hear her say, "I have to catch that fish," gave me hope that her angling interest was in bloom and that she might follow in my footsteps and form a lifelong passion founded on the dry-fly fishing at Rock Creek.
I'm a bit of a romantic when it comes to Rock Creek because years ago, during college, my father and I fished there every spring and fall and I fell in love with the place. I stopped at Rock Creek Fisherman's Mercantile every time I visited, sometimes to buy flies and tippet, but mostly to jaw with the proprietor, Doug Persico. Sometimes I talked my dad into stopping at the Stage Station restaurant at the base of Rock Creek. That restaurant is pretty famous and is as Montana-unique as they come. Massive deer and elk mounts grace the walls; dinner is served on small wooden tables; the aura is somewhat dark, warm and authentic. Back in the early 1990s they served a special chicken and dumplings plate and, as often as my dad and I travelled to fish and hunt back then, and as many good meals as we enjoyed elsewhere over time, the chicken and dumplings plate at Stage Station is the most memorable. When Becky and I visited last September the Stage Station was still serving chicken and dumplings, the massive mounted heads remained, and next door Doug Persico was schlepping flies at the Mercantile.
It's interesting how streams, like certain songs, take us back to eras in our lives and draw events out of old dusty shelves in our brains. Rock Creek is like that for me and while Becky and I fished one day I suddenly recalled, at once, one of my most regretful actions and one of my most righteous moves.
Regarding the former, when I was young, in fifth grade, a few friends dared me to steal a bank that held paper credits our class used as currency. I took the bait, showed some courage and stupidity, and waltzed home with the bank hidden in a grocery bag. The next day, as the heat rose, my friends folded and I stayed after school to explain why I'd not only robbed the bank but stolen the thing. I played a few sympathy cards and the teacher responded with minimal punishment. But I was outcast for a couple weeks, last to be picked for basketball and … you know, I got all the tough treatment that kids dole out on each other. That theft haunted me through life until one day on Rock Creek when I met up with a couple friends, Torrey Cenis and his father, Skip. Those two founded a publication called Streamlines, based on honest information with no acceptance of advertising. The only guy who's been able to pull that one off is Don Causey who quit Outdoor Life a long time ago and founded The Angling Report. Back in the day I penned articles for Streamlines and one time Skip paid me twice for the same article. At that time I really needed the money. But I really care for Skip and Torrey. And I remembered the bank heist, how that debacle made me feel. I presented the extra check to Skip on the banks of Rock Creek. I've never felt quite as bad about myself again.
There are more houses along Rock Creek these days and a phenomenal new lodge, The Ranch at Rock Creek, and some of the local attitude has changed there. Becky and I found that out firsthand when we stopped on a long, straight stretch of road to shoot photos of a bull moose and a truck flew up behind us, passed going 25 or 30 miles an hour, and folded in my rearview mirror. The driver didn't bother stopping and pulled into some rat hole of a trailer a couple miles down the road, with me hot on his tail. His Montana vanity plate read, SUPR MAN. I fiddled with the bear spray, but decided to let it go. Getting shot ruins fishing trips.
Despite those changes, Rock Creek remains one of the best places on the planet to introduce fledgling anglers to the sport and it provides a setting ripe for memory. Sitting in my office, penning words about Rock Creek supports that notion; if I had the time I'd drive to Philipsburg right now, and head west to the stream. I'd pack Becky and the kids with me, sure that we'd walk away from the stream a few days later with a slew of interesting experiences wound around memory and moving water.