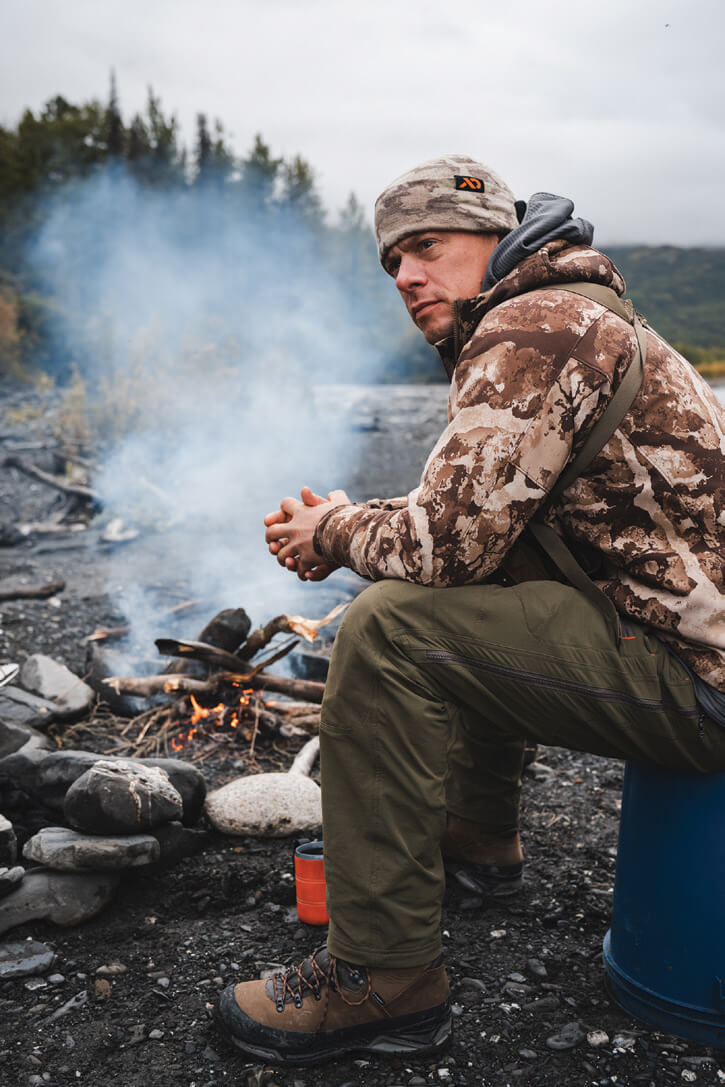 03 Jun

Meateater

in

Steven Rinella is only slightly distracted. He's taking his youngest son to Chico Hot Springs in Montana's Paradise Valley for his birthday, and there are details to resolve. "We have a deal with our kids," says Rinella, whose personal life, for most readers, is secondary to his high-profile identity as an outdoor content producer and backcountry tastemaker as the founder of MeatEater and the host of a Netflix series that's well into its ninth season. "For their birthdays, they each get a night away with just their parents, although they can invite their siblings or other friends if they want to. So tonight, we're going to Chico, but I think he mostly cares about the pool. And mac-and-cheese. We're leaving in an hour, and I don't think he's finalized the guest list."

It's an unsurprisingly revealing moment. Unsurprising because while Rinella is becoming the most widely recognized face in outdoor media — with a sizeable Bozeman-based content company fueling his ascent and a growing number of gear brands under his MeatEater umbrella — he's managed to maintain the thrum of a favorite neighbor, the kind you'd want your kid to go to Chico with.

A native of western Michigan, Rinella moved to Montana in 1996 to attend the University of Montana's graduate writing program. That same year, his brother Matt moved to Bozeman to finish a Ph.D. at Montana State University. "All we did was screw around in the mountains between us," Rinella recalls, "either east of the divide in his zone or west of the divide in my zone. After I finished school, I was trying to do some piecemeal writing, and he was looking for field techs. So I moved to Bozeman to do seasonal fieldwork for him. Later, he got a job in Miles City, and I half lived in Matt's basement there and half with my other brother in Anchorage."

Montana continued to impact Rinella for the next decade, as he roamed the state with a fishing rod or shotgun in hand, and after moving elsewhere, returned frequently on assignments for magazine articles. Soon after moving to Alaska, he landed his first book deal, and on a fateful business trip to New York City, he met his future wife. Instead of the mountain woman that he'd imagined settling down with someday, he fell hard for this classy, urban-loving, career-oriented, well-dressed woman named Katie. Preferring high heels over hiking boots, she resisted the idea of living in and commuting out of either a basement in Miles City or his recently purchased cabin in coastal Alaska.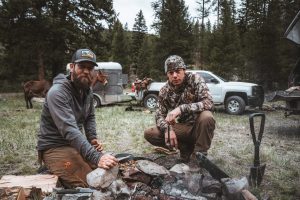 The married couple resided in Brooklyn as Rinella established himself as a literate rustic, a hunter who could write about beaver trapping the way Thomas Wolfe wrote about stock derivatives. "As we started to have kids, we made efforts to settle down in Montana a few times," he says, explaining that it seemed to be an agreeable middle ground between Alaska and Brooklyn. "When we found out we were going to have a third child, we were like, this is it. My wife decided to leave her job on a Friday, but by Monday she'd recommitted to it and we ended up in Seattle for four years." The family of five finally made their long-planned move to Bozeman two and a half years ago.
If the decision to settle down in Montana's Gallatin Valley seemed serendipitous, and perhaps spontaneous, there's more to it. "A lot of the people I work with were already in Bozeman," says Rinella, who by this time had cemented himself as a crossover — an authentic outdoorsman whose hunter-as-epicurean television series appealed to both committed outdoor enthusiasts and curious gastro-nerds. "There's a gravitational pull to Bozeman that attracts content producers, and the pull leads to more pull. The more talent that accumulates, the stronger the attraction. The result is that you didn't — and don't — have to look far to find people to help with what we wanted to do."
For Rinella, it was to create content around a central idea: exploring an active relationship with the natural world, whether behind a rifle in Michigan's deer-filled woods, digging clams on a tidal beach, or chasing Coues deer in the desert Southwest. The foundational principle behind the content-production network that Rinella has established in Bozeman, which is expressed through the varied products under his MeatEater brand, is that to truly comprehend nature, you have to get dirt — and maybe a little viscera — under your fingernails.
"My perspective stands in opposition to [the ones] pushed by those who think humans defile or corrupt nature," he says. "In that world view, humans are naughty and dirty, and the most responsible way to interact with nature is to drive through Yellowstone National Park and look through your window, but don't get out, lest we defile nature by our presence in it. I think you can interact with nature in a way that isn't destructive. It's muddy and bloody. I'd like to think that everything I do and produce is a celebration and an exploration of the idea that we can have an active, healthy engagement with the natural world."
That perspective is expressed in his Netflix series, which takes viewers on hunting trips in both farm country and backcountry locations. Unlike the stars of the hunter-as-hero productions that defined outdoor television up until a few years ago, Rinella gets lost in the wilderness, voices doubt about the outcome of a hunt, and occasionally misses shots at animals on camera. The takeaway is that Rinella is accessible, genuine, and would be fun to share a camp with, especially because he generally handles the cooking chores, whipping up campfire fare that's centered around what Victorian prudes might have called an animal's "squishy bits."
Understanding — and frequently ingesting — the natural world unifies Rinella's seven books; the first one being a rumination on the conservation status of American bison, and the latest — a guide to wilderness skills and survival — is his first title to hit The New York Times bestseller list. It's also the signature of MeatEater, which he established in 2018. The company, with undisclosed revenue, employs more than 50 people out of its Bozeman headquarters and describes itself as "an outdoor lifestyle media and commerce company." It hosts a half-dozen podcasts, a steady stream of online video series, and a popular website and social media presence. MeatEater has hired a number of writers and editors away from competing titles to fuel its brand of content: often irreverent, occasionally adversarial, sometimes advocative, and generally entertaining.
Meateater's mix of content is appealing to a large and diverse enough audience that big media companies have taken notice. In 2018, The Chernin Group, a global media investment company, bought a controlling interest in MeatEater; and in 2019, they poured a reported $50 million into content and gear company acquisitions.
Chernin is obviously betting that content and experiential journalism can thrive in electronic mediums. This idea of delivering content digitally, rather than through a book or a magazine, is one that Rinella initially resisted. "Once I settled on being a writer … I was naïve enough to be very afraid of digital media, because I felt that it was an assault on print magazines," Rinella says. "I was just getting traction with magazines, working for Outside, and making good money on print stories. Digital was scary. It was a threat."
But as media consumption changed, Rinella realized that it was the idea he wanted to communicate, and that was not only platform-agnostic, but it could also be expressed by any number of voices. That idea is that interacting with nature can make us better: better people, better shots, better citizens, better able to adapt to whatever the future brings. That idea is based on his experience as a lifelong outdoorsman, and he says he considers his primary audience to be folks like him.
"I have a tribal notion of who I come from," Rinella says. "I can go to a wedding, and if there are 100 people there, I'll find the two guys who hunt inside of two minutes. I have an obligation to them, it's to try to give them my best perspectives as a hunter and an angler. I'm not going to bore them with my feelings about taxes or abortion or capital punishment. But if it has to do with wildlife, wild food, or conservation, I'm gonna talk to them. But I'm also talking to people who look at us hunters and anglers with great suspicion, or curiosity, or even animosity. They look at us from the outside and wonder if we're vicious or unloving. I look at them as my second audience that is no less important than the first, and I take great delight in explaining us to them."
What separates Rinella's content from other outdoor adventures or linear narratives is an expectation that both audiences will engage in some level of self-reflection and critical thinking. "There are things I believe and that I'll talk about in any medium," Rinella says. "You can convey it through social [media], YouTube, a TV show, or through print books and magazines and whatever's next. I recall the very day I first heard the word 'podcast.' My tendency was to dismiss it as stupid; it'll never last. Our company now has a network of six podcasts. It's just embracing new ways of doing and talking about things, but the idea of doing things remains unchanged."
So what is the next content platform?
"Man, I don't know," Rinella says. "I still roll my eyes at TikTok. I don't know what's coming, but I know a lot of the fear around new mediums is that there are no gatekeepers. I think that's healthy. I think — especially when you're talking traditional media — there were gatekeepers who kept a lot of voices from being heard. The fact that you can be an emerging media player in Bozeman, Montana, proves that the gatekeepers have lost their relevance. And, with content gatekeepers out of the way, media has a lot more space for people to come into a community of our own making."
But Rinella is mindful that freedom to express new and ambitious ideas — or old and contrarian ones, for that matter — comes with responsibility. "We're engaged in a lifestyle that feels wholesome and environmentally responsible, but others can look at what we do and say we exploit and consume animals," he says. "It's not implausible that someone could come after you. Knowing that makes you have to get the highest level of control over your ability to explain the world in the way you want to see it explained."
As content migrates to digital channels, there's a chance that the real world — the one made of mud and blood and backcountry trails — can be pushed into abstraction. That worries Rinella, especially as he compares his childhood with that of his three kids. "I was raised in western Michigan," he says. "My neighbor's house was 30 yards from my front door, but I was raised on a 66-acre lake where we could catch pike and bass and bullheads and trap muskrats. We had woods and water in every direction. … I don't know if my parents didn't care about risk or if they did and put their fears aside, but me and my brothers pretty much had unbridled access to unstructured outdoor recreation, completely free from the burden of grownups. There's this American idea that you give your kids better than [what] you had. We've been able to give security and lots of big adventures to our kids. But I realize now that I had a hard-to-replicate childhood, and I'm not sure I'm capable of giving my kids a better childhood than I had."
Even in Bozeman — which checks a number of boxes for a parent looking to raise kids in an uncomplicated, outdoor-oriented way — Rinella smells "a different sort of anxiety hanging in the air.
"My kid wants to go ride his bike down the road to fish a creek," he reflects. "I want him to go, but I wonder if I'm being negligent. There's a fear that something will happen to him. The best thing I had was that nobody said that to me or let me feel it. I don't think of my parents as bad people. I think they worried about us, but they never let us know it. And that's a great gift."