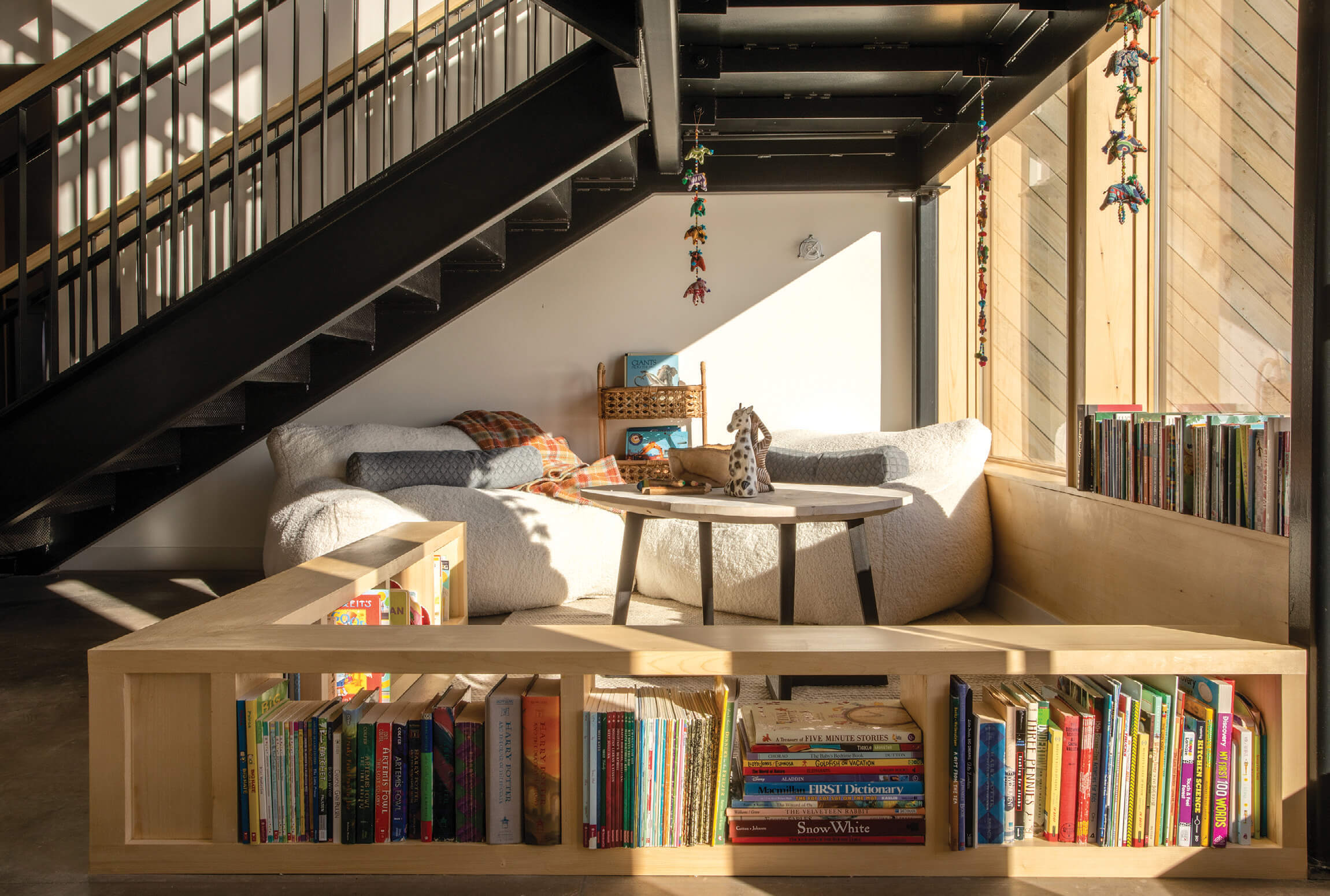 Tucked under the communal stairs and bathed in sunlight, the children's library designed by Farland Interiors offers a cozy and inviting reading nook for children of all ages.
12 Apr

Making a Difference

in

When Rain Houser, interior designer and co-owner of Urbaine Atelier in Bozeman, Montana, heard about a new facility in the works for Haven, the local domestic violence shelter, she and business partner Skye Anderson sought out Haven's executive director, Erica Aytes Coyle, to find out more. Now, seven years after their meeting, the new shelter is slated to open later this year under the name of The Barnard Center. It will provide a complex of public-facing buildings — historically, Haven's location has been confidential to ensure the safety of its residents — and will quadruple the former shelter's capacity. The facility will also welcome on-site guests of all gender identifications and allow survivors to bring their pets, both firsts in the shelter's 44-year history.

Following their meeting with Coyle and still early in the center's construction, Houser and Anderson began formulating a plan: They would infuse the new complex with beauty, evoking that sense of respite, safety, and sanctuary so desperately needed by survivors and their families. Relentless in her vision, Houser facilitated community donations for both the buildings and interiors, igniting the same passion and commitment in designers and partners throughout Bozeman and Big Sky. "We have such an amazingly talented and compassionate community of designers in Bozeman, and I knew that they would embrace this project as passionately as I had," Houser says. "I reached out to everyone and, as I suspected, had a wonderful outpouring of commitment." Including Urbaine, nine firms joined the project: Abby Hetherington Interiors, Envi Interior Design Studio, Shelter Interiors, Farland Interiors, ICON Interiors, Gallatin Valley Furniture, Alder & Tweed Design Co., and SAV Digital Environments in partnership with Open Studio Collective. 

While functionality and durability were key factors in the facility's design, creating supportive, trauma-informed spaces was of equal importance. Applicable across diverse settings in architecture and interiors, trauma-informed design recognizes the impact of physical environments on a person's sense of wellness, security, dignity, and self-worth.

Internationally renowned MASS Design Group, a nonprofit architecture design collective self-described as "redefining how architecture can promote justice and human dignity," is the creative force responsible for the overall design of The Barnard Center. After MASS incorporated a trauma-informed approach into its winning design proposal, the local interior designers matched that lead, creating comfortable, inviting spaces devoid of the drab institutional asceticism that has so often defined similar facilities in the past. "We have learned ways that space shapes behavior and plays a role in supporting individuals healing from traumatic experiences," says MASS Design Group in a collaborative statement. "We've embraced the principles of trauma-informed care (safety, trust, choice, collaboration, empowerment) in the design of the shelter by providing spaces that are designed to make survivors of domestic violence feel safe, supported, and empowered." 

The expansive new ADA-accessible facility houses private keypad-entry resident rooms with suite configurations that support families, therapy rooms, communal spaces (including playgrounds and outdoor gathering spots), staff offices, and a law enforcement workspace. Each of the designers committed to donating the design and furnishings of a unique space. "When a group of people in the same profession can come together to donate their time, skills, experience, and materials to create something that is not only beautiful, but that serves a needed function, it breeds an inspired result," says Alder & Tweed senior designer Ashley Powers.

Inspired, indeed. With few parameters on their creative vision, the designers sought out unique pieces and partnerships to deliver spaces that are as much a tribute to the survivor's fortitude as the community's magnitude of support. Urbaine furnished the concierge space at the facility's entrance like a boutique hotel, carefully placing vintage accents and decor from around the globe. Bold Pierre Frey wallpaper offsets an ornate black 1940s hotel desk from France that anchors the space. A Ralph Lauren leather Chesterfield sofa pairs with a vintage black glass-and-wood coffee table, a mohair lounge chair, and a French chandelier to create a viscerally immersive, transportive experience.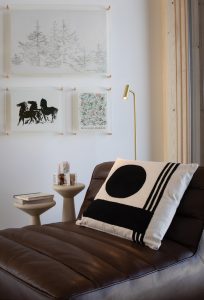 Envi completed two multi-functioning counseling rooms. Through generous donations from industry partners John Tate Workroom, Phillip Jeffries, and Town Studios in Denver, Envi designed clean, modern spaces. "Being able to join this effort was a true honor for all of us here at Envi. We saw it as a way to give back in a big way," says Envi studio director Daniel Bontrop. "We chose accessories that added a fresh layer of fun, hoping that it might provide some lighthearted relief to survivors and their families."
Selecting soothing shades of uplifting colors, the ICON Interiors team focused on creating a relaxing living room, complete with a cozy fireplace. Photographer Whitney Kamman's inspiring prints featuring doors from around the world conceptualize possibility and hope, while a partnership with State of Play in Bozeman yielded an abstract piece combining hair, eye, and skin colors in an expression of both individuality and strength. "My hope is that we have created a space that turns one part of a terrible situation into a positive one," says ICON principal and owner Carla Thorning. "It's a place where residents can look forward to going, and that allows them to make a fresh start after bravely taking the action to remove themselves from a negative situation."
Shelter Interiors furnished an intake room, the space where a client first checks into the facility and meets with an advocate. Functional and welcoming, the room features two soft, modern armchairs with lumbar pillows, a small writing desk with a warm textural finish, and a selection of art featuring Montana wildlife. "Our hope," remarks Shelter senior designer and principal Sharon Lohss, "is that these whimsical, happy paintings inspired by our Montana landscape will be cheerful and serene, helping the survivors feel more peaceful." 
Alder & Tweed handled a large second-floor quiet relaxation and reading area that is expected to be a heavily utilized living space. To that end, Powers installed carpet tiles that can be swapped out over time. Additionally, she included furniture with durable upholstery, like a leather sofa that looks better with age. Other industry craftspeople partnered and donated their time and materials, including Saski Ewen Fox from Whole Art Inc., Maverick Custom Design, and Cutting Edge Paint and Paper.
Replete with double-height ceilings and large windows letting in tons of natural light, a second large living space designed by Gallatin Valley Furniture feels airy and comfortably informal. "Our hope is to create a tranquil retreat, layered with happy, youthful colors and textures, so everyone feels safe and welcome," says design and showroom manager Michelle Scott.
Brianna Farland of Farland Interiors curated a children's reading nook — complete with cozy sun-bathed chairs and a library — as well as a living space featuring an eclectic mix of furnishings to accommodate lounging and a range of activities for clients and staff. "I am so proud to see what our community of designers came together to accomplish and hope the feelings of love, safety, and support are apparent everywhere," Farland says.
Working in collaboration with Seth Neilson of WASA Industries and SCS Wraps, Abby Hetherington Interiors created a unique Hyalite Canyon-inspired wall wrap as part of the decorative approach to a children's playroom. Animal accents add playful whimsy and a touch of magic in this inviting space. "We focus on family and homes on a daily basis," says Hetherington, "and nothing compares to bringing joy and smiles to a child's face."
Stephanie Gilboy of SAV Digital Environments partnered with Allison Bryan and Georgia Barnett of Open Studio Collective to complete three small rooms for counseling and private phone calls. Focused on creating approachable, intentional healing spaces for all ages, the team reached out to Echo Arts, who donated two transformative works that elevate the cohesive, thoughtful design. The small, private booths showcase children's artwork — at their eye level — with a special piece from Bryan's young daughter. "To know that there is a place like Haven addressing kids and families — that they can bring their pets, that they can stay a unit — it's really exciting and heartwarming to be a part of that," says Gilboy.
Since its inception in 1979, Haven has supported local survivors of domestic violence by providing safe intervention, advocacy, and education. As the Bozeman community has grown, so, unfortunately, has the need for Haven's services. "Our work here has become more comprehensive over the years because of the scope of the problem we're trying to address — one in three women and one in seven men face this kind of violence from their partners," says Kareena Robinson, Haven's director of programs. "It also makes sense that as Bozeman has grown, the problem has grown with it. But what we're seeing is that the increased need for our services — last year we served 12 percent more people than the previous year — is outpacing even Gallatin County's rapid growth, which is 3 percent every year."
When the new facility opens this spring, Haven will increase its capacity and reach while making itself visible for the first time in a definitive statement to both abusers and survivors. "This warm and generous community has invested in this new space for survivors to shelter, heal, and eventually thrive," Coyle says. "The tree has been planted. We know it'll grow with continued care and attention, letting survivors know through this space and through our work that we see them, and that they deserve safety and dignity. When we create space for contribution, we reduce the hush-hush stigma around intimate-partner violence, showing our donors and the community that this space and our support are transforming people's lives. That there's light in the darkness. That hope lives. That people can make a difference for others."
It matters — this changing the world one small action at a time — and it's possible. Maybe that's the takeaway. When we employ our gifts, our talents, and our expertise in the service of something more, something inarguably right and good, we change our communities. Each of those communities then informs and touches others. And others, again. That change has been realized here, at Haven, through this generous act of support and solidarity by nine prestigious interior design firms that chose to make a difference. And did. 
"Being able to give back in this capacity has been so fulfilling," says Houser. "I'm beyond grateful for the opportunity and to all those that participated. I hope that everyone that walks through Haven's doors feels the love and support from their community."
Jessica Bayramian Byerly is a freelance writer and editor whose work has appeared in various newspapers and magazines, including The Montana Historian, Destination Big Sky, Views., and the Big Sky Journal, among others. She also curates distinctive content for a range of regional businesses and nonprofits. A Bozeman, Montana native, Byerly is currently the associate editor for the Big Sky Journal.
Melanie Maganias loves capturing the essence of her subject matter in editorial assignments, at weddings, and in portraits by following her intuition and using her camera as a tool to depict her vision. Named one of America's Top 15 Wedding Photographers by PDN, her work has been featured in The New York Times, Forbes, Real Simple Weddings, Martha Stewart Weddings, and many other publications. She earned bachelor's and master's degrees in photography and has also taught at Montana State University.