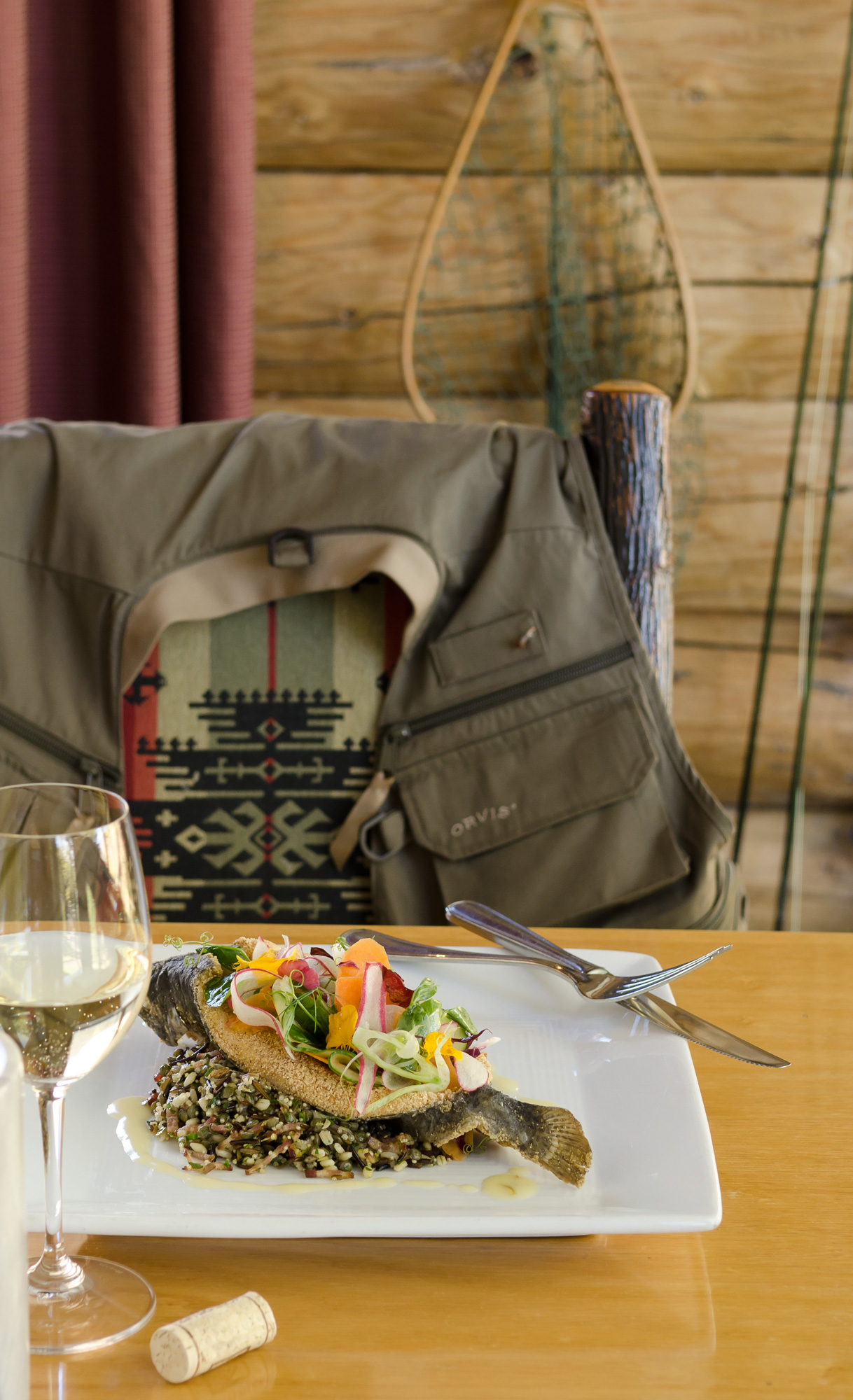 14 Jul

Dining Out: Lone Mountain Ranch Serves Up a Sense of Place

in
---
A day at Lone Mountain Ranch in Big Sky, Montana, begins with the squeak of the screen door opening on my log cabin. The crisp mountain air is better than a first-sip of coffee, but I walk across the lawn anyway toward the lodge where I know a great cup of Joe awaits. Pulling on the elk horn handle of the front door and entering the dining room, the aromas of breakfast awake my senses.
Amidst the delicious mix of housemade granola, baked goodies, farm-fresh scrambled eggs and thick-cut bacon is chicken-fried venison steak and bison chorizo cream gravy. I take a seat with John Hall, my fly fishing guide for the day and LM Ranch general manager Mark Partlett. We all raise our eyebrows at this hearty offering and dig in.
While housemade bison chorizo is a first for me, it's a natural offering for executive chef Bill Baskin. He cooks with a sense of place by sourcing foods from local farms and ranches. Through his menus he's out to disprove the misnomer that fresh vegetables, fish and local meats aren't available year-round in Montana.
"My philosophy is: Cook with the seasons," explains Baskin. "It's trendy, but I think it's a great way to offer a true taste of Montana."
There's actually nothing trendy about Lone Mountain Ranch. Stocked with a homestead history that stretches back to 1915, the ranch has an iconic reputation for western hospitality. Lone Mountain Ranch is the kind of place that people dream of discovering. It's everything that a guest ranch should be: quaint, authentic and comfortable.
LM ranch is completely different from everyday life, yet also easy and familiar like the embrace of an old friend. Here, guests are removed from the present (cell service doesn't work from your cabin) and transported into a choice of now. The choices are broad — ranging from fly fishing to horseback rides to day hikes. Throw in yoga, game night, volleyball, Yellowstone National Park, mountain biking, massage, cross country skiing and downhill, too, (if you feel you must leave the property).
That's enough to keep this Big Sky icon on the map, but with Baskin's passion and talent he hopes the restaurant fare will be another attraction for guests and locals alike. One of his chief goals is to add LM Ranch to the list of great restaurants in the state.
"More than anything, I want to build a reputation for serving good, consistent food."
For Baskin his role is more than a job. From 1997 through 2001 he was a sous chef at the ranch, working eight seasons through the years. Ultimately he and his wife met here, so LM Ranch holds strong memories for the couple.
"The Ranch is one of the few places in Big Sky that hasn't changed much in the last 20 years and it's still true to its roots set down a century ago," says general manager Mark Partlett. Along with his wife, Kim, Partlett leads his staff to embrace each other and every guest like family. Look to the guest list and there is proof that the feeling is mutual, the annual return rate is around 75 percent and visitors come from around the globe.
Recognizing that his customer is a mix of new and returning guests, Baskin creates a new menu every night in the dining room. He meets with his staff and they discuss what fresh ingredients are on hand.
Describing his cuisine as "Nouveau Montana," Baskin's straightforward attitude makes him the kind of chef who gets a call from the food critic at L.A. Times to vote on the San Pellegrino World's Top Fifty Restaurants. He has been recognized by Bon Appétit, The New York Times and Food Arts, among other publications. Through his career he's trained in the kitchen trenches of reputable restaurants in Portland, Ore.; Minneapolis; Dallas; San Francisco; Chicago; New Orleans; Washington, D.C.; Boston. His desire to build on classic techniques and modern cooking led him to stage, a brief culinary internship, in London and Oxford. His dedication to gaining hands-on experiences with "farm to fork" cooking took him to Guatemala, where he worked in a traditional Mayan kitchen, and to a goat cheese farm near Salem, Ore., where he volunteered and later worked as a charcutier in a butcher shop. His interest in wine pairing has led to sojourns in Napa Valley, Oregon's Willamette Valley, Walla Walla, Wash., as well as South Africa.
This fall, during LM Ranch's off-season, Baskin visited local food suppliers such as Gallatin Valley Botanicals, where he buys produce year round; Trout Culture in Virginia City where he orders fresh rainbow trout; and Red Lodge's Great Northern Cattle Company for grass-finished natural beef.
Chef Baskin wraps his experiences and fresh seasonal ingredients into the cuisine in creative ways. Even an eventful day of fly fishing on a narrow stretch of the Gallatin River in Yellowstone — where it seemed every other cast produced a pretty rainbow to the point that we stopped counting fish — didn't distract from thoughts of dinner back at the lodge.
Ultimately, the table is where LM Ranch's beauty is distilled. Seated in the warm, woodsy dining room, the fire blazing, the sting of the day's wind still in the skin of my cheeks and the glow of a well-spent day outdoors fresh on my mind, there is nothing so satisfying as looking around a table of newfound friends. In classic ranch style, Mark and Kim Partlett have gathered a group of guests and staff for a send-off meal.
"It's great to see families go different ways during the day, but then gather in the lodge over dinner to share their experiences," muses Partlett.
The only thing better than dinner at Lone Mountain Ranch, is stepping out into the cool night with a full belly to walk across the lawn to my cabin. The stars are limitless. The gibbous moon lights my path to the squeaking screen door, which closes on a memorable day and an unforgettable meal.
---
Fishing Dudes
While LM Ranch doesn't bill itself exclusively as a fishing lodge, the Orvis-endorsed fly shop is a good reason to call it home base. The other reason is for riverine diversity. The Gallatin, Madison, Jefferson and Yellowstone rivers, plus Yellowstone National Park, lakes and spring creeks are all accessible within an hour or less. Enough said?
The 2012 Fly Fishing package is geared for those who love to fish. Included is lodging in a cozy cabin or a room in the Ridgetop Lodge, three incredible meals daily, guided fly-fishing trips, rental gear, flies and transfers to and from the Bozeman, Mont., airport. A four night/three day package starts at $2,365 per person based on double occupancy. The seven night/six day package starts at $3,993 per person based on double occupancy. More info can be found at www.lonemountainranch.com.
---
Fried Rainbow Trout with Montana Grain Pilaf, Sorrel Butter and Gallatin Valley Vegetable Crudo 
4 Rainbow Trout
To prepare the trout: Purchase a deboned trout, or catch and clean your own, and then cut the top of the fish lengthwise on both sides of the dorsal fin. Use a bamboo skewer to pin the belly shut in two places. Don't worry about skewering the fish wrong, it is just meant to keep the belly together and create a fish "basket" that opens at the top. After skewering the fish, dredge it evenly by coating with flour. Heat cast iron skillet. Shake the excess flour dredge from the fish and fry until golden brown in ¼" of Montana Safflower oil.
Dredge
½ cup all-purpose flour
1 cup corn meal
½ cup corn starch
2 TBS mild chile powder
1 TBS garlic powder Salt and pepper to taste
¼ to ½ cup Montana Safflower oil
Pilaf: Select whatever grains you have available. Bulk aisles are always the place to find them at a good cost. For my recipe I've used the following:
½ cup kamut
½ cup spelt
½ cup red wheat berries
½ cup rye berries
To prepare the pilaf: First rinse each grain in a basket strainer, until the water coming off the grain runs clear. Next start each grain in cold water and boil individually. Once water reaches a boil, turn heat down and simmer until desired doneness. It will take 15 to 25 minutes depending on pan size, heat, altitude and size of grain. Once the grains are cooked to desired tenderness, strain water and combine.
Mix the grains with:
½ cup of finely chopped Bacon (optional)
Zest of two lemons
½ cup of finely chopped
Italian parsley
Salt and pepper to taste
The pilaf is great hot or cold. For a hot preparation, warm it up with 1 cup of chicken stock. For a cold preparation toss it with ¼ cup of extra virgin olive oil.
Sorrel Butter
2 lemons (peeled of rind and left whole)
½ cup white wine
½ cup heavy cream
½ lb room-temperature unsalted butter
2 oz fresh sorrel leaves (fresh oregano, or basil can be substituted)
Salt and pepper to taste
To prepare the sorrel butter: Add the lemons and white wine to a saucepan and reduce over medium heat until almost all of the wine is gone. Add the cream and reduce until the cream is very thick and syrup-like. Remove from heat and let cool down for one minute. Over very low heat, slowly add the butter, stirring constantly. Add the sorrel, and season with salt and pepper. Store the sauce in a warm (not hot) location in a thick-sided container (such as a Pyrex crock).  This will keep the sauce from breaking. Strain out the lemon and sorrel just before serving.
Vegetable Crudo
Crudo is a raw vegetable salad. It can be whatever you want it to be … whatever is in season. The trick is to slice all of the vegetables thinly.
For this dish I used:
Carrot
Baby fennel
Breakfast radish
Pea shoots
Baby turnip
Beet
Red onion
Lemon juice
Extra virgin olive oil