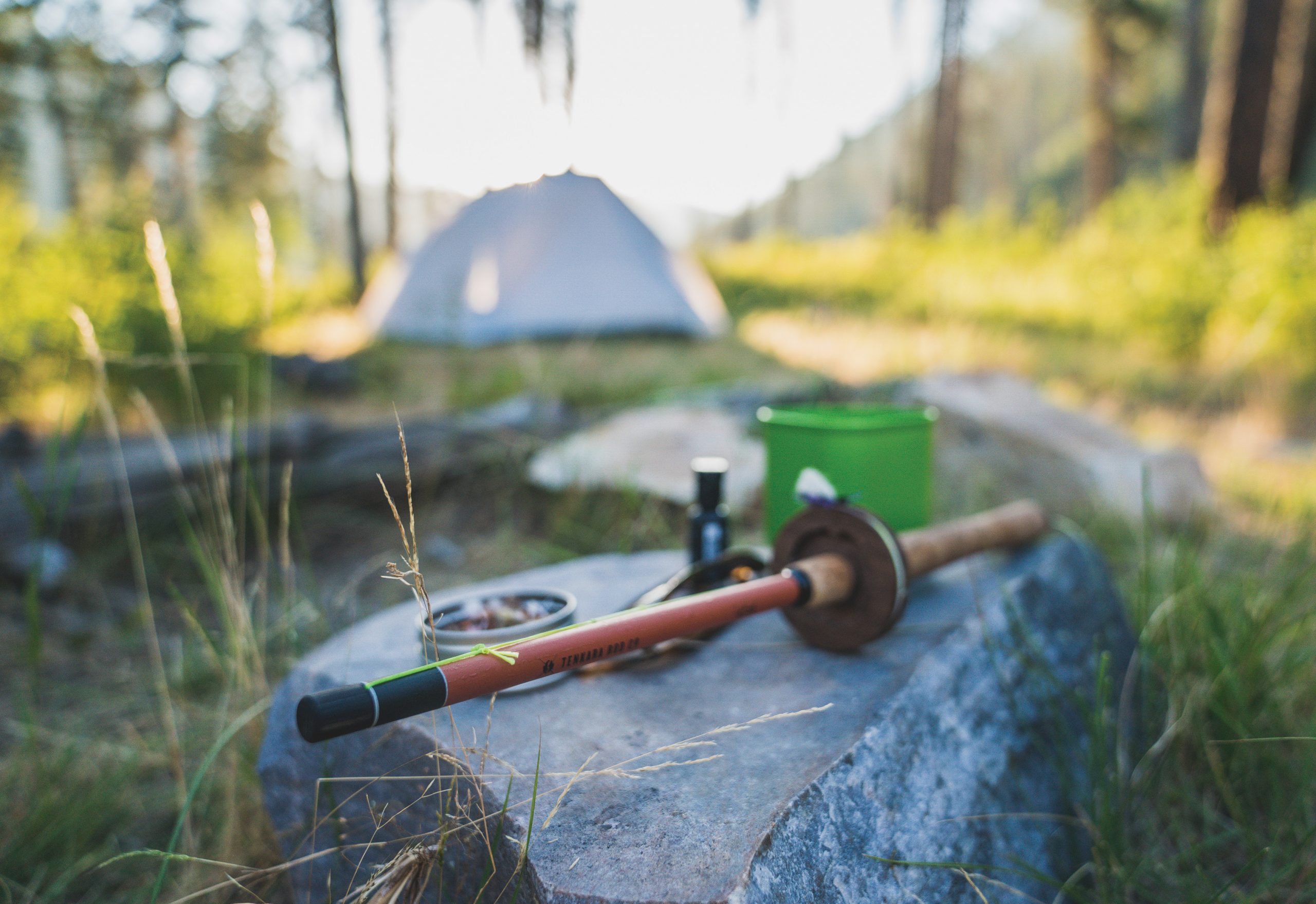 A simplified approach to fly fishing
04 Feb

Local Knowledge: The Tenkara Way

in

There are many reasons why fly anglers are drawn to the sport, some more obsessively than others. Maybe it's time spent outdoors, the peaceful spell of rushing waters, the game of trying to emulate nature and fool a fish. There's a beautiful simplicity about angling, or at least there appears to be. But when you start factoring in the gear that's needed — the right sized tippet, the correct flies to have on hand for that particular day on that particular river — it's more complicated than one might think.

Then there's Tenkara, an approach to fly fishing that doesn't involve shelling out a lot of money to get started or overcoming a learning curve as steep as first-year calculus. All the equipment you need to start fishing the Tenkara way practically fits in your back pocket, and after a bit of casting practice, you just might just reel in a prized cutthroat. In fact, if you take the Tenkara route, you don't need to know anything about reels at all, because it involves only a rod, a line, and a fly: What could be simpler?

Tenkara is an angling method that was devised in Japan, a culture that is well-known for its devotion to the aesthetics of simplicity and integration with the natural world. The term itself is derived from a combination of "ten" (heaven) and "kara" (from), which describes the essence of what fly fishers call "presentation." Historians of fly fishing acknowledge that the first mention of Tenkara in print occurs in the 1870s, but as the style developed in the high mountain regions of Japan among largely illiterate farmers, the practice is most likely centuries older.

A minimalist approach to a skill like fly fishing illustrates the philosophy that guides its practitioners. Many traditional Tenkara anglers use only one or two fly patterns, which allows them to devote their focus to other variables of presentation, including working with the ambient light and microtopography of the stream. Tenkara expert Adam Trahan clarifies his approach in a fitting aphorism: "The more you know, the less you need." Other followers of the art summarize the charm of Tenkara in similar, Zen-like formulae — "Leave the unnecessary behind" and "Simplicity is its own reward" — mottos with wisdom that can also apply to other parts of our lives not related to fly fishing.

Tenkara uses a telescoping 9- or 13-foot-long rod, which collapses down to less than 18 inches and is lighter than a cell phone. The line attaches to the tip of the rod at one end and to the fly at the other, and you might need to learn a couple of simple knots if you don't already know them, but that will likely be the most challenging part of the enterprise. A basic cast is all you need to master; there's no line stripping or managing unwieldy loops.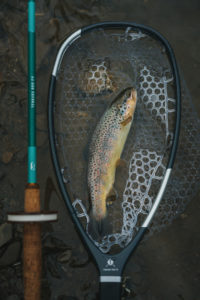 Tanner Flake and Drew Hollenback started Tenkara Rod Co. out of Rexburg, Idaho, in 2011 after putting out a series of crowdfunding campaigns. "We were asking for $5,000 to get started making some rods," Flake explains. After creating another campaign to make a couple of specialized rods, they ultimately ended up with more than $200,000 worth of orders, and the Tenkara Rod Co. became a full-fledged enterprise.
Flake underscores that the whole idea behind Tenkara is to engage with the outdoors. "We try to market to people who just want to get out into nature," he says. "We're not exclusively fishing junkies. We like to mountain bike and hunt, and do a lot of other outdoor stuff. The beauty of Tenkara is we can do all of that and go fishing."
Their rods are assembled in China, but a key component of the Tenkara setup is the line itself, which they handcraft in-house. "We sell what we call a 'crossbreed' line, which combines the best of two worlds," Flake says, explaining that regular fly line is made of PVC, which is designed to float well and cast effectively in wind. The line that's typically used for Tenkara is called a "furled" line, meaning that it's a sort of cordage that has been twisted in two directions. "Our crossbreed line melds the two," Flake adds. "We make a 13-foot line, 10 feet of which is regular fly line from the tip of the rod, and the last few feet is a furled tip. It makes for a great presentation, which is the heart of this kind of fishing."
Many beginning anglers find the world of fly fishing intimidating, both because of the difficulty of mastering its various techniques, and because of the daunting plethora of gear involved. Tenkara offers the uninitiated an engaging introduction to the joys of fly fishing. As with any focal practice, true mastery of the sport takes time and effort. But with Tenkara, it's possible for a rank beginner to have an enjoyable and productive afternoon on an alpine stream without feeling overwhelmed. "We know many military veterans or folks with disabilities who find Tenkara much more accessible than ordinary fly fishing," Flake says. "It's more suited to high alpine streams and smaller water. But it's also something you can do one-handed."
The growing popularity of the Tenkara technique accounts, in part, for the success of the Tenkara Rod Co.'s initial funding campaigns. And anyone looking for an excuse to get out of town and up into the remote, high alpine streams of the West will find a natural partner in this historic technique, one whose primary virtues are simplicity and accessibility. "The bottom line," Flake says, "is that it's a fully-integrated aesthetic experience."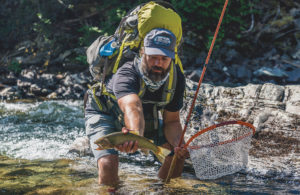 Aaron Parrett is a professor of English at the University of Providence in Great Falls, Montana, and runs a letterpress shop called Territorial Press in Helena. He has been widely published in many fields, and his most recent book is a collection of short fiction called Maple & Lead. He lives with his wife and daughter in Helena.