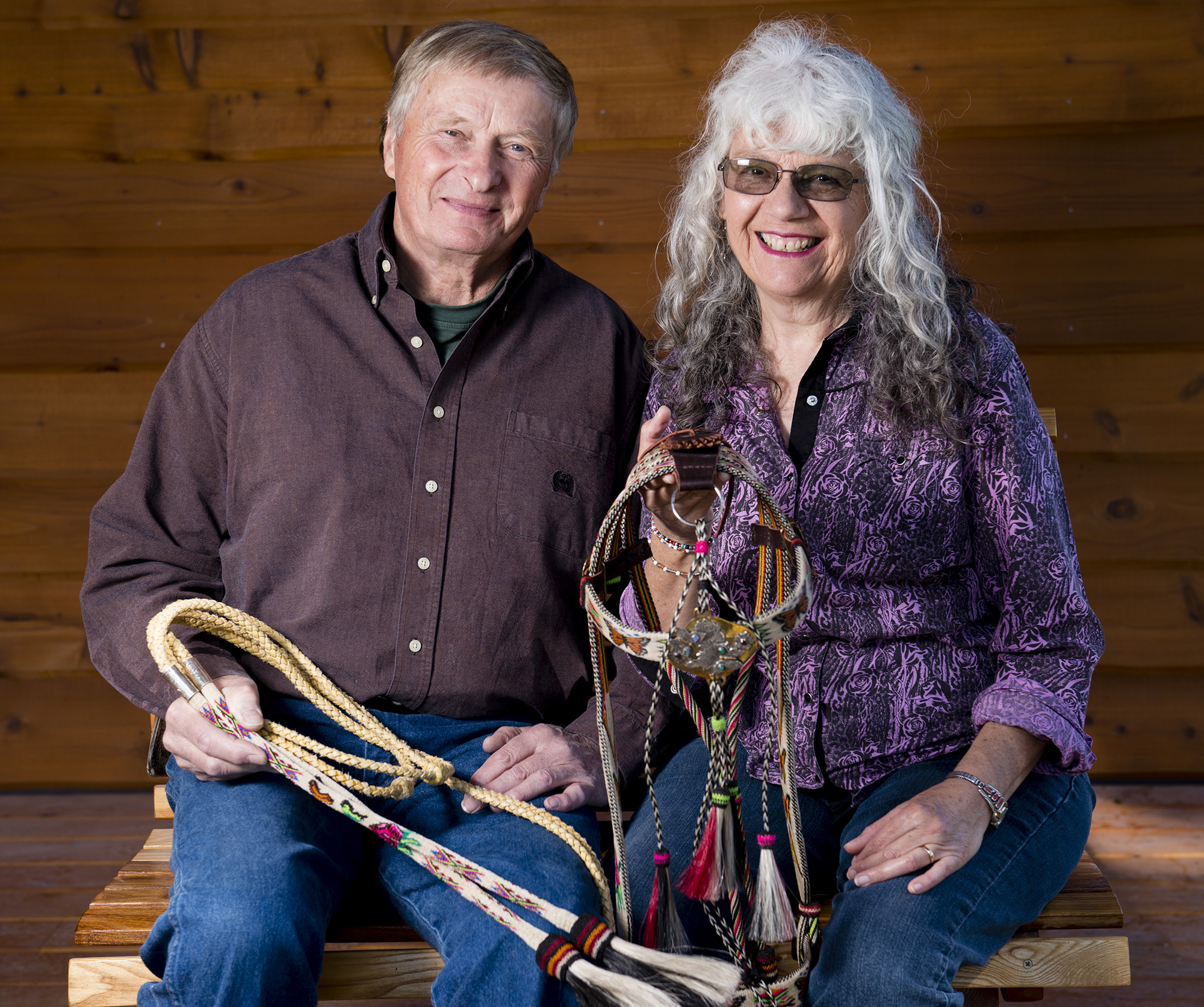 04 Oct

Local Knowledge: Shoni and Ron Maulding

in
---
French artist Paul Gauguin once observed, "Art is either plagiarism or revolution." While many of us struggle to create art, only a few manage to make something that's even close to original.
At the base of the Mission Mountains on the Flathead Indian Reservation of Western Montana, Shoni and Ron Maulding are creating a new kind of art form — the merging of horsehair and silverwork.
"In the hundreds of years that hitched horsehair has been practiced, it's never had the elements of silver added to it, or been done quite the way we're doing it," says Ron, who handles the silver and leatherwork. "To know that there is no precursor in this kind of medium is exciting."
Hitched horsehair is the art of twisting a few horsetail hairs together and knotting them over string to form a vast array of items, including ropes and belts. Shoni is the horsehair hitcher of the twosome.
Hitching is, at root, a time-intensive counting system. Some days on a complex project, perhaps a belt, Shoni can hitch 3 inches, which she considers "a coup." These 3 inches are derived from 6 to 8 hours or more of work, which includes ample breaks to alleviate cramping hands. On some parts of a bridle, 1 inch per day is considered an accomplishment.
Hitching over one string instead of two makes the pattern shorter, with more rows per inch. Shoni can hitch an inch per hair. Ten black or 11 white hairs are twisted together into what is called a pull. The pulls are knotted over nylon string, which is wound around a dowel. For a belt, the dowel is pulled out and then a tube is pressed between two pieces of half-inch metal. To make reins, she hitches over rope and leaves the rope inside. Hitched horsehair inlays adorn belt buckles, bolos, barrettes, pins, spur straps, checkbook covers, vests, coats, boots, saddles, rifle strings, and guitar straps.
For all of its utility, no one is absolutely sure where the technique originated. One supposition is that the art of hitching horsehair came from the Moors who conquered Spain in the eighth century, and that the Spaniards brought the art to the New World, where it was refined and practiced by prison inmates.
"In the Western United States, the history of hitching is intertwined with the history of territorial and modern-day prisons," says Ron. "It was the first hobby at Montana State Prison in the territorial days, dating back to Deer Lodge. Charlie Russell wrote about men at Deer Lodge twisting hairs. Other prisons known for horsehair were located in Yuma, Arizona, Wyoming, and Washington. Australia has some history and so, too, does the Ottoman Empire. But the countries doing it now can thank the cowboys who ended up being incarcerated in Western prisons; they are the ones who have made the art form of hitched horsehair what it is."
Ron was the first full-time hobby director at Montana State Prison, and was instrumental in preserving hitched horsehair in the penitentiary. "In the prison system, things cycle, and that includes hobby products," says Ron. "In early 1987, horsehair hitching was almost a lost art. There were only two inmates who were learned at it. One inmate who was working for the dairy and cow camp brought a hitched belt to show me, and I thought it was gorgeous. I didn't want to lose this art. I figured we'd get someone to teach it and preserve the process of doing it. There was another inmate who was willing to teach classes."
Shoni is a sixth-generation Montanan with agricultural ties to ranching, farming, and commercial beekeeping, and ancestral ties to the Northern Shoshone. "I was working the honeybees with my dad in Deer Lodge, and I would stop by the old prison store on the way to a bee yard," says Shoni. "I always thought hitched horsehair was pretty."
After Shoni was laid off from her commercial beekeeping job, Ron recommended that she learn how to hitch. And eventually write a book. And teach workshops. Turns out, she excelled at all three endeavors.
"From the beginning, hitching was always a business for me — never a hobby," says Shoni. "I learned the basics in under a year, and was selling belts by 1992."
In the past several years, Ron, a master bow maker, a wooden sailboat builder, and a Navy veteran, has added his knowledge to the business. Ron learned silverwork from Shoni's dad, and he now produces the leatherwork and sterling silver for the hitched inlays and bridle and quirt embellishments.
While Ron, 75, welds in the studio outside, Shoni, 65, laboriously bends over her knots, creating an infinite variety of intricate patterns. She starts by drawing on graph paper, which she says helps her obtain certain crucial measurements, before following the basic steps of hitching, beginning with the six-row diamond that all patterns are based on.
Hitched horsehair is a knotting process. Think of a brick wall with the rows interlocked and interdependent of each other. Counterintuitively, only two knots are responsible for all of the intricate patterns — one is the simple half hitch, also known as the closed hitch, perhaps the most versatile knot in the world; the other knot is the open hitch.
The store-bought hair comes to them from overseas. It arrives already cleaned, cut, and sorted to length, with some dyed colors available. To Shoni's students (she often conducts seminars), she recommends using 22- to 29-inch long tail hair. With store hair, Shoni can make from 60 to 80 pulls per hour. If she's using other hair, manual sorting slows her down to approximately 25 pulls per hour.
"It's the pulls that are dyed instead of individual hairs," says Shoni. "I dye my own white hair pulls because I like bright colors and want control of the dyeing process. I'm picky about the timing of each dye." Depending on the dye intensity, the pulls are in the dye bath from 15 seconds to 12 minutes. A yellow may be in for a short time; but a deep red would be in for the maximum of 12 minutes.
Shoni needs to take a break every 45 minutes or so, or her body locks up. To help, Ron built her a freestanding hitching jig with a string tension board so she doesn't have to create her own tension by sitting on the nylon string. Her dowel goes into a keyless chuck which turns when she steps on a foot pedal. This prevents her left hand from cramping as it holds tight to the dowel.
"For our larger projects, we have four goals," says Shoni. "The item must be functional, have a theme, have a story, and be one of a kind."
Ron and Shoni work concurrently, each on their projects. There is some measuring back and forth, comparing what she is hitching with what he is doing with the metal. They sometimes simultaneously improvise as well. Their merging of hitched horsehair with silver and brass has not only put a spin on the art of hitching but has also re-energized their own ambitions. For several years, the Mauldings focused solely on writing books (they've authored the definitive self-learning guides) and carrying out restoration commissions. While some of their recent work has included fulfilling custom belts, the Mauldings steered the business in the direction of museum quality and collector art pieces, showcasing Ron's silverwork. Their work also reflects Shoni's heritage. "I'm part Indian," Shoni says, "so there is kind of an Indian theme that tends to run through the pieces. Cradle boards, quivers, the pictorials, a butterfly, a pony, a rose. I was raised by Indian women who were raised by Indian women."
As far as their future plans go, Shoni says, "We will continue to produce pieces that are from our thoughts. This is the main reason we don't do restoration any more. We found ourselves in the position of not having enough time to do our new creative pieces. We want to see where hitched horsehair can take us, and where we can go with it."