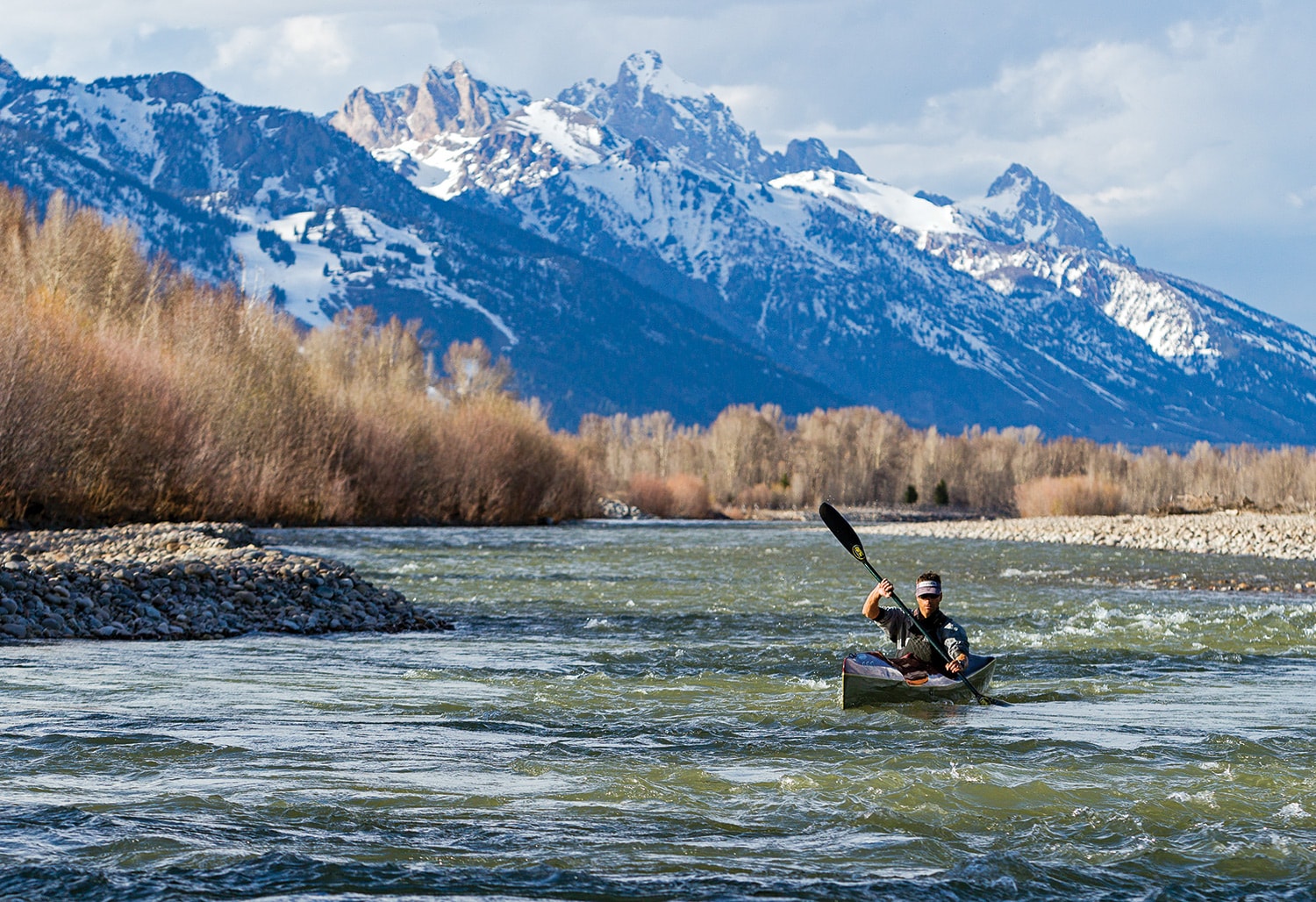 Aaron Pruzan (pictured in 2012) worked with other local conservationists for five years to protect the Snake River Headwaters with a Wild & Scenic River designation. Photo by Jonathan Selkowitz
07 Jun

Local Knowledge: River Runner

in

If you're looking for Aaron Pruzan, there's a good chance you'll find him out on the water, at least from early spring through late fall. Rivers and the sports associated with them are deeply interwoven into every aspect of his life, whether he's running raging Class V whitewater with some of the best paddlers in the world; plowing through the rapids on his hometown waters, the Snake River in Jackson, Wyoming, with his wife and kids; or helping others learn how to hold a paddle correctly through his paddle sports shop and kayaking school. Wild waters are so important to him, in fact, that he spent more than five years working tirelessly to obtain Wild & Scenic River designation for over 400 miles of the Snake River headwaters.

This year is the 50th anniversary of the Wild & Scenic Rivers Act, which was created by Congress in 1968 and has since been responsible for protecting more than 12,734 miles of river across the U.S. These specially designated free-flowing stretches of river receive protection for their "outstandingly remarkable scenic, recreational, geologic, fish and wildlife, historic, cultural or other similar values," according to the legislation.

As far as Pruzan is concerned, the Snake is exactly the type of river that Congress had in mind when the law was passed. But getting that designation, as he discovered, required no small effort.

Pruzan first became acquainted with paddle sports while attending summer camp at age 8. After passing a "flip test," he was free to check out a canoe and paddle his way around a lake all by himself, exploring, and propelling himself across the water. He was hooked. "I loved it right away," he recalls.

In middle school, Pruzan gave kayaking a try, and by the time he went to Fort Lewis College in Durango, Colorado, he was fully immersed in the sport. The Animas River, which ran right through town, gave him plenty of opportunities to practice. He bought his first full setup, honed his whitewater skills, and prepared for the next challenge.

Pruzan's first long expedition involved 18 days on the big waters of the Colorado River where it winds through the Grand Canyon. As the sole kayaker in his group, he spent a lot of time paddling alone. "It was a really good way to get super confident," he says. Though he notes that since the river is known for boat-flipping rapids, the experience could have had the opposite effect.
The Wild & Scenic Rivers Act protects 12,734 miles of rivers in the U.S., including the more than 400 miles Pruzan fought to protect near his Wyoming home.
In 1993, Pruzan began teaching kayaking in Jackson and guiding people on the Snake River. It was then that he realized his passion could become his work. Instead of taking jobs that afforded him the best schedule for kayaking, he could work on the water, his favorite place to be, and help people have a great time while honing their skills.
When he decided to delve further into the business side of kayaking, Pruzan joined his friend Greg Goodyear in founding Rendezvous River Sports in 1995. Pruzan later acquired Jackson Hole Kayak School, which Goodyear founded.
Pruzan wanted to help more people get out on the water, especially those who might not otherwise do so. In 1996, he started the Jackson Hole Kayak Club to introduce kids to river sports. The club began with just five local kids, and now has more than 75 participants. Some alumni, including Jules Domine, have won prestigious kayaking awards, and alum Eric Parker is now a professional photographer who specializes in shooting whitewater images for big brands and publications.
For a long time, Pruzan's main recreational focus was on Class V whitewater. He loves the challenge, the excitement, and the chance to venture to remote places that few people see. He also enjoys the close-knit community that surrounds the sport and spending time with those who have a passion for being on the river. He completed the "Triple Crown of North America," which included stretches of the Susitna, Alsek, and Stikine rivers, as well as the "Triple Crown of South America," which included sections of the Río Pascua, Río Baker, and Río Futaleufú. He's paddled big water all over the world, and even heli-kayaked in New Zealand, racing up rivers via helicopter, then getting dropped off in remote locations to run the waters through sheer-walled granite canyons.
Rivers are intertwined with every aspect of Pruzan's world, including his family life. He met his wife, Tamsen, while kayaking in Jackson. She was an instructor and worked in the shop for a time. They now have three children, ages 9, 11, and 13. This spring, Pruzan took the older two kayaking in Hells Canyon, Idaho, for their first multi-day trip. "River running with my family gave me a new appreciation for many great rivers that I missed when all I wanted to do was run harder and harder whitewater," Pruzan says. "Many family river trips have been on rivers that none of us have ever paddled, so it's been a new adventure for everyone. It's an amazing way to experience being in the backcountry."
On the side, Pruzan spends time working with organizations that protect the waters he loves. In 1999, he was one of the founding board members of the Snake River Fund, a group that focused on simple things at first, like collecting garbage near the river and raising money to hire seasonal rangers. He's also served on a variety of other boards, including eight years with American Whitewater.
However, his biggest conservation accomplishment was winning Wild & Scenic River status for the Snake River headwaters. The proposed designation was controversial, and some landowners were worried about water rights, stock watering, and other issues. Pruzan and a coalition of conservationists began to pursue the designation, but kept quiet about their work at first, meeting in private homes and at Pruzan's shop after hours to plan and coordinate their efforts. They held their first official meeting in 2003. "It was a true grassroots effort," Pruzan says. "We really had to kind of tip toe around for the first couple of years." Pruzan worked with partners to solicit funding, and spent a lot of time talking to landowners, outfitters, and business owners to cultivate support. At public meetings, he defended the proposal, and he also lobbied in Washington, D.C.
In order to convince elected officials of the importance of the designation, Pruzan brought then-Wyoming Senator Craig Thomas and his staffers out on the water, where he emphasized how a pristine river contributes to the economic health of the community, from gear purchases to after-river burgers and pints at local restaurants.
The group succeeded in their efforts in 2009, when the designation was approved. Pruzan is quick to say, however, that conservation is an ongoing effort. "The story's not over," he says. He worries that more free-flowing rivers will be imperiled by dams, and emphasizes that the need for advocacy continues. "There's a lot to be done, and it's a daunting task," he says.
For Pruzan, the reasons to protect rivers are numerous. Remote stretches of whitewater can provide thrill-seekers with endless adventure and adrenaline. "There's nothing like it as far as totally being in the moment," Pruzan says. But rivers can also create an opportunity for people to look within, or connect with one another, eschewing screen time for river time.
"Most of the deep canyons of the West, you're not going to get cell reception — you're out," Pruzan says. "[River trips are] still the best the places to be away from all the things like that — the things that make our lives more convenient, but definitely change the way people interact, not just with the natural world, but with each other."