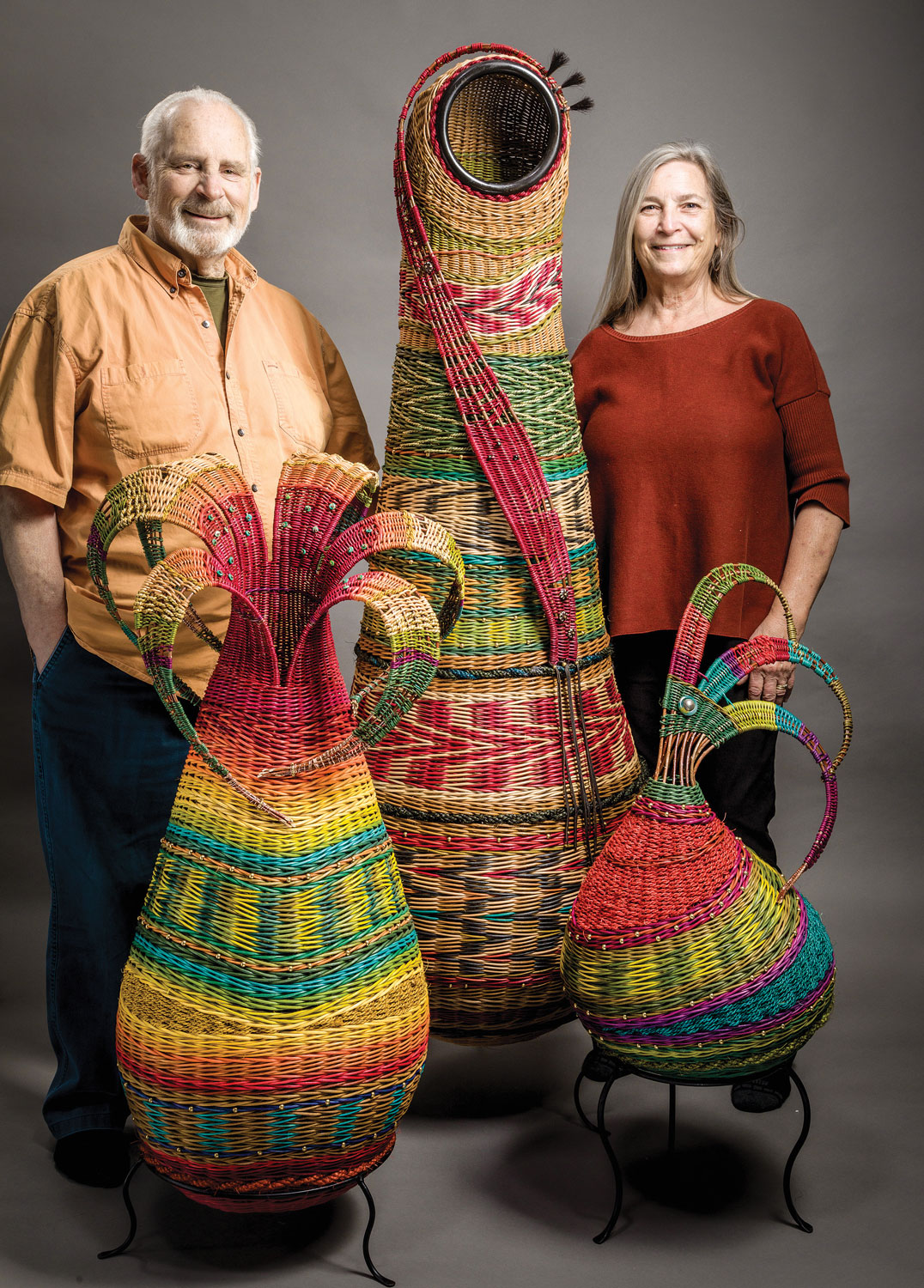 Marilyn and William Stevens with a small portion of their basket family.
12 Aug

Local Knowledge: Montana Blue Heron

in

It's totally cliché and yet completely appropriate: Master weavers Marilyn and William Stevens have interwoven making a living and making a life together. The baskets and other works they produce as Montana Blue Heron out of their Trego, Montana, home reflect their unique collaboration, from gathering and preparing the willow, dogwood, and other natural materials they use to decisions about color and form.

"It's been very inspirational or intuitive — what we do — and how it's gone for us over the past 20 years," says William, who had some experience working on the potter's wheel prior to meeting Marilyn in the early 1990s. "Everything we do has been self-taught and an evolution," adds Marilyn, who remembers her first attempt at weaving in the early 1980s as a young mother visiting family in Illinois, before she met and married William. "I wanted to create something to work on from home." 

Marilyn had explored numerous art forms, including jewelry and beadwork. A book about basketry intrigued her, however, so she followed the simple primer with some rattan and dogwood that was way too thick. "I didn't know what I was doing," she says, laughing at her first attempts. "Time, and a little instruction from my sister who was weaving, helped me form simple structures." She returned to Montana to pursue weaving in earnest, and was inducted into the prestigious Montana's Circle of American Masters in 2014 by the Montana Arts Council.

Marilyn partook in local shows, traveling to nearby Idaho for the annual arts and crafts fair in Sandpoint. She was photographing her array of baskets when William happened by. "I fell in love with her baskets, and then her," he recalls.

Mesmerized, William studied her process, eventually convincing her to let him finish a basket she had started. Marilyn left careful instructions about color and structure, all of which William ignored, instead creating a wall pocket that incorporated wood gleaned from the nearby river. "I was horrified," says Marilyn, who was incredulous when many who saw the piece exclaimed that it was one of the best baskets she'd ever created. When it sold at an exhibition in Jackson Hole, Wyoming, she adjusted her perspective. "There was obviously something in the pairing that was working," she says.

Since then, the couple has developed a purposeful rhythm to their collaboration, beginning with the materials they use. From November through April, they collect sandbar willow along the Beaverhead and Big Hole rivers, which they freeze until it's needed. They gather dogwood from the Flathead River, and also use sisal, jute, rattan, and seagrass.

Marilyn dyes all the fibers herself, adjusting the dye bath for fully saturated colors — cerulean blue, forest green, brilliant orange — as well as more subtle values, allowing them to create variegated blends in their weaving much like a painter might. "I can't not be inspired," says William, who takes over the weaving once Marilyn has created the original form. He'll lay out a palette of colors, soaking the fibers to keep them pliable as he works in an upper-level studio he calls the tower. There, he spends large chunks of time weaving while watching football or nature's drama — moose, elk, deer, cougars, and even a grizzly bear making their way across the field to the creek running behind their house.

Marilyn, on the other hand, works in small, intense bursts of energy in between gardening or some other handiwork — she's also been making jewelry lately — in a basement space they affectionately call the dungeon. Part of her process is incorporating bits of wood, antler, and other natural forms into the work, as well as finishing the pieces with embellishments such as brass beads. Then, she seals the baskets with a UV-rated clear coat, which helps make the colors pop.

Although they might discuss a piece, the couple doesn't judge each other's work; rather, they trust the process and each other. "The piece tells us where it wants to be," says William, who notes that they've made a living with their work since 1994.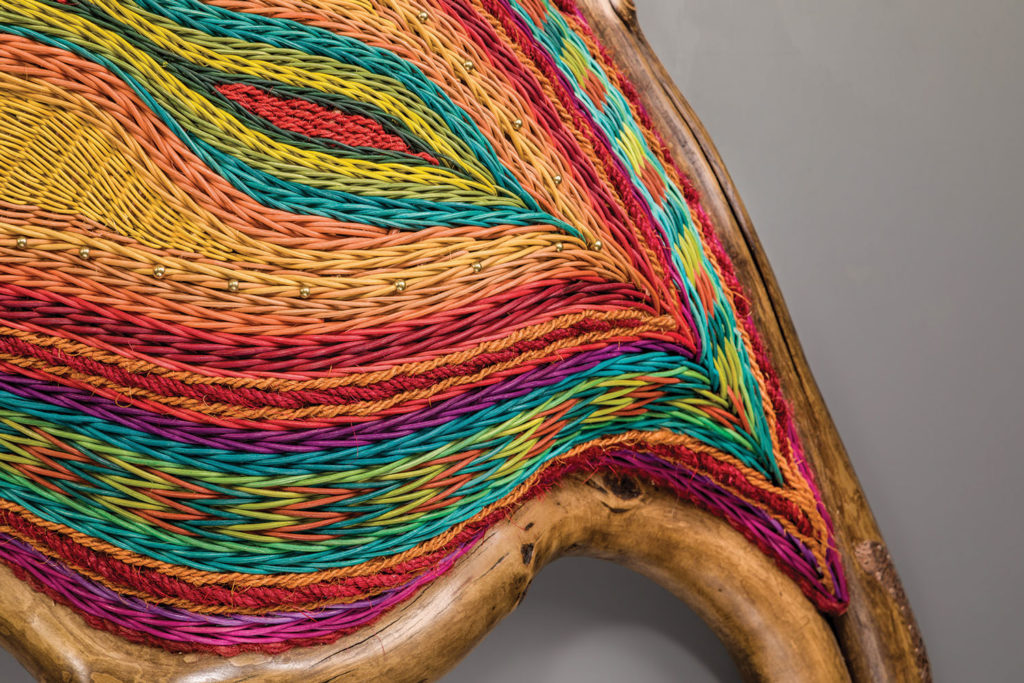 They couple traveled quite a bit in the early years to shows in New York, California, Arizona, and Idaho, but they have forged an especially strong relationship with two venues with which they've worked for more than 20 years: the Celebration of Fine Art in Scottsdale, Arizona, a 10-week annual show, and the West Lives On Gallery in Jackson Hole, Wyoming. The newest gallery to represent their work is Manifestations Gallery in Eureka, Montana.
The weavers have been experimenting with new forms, such as wall hangings and an asymmetrical basket they refer to as a "Santa Fe chicken," and they plan to collaborate with Vicki Grant, a North Carolina-based ceramicist. "I don't know what comes after that," says Marilyn.
And that's OK, the couple agrees, as long as they're weaving and they're together.