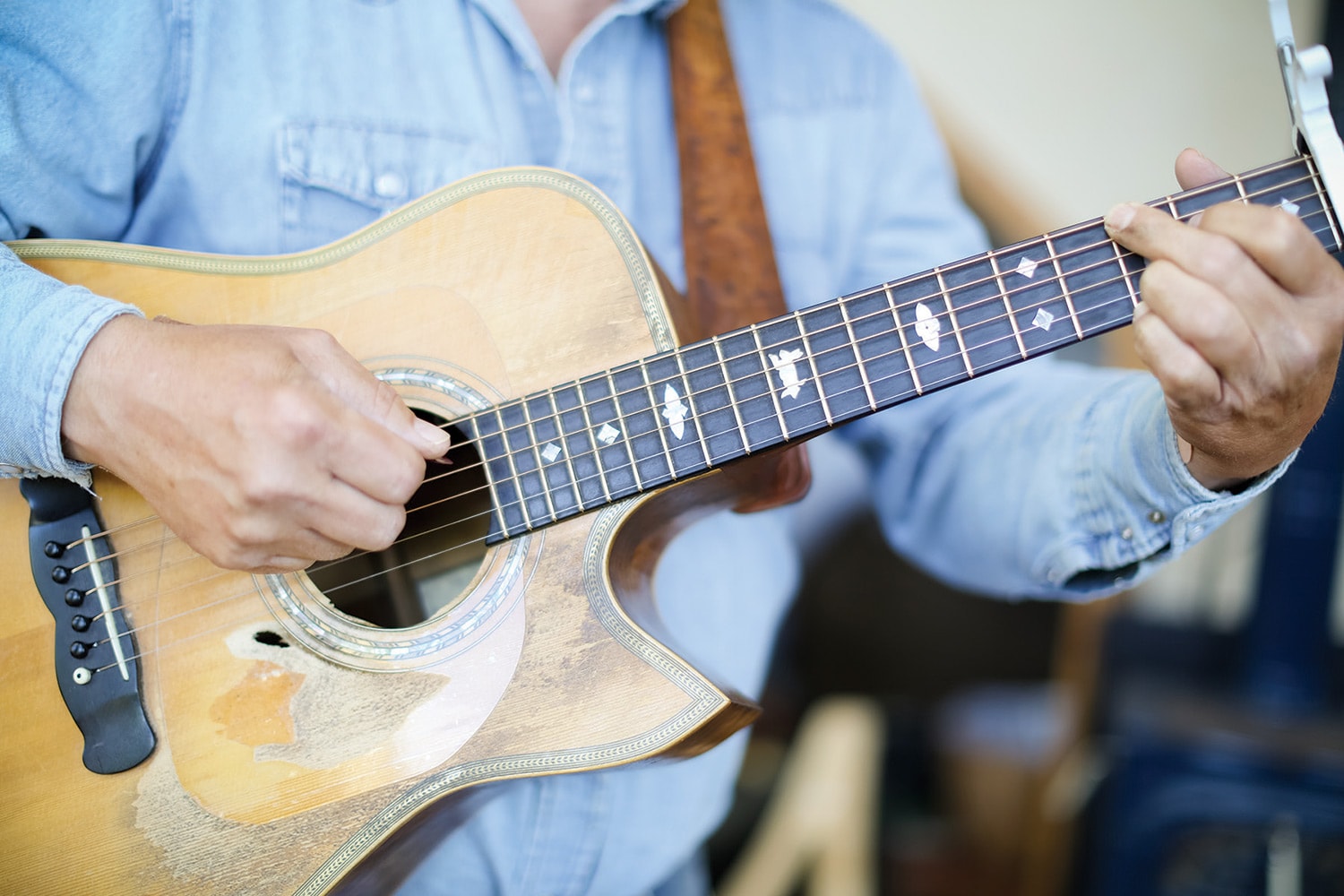 Bruce Anfinson plays a well-traveled guitar that was custom-made by luthier Drew Johnston.
09 Aug

Local Knowledge: Home is Where Montana is

in

Bruce Anfinson just might be the most "Montana" of all the Montanans knocking around Big Sky Country. He's the kind of guy who can serve 60 people some toothsome prime rib, grilled to order, while they sit on chairs he made from beetle-killed pine, and then serenade them with his own handwritten songs while they enjoy some of his homemade huckleberry cheesecake. He drove these new friends in a horse-pulled wagon, through spruce and pines, to his Last Chance Ranch. Up Travis Creek, a dozen miles above Helena, the ranch is a place where, he tells folks, "I raise huckleberries, heck, and horses." All in all, Anfinson makes a fine ambassador for what some folks call "the last best place."
Anfinson's Last Chance Ranch is located up Travis Creek, with views of the hills south of Helena in the distance.
Standing in the tack room of a barn Anfinson built a few summers ago, he tells me about his favorite saddle, a nicely crafted piece of leatherwork from stirrups to cantle. "My dad made this saddle himself," he said, his rough hands caressing the leather as if reaching back through time. "He tooled all that in '72. This saddle was raffled off, and it took me 20 years to track it down and get it back."
On a trail ride in the 1990s, Anfinson happened to cross paths with a fellow who remembered who had won that raffle back in the '70s, and he was elated. Afterward, he wrote a song about it, one of his best and most requested, called "Handmade Saddle."
I remember that leather saddle my father built by hand,
If I could throw it on my pony I'd ride across the land.
If I could find that handmade saddle from so many years ago,
I'd have a history to show my family that I'd treasure forevermore.
After graduating from C.M. Russell High in Great Falls in 1972, Anfinson honed his musical chops with musicians like Gary Burgess and Jerry Olson in various Montana locales. When I asked him if he'd gone to college during those years, he replied: "Oh yeah, I went to USC."
"In California?" I asked.
He smiled. "University of Sand Coulee."
For a while in the '70s, he spent time in Boulder, Montana, working at the Boulder River School and Hospital by day, and playing music in the evenings with a clan of compatriots. They also lived for a few years in Sand Coulee, where they formed a band and played all around the state.
In 1979, Anfinson — along with his former wife (they're still good friends) — opened a restaurant in Helena that eventually became legendary, called the South Fork Tofu Café. There, he was among the first to introduce the townsfolk to the joys of soybean curd. There's something delightfully Montana about a ranch owner and prime rib chef who's also an expert on tofu.
All the while, Anfinson was playing guitar and writing songs. In 1988, he put out his first record, "Huckleberry Hill," featuring four originals, including the title cut. "My dad had passed and left me a little money," Anfinson said. "I was either going to buy fence posts with it or make a record. The record sounded like a lot more fun."
In addition to those four original songs, the album featured a few others by his pals Burgess and "Durty" Murphy Fox, all accented with hot licks laid down on vinyl by world-renowned fiddlers Dick and Lisa Barrett from Rapelje, Montana. They recorded in a house on Rodney Street a few blocks from the Red Meadow Bar in Helena. Anfinson gave me a copy of the LP, and I asked him to sign it for me. It turned out that his choice of words for the inscription nicely summarized his musical aesthetic: "No digital here," he wrote, and then signed his name.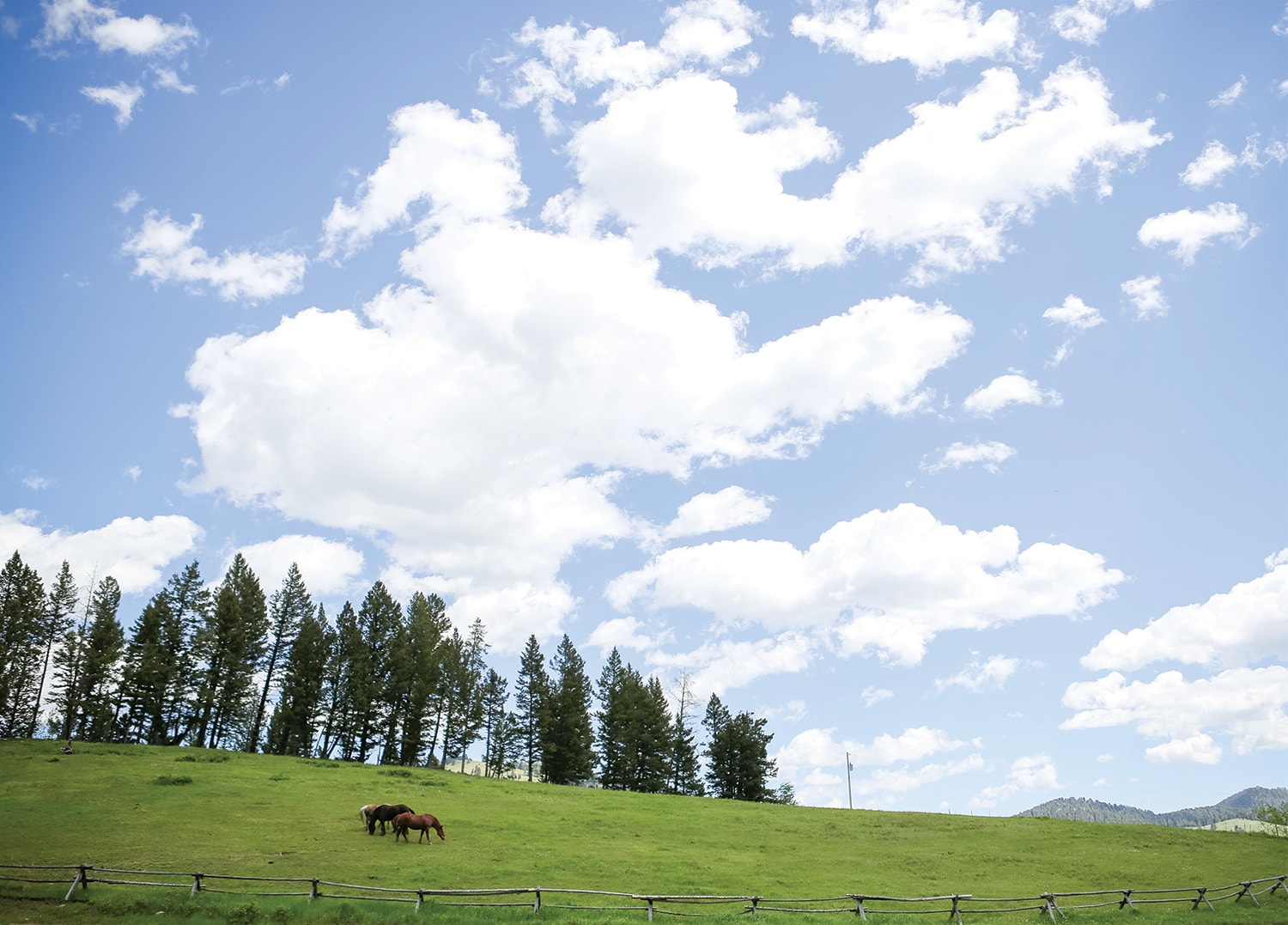 Anfinson has gone on to make four other albums of mostly original songs with a host of local and regional musicians. He's got a pleasant voice, with a delivery that is midway between folk and old-school country. He sings from the heart, and like pretty much everything else, he does it either because it needs doing, or because it's fun — and in either case, it doesn't need a lot of unnecessary fanfare. Whether you catch him live or you watch his videos on YouTube, you'll appreciate his relaxed stage presence and the quiet way he has the crowd hanging on every word of the stories he tells about the songs, the people in them, and those he used to play them with back in the day.
Anfinson's main gig nowadays is at the Last Chance Ranch, where the wagon rides culminate with an evening feed at the dining hall atop the hill behind his place and a live performance afterward. "I grew up with horses in Great Falls," he said. "But I learned to drive the two horse teams on sleigh-ride dinners at the Lone Mountain Ranch near Big Sky."
The biggest challenge lately seems to be at the booking end of things, because it's obvious that Anfinson would rather sling lumber for a new outbuilding or work the horses than be tied up on a telephone arranging wagon rides. "I'd rather get back to smoke signals than do Facetime or Facebook," he told me, which sounds like the sort of thing Charlie Russell might say if he were around in this age of social media.
Not that Anfinson isn't social, it's rather that he's social in the old Montana way. He has a lot of good friends everywhere he goes, and he'll find something interesting to talk about with any stranger he meets. He's not in a hurry; whether he's playing songs, or cooking dinner, or telling stories, he's not in a hurry. He seems more curious about where things might lead than concerned about how to get there.
As he sings in his ballad "Home is Where Montana is":
Where the mountains and the prairies meet,
that's the place I need to be;
Home is where Montana is,
Montana is my home.