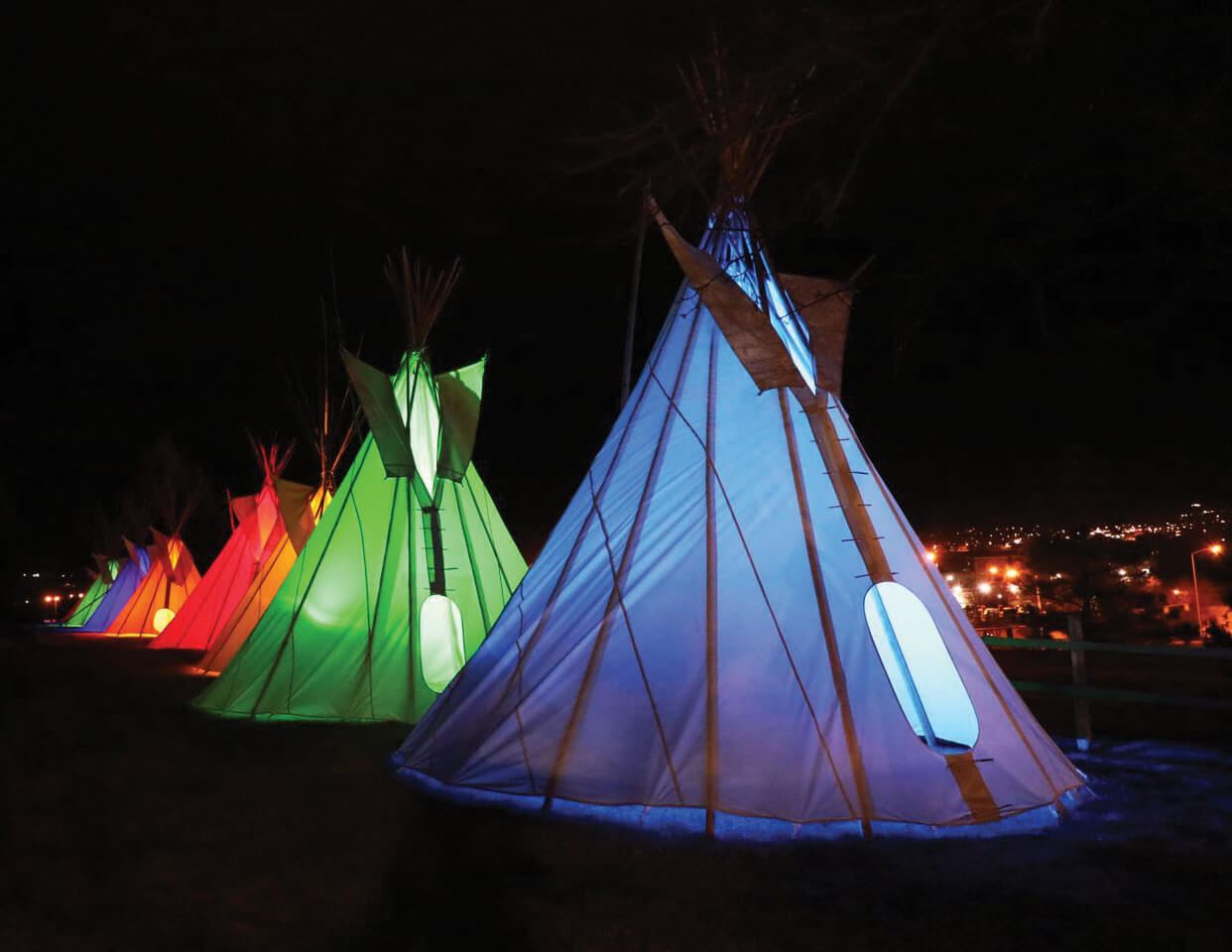 During National Native American Heritage Month, which is celebrated each November, a dozen Indigenous lodges — one for each Montana tribal nation — are erected outside the Great Falls Public Schools Administration Building and dramatically lit at night in symbolic colors for Indigenous peoples. Photographed by MIRANDA MURRAY
29 Sep

Local Knowledge: Heritage Keeper

in

When Dugan Coburn recognized an opportunity to enrich the lives of Indigenous kids in his community, it jolted him as electrifyingly as a lightning bolt. At the time, he was working with the public school system in Great Falls, Montana as a talent search coordinator for Indigenous students, helping encourage the area's approximately one in six youths of Native American heritage — some 1,680 children out of approximately 10,000 — to finish high school, find scholarships, and identify career opportunities. In that capacity, he facilitated and attended eagle feather ceremonies for graduating seniors, at which an elder would endow each student with the sacred plumage in recognition of their achievements.

"As each kid approached," Coburn recalls, "the elder asked them for their Indian name. But most of them, being urban Indians, didn't have one. And I would see them shrink a bit when they had to admit it. Nobody had ever offered them the opportunity to get a name."

Coburn knew what had to be done. Not quite two years ago, as the new director of Indian education for Great Falls Public Schools, he instituted twice-yearly naming ceremonies. Now, when students in the sixth grade or higher express an interest, they bring home a detailed questionnaire to fill out, including a section for their parents, to ensure that their Native names accurately reflect who they are, and that everyone involved understands the gravity and honor of receiving them.

    The results have been stirringly successful. Ceremonies are now held in both autumn and spring, "so that all the kids who are interested in participating, and their parents, have time to figure it out," Coburn says. "And at last April's naming ceremony, 39 students got their Indian names." The related rise in the number of graduating Indigenous high school seniors participating in the eagle feather ceremony has been so dramatic that Coburn and his staff need to move to a larger room to accommodate all the students and their families.

Coburn's three-pronged passion — for encouraging Native students to pursue educational opportunities, for connecting them with their heritage, and for educating other students about Montana's rich American Indian culture — comes naturally to him. But the 62-year-old educator followed a long path toward gaining that knowledge.

Born in Klamath Falls, Oregon to a Blackfeet mother — who enrolled him as a member of her people — and a father of the Klamath Tribes, he grew up in both Browning, Montana on the Blackfeet Reservation and Salem, Oregon, where his dad directed regional educational laboratories for Native children. Coming from a home that encouraged education, he attended Oregon Institute of Technology in Klamath Falls on scholarship, earning a bachelor's degree in medical technology and going on to work in that field on Montana's Fort Belknap Reservation, home to the A'aninin and Nakoda Tribes, before returning to his extended Blackfeet family in Browning.

That's where Coburn began exploring his own heritage more deeply. "I reconnected with my cousins and their friends. We were all in our mid-20s. And I started drumming and singing, and tried to find out about as much of my culture as I could." While there, he also met and married his wife, Vicky Lou Chapman, and they moved to Rochester, New York, where she completed her training as an ob-gyn before they relocated to Great Falls 28 years ago. (The couple have two daughters, now in their early 30s, and a 2-year-old granddaughter who, Coburn says, "is just my best friend.")

Back in Big Sky Country, Coburn immersed himself even more deeply in Indigenous culture. On visits to the Blackfeet Reservation, he joined in sacred dances, attended sweat lodges, participated in bundle opening ceremonies for ritual objects such as pipes, and earned enough eagle feathers to be bestowed with his own headdress. "I did everything I could to find out as much as I could about my culture," he says.

More and more, Coburn began sharing that knowledge with Indigenous students. Aware that 12 tribes call Montana home and "54 to 60 different tribes are represented in the Great Falls schools," he says, "we've had to be very careful with how we teach all the kids, because not every tribe is the same. I'll say, 'This is the way I learned to do it as a Blackfeet. But you might be an Assiniboine, a Chippewa, or a Cheyenne. So, when you meet someone from your own tribe, ask their knowledge keepers how they do it.' I'm just trying to give them the opportunity to ask the right questions."

Now, under the guidance of Coburn and his staff of 10 educators, Great Falls Public Schools' Indian Education Department offers a rich range of programs that benefit both Indigenous children and the entire student body. Native students can start their school days with smudging ceremonies — in which the scented leaves, roots, or barks of plants like sage, sweetgrass, or cedar are burned — and teachers and students alike "wash" themselves with the smoke "to let go of everything, ground themselves, and get ready to learn in a safe place." Each of the 21 school campuses now has its own Indigenous garden, where students "learn the importance of ethnobiology and their relationships to plants and culture." Every spring, students lead a Great Falls Community Powwow in celebration of Indigenous culture. During National Native American Heritage Month in November, they erect a dozen tipis, or lodges, one for each Montana tribe; gather students inside to sit cross-legged on bison hides as they learn about lodge etiquette; and, every evening, illuminate the lodges in symbolic colors to glow like beacons in the darkness. 

Perhaps the most deeply meaningful student activity of all is a bison harvest. Three times during the school year, Coburn and his staff take a group of 10 to 20 students to a nearby ranch to learn up close about the vital role the sacred animal plays in Native culture. "We prep the kids well," Coburn says. "We do a pipe ceremony and bless the bullet and the gun that the ranch manager will use. I tell them, 'We're taking a life, so we have to be very respectful.' And we talk about all the different ways Natives traditionally used the bison, and how we will use it in our ceremonies and for food boxes for families that might need it." After the bison has been killed, "We go up to where it is laying, and we put grass in its mouth to help it pass over peacefully to the other side," Coburn says. "And I always have the kids touch the bison while it's still warm, to see that it has just given its life for us and to understand the magnitude of taking that life." The students are also present for cutting up the carcass, and Coburn offers each the chance to taste a salted slice of its fresh kidney. "Every kid wants to try it because that is what their ancestors did. They want to connect."

Such profound connections have, in turn, made public education relevant for a population that previously was not adequately reached. "Our non-Native students have a graduation rate of about 93 percent," Coburn says. "But 25 years ago, Great Falls had a graduation rate for Native American students of about 1 percent. Now, that number is about 70 percent, and we want to continue improving."

Through the wealth of programs he and his team have introduced, Dugan Coburn is reversing inequities that have long plagued Native people. So, when he is asked to share his own Indian name, his response seems particularly apt. 

"Saa'am Mata'api," he replies. "It means 'healing person.'"

From his base in Los Angeles, Norman Kolpas writes about art, architecture, design, travel, dining, and other lifestyle topics for magazines including Western Art & Architecture, Southwest Art, and Art Times Journal. He's a graduate of Yale University and the author of more than 40 books, the latest of which being Foie Gras: A Global History. Kolpas also teaches nonfiction writing in The Writers' Program at UCLA Extension, which named him Outstanding Instructor in Creative Writing.