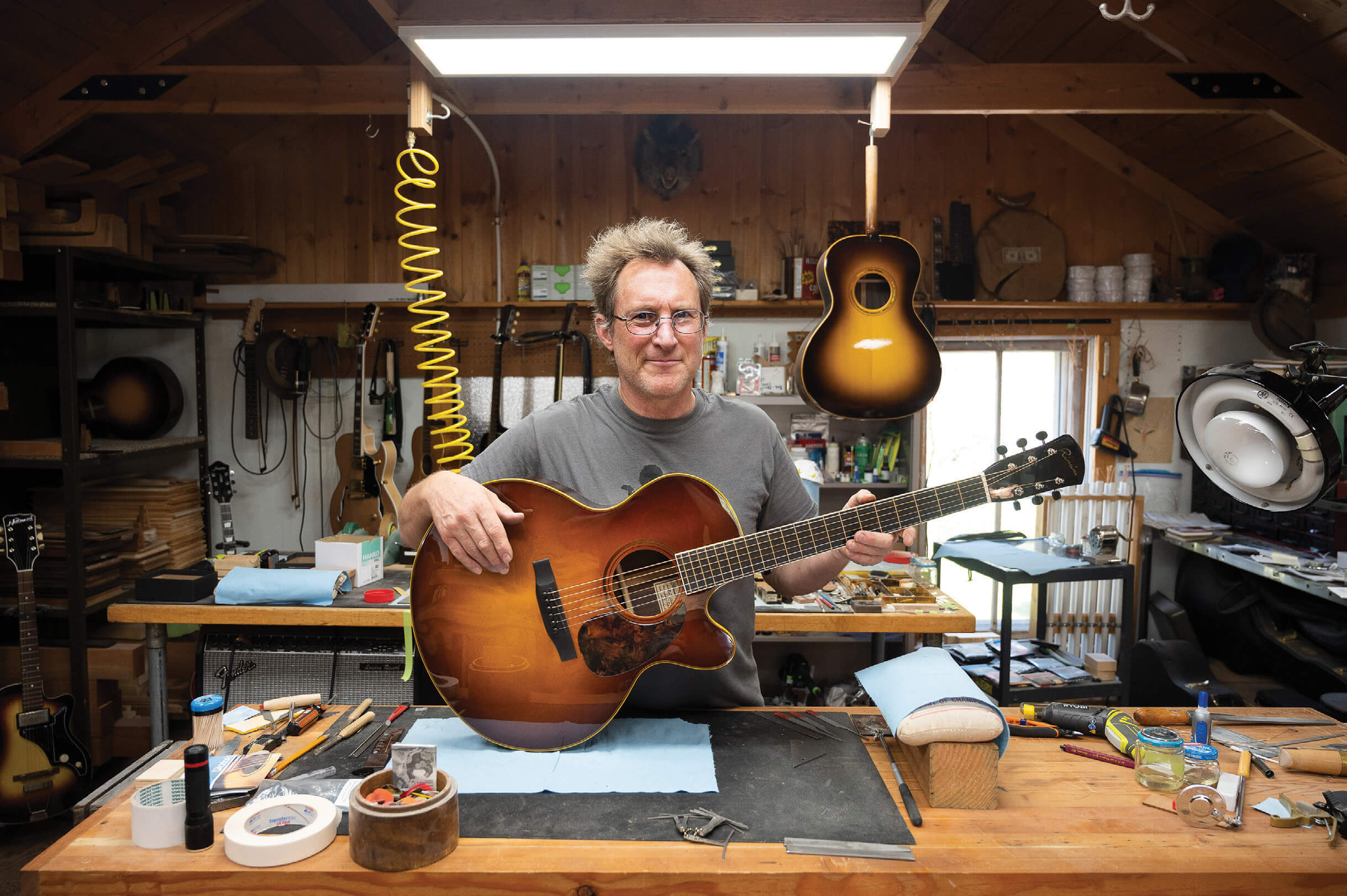 Luthier Phil Maynard displays his signature guitar model, the Rimini, named for the once-booming mining town of Rimini, Montana.
23 Nov

Local Knowledge: Ghost Town Guitars

in

Ghost Town Guitars might be the most aptly named guitar shop in Montana. To get there, you have to drive about 30 minutes west of Helena to the little town of Rimini, at the base of Red Mountain. It's a charming collection of old log cabins and outbuildings punctuated here and there by tailings piles and rock walls. Luthier and proprietor Phil Maynard has his guitar shop set up in an old building that might have once been the post office (according to some) or a brothel (according to others). From the front porch of the shop, there's a spectacular view of Red Mountain, and you can hear the trickle of Ten Mile Creek through the trees. In honor of his surroundings, Maynard calls his signature model the "Rimini," the name inset in mother-of-pearl in the headstock of every guitar.

Maynard is a well-known character around Helena where he grew up. He's been an actor, an antiques dealer, and a waiter at the No Sweat Cafe, among other things. The first trade he mastered was auto-body work and rebuilding cars. He's the essence of a Montana renaissance man, the sort of fellow who quickly masters whatever interests him — and he has a wide variety of interests. He's refurbished most of the original buildings in his corner of town, and he's devoted space to various projects inside. In one building, he's rebuilding motorcycles and rare vintage Minx automobiles; in another, he's got an etching press and a half dozen easels for oil painting. Though he never graduated from high school, he studied art at Cornish College of the Arts in Seattle, and still makes stunning prints in his spare time.

Twenty years ago, while trying to learn to play guitar, Maynard found himself in a lutherie shop and, amid the wood shavings and smell of freshly hewn lumber, realized that this was another skill he would enjoy trying to master. "To tell the truth, I wasn't having much luck with becoming a wizard guitar player," he says. "But I have always been a good student and good with my hands, so I knew I could learn how to make guitars."

Maynard went to work for Dan Roberts, a master luthier living in Townsend, Montana, who had worked for Flatiron Mandolins and Gibson Guitars. Roberts had also worked as production manager for Santa Cruz Guitar Company, one of the premier makers of high-end guitars. "For over 10 years, I made the commute to Townsend and then Belgrade when Roberts moved there," Maynard recalls. After more than a decade working with Roberts, Maynard started making Rimini guitars in 2020.

Maynard hands me a recently finished guitar and a flatpick and encourages me to try it out. I strum a G chord and immediately notice how evenly the tone balances across the strings — a rare feature in any guitar, even the more expensive ones. It is no mean feat to carve a wooden instrument top so that the bass tones vibrate with as much volume and verve as the high, thinner notes played on the treble. I noodle around for a few minutes, picking some scales and an old fiddle tune, entranced as it dawns on me that this is among the best guitars I've ever played. On top of all that, it's a work of art: Every joint and corner is exquisitely fit, and the finish has a luster that practically sings.

The craft of lutherie is as much an art as it is a science: You can master the techniques of carving wood and making a dovetail joint with time and practice, but being able to read a raw piece of wood and adjust your technique to pull the optimal sound from it is an artform that requires knowledge of the wood. Each piece of flawless Sitka spruce that Maynard uses for his tops will have slightly different density, grain, or camber. The trick, he tells me, is to work the wood in a way that exploits its best qualities in order to make an instrument that resonates. To do this, Maynard tap-tunes each guitar top: Before it's even glued to the body, he holds the top up to his ear and gently raps it with his knuckle, then sets it back on the workbench to carve a thin sliver from the bass bar or a specific brace, patiently thinning the wood until he's satisfied that he's got a top that will produce the best possible sound. Bringing out the sound qualities lying hidden in the wood requires the finesse of a seasoned artist.

Maynard opened his shop in the middle of the pandemic. "That year, I was able to make only three guitars," he remarks. Two years later, he has seven in process. His shop is a testament to his systematic approach, with various benches and specific jigs set up for each stage of construction. Once a guitar is finished, he moves it to another room, where he completes the final, painstaking process of finishing it with nitrocellulose lacquer. "It's a tedious, sort of meditative stage," he explains. "I spray it, then sand with fine sandpaper, leveling the finish, and spray it again. The point is to remove any unevenness in the surface." When he's finished, the wood glistens like a mirror.

The end result is a guitar that practically glows in your hands. More importantly, it's a guitar that exudes the sound quality you expect from a seasoned, vintage instrument. An expert in any craft knows how to get the most out of the raw materials, and all around Maynard's remote shop is evidence of a reverence for the past, enhanced by a respect for progress. When he refurbishes a log shack built a hundred years ago by a long-forgotten miner, Maynard is able to strike a balance between the original character of the old wood and the necessity of having a space that doesn't leak heat in a cold Montana winter, especially if it is going to house the shop where he builds guitars. He has singlehandedly resurrected a ghost town in order to make guitars at the cutting edge of modern craftsmanship.

Aaron Parrett is a professor of English at the University of Providence in Great Falls, Montana, and runs a letterpress shop called Territorial Press in Helena. He has been widely published in many fields; his most recent book is a collection of short fiction called Maple & Lead. He lives with his wife and daughter in Helena.