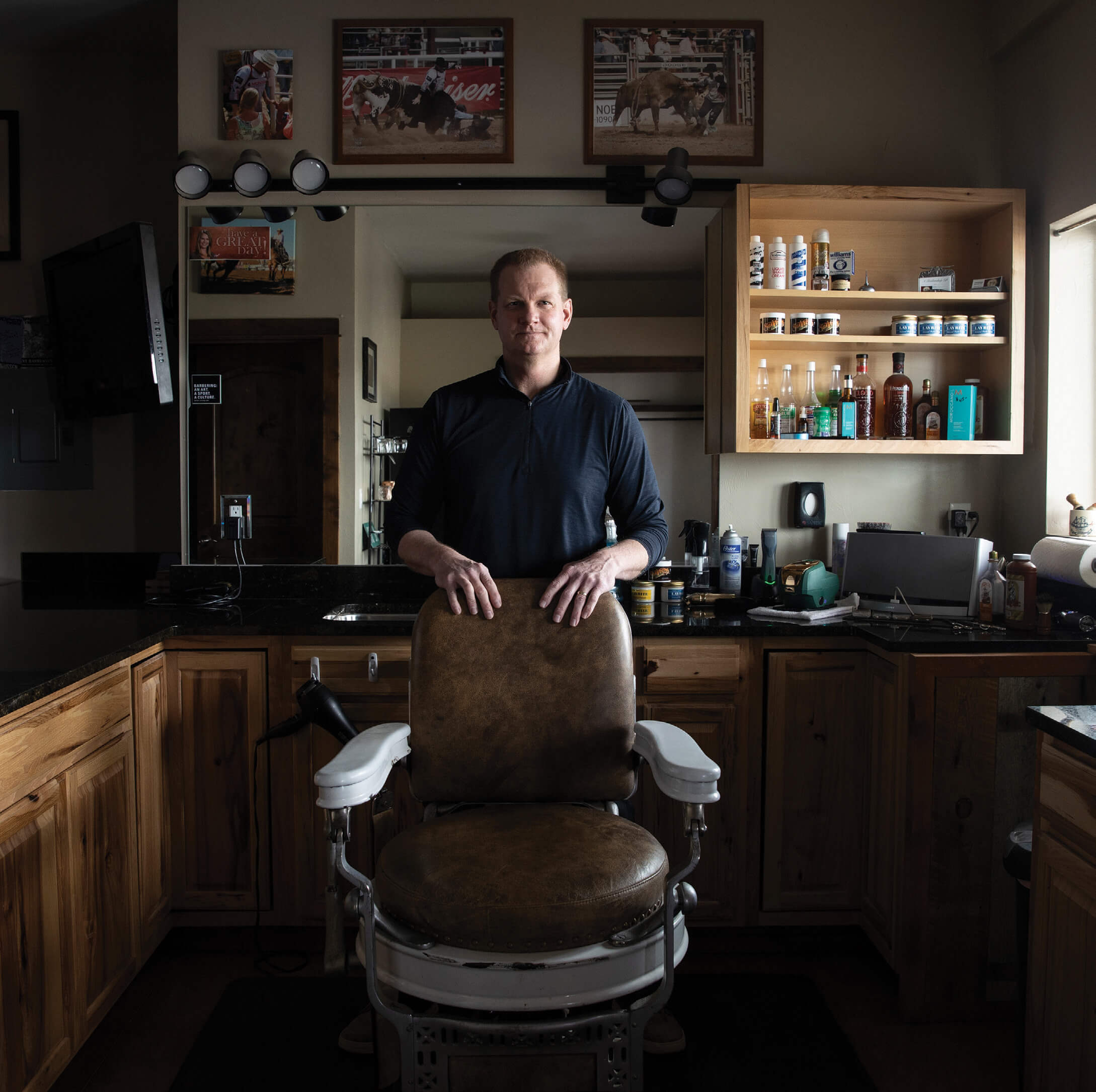 After retiring from rodeo life, former bullfighter Al Sandvold opened Red's Classical Barbershopin Belgrade,Montana.
03 Jun

Local Knowledge: From Bullfighter to Barber

in

Jimmy and SnickerDoodle attract smiles whenever they clip-clop into Red's Classical Barbershop, and the arrival of these two friendly goats is all in a day's work for owner Al Sandvold. The setting of this Belgrade, Montana-based shop — inside a barn and rodeo arena — is admittedly unusual, yet Red's offers just what you'd expect from a traditional barbershop. Sandvold is equally versed in classic 'dos and trendy cuts, and he also offers old-school hot shaves and military-like tight fades. But what makes Red's extraordinarily unique — aside from its location and the proximity to wandering livestock — is Sandvold himself.

As the main man behind the barber chair, Sandvold is a Montana Pro Rodeo Hall of Fame bullfighter who spent 20 years "facing something that doesn't care about your mortality," as he puts it. Along with barrelmen (AKA rodeo clowns) and pickup men (the ones on horseback who help competitors after their rides), bullfighters are part of the vital rodeo crew whose job it is to protect and occasionally rescue bull riders. It's a perilous pursuit and a role that, for the most part, is out of the limelight. But for Sandvold, during his career, the rewards outweighed the risk. "The satisfaction you'd get from being able to save a life is matched by nothing," he says.

As a youngster on his family's farm and cattle ranch in Zahl, North Dakota, Sandvold was initially uneasy around cows, despite his father reminding him that they were probably just as leery of him. But over time, Sandvold grew fond of the herd, and he started to enjoy the unmistakable sweet, grassy smell of fresh hay that made his labors on the swather and baler more palatable.

When Sandvold was around 11 years old, his father took him to a Fourth of July rodeo in Killdeer, North Dakota. Amidst the action, the youngster was especially intrigued by the bullfighters, and that admiration stuck with him long after, tucked away next to his other dreams of playing football for the Oklahoma Sooners and working as a fighter pilot for the U.S. Navy.

Instead, Sandvold attended North Dakota State College of Science, where he played football and studied heating, ventilating, air conditioning, and refrigeration technology, earning a degree that offered a secure future. But in 1992, Sandvold stumbled upon an opportunity to act on one of his childhood dreams when he approached professional bullfighter Loyd Ketchum at a rodeo in Bismarck. Having no knowledge of the rodeo star's legendary stature, "I simply told him, in the most amateur way possible, that I wanted to do what he did: fighting bulls," Sandvold recalls. This chance meeting led to a weekend at Ketchum's training program in Glendive, Montana, where he got chased down and run over. But instead of leaving defeated, Sandvold became all that much more determined to work hard and figure this bullfighting thing out.

And figure it out he did. After attending two more of Ketchum's training programs, Sandvold spent time competing in the amateur circuit before applying for his pro card. At that time, the application required the signatures of three people willing to vouch for him. Sandvold started with ProRodeo Hall of Famer Leon Coffee, a retired bullfighter-turned-barrelman he greatly admired after spending countless hours watching his competitions on video. Next was Oklahoma stockman David Bailey, who Sandvold says "was iconic in bucking bull bloodlines." And lastly, he chose Ketchum, who had assured Sandvold that he was ready. "Loyd's positive teachings and encouragement for my lack of knowledge and skill would change my life forever," he says.

After receiving his pro card in 1995, he went on to successfully compete. Some of his career highlights include qualifying for the Professional Rodeo Cowboys Association (PRCA) National Finals Rodeo Wrangler Bullfight Tour in 1999 and taking third place there in 2000; being nominated by PRCA bullriders to work circuit finals 10 times in the Montana circuit and five in the Badlands circuit; a nomination in 2009 for the prestigious PRCA Bullfighter of the Year award; and in 2014, Sandvold was honored with the Calvin Bohleen Memorial Award at the Montana Circuit Finals for his work mentoring other up-and-coming ProRodeo participants, just like Ketchum had done for him.

In 2016, Sandvold retired at the Montana Circuit Finals, capping off a 20-year rodeo career. "Retiring at the finals was a great way to end it for me," he says.

Sandvold had contemplated becoming a barber before he retired from rodeo. "I always cut my own hair," he says, "and then when I met my wife, she had a couple young boys who needed haircuts as well." After six months at a Utah-based barber school, Sandvold spent three years learning on the job at Max's Old Time Barber Shop and Hot Shaves in Belgrade, before he opened Red's in November 2019.

Like bullfighting, barbering can be intense, Sandvold says, but in a different way. "You're on your feet all day, and most days your arms are above your shoulders for eight or nine hours at a time." Then, there's the mental aspect. "You end up being a friend, a mentor, a listener, a holder of secrets. Oftentimes, guys will show up early or stay late to visit with the next guy coming in or out, just to maybe hear some news or shoot the bull," he adds.

Sandvold has warmed to the sense of community he's found and created in his shop. He enjoys the regular working hours and the fact that, when he goes to work each day, it doesn't involve getting tossed by a bristling bovine that weighs several thousand pounds. And he's open to whatever may come from his newfound career. "I'm not afraid of change or taking advantage of an opportunity," Sandvold says. "The great thing about being a barber is that I can do it anywhere in the world at any time."

Carrie Scozzaro is an artist, teacher, and writer who covers art, design, food, education, and culture from her home in the Northwest.

 Janie Osborne is a Bozeman-based photographer who works for commercial clients and national titles, including The New York Times, The Wall Street Journal, and the Associated Press, among others.