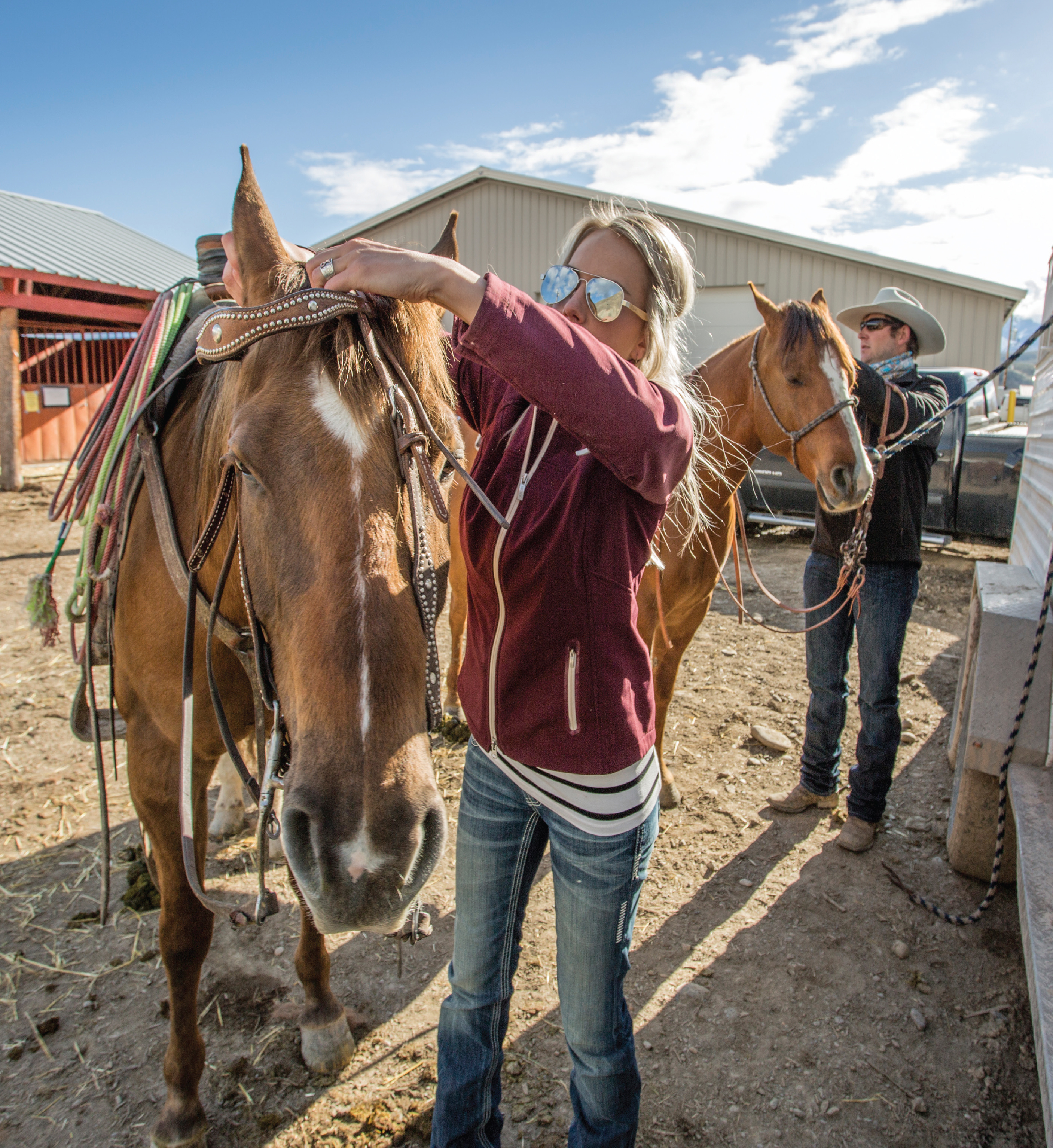 17 Oct

Local Knowledge: Freelancing the High Divide

in
Making a living on the open range
Gabrielle Thoreson grabs a lunch, fills a water bottle, and pockets her phone for the day. Rail thin, with a cascade of flaxen hair, she picks the right clothes for the weather and the right horse for the day's work, loads the horse trailer, and hops in the truck.
It's a day of freelance work for Gabrielle, and she and her four-legged co-worker might watch over pregnant cows, rope and doctor calves, separate cows and calves at weaning, or sort cattle. By the end of the day, the pair will most likely have covered a fair bit of the thousands of acres of public and private rangelands that surround their home south of Dillon, Montana. "A great day at work is when everything goes smoothly," Gabrielle says. "A bad day is a hard gather, or sick or dying cattle."
When it comes to finding a career path, young people in small rural towns often face two choices: work at service or health care jobs locally or move to a bigger city where more diverse opportunities exist. Gabrielle is bucking that trend in a small town. The 29-year-old's roping and riding skills are in demand, and she thrives as both a freelancer and an entrepreneur. "Dillon is still a small town; it's old fashioned, with old values and lots of traditions," she says.
While robots and computers replace workers in other industries, cattle ranching still relies on riders, horses, and cowhands. Ranch work follows the same rhythm that it has for more than 150 years, from early calving on lowland pastures, through treks to summer ranges when the mountains and meadows are green, and back to snug valleys when fall frost chills the leaves to a golden hue.
Many Dillon-area ranches use freelance cowhands, called "day workers." The numbers pencil out in ranching just as in other fields: Hiring specialized workers by the day lets ranchers build the right team for each task.Contracted day workers provide their own tools and horses. This means ranch owners don't have to train, feed, and keep horses. Gabrielle and her husband Cole, 32, also a day worker, have a side business breeding and training working ranch horses, which meshes well with their freelance work and provides on-the-job training for their equine pupils.
In addition to continuing regional ranching customs, Gabrielle and Cole also are carrying on family traditions. In the 1960s, Gabrielle's grandfather trained wild animals in Southern California for both the Ringling Bros. and Barnum & Bailey Circus and the television show "Daktari," about a veterinarian in East Africa. Gabrielle fine-tuned her equine skills growing up with horses in Salmon, Idaho, but she didn't consider riding as a career path at the time.
From the white hat covering his straight-cut bangs to the jingling spurs at the heels of his boots, Cole takes on the appearance of a professional rodeo cowboy — and, in fact, he does compete regionally. He grew up in a ranching family near Great Falls, Montana, with a horseman father. "He could do anything with a horse," Cole says, explaining that the Heart Hanging X brand that he and Gabrielle use today was once his father's.
After moving to Idaho as a kid, Cole graduated from Salmon High School, where he and Gabrielle dated. Soon after, the couple relocated to Wyoming where Gabrielle worked retail and Cole studied agricultural business and competed in rodeos at Laramie County Community College in Cheyenne.
After college, the couple moved to Dillon, "to get back to the mountains and out of the wind," Cole says. For the first few years, he worked on ranches while she held down an office job. After work, they raised and trained horses, both their own and other people's.
Four years ago, the Thoresons realized that adding just two more horses to their training stable would bring in as much as Gabrielle's paycheck. She left the comfort of a steady job for an ever-changing schedule of freelance work: checking on mares, hauling yearlings, starting young horses, and polishing ranch horses' roping skills. Although she now works longer hours, Gabrielle earns more than she did at the previous job.
The couple's traditional livelihood is echoed in their breeding program, which is based on Foundation Quarter Horse bloodlines. These are the original, sturdy working horses at the root of the Quarter Horse breed. While they may not be as flashy and athletic as the Quarter Horses in shows and rodeos, the Thoresons' horses thrive on long days working in rough country, and are gentle, willing to learn, and suited to a variety of riders.
Gabrielle focuses on training mares, which have a reputation for difficult personalities. Some people swear by geldings — neutered males — which are typically drama-free, but Gabrielle's trainees are not temperamental divas. She trains hers to be team players and often finds eager buyers for them. The Thoresons enjoy selling directly to the public, so buyers can visit their operation and see how they work. The couple also sells horses at a handful of public auctions each year, which lets them connect with more potential clients.
Idaho's Salmon Select Sale is the biggest auction the Thoresons attend each year. Gabrielle arrived to the 2019 sale with back-to-back high-selling mare titles from the previous two years. This year's entry was Tami, a kind-eyed red dun.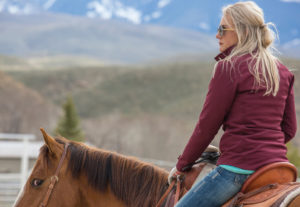 Over the three days of the sale, a steady stream of admirers came by to meet Tami, and Gabrielle gave each visitor the same calm attention she gives to equine students and inquisitive writers like me. Almost a dozen potential buyers took Tami for a test ride. On the last morning of the sale, Tami showed off her easy-riding style and cattle skills in the ranch horse competition. Her fans saw her capture the high-scoring mare title.
That afternoon, Tami walked into the sales ring carrying two extra passengers. Gabrielle's friend behind the saddle hopped off, but the youngster riding in front refused Cole's offer of a lift down. While Gabrielle steered with one hand and kept a grip on her sidekick with the other, Cole demonstrated a few of Tami's features by ducking under her belly to the other side and picking up one of her hind feet.
Tami was calm, bidders were active, the dust settled, and Gabrielle won her third high-selling mare title. "It was a personal goal I set," she says later. After the sale, the Thoresons latched the door of their now-empty horse trailer and prepared to head home.
---
Cindy Salo writes about agriculture, science, and natural resources from rural Idaho and Arizona. Her work has appeared in Hakai Magazine, Edible Idaho, and Intermountain Farm and Ranch.
Based in Missoula, Montana, Jess McGlothlin works as a freelance photographer and writer in the outdoor, travel, and fly-fishing industries; jessmcglothlinmedia.com.