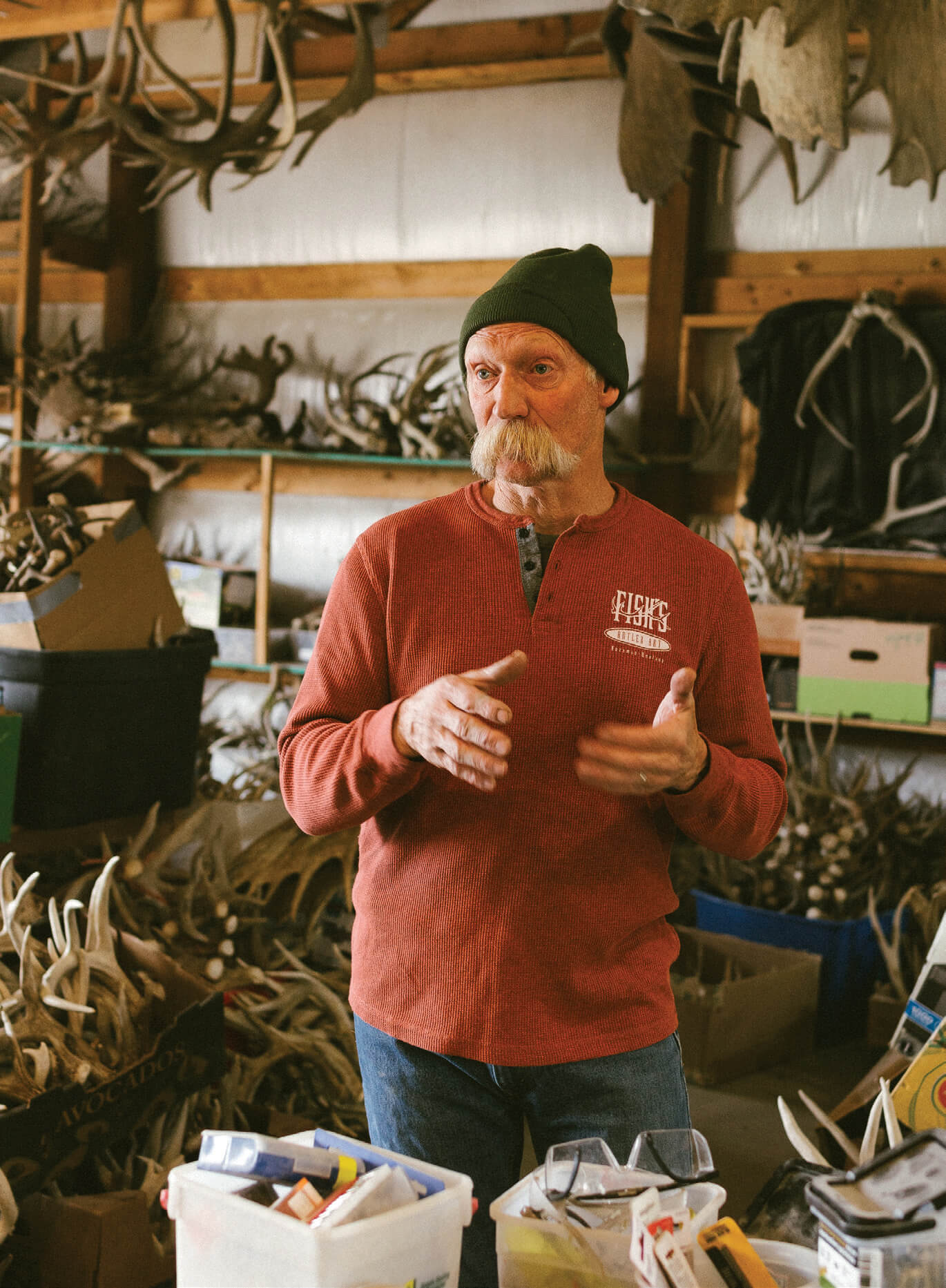 Fish Fisher makes home decor pieces that double as works of art. He creates these with his son, Riley, in a shop west of Bozeman, Montana, where they're surrounded by stacks of antlers from a variety of North American ungulates.
09 Aug

Local Knowledge: Crafting Nature

in

Fish Fisher is a man of the West; one whose drive, authenticity, and passion are clearly visible in his craft, and also in his personality. When he talks, Fisher's voice is clear and cadenced. He has an air of confidence, but also of humility, and he comes across as someone who's both honest and trustworthy.

"There's a grizzly bear 70 yards away from me just feeding," he says while we're on the phone together. Fisher was at his mountain getaway near Big Sky, Montana, checking on the small cabin before heading back to his home and workshop in Bozeman. While the grizzly munched on tall grass in the background, Fisher told me about his life's journey: how a Wisconsin-born kid like himself discovered the Rocky Mountains more than 30 years ago, and how he learned to make antlers into art and call it a career.

"I love what I do. The saying is, 'Love what you do for a living and you'll never have to work a day in your life,'" Fisher says, adding that the reward is in creating something from his imagination. "Today in a plastic-centric world, customers are just happy to see somebody making something with their hands and working with a renewable resource."

Fisher transforms antlers from some of North America's most magnificent wild animals into home furnishing pieces and lighting fixtures. From his 1,600-square-foot shop west of Bozeman, he and his oldest son, Riley, design and build each one, using antler sheds from elk, moose, caribou, and deer. He keeps about 20,000 pounds of antlers on hand, each awaiting just the right placement. The duo works while surrounded by ivoried tines and brown paddles that are sorted and stacked to the ceiling.

Antlers, which consist entirely of bone, are grown by a variety of ungulates. Each year, these animals shed them in the wild, and they're replaced by bigger ones. They take on a variety of configurations — from the wide paddles of the moose to the intricate and many-tined antlers of the caribou.

Fisher purchases much of his inventory from locals, known as shed hunters, who diligently search for them in the backcountry. While many of the antlers come from Montana, others are brought to him from Alaska and Canada. Fisher also buys them from game farms, as well as from ranchers who collect the antlers that are shed by wildlife grazing on their land.

Antlers are classified by quality, which is based on age and weathering. Fisher says that he uses the very finest for his craft and sells those of lesser quality for dog chews. He also sells some overseas, where they're used for medicinal properties and as aphrodisiacs.

In his showroom, Fish's Antler Art, he displays more than 50 completed pieces that are for sale. However, much of his work is custom and made to order, and Fisher often asks his clients to take part in the creative process. "People sometimes ask me, 'What's your best chandelier?' And I always say, 'The next one,'" he says with a laugh.

In 1985, at 23 years old, Fisher headed West from his home in Wisconsin, and hitchhiked through Montana toward the West Coast before traveling around the world. From California, he explored Fiji, Australia, Singapore, and Thailand, before touring Europe and then making his way back to Wisconsin. In all of his travels, one small town north of Yellowstone National Park called his name: Bozeman. "I had tasted Montana. I knew I was going back," he says.

In 1986, two days before Christmas, Fisher rolled down Bozeman's Main Street in his 1970 Cutlass Oldsmobile, which was loaded with all of his earthly belongings. He worked what he calls "regular jobs," met a girl, and got married.

All the while, Fisher harbored a love of wild animals and wild places. He hunted Rocky Mountain elk and whitetail deer with a longbow and collected the shedded antlers he found on his adventures. At first, he stored them in the spare bathroom until they quickly filled the bathtub. Then, in 1990, he began crafting with his antler stash, falling back on his high school interest in art. Small candle holders led him to try simple chandeliers. Then, the results kept getting bigger and more elaborate. He jokes that it took him 30 years to become an overnight success.

Today, Fisher's work is in homes all across the contiguous U.S., along with a 7-foot chandelier that hangs in a house in the Philippines. He and Riley deliver and install each item to ensure that it's hung properly and that the customer is satisfied. This often requires them to disassemble the pieces and reassemble them in the home, just to get them through the door. In the case of the chandelier in the Philippines, the Fishers built the piece in Bozeman, disassembled it into 100-some parts, shipped it in crates, and reassembled it onsite over the course of three days.

In addition to light fixtures, Fisher makes home furnishings, such as tables and decor. He also carves antlers, transforming moose paddles into soaring eagles or other designs, and uses them as a canvas to compose wildlife scenes. "Whatever you can imagine, you can make," he says. "We're not building a rocket to the moon; we're just building with antler."

The craftsman is humble about his work; he says his skills are a gift given by God, and they're furthered by his interest in and support from his customers. And judging by the scope of his pieces — from tiered chandeliers and wall sconces to billiard lights and tables — it's clear that he's deeply passionate about his craft and the outdoor legacy that it honors.

Jessianne Castle is a freelance writer and editor

who grew up beneath Montana's big sky. A student of solutions journalism and thoughtful storytelling, she passionately writes about the experiences of living in the West.

Boise-based creative Seth Neilson slips easily from photography to design to illustration, and he enjoys all the nuances in between. Whether he's on the trail or behind a desk, there's always a camera and pencil within his reach; sethsquatch.com.