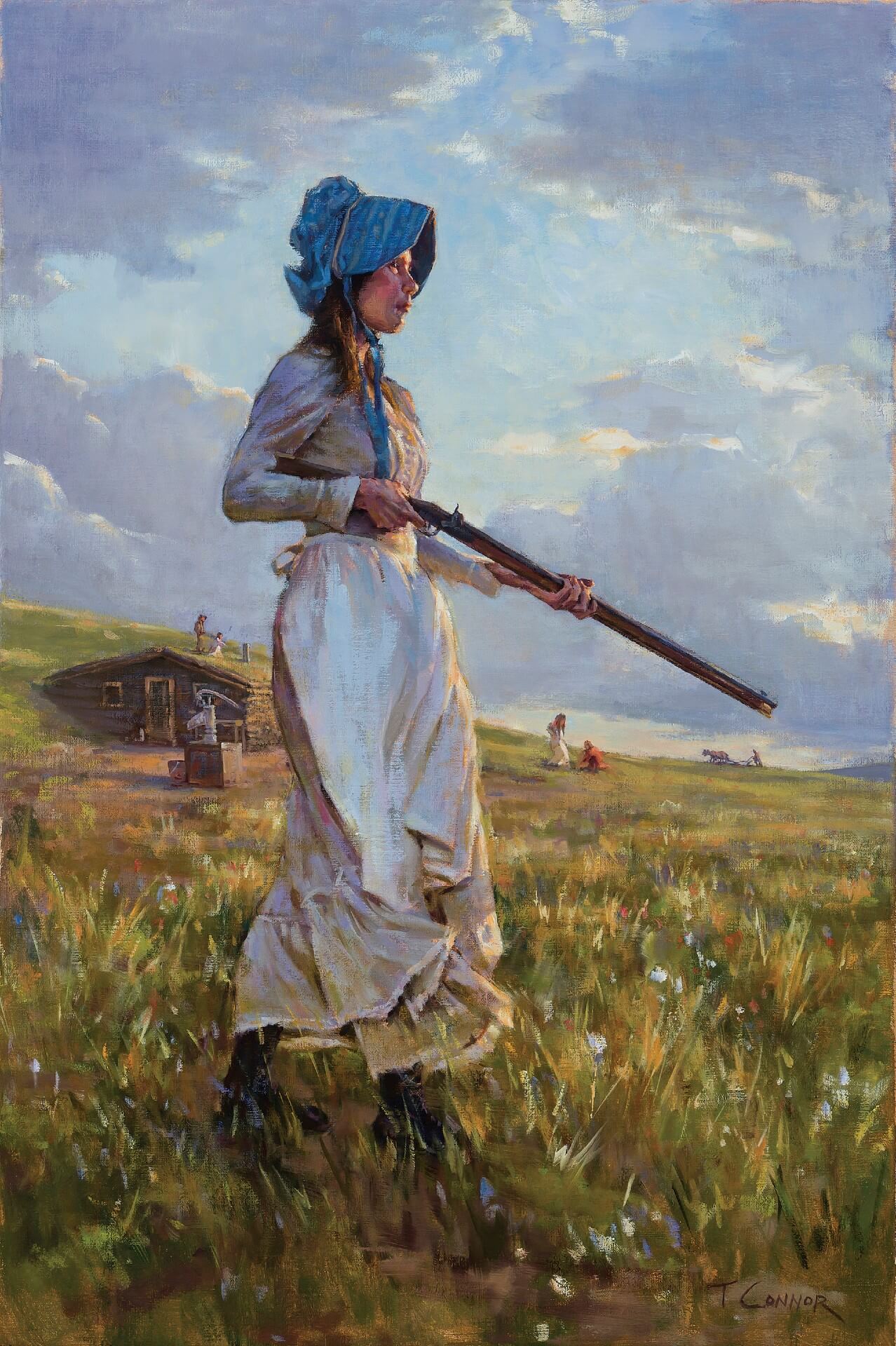 In The Distance | Oil | 36 x 24 inches
09 Aug

Layered Creations

in

Todd connor's paintings most certainly conjure the past, but they also aim to go beyond a linear history and instead speak to the primal forces in human nature and our cyclical relationship with the land. His goal is for people to feel like they can enter a world he's created, to visit the past in the mindset of someone who is living it. "I want to transport people into a world, into a time, to transcend the painting as just a pretty painting; just a pretty picture is not good enough," he says. "It needs to portray something deeper than that. It needs layers. If you feel like you're there, then I've succeeded."

A subject that Connor often depicts is pioneer women. "They're underrepresented in this genre," he says. "There are some painters who focus on the prairie stuff. But for me, the narrative of the mother protecting her child or her home is really beautiful."

In his oil painting "Mama Bear," for instance, Connor uses the language of pioneer life to explore a mother's fierce protective instincts against something or someone threatening her children. However, there's another layer to the work. The careful attention to the folds of her gingham frock, the draping of her apron, the strands of hair falling around her face all speak to the artist's ability to actualize a perfectly believable, fictional scenario. The truth of the scene comes through in her intractable nature. It's protective, yes, but it's more than that: It's in that moment that she seems to understand a future not yet realized, a moment that's dependent upon her decisions.

Lately, Connor's work has become more focused on landscapes rather than figures. This could be attributed to his recent move to Fort Benton, the oldest town in Montana and a former fur trading post and steamboat landing that's chock-full of history and content for his paintings. "Six years ago, I looked at a property there with my dad, but I wasn't ready to take it on at the time," he says. But in June 2021, the time was right. He and his fiancée made the move, and his new studio will be above the Wake Up Coffee House on Front Street.

Conner's painting "Distant Rain" is more of a landscape than a depiction of the pioneer journey, although upon first glance that may not seem to be the case. He brings the sublime aspects of nature — in this case, a violent thunderstorm — into the conversation. The dark clouds add weight to the foreboding horizon, crackles of lightning are visible in the distance, and yet, a small glimpse of clear sky offers hope. Connor puts forth just enough information for the viewer to understand the story, but not enough to finish it. His brushstrokes, especially in the forefront of the painting, are unfocused and soft, offering hints of undergrowth, or perhaps it's prairie grass. The end results are paintings that often pull viewers into the scene, to feel the humidity increasing as small hairs bristle from the electricity in the air.

Mimi Moser, director of the Dick Idol Signature Gallery in Whitefish, Montana, has represented Connor for the last few years. She finds that much of his collector base is made up of those who are interested in history. "He portrays the splendor of the American West," Moser says. "He's a stunning painter, and we have clients who are very taken by his palette and his landscapes. Some of his larger pieces capture the majesty of the land, the lighting, and an innocent beauty."

Moser has also noticed that more people are buying Connor's pieces as investments. "As he's becoming more popular, selling around the country, he's a lot more visible. I believe that even though there's a contemporary trend, the market for traditional painters is still there."

To bring authenticity to his paintings, Connor usually works with models and uses his photographs for references. "I have my own wardrobe that I dress models in," he says. "A lot of my process these days is to do a ton of small paintings. I may stop in the middle of a painting and do some research if I need to find a specific image. I always research the historical accuracy of the subject."

Conner finds that being more spontaneous during the painting process allows him to open up to new ideas. "I have to be moving the brush for the ideas to come," he says. "The small paintings allow me to create a small composition that I can go back to — and it also keeps the genre fresh for me. If I hit on a good miniature, I definitely want to explore that theme and add different elements. Sometimes things are added during the painting process; I might put a little more of a story in it as a secondary element."

Connor is a member of the distinguished Russell Skull Society of Artists, a group of painters and sculptors recognized by the C.M. Russell Museum in Great Falls, Montana, for work that relates to that of artist Charles M. Russell [1864 – 1926] and the overall genre of Western art. His work will be on display at the museum's fundraiser and temporary exhibit, The Russell Auction, on August 20 and 21. In addition, there will be an exhibition of his work at Montana Trails Gallery in Bozeman in September. He is also represented by Settlers West Fine American Art in Tucson, Arizona, and this summer, Connor is serving as the artist in residence at Triple Creek Ranch in Darby, Montana.