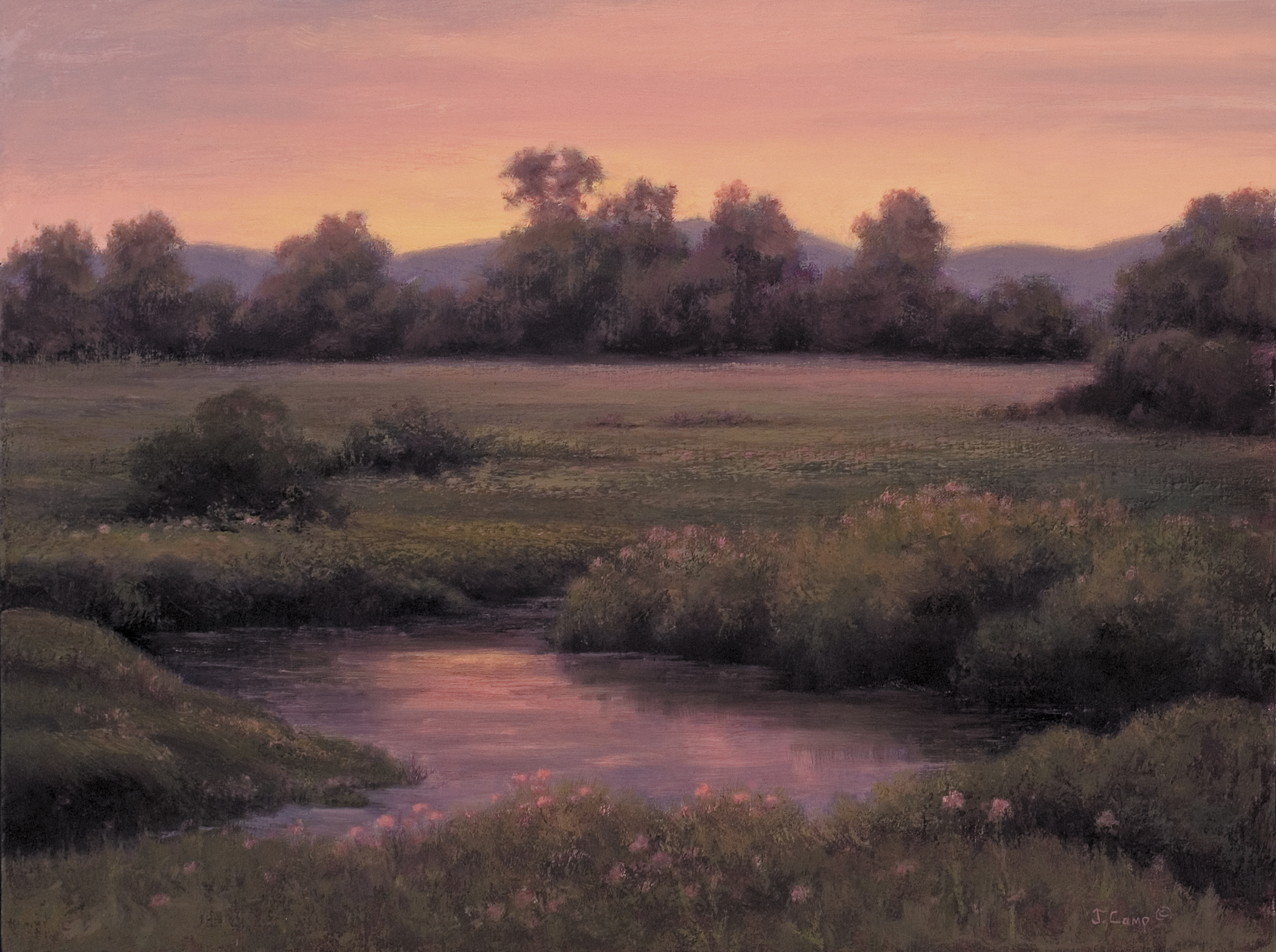 23 Jul

Artist of the West: Landscapes Wild and Serene

in
---
LIKE HOT BREATH ON COLD GLASS JANIE CAMP'S LANDSCAPES FEEL LIKE WINDOWS INTO PLACES AT ONCE WILD AND SERENE. With the hand of experience and the eye of an explorer she opens up private expanses, delving, searching and mapping them for us. But these are not fantastical or prehistoric places; they are places of the heart, solely and utterly undiscovered.
"I love color," she says, centered in her studio. Her easel and paints set up in the middle of the small space, a square within a square, like a nested bird. "I've studied many of my favorite artists, living and deceased, over the years, but feel my work is uniquely my own."
On one side of her rest three computer screens, on the other, six plastic baskets with tubes of color and brushes distributed under a system of sorts. Her easel stands in front of her and a chair waits behind. On her easel is a scene she comes back to — a place nearby, but not too near — up in the Mission Creek area. Camp is pulled to painting the times of day when the light is dramatic, the early morning or dusk. Like so many myths and legends these are the timeless portals for the supernatural.
"But before I begin to paint I must have music," she says, turning her attention to one of the screens where she boots up a playlist of folksy blues. The music fills the small space like water in a pot. "Music is an important part of my process. It puts me in a magical place in my mind where I can connect with the mood of the place I'm painting."
Her studio resides in a refurbished shed behind the Livingston house she shares with her soul mate, husband and companion, writer William "Gatz" Hjortsberg. Their home, crammed with art and antiques, nearly bursts with a sated fullness.
"There's been some darkness in my life recently, but I'm using it as space to pay attention to the other parts of my artistic process," she says, pushing out a bit of magenta on her palette, which rests on a stack of magazines in front of her easel. "My palette has become grayer, but I don't want it to be somber."
Pouring a small puddle of painting medium, she mixes just a dab of magenta to it then goes at her canvas. With thickly bristled paintbrush she covers up the hillside vegetation with a swath of darkness.
"I like to move the paint around," she says. "I usually have a good plan although painting has never come easy. My talent is the gift of perseverance. My achievements have come from hard work. I can't imagine life without painting."
Searching around for a roll of paper towels, Camp folds a few in her hand and wipes the heavy color away, leaving behind a breath of shadow, pulling tight the tension of the piece.
"And I don't want these horses to be the focus," she says, pointing with the end of her brush at a few horse figures in the pasture. With horses, there is always the chance they will take over the painting — it's their nature — and Camp wants the viewer to see other things first. She stands back, but not for long, and dips her brush into the thin transparent paint she generously used on the hillside. "I can see I need to focus on the foreground."
She adds another layer and wipes it away. Then reaches for a ferocious orangey-red and dots her palette and then the corner of a brush. With only a few strokes, if you could even call them that, she applies the smallest bit of this fire to the foreground. Indian paintbrush pops to surface, as if spring has just erupted.
"Sometimes something so subtle and tiny will be just what the painting needs," Camp says, standing back for a moment. "For me the painting part is the fun part of the process. It takes so much time, thought, and preparation just to get to that place."
Fellow painter Carol Guzman has been friends with Camp for a number of years and has observed Camp's progression over time.
"Her color just keeps getting better and what she chooses to paint has become more distilled. Her painting has more tonality and more moodier effects, with the transitions of light and color," Guzman says. "A lot of people think because it's really colorful it's really great. I happen to think the more subtle the colors are the better the outcome — you don't want all these colors screaming at you."
Remembering a quote about painting, Guzman recalls, "Gray is the couch on which all colors sit. If you don't have the grays, you won't be able to get the luminosity of the colors to work. She's looking for a mood within her palette and it comes out in her work. She's not painting the bright light of mid-day she's going for the more transitional times."
According to Guzman, Camp's style lends itself to reflection and appreciation of the area. Her paintings reveal a piece of the greater mystery of life, the place where our spiritual selves meet the earth.
"I like to see that kind of mystery, something different between plein air painting and someone who works on their pieces," Guzman says. "One of the things that keep you coming back to a piece is that mystery. You see something different in it each time you look at it. It's what a lot of artists are trying to do. Janie's work reflects that."
In the last three years Camp suffered two broken legs, the death of her father and the demise of her bricks and mortar gallery — although she still maintains Legends Fine Art online — and through it all she's been able to sustain herself through her art. She's also learned some hard lessons.
"I loved owning my gallery. I thought I could relate better to artists because I was one of them and understood their needs," Camp pauses in her painting. "What I discovered was it is very difficult mixing business and friendship."
Standing before her painting, Camp takes a moment to reset herself, directing her attention to a very pink skyline. She washes a transparent layer of paint over the entire top half of the canvas. With her paper towel in hand she begins to clean the extra paint away in small circular motions as if washing a window or removing smudges from a pane of glass. And as the painting evolves the room seems to shift with it. It is as if the whole space is tied to the piece — a buoy that ebbs with the mood.
Long time collector, Bea Taylor, has three of Janie Camp's pieces in her Bozeman home.
She and her husband James are patrons of the arts and the Taylor Planetarium, at the Museum of the Rockies, is named in their honor.
"What I like is the very romantic feeling of her landscapes," Taylor says. "But I also have one showing a view of a garden wall with flowers. They're delicate and give me a warm, soft relaxing feeling when I look at them."
Taylor spotted Camp's work at an art show.
"I called her and asked if I could see more of her paintings," Taylor says. "They're not just pretty, they're right. She has such a good sense of composition and color. In fact, her ability to use color is probably what attracted me to her work to begin with."
Not only did Taylor purchase three of Camp's painting for herself, she bought three more for her grandchildren.
"I probably bought those paintings 20 years ago and I would buy them again today," Taylor says. "They refresh my soul every time I see them."