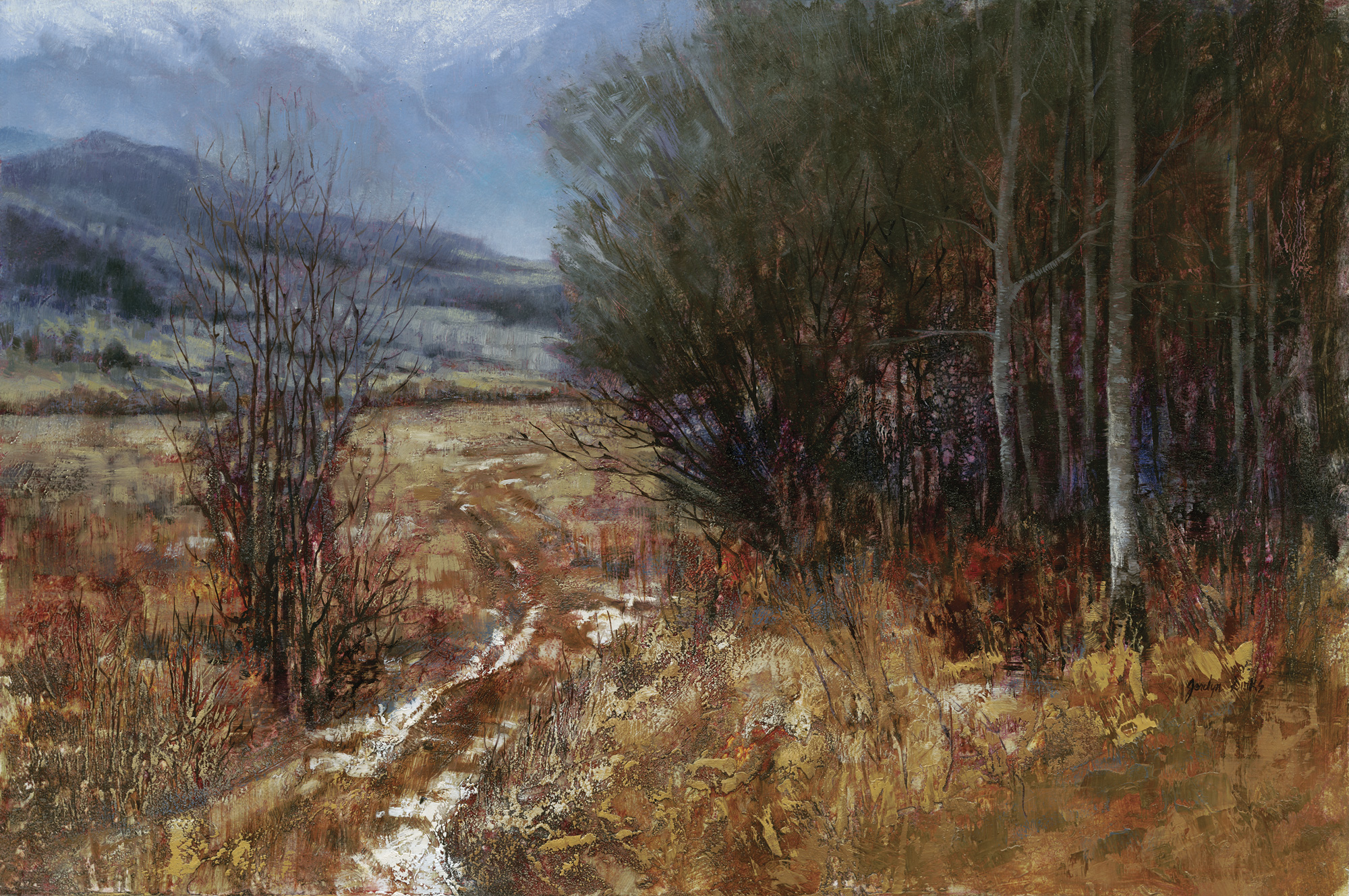 23 Jul

Artist of the West: Landscape Conversations: Jerolyn Dirks

in
---
JEROLYN DIRKS' LANDSCAPES ARE NOT THE GRANDIOSE panoramas of peaks and clouds. Instead they are the intimate conversations we have with nature while walking in the woods. They are the whispers of comfort, the questions of eternal everyday struggles, a shared solitude. Like opening a journal or turning a diary page, her shadows pull us in and her light allows us to see.
With a sense of exploration, we ramble a well-trod trail to find the nuances of an individual day: wild turkeys flushed from the brush, a snow exposed jeep track and the first green spring leaves of a young aspen. Layers of familiarity overlap with a sense of wonder, an edge of the unexpected. Her colors flow seamlessly from dark to light with a soft inner rhythm.
Walking from her Gallatin Valley studio, down the foot path, we pass chickens, ducks in the stream, cows in the field and a very friendly horse that needs to know everything, all with the towering mountains as a backdrop. The homestead buildings date back to the original settlers, from the late 1800s. These outbuildings stood for years as sentries against the wild and the weather, made from logs dragged from the nearby Bridger Mountains. Now the wood sides are colored and faded, slats angled awkwardly.
"I've milked the Guernsey cows in that barn, watched the manure bleach those walls," she says. "This place is my heart. I'm watching it age and go away, like a lot of things."
She's painting these places that are so dear to her, a home she'd lived in for 20 years. In her piece, Golden Hour, a portrait more than a landscape, Dirks gives us a glimpse into her spirit, the recesses of her secret self. The barn, washed in a honey-poured light, carved by shadows, allows the sky to peek through the weathered laths. But it is her use of underpainting, creating textures, that really pulls the piece together. In these small corners the unsaid lingers; it's where the psalms of our experiences ring.
Years ago, Dirks made the transition from watercolors to oils, from cute kittens and puppies for Iams and Petsmart to landscapes and still life paintings. And everything changed. It was more than a professional decision. When a gallery owner in Ennis asked Dirks to do a plein air painting on the Madison River, Dirks' first answer was no.
"Then she talked me into it," Dirks says. "I realized what I was doing in the studio was very safe. Suddenly, I was out on the Madison and I couldn't control the environment. There's an edge to it that becomes very physical. All my senses were engaged. There was a riot of textures and colors. And smells. There was something about the dog being asleep in the grass, cranes flying overhead. It connected me to the emotional part of painting."
Even more than that, it pushed her out of her comfort zone.
"It became the kind of excitement that was so much more fulfilling," Dirks says. "It was about the chase. The watercolor work had no meaning for me anymore."
She dove headfirst into her new medium with bravery and devotion. Attending workshops across the country, Dirks was determined to find her way around an oil palette.
"I'd leave home thinking one way and I'd come back thinking about things in a completely different way," she says. "I learned why the preliminary work is so important. Now, I'll get out there and see something and know what I want to say and how I want to say it, sketching first, before I come out with my colors and do color notes."
Her palette changes with every season.
"I studied with Tim Lawson," she says of the painter most described as a painter's painter. "The journey was exhilarating and fun. I feel a lot more settled in my work and more focused. For me, the main thing was discovering the difference between painting and making art. The feeling of a scene rather than the elements used to create it."
Many of those habits Dirks used at the workshops stayed with her. Instead of painting plein air, she sketches, small thumbnail sketches, and then she comes back to her studio and draws for two or three hours.
When she got back home from one workshop, Dirks faced some family health issues which forced her to slow her process down.
"Sketching was all I could do for a while, so that's what I did," she says. "And I painted the things I knew, the trail I walked every day, the barn and outbuildings. I realized everything I want to do is right here."
Linda Williams, an avid collector of Dirks' work, feels her paintings are almost spiritual.
"I think it's the thoughtfulness and the studied way she approaches her work," Williams says. "She takes the common and makes it sing. She takes an ordinary barn and it becomes a glorious cathedral."
Watching her work over the years, Williams finds it interesting to watch Dirks go from working commercially to painting as a passion.
"I've seen the work evolve," Williams says. "Going to the Lawson workshop was a big component, seeing how inward he is about his work. In my opinion she paints for all the right reasons. She can't not paint. It's an outcome of who she is. I'm a big fan."
In Dirks' studio, an old granary building with the original wide-planked floors, a low rough-hewn beam straddles the walls. Tubes of paint, jars of brushes and five sizes of palette knives are laid out near her easel, sitting dead center, with other paintings leaning here and there amongst the splattered colors on the ground.
Across a chair, spilling onto the floor are her color charts. Each chart has small squares of color, to each color white is gradually added in, giving different value ranges (from dark to light) and in varying hues.
"I really learned so much about color by making these charts," she says, her arms moving to encompass all of what she's absorbed.
Up on the easel is a piece she's working on called, The Gleam of Dawn which is about her cow Sapphire.
"It was the way the sun had just come up and it washed out everything in the background," Dirks says. Recently, Sapphire had weaned her calf and that calf was living two miles away at another farm. "It was the way she stood there and listened. I think she could hear her calf."
What she evokes in the painting is the feeling of stillness, a kind of yearning mixed with a sharpened sense of expectation from the day. It's not only in the portrait of the cow, but in the light and the old barn.
"In this place, these old buildings, they have so much personality," Dirks says. "I'm watching them lean. They're so familiar and they have so much more to say. I don't have to go to Yellowstone to paint. I have everything right here."
Linda Brown, co-owner of the Old Main Gallery in Bozeman, has represented Dirks' work for the last 23 years.
"She is a really solid fundamental painter," Brown says. "She worked exclusively in watercolors and became a master at it. Then she transitioned into oils so seamlessly. When you're really good at watercolor — they're so unforgiving, you have to be so precise and know your colors — she was able to build on that knowledge and move forward."
Last year, Dirks got into the Oil Painters of America, a very prestigious group.
"That was good for her," Brown says. "When she moved into oils she started enjoying it and you can tell from the kind of work she's doing. She's always growing, taking workshops and learning. She really loves what she does."