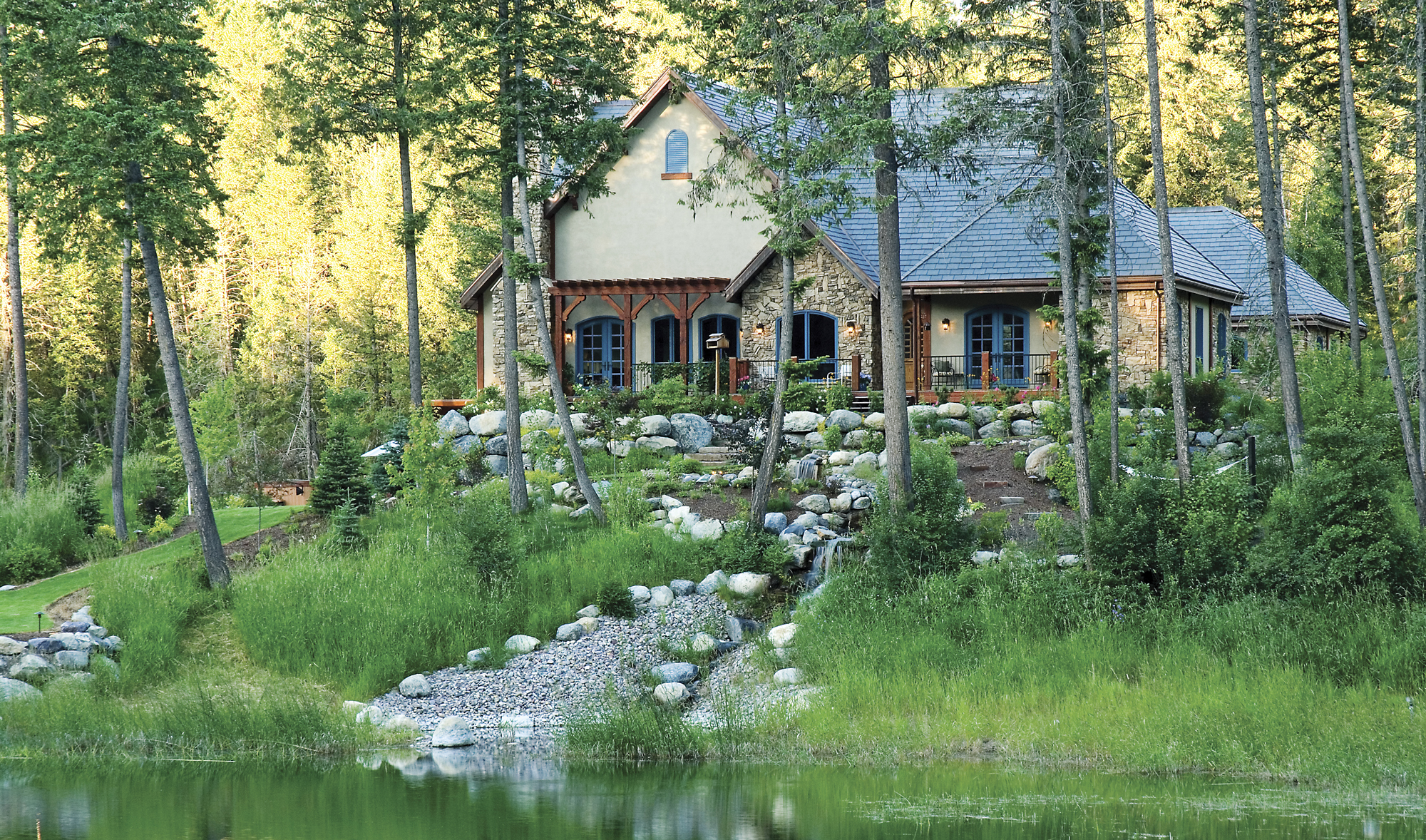 23 Jul

Landmark Builders

in

Rocky Mountain Chateau. Northwestern Tudor. Flathead Lake Modern.

With a wide range of styles and expertise in his body of work, it wouldn't be a surprise if builder Orlan Sorenson created his own style of architecture.

He does it essentially with every new project he designs and builds through his Whitefish-based company Landmark Builders. Melding client dreams into built realities, Sorenson brings elements of traditional architectural design into contemporary projects with his own trademark of excellence.

"The only thing that would tell someone this is a Landmark project is that the house is a showstopper because of quality and uniqueness," says Sorenson from his Kalispell office as he waits for an excavator to begin work on a current project.

Sorenson and his son-in-law, Jon Marinaccio, oversee each project and act as direct agents with clients from conception to completion. Sorenson began with his log home construction company, Lincoln Logs in 1976, but as client interests shifted over the years from extremely rustic to all manner of contemporary styles, Sorenson grew with the market and launched Landmark Builders in 2000. Today his company employs 14 people and works on only a few high-end homes each year, because of a commitment to keeping the company small and therefore maintaining quality control for clients.

While he still builds log homes, Sorenson prefers the challenge of various other architectural styles instead. He's in the business of building dream houses, not cookie cutter houses. In that vein, he has designed and built homes influenced by French Country, English Tudor, Arts and Crafts and lately a very Minimalist lake house.

To accomplish this, Sorenson studies up on the design of a certain architectural style, and that, he says, is the fun part. His favorite style of house is most often whatever he is working on at the moment; he loves the process of seeking out the most distinct pieces of the puzzle to make the whole project seem unusual.

"Each project evolves in process and emerges with personality that stands on quality and custom-made details," Sorenson says.

For instance, the towering stretch of cedars on one home inspired the dazzling height of a lakeshore timberframe style. The arches of classic European chateaus infused the design of another project with a tasteful repetition of arched doors, windows and wrought iron accents. The broad spans and richly colored wood of English country style influenced the dark-stained, hand-hewn beams in one project.

Other times it's a certain material that sparks a design idea. Utilizing antique and reclaimed materials in many projects, Sorenson has worked primarily with a single mill in Condon for the last 17 years. He scours the countryside for uncommon recycled woods and takes it to this mill to be cut for his specific needs. At one point a shipment of old Maraschino cherry vats caught Sorenson's attention; stained with the red dye of the cherries, he is certain they will be utilized for a future home.

Branding his style is not a priority, diversity in design is what keeps the business interesting for Sorenson. Working one on one with clients to understand how they envision their own style is what counts on a Landmark project, Sorenson says. He wants to make every step of designing, building, even furnishing and decorating a home simple and enjoyable for his clients.

"The clients are proud of what they have in their homes," says Sorenson, " That's enough for me. I like it better that way than having my work branded."

A third generation builder, whose Danish grandfather homesteaded in Montana, Sorenson has always had a fascination with building things. As early as middle school he was drawing structures and dreaming of what he could build. The fascination led him to drafting classes and a business degree from Montana State University, which ultimately came to good use with his own construction company after he designed and built a home for his family in the 1970s.

With a love of Montana, Landmark Builders works within 100 miles of Kalispell and plans to keep it that way. Most of his clients find out about him via word of mouth, they pass on the word of Sorenson's enthusiasm and dedication to keeping costs low and quality design high.

In the meantime, he's working on a new style — one that incorporates rustic elements with boxy Modernism and low-maintenance metal. It's a whole new genre for Sorenson and that's just what will make is a Landmark Builders home.