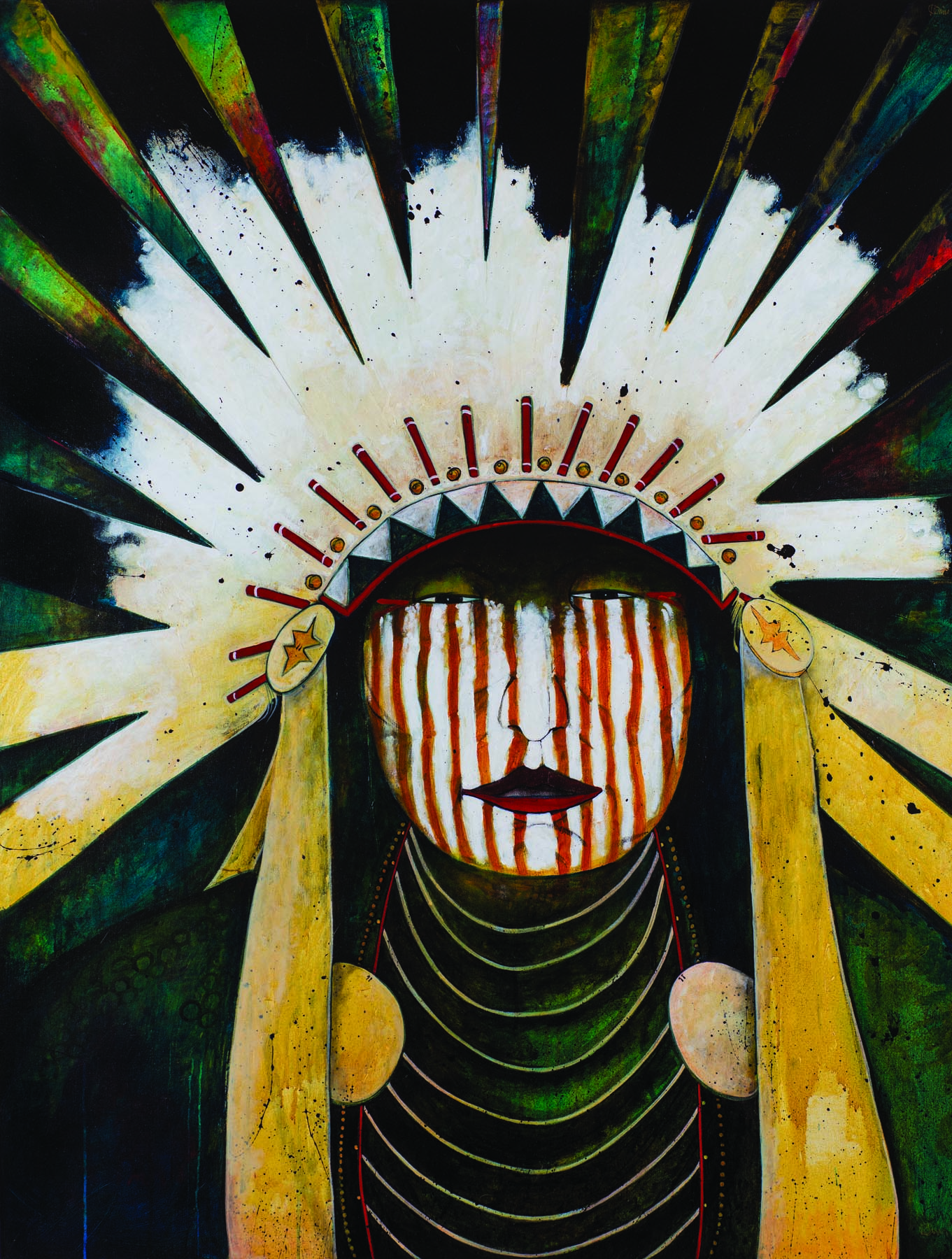 26 Aug

Kevin Red Star: Crow Indian Artist

in

EARLY OCTOBER ON THE CROW RESERVATION in south-central Montana is a transitional time. The lush green grasses on the rolling hills and benches flanking the lowlands, nourished by summer rains, have shifted to a golden hue and the cottonwood trees lining streams and riverbeds are a bright yellow. The notched tops of nearby ranges like the Bighorns and the Beartooths are capped by snow. Red wing blackbirds creak from cattail marshes and meadowlarks perch on fence posts lining the large pastures and farm fields. Soon they will be heading south. Days are sunny, the air still as if nature is holding its breath as it slides toward the bitter cold of winter with its deep snows. People are gathering firewood, preserving deer and elk meat, harvesting the last vegetables and fruits. So it is today, so it was in the distant past, and so it was on October 9, 1943 when an Indian boy known as Running Rabbit was born into what would be a large family, and was brought home to a small house in Lodge Grass on the Crow Reservation.

This third child of nine, Kevin, born to Amy Bright Wings and Wallace Red Star, did not seem any different from his siblings or the Crow children of the time, but was in fact destined for a life much different than his peers. He would become, over the course of a lifetime, one of Montana's most renowned artists, a leading figure in the contemporary American Indian art movement, and a national treasure with works in museums and private collections around the world.
---
Childhood
In the 1880s, the Red Star family, which traces its heritage back to the Mountain People, one of the primary bands of the Crow, acquired a substantial tract of private land, roughly 7,000 acres, through the General Allotment Act, when the United States Federal Government was trying to convert Indian tribal lands to private property. These lands, sitting at the foot of the western Pryor Mountains near the town of Pryor within the Crow Reservation, were then handed down to Wallace Red Star Sr. from his uncle and grandparents. Most of the year the Red Star family resided in Lodge Grass, in the so-called Valley of the Chiefs, another small reservation town less than 20 miles from the site of the Battle of the Little Bighorn, where Lieutenant Colonel George Armstrong Custer and his forces were annihilated in 1876. Summers were mostly spent on the family ranch with its lovely artesian springs, small ponds, meadows and deciduous thickets of wild plum, willow, cottonwood groves and other vegetation bordering tiny Pryor Creek, or as some call it — Walk About Crick. The property remains in the family today.
Kevin Red Star's older brother Wallace Jr. relates:
There were endless things for us to do as kids here. We'd come here for at least six weeks every summer, and would pick apples and chokecherries, go exploring, and ride our uncle's horses. We'd leave home in the morning and not come back until night, eating biscuits and other things we'd take along. When we'd have big rains, we'd get into cutoffs and go up into these sandstone basins, which were heated by the warm rock, and we'd sit in them for hours. We'd swim in the creek and ponds, go fishing and hunt small game.
With his boy cousins and siblings (boys and girls were discouraged from playing together in those days), Red Star lived a life not unlike his ancestors. 
The artist recalls one such outing:
We were out one day running around in our shorts, barefoot and shirtless, when we ran into an old woman. She said we'd better stop eating all the chokecherries or we'd get bellyaches. Then she told us that if we wanted to avoid a stomachache, we should rub the berry juice on our navels — so we all showed up back home with purple belly buttons! I remember mother laughing and saying, "Oh, she is such a kidder." 
Even as a boy there were signs of Red Star's artistic future. "I was always making things as a kid," he noted in a 2006 article in Distinctly Montana magazine. "When we went swimming, I'd create little figures of mud by the river. I would make conical shapes of tipis, and men and women stick figures, or animal figures, right there on the banks."
His daily life was also full of subtle reminders and stories of the past. The family land sits at the mouth of the Pryor Gap, a natural pass through the mountain range the Crow people used to call Baahpuuo Isawaxaawuaa (Hitting the Rock Mountain). War and hunting parties leaving the heart of the Crow lands to travel south would pass through this gap. It was said to be a favorite gathering locale for the legendary Little People, who watched over and sometimes assisted individual Crow people. It was customary for travelers to shoot arrows into one rocky cliff at the north end of the gap. If the arrow stuck, it portended good luck on their journey. Later this custom evolved into people coming to the spot to leave small offerings, a shiny object or tobacco, and even today one finds remains of cigarettes and beads on the site. A power spot for the Crow, Pryor Gap was a place the Red Stars frequented. The young Red Star often would sit around campfires at night listening to tales of his elders about the Little People and the travelers who came and went through this pass.
---
His mother
Other Crow cultural influences were present in the Red Star home. His mother, Amy Bright Wings Red Star [1920 – 2013] of the Piegan clan, was a renowned beader, embroiderer and ceremonial clothing artisan, and maker of Crow dolls. Independent and outgoing, Amy had grown up in a rural setting, riding horses to a Catholic mission school. She married Wallace Red Star Sr. in 1938, at age 18. "Mom was super talented as a bead worker," notes Wallace Jr. "My daughter [Wendy Red Star], who took computer graphics courses in college, says Mom could make these floral and leaf designs on belts and dresses so perfectly that they look like they were created on a computer. Often when she'd be making them, we were around her talking and goofing off but they were so good they looked alive."
Kaneeta Red Star, the artist's eldest sister, adds, "When we were kids, and up to the 1970s, almost all the women dressed traditional. They had these wide, hand-tooled, beaded leather belts, and Mom made them, along with elk tooth and buckskin dresses, hair barrettes and men's vests." Working on a treadle sewing machine, their mother also made lots of cloth dresses and, in her latter years, mostly did appliqué on shawls, blankets and moccasins. She often used old Crow design motifs — triangles, hourglasses, and other geometric shapes — in garments for family members, and occasionally sold or gave such goods to other tribal members. Later, she would become a well-known figure on the powwow circuit, creating and selling fancy regalia to the dancers. Wallace Jr. would fly her in a private plane from event to event. "She was the only one doing that," Wallace recalls with a laugh.
In an article written in 1995 by Mary Terrence McKay, Red Star recalled, "Design has always been there for me — in my family, in my tradition. I remember from my childhood the designs mother would work out on brown paper for her embroidery: horses, tipis and other designs she would use on buffalo hides."
His father
Kevin's father, Wallace Red Star Sr. [1907 – 1994] — Old Man Eagle in Crow, of the Sore Lip clan — also provided consistent artistic and cultural direction for the family. He was the first family member to have both a first and last name. His grandfather was simply called Red Star, named, it's believed, for a vision involving Mars, the Red Planet. Wallace served briefly as chief of the Crow tribal police before going off to fight in World War II. Returning to the reservation, he worked for a period as a game warden. His positions afforded the family the then rare ability to own a vehicle, allowing them to travel around the vast reservation and even to nearby off-reservation towns like Billings. Wallace was also a medicine man and healer. "I used to wonder why all these people were often around the house," recalls Kevin. "They'd come to see Dad, who would meet with them in private. It was only many years later that I learned what was going on."
In addition to his father's abilities as a healer, storyteller, regalia craftsman, traditional singer, holder of old songs and proficient speaker of Crow, Wallace Sr. was also a musician of popular music. He played Hawaiian steel guitar, acoustic guitar, mandolin and saxophone, performing across the reservation with a band called the Reservation Hot Shots. They played versions of top songs of the day, and Hank Williams and Hank Snow standards. Amy had played the saxophone as a child and she and Wallace required each of their children to assiduously study some form of music. Kevin played violin, trombone, piano and guitar, but eventually settled into drumming.
Kevin's younger sister, [Connie] Red Star, who legally changed her name to simply Red Star many years ago, is also a highly regarded bead artist. She says, "I remember Dad's friends coming over. They would scoot all the furniture against the walls and play music. He was also a wood-carver — I have this snake-like piece he did. So, art was a way of life for Mom and Dad — it was not a hobby. Mom's dressmaking was handed down to her from her grandmother, who raised her."
---
The power of art and design seep in
Slowly these influences — the power of the landscape, the cultural continuum of the Crow and his own family, and the power of art and design — seeped into Red Star and he often found himself drawing in his spare time. "I remember Kevin always had this little bump on his middle finger from holding a pen or pencil to draw," recalls Wallace Jr.
Our parents allowed us to pursue what we were best suited for. If we'd get into something, they'd support us. I remember when Kevin was in school one day. The teacher was drawing a picture of a vase on the blackboard when she had to leave the room for a phone call. When she got back the vase had a crack in it and water was flowing out! It was Kevin, playing a joke on her.
It was at Lodge Grass Elementary School that Red Star's artistic talents first began to really manifest as he enjoyed the clean white sheets of paper provided for drawing. Red Star recalls, "It was just regular public school, except when we played tag, we played on horseback! There was no emphasis on the arts. But after you'd done your homework, you could do anything you wanted. For me, during free times, I'd draw."
He once noted to writer Mary Terrence McKay, "How I enjoyed the clean sheets of white paper — not just the wrapping paper or lined tablets we had at home! I drew what I saw, what was around — trees, like chokecherries and cottonwoods."
Teachers also called upon him to do posters for special events, create bulletin boards, decorate rooms for holidays, and work on sets for plays. He recalls:
We'd have older students supervising us, and it was probably pretty basic, primitive stuff, but it got me out there with a paintbrush. I'd always enter the poster contests and would usually get first or second place. Later, in high school, I did have a few art classes but never really any formal training. And my parents, who were raising all these kids, didn't have much time for working with me. They knew I loved to draw, so they provided encouragement. My dad used to go to flea markets and second-hand stores and pick up art for me — mostly Western illustrations by [Charles] Russell and [Frederic] Remington. And I'd copy and trace them.
I was really fascinated. I'd ask myself, how did they do this, get this cloud of dust or sense of motion, this color? He also used to take us hunting, say for prairie chicken or pheasant. When we had the birds in hand, I would study their feathers and do close-up sketches — their feathers fascinated me. But as I grew older, I got frustrated. I could draw, but when I tried watercolor I usually muddied it up, so mostly I just sketched. I didn't know what I was doing. I needed more training and skills, to be taught how to do it properly — what brushes to use, what paper or canvas, and so forth. I was saying to myself, "I have to go beyond this." But I had no idea, whatsoever, how to get deeper into the process.  …
His evident artistic talent was rewarded in 1962 with a scholarship to the Institute of American Indian Arts in Santa Fe, New Mexico. IAIA, an exciting new residential college preparatory school that incorporated Native culture into a liberal arts education, was a radical shift from previous federal policies of exclusion. They studied Picasso, Rauschenberg and tribal artifacts, oil paints and natural pigments. Early IAIA staff and students — including Fritz Scholder, Lloyd Kiva New, Alan Houser, Charles Loloma, T.C. Cannon, Earl Biss, Dan Namingha and Kevin Red Star — emerged as the first Native Americans to masterfully bridge the world to Modern art. Young Red Star, at 18, found himself on the wave of a new adventure that would change his life forever.
Red Star paints his people, the Crow, exclusively. Warriors are fierce: faces striped with white paint, shields, breast plates, war bonnets in place, painted horses on alert. Night dancers and mystic men seem to have been transported to a spiritual place. Women in buckskin and elk tooth dresses are skillful dancers or on horseback. Tipi poles reach for the night sky. …
One of his paintings, Running Rabbit as Crow Wolf, is autobiographical and refers to the Crow fashion of calling their lookouts wolves. In an undated Santa Fe newspaper article, he once stated about this image, "The role of a wolf with the tribe was a scout. He would go live up to 10 miles from camp, even in storms or the middle of the night. That's what I'm doing."
On the windswept plains of Montana, at the foot of the stupendous Rocky Mountains, between the Yellowstone and the Tongue rivers, life changes slowly, but humans flash through, each leaving a small etching on the surface of society and place. Some, however, forever alter the picture. Their soul becomes part and parcel of the land forever. Such is the work and life of artist Kevin Red Star, who forged a path for his people into the realm of global fine art. He is out there now, still scouting the way.
---
From the Editor: The first large format, hardcover book, Kevin Red Star: Crow Indian Artist, will be released in August 2014 by Gibbs Smith Publishing.