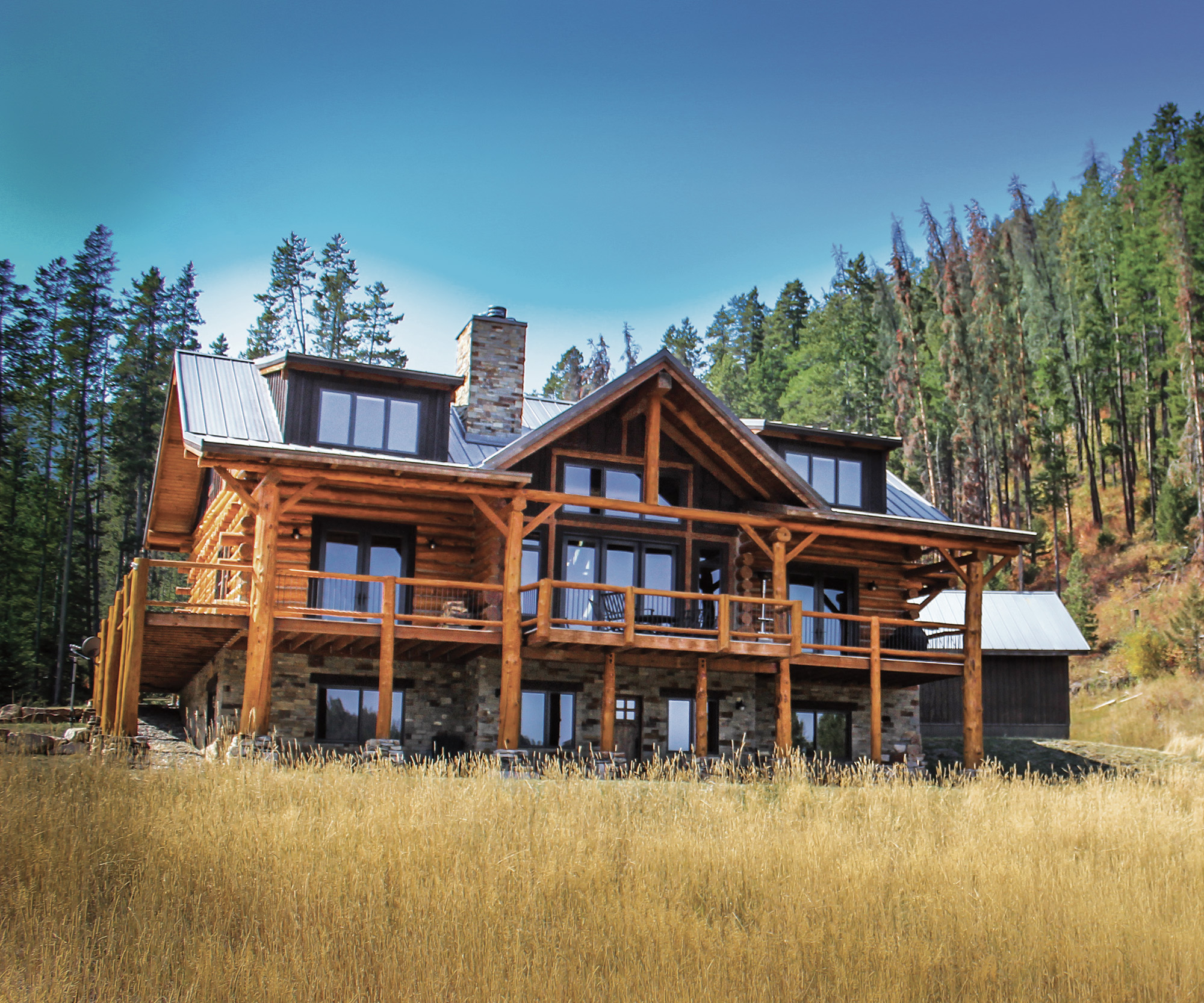 14 Apr

Keeping Up with the Upkeep

in
---
There's something about log homes, iconic symbols of pioneering in the West, that manages to reflect a kind of rugged individualism as well as capture the essence of living in accordance with the environment. Originally made from nearby trees, the first log homes withstood the harsh weather in style. Today, however, owners of log homes need to do more than close the doors to the weather. Maintenance is key to the wood's longevity.
"People love log homes because they feel closer to the land," said Stan Baker, owner of Montana Log Restoration. "But they often have preconceived ideas about what they need to do to take care of the logs."
Many log home owners don't realize that their logs, even though they are no longer growing, still require care. The logs can absorb water if not sealed properly, expand and contract in hot and cold weather, and provide a home to insects like flies.
"Log homes are getting a black eye because people think the upkeep is so expensive," said Cal Arnold, owner of BTI Log Home Care. "But a regular maintenance program is really all it takes to keep the home in good repair, free from drafts and flies."
People who live in log homes face challenges that those who live in houses with other types of siding don't face. Just painting the logs isn't enough. "A simple wash of the exterior logs with a good detergent and a thorough rinse can stop a lot of problems before they happen," Arnold said. "The logs need to keep their sheen, and keeping the pores from getting clogged with dirt allows the finish to be easily monitored."
If the top coat begins to fade, it may be a sign that maintenance should be undertaken, especially if the fading is on the south- or west-facing exterior sides.
Both Arnold and Baker offer complete maintenance contracts — according to the home's needs — for inspecting, cleaning, and repairing on a regular schedule.
"The owners make an investment, and people like us help them to protect their investment," Baker said. "We even consult on purchasing a log home or selling one."
Arnold warned log home owners not to fall for the quick fix. "We develop a relationship with our clients," he said. "Some people just paint the logs and you never see them again. We don't cover up the flaws. We make sure they're taken care of correctly. You can't reverse deterioration, so it's important to protect it."
In fact, Arnold recently incorporated the use of thermal imaging and draft control equipment into his regular inspections in order to isolate trouble areas. He also sends his employees to continuing education classes so they can keep up with the latest trends.
According to Baker, one of the trends in new log home construction is for companies to provide the whole package, from the logs to the plumbing. "The other trend, especially around here, is to use reclaimed lumber to get that rustic look," he said. "Those hand-hewn, rough-cut lumber planks that are used to side homes are very similar to log homes and have very similar issues. Water can penetrate the wood, so we provide a 100-percent clear protective coating that doesn't affect the look of the wood. And there's still caulking and chinking involved — it's wood, it's just not round logs."
The oldest log home Baker has worked on was from the 1800s. "Those were some solid logs," he said. "With older homes they used old-growth timber, which is really tight. The homeowner didn't stain it. They didn't even put the home on a foundation. They just laid the logs down on the dirt. But the logs were in great shape." Baker jacked up the house and laid down new logs underneath it. Then he chinked and caulked them. But those were the only repairs that needed to be made. "It was fun to work on," Baker said. "It made me think about how old homes like that could be in such good shape, and a 10-year-old home could have log rot."
He added that it's not that the logs are bad these days, but that old-growth timber is rare. "Keeping those newer growth logs healthy always comes back to maintenance."
Baker's company, Montana Log Restoration, has a strategy: By concentrating their work on high-end projects, they can also afford to work with owners of smaller log homes.
"That allows us to consult on smaller homes and help the owners create a maintenance program," he said. "I typically recommend that people do a complete inspection on their log homes every two years, with treatments as needed."
Arnold likes to think of his company, BTI Log Home Care, as a resource for log home owners. "Log homes are their own animals," Arnold said. "They're not siding, but if they're done right it can pay off in big ways."