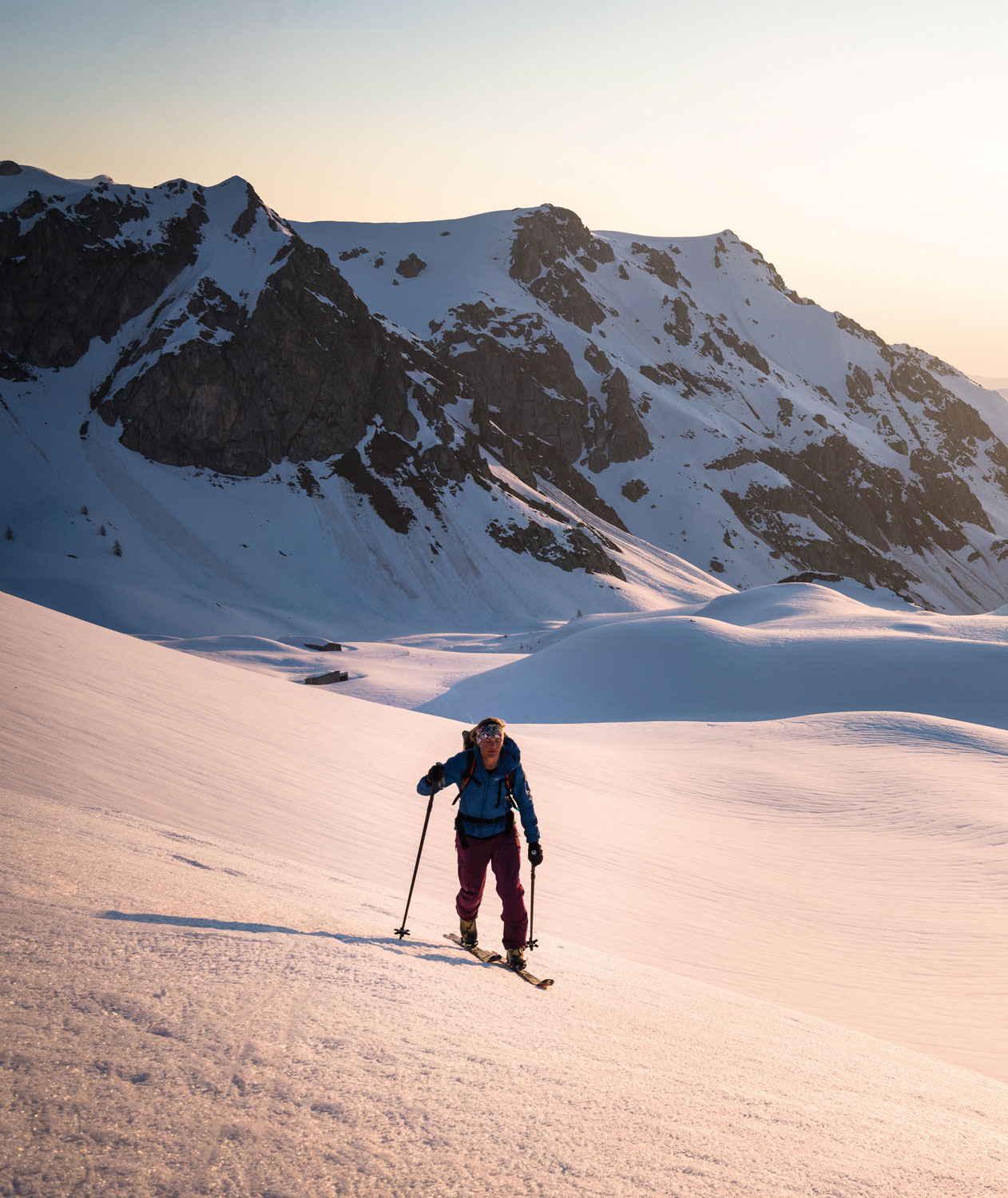 12 Dec

Janelle Smiley

in
After summiting hundreds of mountains, this extreme
 

athlete is far from reaching her peak

There's no doubt that 2018 has been a good year for Jackson Hole, Wyoming-based athlete Janelle Smiley. The ski-mountaineering racer shattered one world record and created another — achievements that fit right in with her seven ski-mountaineering champion titles and a number of first-female honors. Yet, despite the bigness of her accomplishments and the ego that can often go along with them, she remains consummately grounded, ready to laugh and listen with equal sincerity, free from the burdens of taking herself too seriously. 

Perhaps that's because she knows what it's like to be humbled by nature. Growing up in Ouray, Colorado, her mother encouraged — or beseeched — her and her brothers to expend their vast amounts of energy outdoors. In a Rocky Mountain wonderland of hot springs, ice climbing, and abandoned coal mines, the request wasn't hard to honor.

Before long, the rowdy crew was skiing, climbing, and discovering more mischief than their mother had, perhaps, anticipated. Keeping up with her siblings every step of the way, Smiley realized how much she enjoyed pushing herself physically — and also how much she loved the competition. "I always enjoyed being out with the guys," she says. "I grew up with brothers, so I never felt left out."

Smiley has always been something of an anomaly in a male-dominated scene, one of just a dozen or so female athletes in the world of ski-mountaineering racing, a sport that involves scaling mountains and descending on skis. The 37-year-old has been racking up wins and records since 2007, when she started competing at the Colorado Cosmic Ski Mountaineering Series. And 10 years later, she is still on top, becoming the fastest female to cover the Teton Grand Traverse, a 15.9-mile event packing in 12 summits and 13,400 feet of climbing in Grand Teton National Park.

But despite the sense of accomplishment that comes with such performances, she was never satisfied with being pigeonholed. "Being a woman, with only 12 other women competing, I thought, 'This is great — if you try pretty hard, you can podium,'" she says. "But as I progressed in my career, I started looking at the men and thinking, 'How can I keep moving up?'"

The answer was competing directly against them, and in many events, she continued to dominate. "I'd get a little bit of girl pride when I passed a guy," she says, chuckling. "They started looking at me like, 'How do I not get checked by Janelle?'"

Her competitive nature and boundless courage has brought her on journeys that would leave athletes of any gender questioning their own competency. This past spring, she and her husband Mark Smiley — himself an accomplished skier, mountaineer, and outdoor guide — were part of an elite team of seven alpinists chosen to participate in the Red Bull Der Lange Weg — or, as it's more colloquially known, the toughest expedition in the history of skiing. The backbreaking route takes athletes more than 1,000 miles along the spine of the Alps, from Vienna, Austria, to Nice, France, with the goal of doing so in the world's fastest recorded time. Thirty-six days later, they saw that dream come to fruition, with Smiley becoming the only female in history to finish the trek.

Along with these feats, for the past seven years, Smiley and Mark have been systematically checking off the 50 Classic Climbs of North America, a constellation of the continent's toughest peaks first documented in the 1979 book by the same name. This passion project has brought with it an immense sense of personal pride, even more professional records, and a handful of near-death experiences. But for Smiley, all the travails and triumphs are simply the familiar mechanics of expanding her comfort zone.

"It wasn't an active decision," she says of the spectacular turns her life has taken. "I never said, 'I want to go out and be a mountaineer.' It just happened." Integral in making it so was her dedication to following her passion, which she says is the most important factor for anyone trying to build a life of happy — and sustainable — growth. 

It's a lesson she hopes to bring to more people as she looks to transition, at least temporarily, away from competitive athletics and toward another passion of hers: helping others. "I'll live and die as an athlete. It's just in my DNA," she said. "I might not be competing on the world stage on the same level as I get older, and that's totally fine by me, but I want to incorporate all the knowledge I've gleaned over the years."

That includes her training as a holistic coach that she has combined with a master's degree in counseling. She hopes to put these to use, helping members of the outdoor community and beyond to let go of their fears and the blockades that fear can create. "So many people are trapped in limiting beliefs," she says. "It's so helpful to be able to come up to the edge of that fear, and to push through that fear. It takes us to entirely new levels, where we can break free from those thoughts and live up to the potential of what we can really achieve."

Soon Smiley will be embracing her own fear of the unknown as she embarks on another big adventure: She and Mark are expecting their first child. As she prepares for this new phase of life, the world-class athlete has taken a rare breather, channeling all that levity and level-headedness to reflect on how far she's come, and where she wants to go from here. 

"Getting pregnant and adding a human to the mix," she muses. "I know it's going to change things. I don't know how it's going to change things, but I know what gives me life and inspires me is being outside and pushing myself. And I'm hoping to continue being an athlete and being a mom, and hopefully introducing that child to the same love I have for being outside and being active."

Bridget Clerkin is a writer based in San Diego, California, but she's a firm believer that life should be equal parts beaches and mountains. You can find her several times a year exploring the Rockies, seeking to maintain this balance.