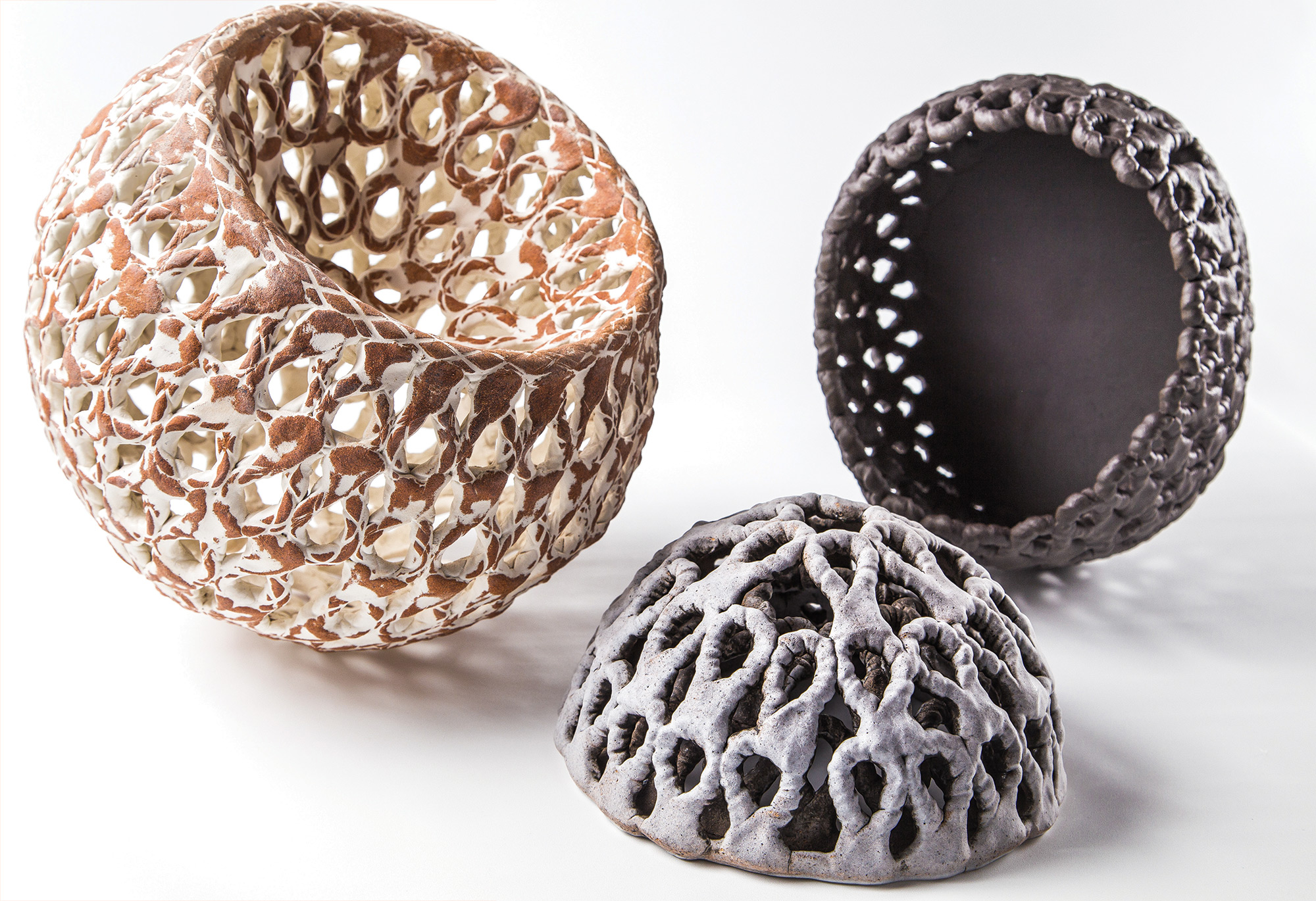 29 Jul

In the Studio with Andrea Moon

in

REMINISCENT OF BASKETWARE "WOVEN" FROM CLAY PARTS, Andrea Moon's ceramic compositions are characterized by repetition, intricacy and obsession. Crafted from hundreds of coil strands pieced together to create volume and gently undulating forms, Moon's pieces serve as airy vessels into which she pours her questions about self and place. "To someone else, my work may be a ceramic take on a rattan basket," says the Red Lodge-based artist. "It might even be a fruit bowl, but to me it's a lot more. It's a healing passage."

The daughter of a social worker and a union cabinetmaker, Moon grew up in northwestern Ohio. Her immersion in ceramics began early: at age 13 when she landed a work-study position at a production pottery studio. "I began by cleaning the studio. My boss, Jan Pugh, saw I had an interest and some capacity and she pushed me. Eventually she had me working with the RAM press [a machine developed in the mid-1940s to press clay into shapes, like plates and bowls] and applying [Italian-style] maiolica glazing. She taught me to paint all of her designs." The position lasted through high school and when Moon enrolled as a freshman at Bowling Green State University, it didn't occur to her to study anything but clay. "It was all I knew. After five years at Packer Creek Pottery, it was my only skillset. If I hadn't spent hours in Jan's studio making turkey platters and throwing teapots, I might not have gone in this direction."
At Bowling Green, Moon says she began to learn "the other side" of clay. "It was like walking into an action show called, 'Legends of Ceramics.' My professor, John Balistreri, had been an assistant to Peter Voulkos. John organized something he called the Voulkos and Friends Workshop." The event included a number of ceramics greats. Andy met them all and, along with other workshop participants, she assisted Rudy Autio with one of his pieces. "Suddenly," Andy says, "clay exploded into something bigger than production pottery."

Around this time, the death of a close friend pushed Moon to further shift her perspective on clay. "When my friend died, I began a lot of self-questioning. At some point, I began to think of my work in the context of my questions. Things like, 'Where am I today?' And, 'What are my vulnerabilities?' My friend's family fought over where to put his grave. My response was to make a piece I entitled 8 Plots. It helped a lot to be able to pour my feelings into an object." This was a benchmark in Moon's career. "It was no longer about producing a certain number of pieces for Packer Creek or even responding to my professors' assignments and thematic challenges. It was about attempting to encompass my own questions and emotions within the vessel, and mirroring them visually by creating physical tension within the clay's strength. I've worked that way ever since."

Moon came to Montana through the Red Lodge Clay Center's residency program, where she now serves as Residency and Communications Coordinator. David Hiltner, the founder and director of the center, calls the artist's work "beautiful and profound. … I love the repetition and the volume created through repetition," Hiltner says. "Andy takes material typically used for function and transforms it into a sculptural vessel. It's not laden with content; it's not strong with imagery. Instead, she uses these airy coils. As a result, she not only creates interest in the work's surface, she creates interest in the work's interior, which is voluminous and empty. In a way, Andy anthropomorphizes her pieces. It's really quite profound."

Moon works (usually in the evenings) in her studio north of Red Lodge, part of a state-of-the-art facility built by the center for its residents and students. She begins each piece by sketching her ideas for it in her journal. Then she commences the long process of "making parts," meaning the coil loops that comprise her work. Each piece requires between 650 and 1,200 loops, and Moon works in batches of 100. She coils these upside-down from the vessel's top to its bottom. When she's used up all of her loops, she makes 100 more. Often her sketches change as the piece evolves. The process of completing a piece can take up to four weeks, sometimes longer.
The airy simplicity of Moon's clay compositions belies the technical obstacles inherent in their production. "Firing to maturity is my biggest challenge," she says, "because I can't control the heat and what it does to the clay. I experience warping in areas where I prefer not to have it, cracking that I didn't see until after firing. There's this happy place of temperature that is difficult to reach." These challenges are made all the more complex by Moon's choice of material. "I don't work with fibrous clay that knits itself together like denim, but with heavy stoneware, with a sandy clay body. I prefer its durability, look and strength. And then, because the loops are delicate and thin, there's the issue of gravity."

After Moon earned her bachelor's degree in fine arts in three-dimensional studies at Bowling Green State University, she went on to study at Texas Tech University where she received her masters of fine arts in ceramics with an emphasis in sculpture. Moon has served as an assistant professor and fine arts curriculum developer at Texas A&M International University, and she has held numerous artist in residence positions. The Society of Contemporary Craft in Pittsburgh chose her as a finalist for the 2015 Raphael Founder's Prize.

Moon's clay compositions can be viewed at the Red Lodge Clay Center Gallery and the Plinth Gallery in Denver, Colorado. In July, the O. Gallery in Livingston, Montana, will host a two-person exhibition featuring her work and the work of Brooke White. The exhibition opens with an artists' reception July 24 and will run through Aug. 10.