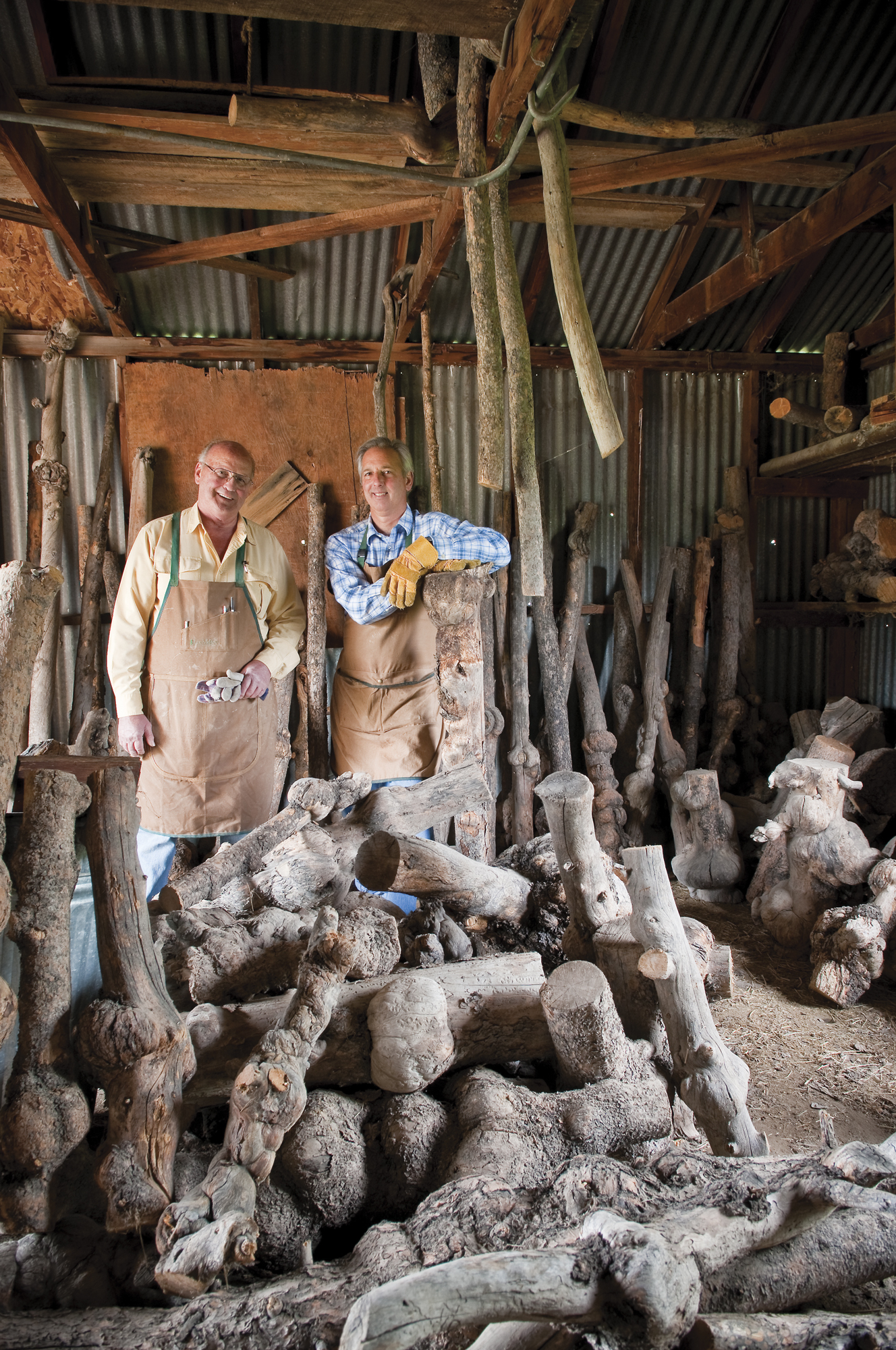 20 Aug

Western Design: In the Studio with the Viers

in
---
In their Livintson, Montana, workshop Russell and Rusty Viers keep the fantasy of the rugged West alive with their handcrafted furniture. Hulky club chairs made from exotically knarled juniper, clad in tanned buffalo leather, fringed and accented with Chimayo fabric. An armoire covered in an appliqué of split-pine branches and trussed with the burls of lodge pole pine. A desk emblazoned with the hand painted image of Buffalo Bill's Wild West show, expertly constructed with three different types of wood and replete with a secret drawer. Each piece is an original inspiration of the Western Frontier.
"Our family have always been Western buffs," says Rusty, who recalls daytrips as a kid to mining towns and camping adventures all over the western U.S. from the Viers' home base in California. When they relocated to Montana in the 1990s, Rusty and his father were searching for a business they could pursue together. With a background in home construction, they started looking at furniture-making, but it was the book Cowboy High Style: Thomas Molesworth to the New West by Elizabeth Claire Flood that piqued Rusty's interest. When he saw the strong lines and colored fabrics of Thomas Molesworth's vintage furniture, a light went on for him.
Cowboy furniture. Ranch furniture. Rustic furniture. Those are the descriptives that capture Molesworth's vintage furnishings that were designed and constructed in Molesworth's Shoshone Furniture Company out of Cody, Wyo., from 1931 to 1961. Every style of Molesworth furnishings have become widely collected again since 1989 when the Buffalo Bill Historical Center and the Gene Autry Western Heritage Museum in Los Angeles, Calif.(1990), exhibited an extensive tribute to the iconic furniture maker entitled "Interior West: The Craft and Style of Thomas Molesworth." Since then, both museums have cultivated permanent collections from the craftsman and paved the way for a new generation of furniture makers.
The bold lines and romantic interpretation of Western style by Thomas Molesworth captured the Viers' imaginations and they started experimenting with designs inspired by chairs and couches they'd seen in Flood's book. Largely self-taught, they sold at gun shows and to friends. Through trial and error, they grew their business and found a place for their work with Western art enthusiasts.
Eventually, they ventured to Cody, Wyo., in the mid-1990s, where an artisan culture of furniture makers had gathered in the shadow of the Molesworth legacy. There, they met craftsman Jim Covert, who is considered the grandfather of rustic furniture in Cody. As a founding participant in the Western Design Conference (now held in Jackson, Wyo.) and the co-chair of the Cody High Style event at the Buffalo Bill Historical Center, Covert has seen the surge of popularity in the genre of Western furniture. As one of the early craftsman to experience the revival of rustic style in the late '80s, he remembers when the only customers interested in knarly wood chairs were dude ranches.
"Twenty-five years later, it's gratifying to be able to tell people about the early days," says Covert, whose own furnishings were influenced by Molesworth and have won countless awards. He and his wife, Lynda, both create their own versions of interior furnishings at Covert Workshops. Covert employs influences in his own designs that are at once rustic, organic and elegant and likens the process to that of a painter or a song writer who takes aspects of what he admires and then crafts his or her own elements into the mix. That's the case, he says, with Russell and Rusty Viers, who began asking Covert about his technique.
"At first we visited about the old time Western traditional furniture that is the Molesworth style," recalls Covert. "Rusty senior was interested in how I'd taken that style and grown it."
Covert shared ideas with the Viers', as he is prone to do with many artists in the community. He shared materials and welcomed them into the circle of Cody furniture makers. The Viers' have been regular participants in the Western Design Conference and Cody High Style due to their consistent designs.
"They've focused on the Molesworth style and made it easily recognizable," says Covert.
Today, above the entry of their studio, where they cut, carve, build, upholster and finish each piece, hangs a handmade sign that reads: The Viers. It's a small monument of sorts to the business this father-son team has grown over the last 15 years by following their passion for the Old West.
Outside the shop, 100-year-old juniper posts are stacked against the wall. Knarled cypress branches are piled high. Lodge pole pine burls lean bulkily in a corner and alder wood kindling is massed in a box. To some it may look like scraps, but to these craftsmen one piece of burled pine could be the inspiration for the leg of a classic club chair; a twist of juniper may form the framework of an elaborate desk or the curve of a headboard. Each piece that the father and son team crafts is different, because the raw materials dictate its form.
"We want to leave the character of the wood — the worm holes, cracks and the marks of nature," explains Russell, "so every component has to be done one piece at a time."
Inside the studio, concrete floors, bare drywall and an unfinished interior belie the intricacy of the tools assembled here. On the walls, vintage hand tools hang above modern equipment that Russell utilizes to sand, plane, cut and piece together the wood gathered from outside and stored in a shed down by the creek. For those knotty sections of wood and rugged burled pine, he swears by the flat sander that occupies a corner of the shop to efficiently bring out the natural tone and texture of odd-shaped pieces of wood. Elk and deer horns are stacked on a high shelf, to be used as accents or drawer pulls in some pieces.
In an adjacent section of the shop is the finishing room where furnishings are stained, painted and sealed by hand. Color splatters in the small room reveal the deep rust, brown and burgundy often used to enhance the rustic quality of wood that the Viers' incorporate into their signature pieces. Brushes hang drying over the sink, where cans of verithane, shellac and paint line the shelf below.
Nearby, in Rusty's upholstery room, stacks of colorful Chimayo fabric await another project. He only uses fabric from Cordelia Coronado, who harvests, dyes and weaves her own wool in New Mexico. Samples of buffalo leather — tobacco brown, royal blue, cardinal red, rawhide yellow — are sprawled nearby and photos of past projects are tacked to the wall. An east-facing window brings in natural light to illuminate the space where Rusty uses two different types of sewing machines to shape the fabric into cushions or headboards or desktop covers. Also tacked to the wall are Rusty's patterns for leather stitching, a signature detail the Viers have adopted for select pieces of furniture over the years. Similar to the appliqué on a cowboy boot, Rusty adds inlaid roses, a bison skull, a cactus and layers the design to give it a raised quality.
Explaining the evolution of their craft, the father-son team credits Covert as a mentor and also cites opportunities to restore authentic Molesworth pieces as well as some other examples of vintage cowboy furniture made by a Livingston craftsman Don Hindman, who once worked at the Shoshone Furniture Company. Through the years they've learned to replicate the intricacies of that traditional style and have added their own touches along the way.
"We like to say that we've moved beyond Molesworth," says Rusty. "We aren't necessarily doing anything new; it's just our own take on how we use the materials and the quality we create."
Above all, Rusty points out, what sets Viers Western Furniture apart from so many other products is that he and his father handle every inch of their pieces from conception to construction. The result is a timeless style that is as solid as the brand of the West: strong, simple, steadfast.
---
Editor's Note: The Cody High Style event is held every year in conjunction with Cody, Wyoming's Rendezvous Royale. This year's show at the Buffalo Bill Historical Center is September 22-26, 2009; go to www.bbhc.org for more details.