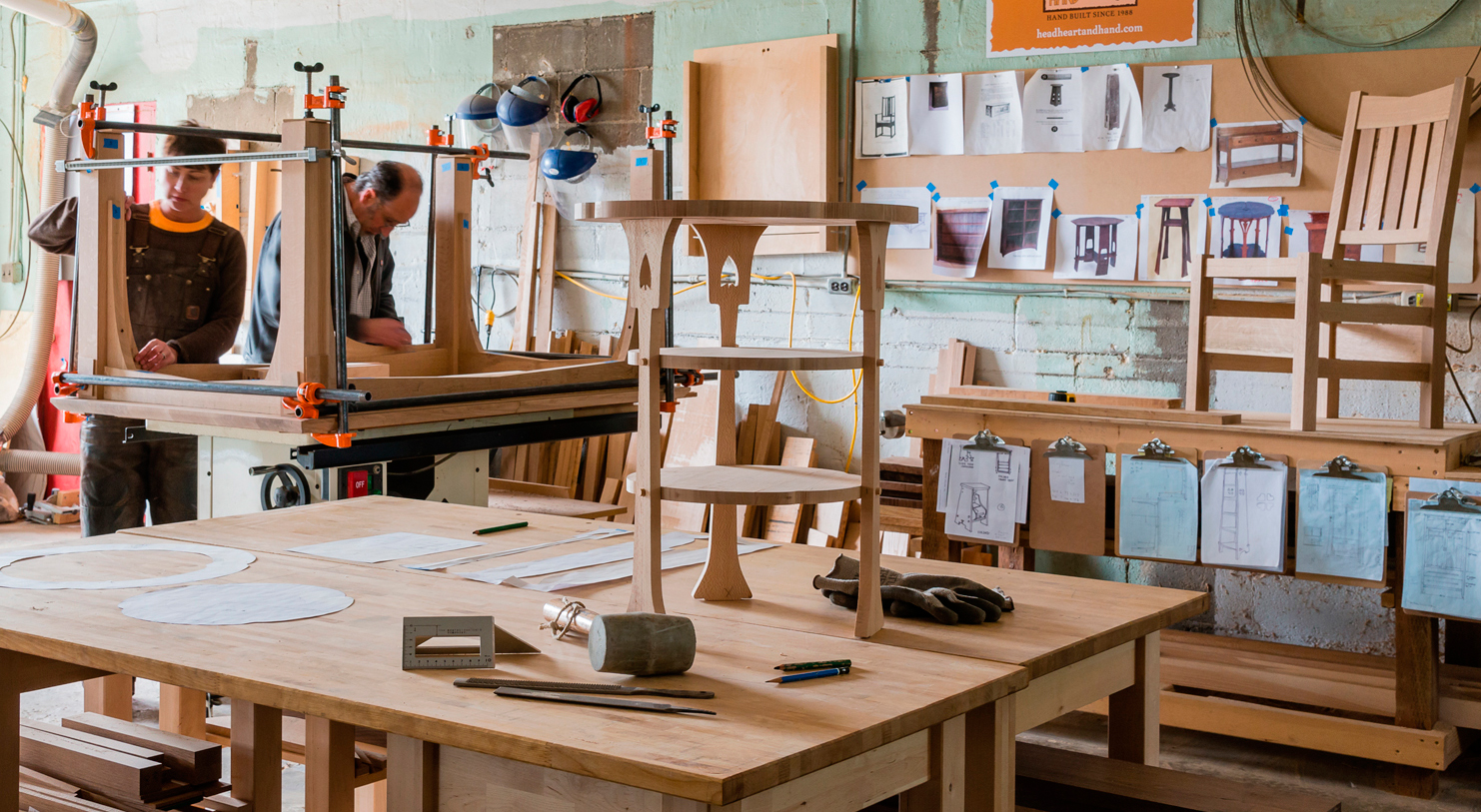 15 Jul

Western Design: In the Studio with Head, Heart, and Hand

in
---
Hundreds of templates hang on the walls of Head, Heart and Hand, a small workshop in downtown Livingston that specializes in building American Craftsman furniture from the 1900s. Some templates replicate furniture forms so rare, that only a handful exist in the world. The templates, around 400 of them, were measured and collected over 25 years from museums and private residences by Robert (Bob) Morrissey and Carrie Jazwiecki, a husband and wife team that created a business building historically accurate furniture.
Their furniture is made with patience and artistry. Machines are only used to cut boards and roughly sand edges. And the finishes are made with raw materials, applied by hand over a two-week process.
"We can meet the expectations of someone who literally has a dresser in their bedroom that cost $50,000 at auction and we can put a bed next to it that looks exactly appropriate," Carrie said. "They just look like they would have if they came from one of the companies in 1902," Bob added.
Their dedication stems from an appreciation for the Arts and Craft movement which emerged during the late Victorian period in England and made its way to the United States during the late 19th century. Seeking to ennoble American craftsmen, the movement emphasized handmade construction over mass production. Craftsman furniture was a reaction against the over-decorated aesthetic of the Victorian era with its ornate velvet, tassels and fringe. Its style and design were quintessentially American, utilizing native materials. Furniture pieces were designed to be comfortable, durable and classic, withstanding the test of time. They also sought to reflect the beauty in nature.
"The ornamentation in Craftsman furniture was the grain patterning of the wood and the finishes. The colors and textures were innovative at the time because they were so natural," Carrie said.
In their workshop, pieces of furniture stand in various stages of completion. Prized boards of slow-growth white oak lean against a corner. The wood is quartersawn to yield an unusual grain with a pebbly pattern. Quartersawn wood also expands and contracts over its width as opposed to its thickness and is therefore more structurally sound and less prone to warping or splitting. Eventually these large boards will be turned into headboards, or tabletops.
There is also a chest of drawers from Christie's Auction House that awaits repairs for a broken finlet, a cracked top and inoperable drawers. A set of dining room chairs, made slightly larger than the original forms, because both modern people and homes have grown, need their textile seats to be handwoven. And a porch swing needs its final coats of finish to trap layers of light, illuminating its grain with a swirling iridescence that maintains the feel of natural wood. It's hard to resist running your hand over the pieces, appreciating them for the beautiful result.
The couple met completing fine arts degrees at Purchase College north of New York City. Bob studied sculpture and traditional Japanese joinery methods and Carrie studied printmaking. Both were inspired by the aesthetic integrity of the Arts and Crafts period and they visited galleries and auction houses in New York, studying the subtler details of Craftsman design. They measured rare examples and took notes on upholstery, textiles and the finer points of construction and joinery.
After graduating, Bob began exhibiting his kinetic wood sculptures, "big, mechanical mousetrap kind of things," across the U.S. and Canada. His sculptures were collected by prominent individuals including Allen Ginsberg, the American poet and leading figure of the Beat Generation, and Edward Albee, the playwright.
"I'm in my mid-20s and it became this thing where I was getting more from the furniture than from the sculpture, and the sculpture career was actually going. I was showing in New York, it was working and collectors were buying it, but I just wanted to make furniture," Bob said, noting that a visiting professor who specialized in Japanese woodworking influenced this transition.
Carrie was also leading a successful career as an artist, assisting printmakers with work for museum collections, studying printmaking in Italy and later researching it across Europe. Her advanced study allowed her to "crack the code" on the historic finish formulas used in Craftsman furniture because she understood how to apply color in layers to achieve desired effects.
"All these formulas were really well hidden because there was a lot of competition in the 1900s. The three or four Craftsman companies that existed all had their own formula for finishes," Bob said. "Carpentry-wise, you can take a good carpenter and teach him to make chairs, it is a finite skill set; it's hard, but it's not rocket science. The art is in the finish."
Carrie's talent is so well developed, she can blend a new finish into a 100-year-old patina. The finish is applied by hand in 13 different steps and each layer is given time to cure, resulting in a durable finish that maintains a natural wood feel.
Bob and Carrie are conscious of every creative step. They intentionally keep their company small, employing only one other expert carpenter, Tony Davidson, so they can be involved in the process, from choosing wood at the lumberyard to delivering furniture to clients "like it's Christmas morning."
Their dedication embodies the Craftsman idea, conceived by Albert Hubbard, that each person has the tools they need to lead a satisfied and dignified life. We all have the head, the heart and the hands and when used in combination you will achieve success. The couple says the Hubbard ideal is something to strive for, but their work, with its thoughtful process, obvious passion and superior construction, stands as a testament to their achievement.