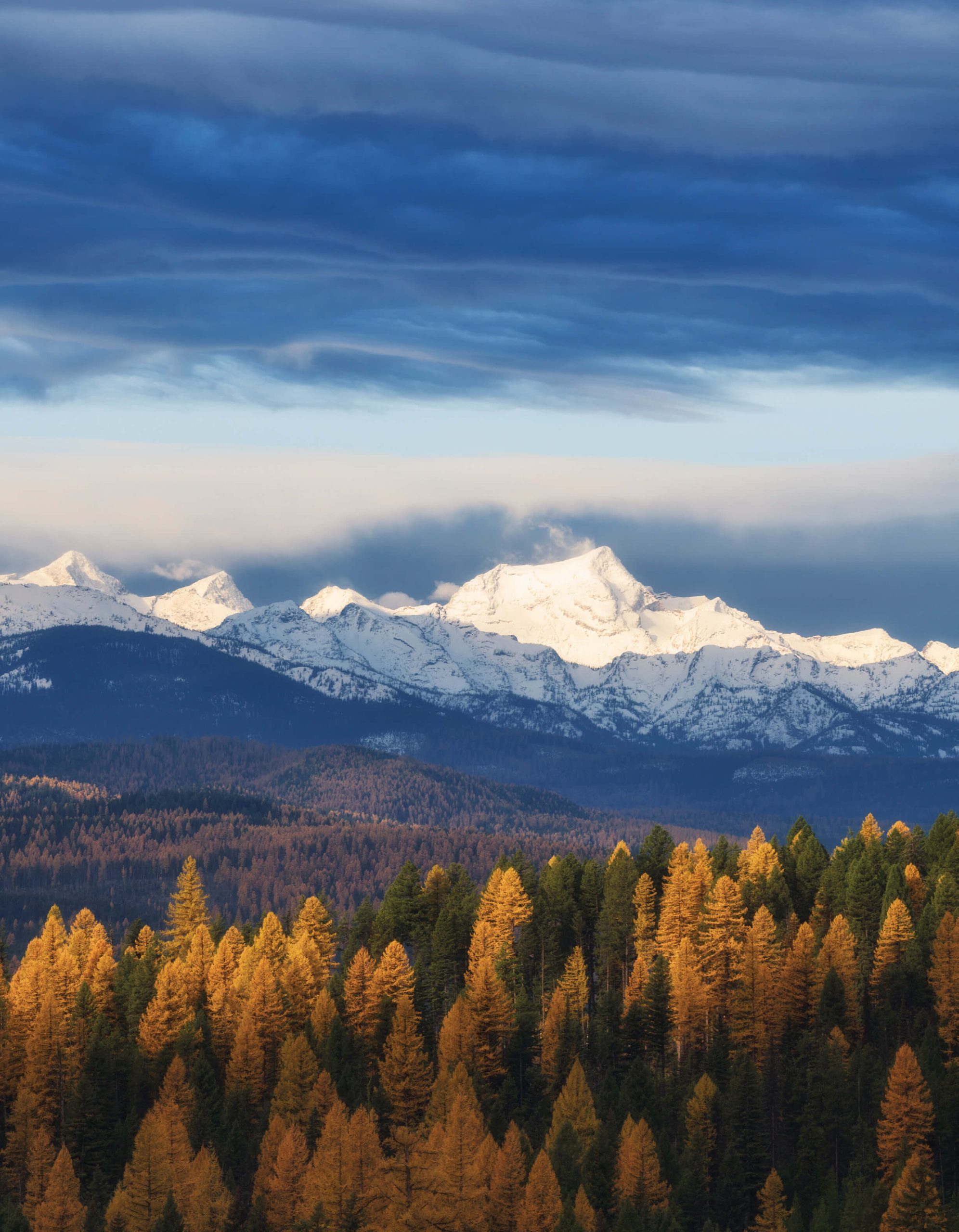 The loftiest summit in the Mission Mountains, McDonald Peak (9,820 feet) is also prime grizzly habitat, particularly in late summer and early fall. During this hyperphagia period, the monarchs of Montana swarm to the windswept heights of this and surrounding mountains, where they fatten themselves for winter, with a dietary emphasis on cutworm moths. Photographed by ZACK CLOTHIER
29 Sep

In the Land of Giants

in

The Seeley-Swan Valley, located in northwest Montana, is nestled between — and populated by — giants, both topographically and botanically. No peak in the region eclipses 10,000 feet in elevation, but the Seeley-Swan is bordered by the Mission Mountains and Swan Range, which collectively encompass some of the Treasure State's most rugged terrain. Measured from base to summit, these mountains also rank among Montana's tallest. Indeed, McDonald Peak, with 5,650 feet of prominence (or vertical relief), is surpassed in that category only by Crazy Peak near Big Timber.

Remarkable stands of old-growth western larch, particularly those near Seeley Lake, evoke impressions of a time that significantly predates Euro-American contact. David Thompson, who was the first known European to visit this area, measured a tamarack near the Kootenai River in May 1808 that he described as "13 feet around and 150 feet clear to its first branch." He noted that such trees would make fine masts for the Royal Navy. Charles Largent offered a similar appraisal in an 1884 publication "Report on the Forest Trees of North America" as a part of the Tenth Census of the United States. He stated that western larches are unique among forest trees in "attaining [their] greatest size and abundance in western Montana," rather than the Pacific Northwest. The largest and presumably oldest of these giants later succumbed to loggers.

Primary destinations in the Seeley-Swan Valley can be toured leisurely via Montana Highway 83 in three hours or less. Hikers, on the other hand, can use points accessible from this route as bases of operation. Itineraries might consist of day hikes or multi-day trips that probe the western flanks of the Swan Range, the east side of the Mission Mountains, and even portions of the Bob Marshall Wilderness.

For northbound motorists who have a weekend at their disposal, I recommend U.S. Highway 93 as an approach route, with an overnight stay in Kalispell or Bigfork. This road travels through less heavily timbered country than Highway 83 and more closely parallels the Mission Mountains, thus providing excellent views of the rampart formed by their western slopes. Vernon Garner, a regular contributor to summitpost.org, describes the vista from Ravalli Hill Interpretive Overlook in terms that command the attention of both novice and veteran travelers. As you crest this prominence, Garner warns that you will instantaneously experience a "face-to-face confrontation with just under 7,000 feet of precipitous and huge upthrust: the absolutely unforgettable western flank of the Mission Range." Visitors who are deeply inspired by visions of towering peaks may conclude that this landscape rivals those visible from the Snake River and Wild Goose Island overlooks in Grand Teton and Glacier national parks, respectively, or the Dallas Divide in the rugged San Juan Mountains of southwestern Colorado.
Destinations Bigfork, Echo Lake Café, and the Jewel Basin Hiking Area
Accessible from Bigfork via the Echo Lake and Jewel Basin roads, the Misery Camp trailhead is the starting point for a network of trails that comprise the Jewel Basin Loop. This 9.9-mile circuit traverses terrain punctuated by a plethora of tarns, or glacier-formed mountain lakes. The centerpiece of the Swan Range, the Jewel Basin is heavily targeted by hikers, especially in summer. Aaron Theisen, an outdoor travel writer and author of Day Hiking: Glacier National Park and Western Montana, characterizes it as "perhaps the only place in western Montana," outside of Glacier National Park, "where you'll encounter a full trailhead parking lot."
Hungry travelers on Highway 83 should prioritize Echo Lake Café in Bigfork. Open daily from 6:30 a.m. to 2:30 p.m., this eatery has served locals and tourists since 1960. Their cuisine is superb, and the portion size of breakfast entrees will keep customers fueled for hours. If it's available at the time of your visit, I highly recommend the smoked salmon scramble. The café's popularity is well deserved, but summer patrons should be aware that the average wait time is 30 minutes to an hour.
For Landscape Photographers
Highway 83 offers a peaceful drive through tall timber, one that gradually gains nearly 1,200 feet in elevation from Bigfork south to Seeley Lake. For landscape photographers, there are only a few must-see vantage points that are directly accessible from this route. The Swan Peak Scenic Viewpoint, located at mile marker 57, is one notable stop. Simmons Meadow, cast against the backdrop of larch-laden forests, presents an excellent compositional foreground to views of the highest peaks in the Swan Range. From mile marker 44, where another scenic pullout is available, to marker 40, timber thins periodically and yields fleeting glimpses of the Swan Range to the east and Mission Mountains to the west, which compete alternately for your attention.
Holland Lake Trail Network
Holland Lake, a popular day-use area, is accessible by a spur road from mile marker 35 on Highway 83. Given the steep western flanks of the Swan Range and the enormity of the Bob Marshall Wilderness, horse packers use this trailhead extensively as an entry point to The Bob. Additionally, the 12.1-mile Upper Holland Lake Loop, which climbs almost 3,300 feet, provides a superb introduction to this portion of the Swan Range. For less ambitious souls, or those with young children, the 3-mile round trip to Holland Falls is the perfect leg-stretching break from the road.
In either event, October is the ideal time to visit this area. By then, the summer throngs have vanished and larch forests are ablaze with their trademark cloaks of gold. Indeed, the grandeur of autumn here is most fully appreciated with the perspective afforded by altitude. The modest 700-foot elevation gain accrued via the Holland Falls National Recreation Trail enables hikers to view the entirety of Holland Lake, juxtaposed against a seemingly endless carpet of western larch. Dinner at nearby Holland Lake Lodge, a rustic shoreline resort, is a perfect way to conclude your backcountry excursion. Given its small seating capacity, reservations are recommended.
James Girard Memorial Grove
Forests near Seeley Lake, especially those in the James Girard Memorial Grove, contain Montana's finest assemblage of old-growth western larch. The latter area exudes an ambiance comparable to, but less pronounced than, the sensation experienced in groves of giant sequoias. In this arboreal cathedral, 500-year-old western larch are fairly common, as are trees 4 to 7 feet in diameter.
The patriarch of the Girard Grove is affectionately known to locals as "Gus." Designated officially by the National Register of Champion Trees as the largest western larch in America, Gus is 162 feet tall, with a crown diameter of 34 feet and a circumference of 22 feet, 9 inches. Given its massive size and gnarled appearance, Gus is believed to be approximately 1,000 years old, but extensive heart rot precludes precise determination of its age. To visit Gus, southbound motorists should turn right at mile marker 14 and take Boy Scout Road 2.4 miles to where it crosses a bridge over the Clearwater River. Shortly after, a small, unmarked pullout is available on the left, with nearby interpretive signage that identifies the Girard Memorial Grove.
Mission Mountains
The Mission Mountains are not heavily visited due to their exceedingly rugged terrain and proximity to more renowned destinations, notably Glacier National Park and the Bob Marshall Wilderness. Nevertheless, Theisen emphasizes that "short, shallow-grade trails [in the Missions] access hundreds of high-elevation tarns — one of the highest densities of alpine lakes in the Northern Rockies." These tarns are concentrated in the range's southern half, which includes McDonald Peak (9,820 feet) and a dozen other summits that surpass 9,000 feet.
The crest formed by these craggy peaks delineates the boundary between two adjacent wilderness areas that extend approximately 40 miles from north to south. On the east side, the Mission Mountains Wilderness, located in Flathead National Forest, is managed from a conventional multiple-use perspective. To the west, the Mission Mountains Tribal Wilderness, formally established by the Confederated Salish and Kootenai Tribes in 1982, is the first and, thus far, only tribal wilderness in the contiguous United States. Furthermore, it prioritizes wildlife over recreational use, as evidenced by the annual closure of some 12,000 acres surrounding McDonald Peak from mid-July through the end of September. This policy protects grizzlies as they gorge themselves on calorie-rich cutworm moths during late summer and the critically important hyperphagia period as they prepare for hibernation. Citing its restricted access and increasingly undeveloped character, Garner regards the Tribal Wilderness as perhaps the purest remaining vestige of wilderness, as that term was originally conceptualized, in the Lower 48.
The Grand Finale of Fall Foliage
Highway 83 is a beautiful fall-foliage drive when western larch are at peak color. That glorious spectacle is perhaps the most compelling reason that Montana landscape photographer Jason Savage adheres to the following policy: "When fall arrives, there is one place I head every year and that's the Seeley-Swan Valley." Its southernmost third is most impressive, given the old-growth larch stands that populate forests near Seeley Lake. That body of water is one of six major lakes in the Clearwater River Valley, which, in autumn, capture breathtaking reflection images. Among enclaves of western larch in Montana, fall color in the Seeley-Swan Valley is rivaled only by the remote North Fork sector of Glacier National Park and areas adjacent to the Hungry Horse Reservoir.
These deciduous conifers typically exhibit peak color during the second half of October. If you need a more precise target date for your itinerary, photographs published online, which were taken between October 22 and 24 of various years, indicate that this period correlates closely with the climax of larch color in Big Sky Country.
Clearwater River Basin: A Mecca for Birdwatchers
Northwestern Montana is the summer home to some 180 common loons, which comprise the largest nesting population of that species in the American West. Glacier National Park accounts for roughly 20 percent of the state's total, but loons are most highly concentrated in the Clearwater River Basin, particularly at Salmon and Seeley lakes. If you visit the latter area during the nesting season, which lasts from May through mid-June, bring your binoculars or spotting scope, but keep your distance from these reclusive birds. When disturbed, loons tend to abandon their nests.
I can personally attest to the effect that a loon's piercing wail exerts on the human psyche. While encamped at Mokowanis Lake in Glacier National Park, I was alerted to the presence of a loon by its mournful cry, which seemingly has the power to penetrate your very soul. Loons typically migrate from Montana to the Pacific Coast in September and October. So, if you tour the Seeley-Swan Valley during its crescendo of color, consider yourself supremely fortunate if that visit is blessed by the serenade of a loon.