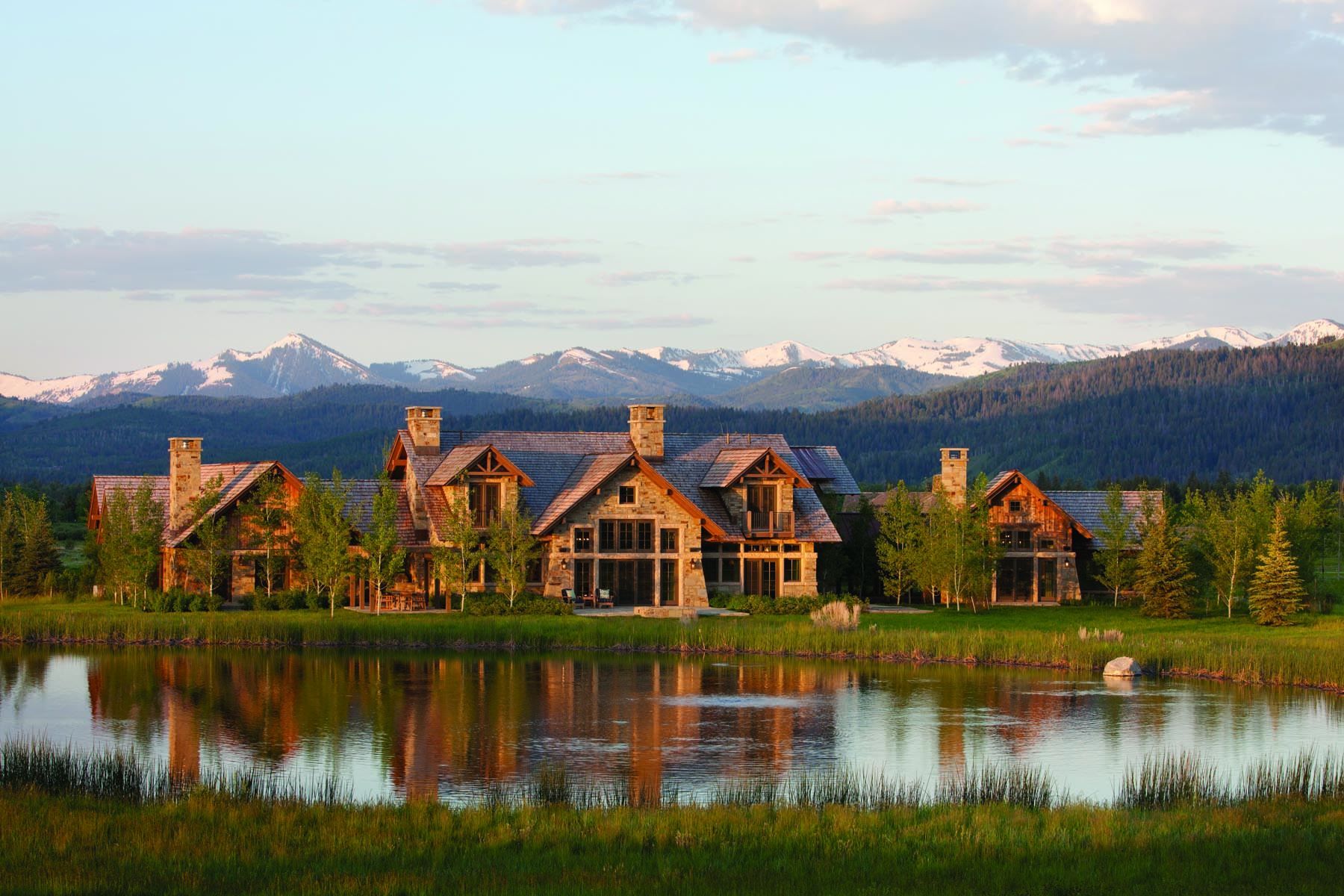 23 Aug

In Perfect Detail

in

IT'S FAIR TO SAY THAT INTERIOR DESIGNER Elisa Chambers is a perfectionist. Walking through her client's home this winter, in between pointing out her favorite details and finishes, Chambers can't help but make micro-adjustments in every room. The founder of Jackson, Wyoming's Snake River Interiors notices every detail.

"Once I've completed a home, I want it to always be perfect," she says.

But even without her minute changes, this 6,700-square foot sandstone, Douglas fir, red cedar and copper Jackson residence seems perfect. Despite its square-footage, it conveys cozy-yet-elegant simplicity.

"The family didn't want a showcase home," Chambers says, picking lint flecks only she can see off the back of the oversized L-shaped sofa in the home's great room. "They wanted comfortable. They chose gorgeous fabrics, art and furniture, but you never feel like you can't live in it."

As a result, the home is peppered with charming nooks and crannies. And where there aren't — the great room has a soaring ceiling spanned by massive mortis and tenoned Douglas fir beams — the scale of the furniture keeps things comfortable. The sofa in that room can probably seat a dozen adults. The round dining table seats eight.

Teaming up with architect Bill H. Childs, AIA, and founder and principal at the Ohio-based William H. Childs Jr. & Associates, Chambers and the homeowners worked closely to create a home that was a balance of grandeur and privacy.

On a level, open lot in the flats, just five minutes from town, the home feels small relative to the landscape. The way Childs chose to showcase the lot's extensive views makes it difficult to believe this was his first project in Wyoming. It can take years for an architect to learn how to best work in such a grand and expansive landscape.

"Before we did anything, of course we flew out and took a look at the site," says Childs. After he saw the site, Childs, who is a member of the Institute of Classical Architecture and whose firm has won 11 Landmark Preservation Awards in the Cleveland area, spent time at the Jackson Hole Historical Society. "I always do research," he says. "In this instance, I wanted to emulate the old lodges. I wanted it to look like it was built 100 years ago but have all the modern amenities," he says.

The site visit and research finished, Childs began designing. "I see things differently than most architects," Childs says. "I sit down with the clients and we actually draw and design together. And I do it the old-fashioned way, drawing with my hands, not a computer. Once we get it to the point where it is a preliminary concept, then we do renderings."

It took about nine months to get the design finalized. From there, Chambers and Kurt Wimberg Construction were on-site daily. "Bill really trusted Kurt and myself to help his plans come to fruition," Chambers says. "It's nice when an architect is comfortable trusting us. That's when we really get to make an impact," says Chambers.

Chambers says she took everything from fabrics, to wood grains and treatments, flooring, profiles for the mantel of the great room fireplace, and grouting to the clients for them to choose. "They were very hands on. They selected us because we shared the same vision and they loved our style," Chambers says. "It's a relationship that lasts forever. Over time, we curate a house. It's layer upon layer of sourcing pieces that are great for that house and the client."

Throughout the home — aside from the views, architectural details, fabrics, antique rugs and unexpected bursts of color — it is the artwork that most catches the eye. The collection is diverse and engaging.

In the great room a Roberto Dutesco photograph of two wild horses running hangs over the mantel. A Nine Francois photograph that was a present from the husband to the wife now hangs on a wall in the great room. In the game room, a newly framed old photograph of a line of cowboys astride horses sits on the pool table. In the master suite study, there's a large Kathy Turner painting waiting to be hung.

There's an Ashley Collins piece in the game room. A giant Jared Sanders oil of a muted red barn in an open landscape hangs in the main stairwell. The master bedroom has a Theodore Waddell painting of three bison. In the hallway between the great room and guest area three resin-covered landscapes by Peter Hoffer are displayed.

Chambers sourced much of the art from Jackson's Diehl Gallery. "I love seeing work like Peter's and Ashley's going into homes here because they're contemporary works, yet they have a sense of place in Jackson Hole," says Mariam Diehl, founder and owner of the gallery. "Peter's landscapes are not traditional by any stretch. We've all seen staid paintings of the Tetons and the surrounding areas, and it's refreshing to see a landscape that doesn't hit you over the head with its specific location. Similarly, Ashley's horses aren't carrying a cowboy or tied next to a teepee, they're impactful, emotional and evocative of the West, yet resonate with more contemporary collectors because of the mixed media, aged paper and broad brush strokes. Our goal is to acknowledge where these homes are — to give credence to the client who wants a beautiful home filled with extraordinary art here in Wyoming — but to do so in a fresh way, rather than in the way we've all seen done before a hundred times."

And then, in the kids' room, there's a built-in table whose top Chambers had painted with blackboard paint. It is covered with original art as well … chalk scribbles.