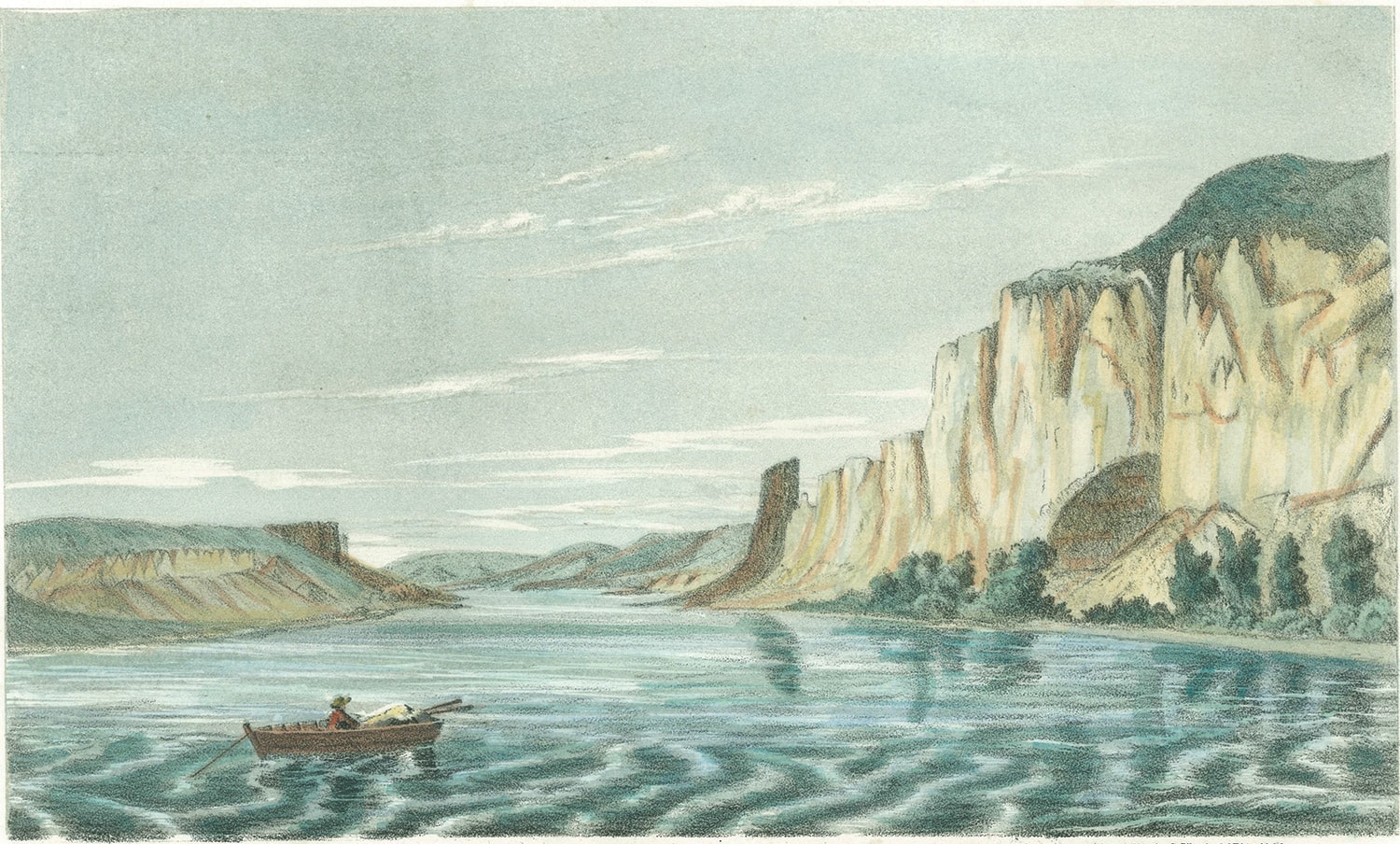 "The Palisades" | The style of boat depicted here is a "mackinaw." By way of an introduction from Captain Nicholas Wall, artist Alfred Mathews was able to borrow a boat from Fort Benton mackinaw builder William Sprague. Mathews proceeded to float the White Cliffs section of the Missouri and produced a number of images there.
05 Oct

Images of the West: Alfred Mathews

in

When the Confederate army fired on Fort Sumter on April 12, 1861, Alfred Mathews — a man opposed to slavery and secession — found himself in a discomfiting position as a schoolteacher in rural Alabama. Under threat of arrest, he was compelled to join a local militia and perform military drills, an ignominy he suffered just long enough to get his affairs in order and a few possessions gathered before he could head north — on foot. He encountered suspicion along much of his route and was arrested and jailed in Arkansas for a few days. Six weeks and 800 miles later, Mathews made it safely to Ohio where he immediately enlisted in the 1st Ohio Artillery. Shortly afterward, he transferred to the 31st Ohio Volunteer Infantry, in which he served for three years, surviving some of the most harrowing action of the Civil War, including the Battle of Lookout Mountain.

Imagine walking 800 miles north from the heart of Dixie to join the army so that you could march another 90 miles back to Southern Tennessee. But travel — especially on foot — seemed to be a pleasant predilection for Mathews, as was making sketches everywhere he went. In fact, he became one of the most famous illustrators of the war, drawing topographic maps for use in battle, as well as depictions of some of the most famous battle scenes in the war, for which he earned commendation and praise from generals Grant and Sherman. After the surrender at Appomattox, he consolidated his illustrations of the Vicksburg Campaign (Mississippi), the Battle of Stones River (Murfreesboro, Tennessee), Lookout Mountain (Chattanooga, Tennessee), and Missionary Ridge (Tennessee) onto a large panoramic canvas that became part of an exhibit that traveled around the country, often accompanied by Mathews.

According to Nolie Mumey, a retired doctor who took it upon himself to become the artist's biographer in 1961, Alfred Edward Mathews was born in Bristol, England, in 1831. The family's passage to the U.S. appears to be one of the few journeys Mathews did not make on foot. They settled in Rochester, Ohio, and the young Mathews was trained as a printer in a newspaper office owned by his brother Charles. Bored by the drudgery of setting lead type, Mathews turned to the life of a traveling salesman, hawking books throughout the Northeast, going as far as New Hampshire and Maine, journeys that may have cost him some shoe leather but added to his catalogue of American scenery.

At almost 35 years old, the restless Mathews had already traveled the U.S. extensively, survived the Civil War, and produced an impressive portfolio of artwork to boot, but the lure of the road proved implacable. He went to Nebraska Territory next, and then Colorado, where he arrived in Denver on November 12, 1865, as noted in the next day's issue of The Rocky Mountain News.

In 1865, Western Colorado thrummed with miners and ore mills, a frenzy of activity that Mathews soon set to commemorating with his talent for pencil sketching. A year later, he published a book that is now a collectors' item, called Pencil Sketches of Colorado (1866), featuring valuable early depictions of Denver and other towns, many mining scenes, as well as natural landscapes that were considered sensational by art collectors back East.
"Union City" | 
Union City was a short-lived mining camp in the mountains south of Virginia 
City, Montana. Though the mine owners in the area expressed great pride 
in the facilities they built, the lode mines developed in this region proved 
largely unsuccessful.
But like Odysseus after the fall of Troy, Mathews seemed doomed to wander. History is fortunate that Mathews' wanderlust was matched by his compulsion to sketch the sights he saw along his travels. After a brief return to the East in the winter of 1866-1867, he made his way to Montana in the fall of 1867, traveling again with pencil in hand around a territory that was vast and relatively remote. In 1868, he published
Pencil Sketches of Montana
, made from lithographs of his drawings. A copy of that book sold at auction in 2001 for $14,000.
A few months back, a collector who wishes to remain anonymous visited me with an unusual set of Mathews' Montana pencil sketch prints. The original edition of the book had rendered Mathews' pencil sketches in black and white, but this collection, made up of prints excised from a copy of the book, had been hand-colored in vivid hues, probably by a contemporary of Mathews, possibly even Mathews himself, though his passions were drawing and lithography. The results, unveiled to the public for the first time in this magazine, are stunning.
Mathews covered an incredible amount of Montana terrain in the relatively brief time he spent here, especially considering the modes of transportation available to him and his preference for traveling on foot. He
toured the Madison and Ruby valleys, visited Helena and Unionville, Fort Benton, and the Great Falls of the Missouri, and then commenced a 90-mile float down the Missouri River, sketching the White Cliffs and the Missouri Breaks as he went.
Mathews' stature was sufficient to warrant notice of his presence in the territory. In an October 19, 1867 article in The Montana Post, he is described as making sketches to commemorate an effort to distribute goods to a Native American tribe near Virginia City. A little more than a year later, on November 13, 1868, the Post announced that his "Western Panorama" was on display in Virginia City and scheduled to move to Deer Lodge later that week.
Mathews continued to travel for the rest of his life, moving on to California in 1872, where he made sketches of the significant settlements in the southern part of the state, including Los Angeles and San Diego. Just as he seemed ready to settle down at last, having returned to Colorado and a home on the Big Thompson River some 20 miles outside of Boulder, he was stricken with a severe stomachache. Refusing to allow his friends to fetch a doctor until it was too late, Mathews died in 1874 at the age of 43, suffering from what was very likely a burst appendix leading to peritonitis.
In a time when photography was rapidly supplanting the art of documentary drawing, Mathews recorded with a skillful hand his own version of what the West looked like as gold-thirsty migrants settled into the rugged Rocky Mountains. Interestingly, Mathews was not entirely a realist, as many of his sketches have more of a folk-art feel. His sketch of The Hanging Tree in Davis Gulch just south of Helena, for example, while an excellent study in compositional balance, strikes the modern eye as something one would not be surprised to find in a modern, high-quality graphic novel set in the Old West.
Throughout Mathews' portfolio, one can see a hint of contemporary printmakers Currier & Ives, though Matthews avoids the polished sentimentality that often accompanies it. Like Currier & Ives, Mathews presents the frontier as an essential feature of the national spirit, as ill-defined and evanescent a concept as "the frontier" might be. But instead of valorizing scenes of blithe conquest and idealizing the wilderness as an ungroomed garden, in nearly every drawing he made of the West, Mathews hints at the paradox of conceiving of the frontier as the means to escape the travails of civilization. Into nearly every one of his renderings of pristine frontier scenery, Mathews inserts evidence of civilization's intrusion: an almost indiscernible boat with its flag unfurled makes its way through the Gates of the Mountains; a wagon road cuts across the bottom of Prickly Pear Canyon; a Jon boat drifts through the White Cliffs of the Missouri; a trestle stretches across a small sliver of sky in York Gulch.
Mathews presents Montana not as an untrammeled paradise, but as a picturesque setting into which commerce and industry have already intruded. Consequently, his images evoke nostalgia — that curious Greek construction that couples Homer's "homecoming" (nostos) with "pain" (algos) — which cuts to the heart of America's eternally tenuous sense of its own history unfolding at the periphery, at the edge of a frontier already stamped by inklings of its country's future.
Mathews' pencil sketches exude none of the boosterish excess of similar, illustrated books of the era, though occasionally the text he writes to accompany the images emphasizes the mineral wealth yet to be had. His drawings feel less like advertisements for Manifest Destiny, however, than as glimpses of what we'll inevitably miss once everything has been settled.
---
On Oct. 6, from 1 to 6 pm., 18 of Mathews' original lithographs will be on display at the Unionville Schoolhouse, 3 miles south of Helena.