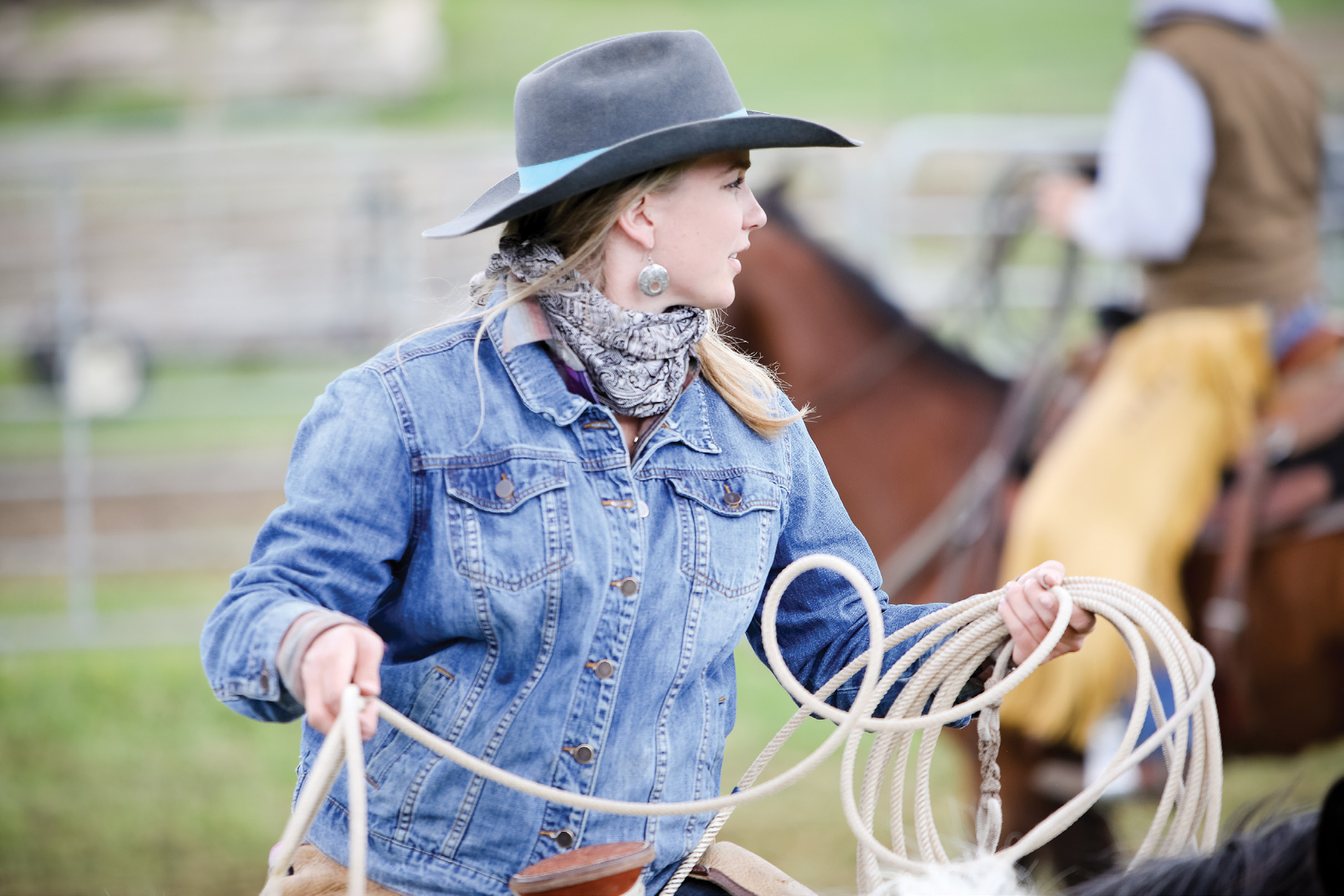 Liz Anderson, who grew up riding horses on the Climbing Arrow Ranch in Southwest Montana, prepares her lariat and focuses on a calf that she will heel and drag to the branding area.
29 Sep

Images of the West: The Way of the West

in

More than 150 years after Nelson Story's famous Texas-to-Montana cattle drive, cattle rustlers still roam the American West, and traditional ranchers still brand their calves to identify their herd and safeguard their livelihood. The practice of rope-and-drag branding, with irons in an open fire pit and cowboys rustling around on horseback, is a fading time-honored custom, and one that some ranches around the Northern Rockies still observe and cherish every year. The Climbing Arrow Ranch near Three Forks, Montana, is a prime example. Each year, they host annual branding events that bring friends and neighbors together for a tradition that defines a place and the people who live in it, while also paying tribute to a revered way of life.
The intimate relationship between a cowhand and horse is one that's cultivated over many years and countless hours. Their partnership often makes difficult work like this appear effortless.
The ranch spans a magnificent 53,800 acres and includes far-reaching pastures, stretches of running water, and alpine landscapes throughout the Northern Gallatin Range. When one stands on this land, it's as if time has stopped, and it's no wonder that some scenes from "A River Runs Through It" were filmed here.
Frank Anderson, owner of the Climbing Arrow Ranch, carefully marks a calf with his family's brand. On horseback behind him, Lyle Jordan, a retired Montana brand inspector who has worked on the Climbing Arrow for 25 years, keeps tension on his lariat to help keep the calf still.
Frank Anderson's family has been honoring traditional ranching practices since 1959. He, his wife Meg, and daughter Elizabeth manage the Climbing Arrow and are on call every hour of every day of every year. The ranch typically runs with a core crew of seven cowhands, and they hire a few seasonal helpers to brand their nine batches of cattle. Branding is not only strenuous, but it's also dangerous. These seasoned men and women have worked together for decades, and some for generations, to the point where they intuitively understand the cattle and how to best work with each other.
The team, which includes those on horseback and flankers on the ground, switches roles every 30 calves or so. The work is done quickly, so the calves can pair with their mothers again in no time.
Jonathan Foote, a Montana-based architect and cowboy, mans the fire and evenly heats the four branding irons by piling wood in uniform stacks over each one.
A roper holds the reins of his horse while coiling his 40-foot-long lariat. With a relaxed wrist, he'll swing the rope above his head and carefully release the noose, aiming at the hind legs of a calf.
When it's time to get started, the ropers, who are mounted on horseback, separate the calves from their mothers in a corral, trapping the heels of calves with their lariats, dallying their lines to the saddle horn, and dragging the animals into a lane by the branding irons. Meanwhile, the other cowhands pay close attention, immediately tending to their tasks when a calf is brought in.
Abby Brogger, the daughter of custom saddle maker Marc Brogger, prepares to inoculate the next set of calves. She has been riding horses and working on the Climbing Arrow Ranch since she was 5 years old.
Anderson rides his favorite and most recently purchased horse, Kevin. The corrals in the background are used to ship the calves in the fall, after a summer spent in the high country.
Marc Brogger, owner of Marc Brogger Custom Saddles in Three Forks, Montana, has worked with the Andersons as a seasonal hand for decades, which allows him to see his handmade saddles, often decorated with engraved conchos, at work.
A wrestler steadies the calf on the ground, while one person injects the necessary vaccines, another castrates the bulls and puts ear notches on the heifers to help identify them, while the foreman or ranch owner carefully marks the calf with the fire-heated brand. They work quickly and quietly to reduce the amount of stress on the cattle, and, within a couple of minutes, the calf pairs back with its mother. This process is repeated almost 200 times during each branding, and although there are faster, more cost- and time-efficient ways to brand these days, Anderson has a deep-rooted devotion to his heritage and appreciates the tradition.