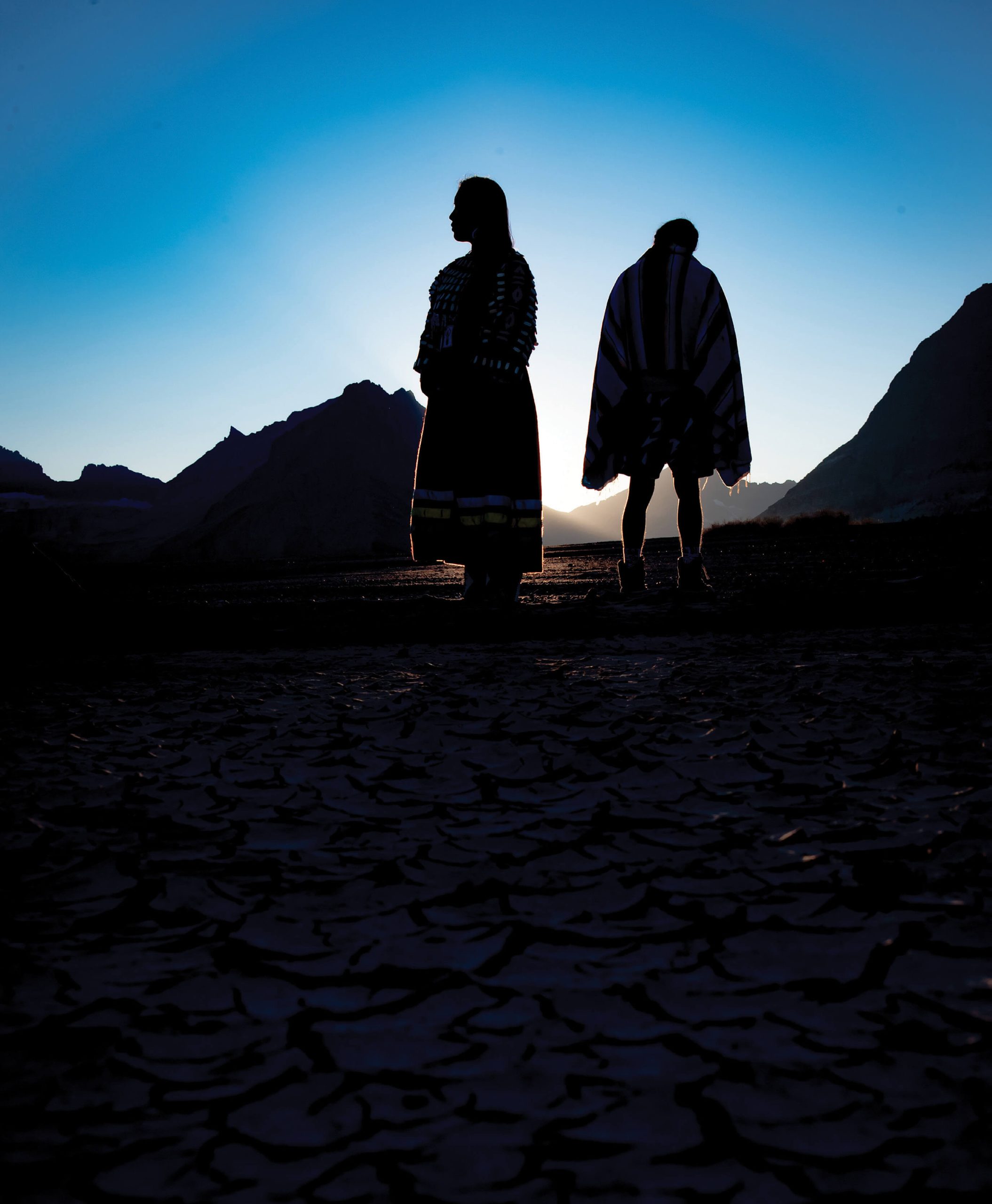 29 Sep

Images of the West: The Tribal Nations of Montana

in

For the past eight years, I've followed a passion for photographing Native American tribes throughout Montana. Initially captivated by Montana itself — its majestic landscapes, stunning scenery, rural communities, and, of course, expansive Big Sky — my photographic intentions shifted after a conversation with my wife, Julie, following our first-ever powwow in Elmo, Montana.

Elmo lies about 20 miles south of where we live in Lakeside. While the powwow was visually spectacular, as non-Natives, we didn't understand what we had witnessed. Though I had my camera with me, I didn't take a single photograph. Stunned and humbled, I had found a purpose.

Now, I photograph Indigenous people in an effort to increase understanding of their varied cultures and traditions. With this collection of images, I'd like to celebrate National Native American Heritage Month in November. To produce these images I traveled across the state to meet with tribal members, hear their stories, and share a glimpse of the lives and livelihoods of these incredible people, who so often hidden in plain sight.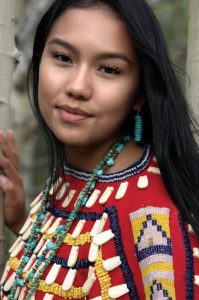 ALIA KIPP-HEAVYRUNNER | BLACKFEET
During the 2019 powwow season, I photographed North American Indian Days in Browning, Montana. There, I met Angelina and her daughter, Alia Kipp-Heavyrunner, the 2019 Miss Blackfeet. Following that meeting, I photographed Kipp-Heavyrunner in Glacier National Park — an area sacred to the Blackfeet people — in a replica of an original elk-tooth dress dating back many generations. The replica is made from trade cloth, glass beads dating to the 1900s, and replica elk teeth, while the original is a fragile heirloom that's stored for safekeeping in a secured vault. These dresses were a way of showing wealth among Native tribes.
A positive voice for her people, Kipp- Heavyrunner has visited schools throughout Montana, advocating for education and tribal community involvement. In 2019 she was the lead actress in Daniel Glick's movie short Iniskim, which won an Emmy for photography. She is also slated to work on Buffalo Spirit, a new film co-produced by Thunder Heart Film and Vision Maker Media.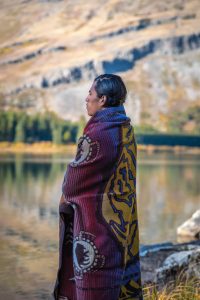 STORMEE KIPP | BLACKFEET AND SHOSHONE
The Two Medicine Basin ranks among the most beautiful places in Montana; Two Medicine in September, resplendent in autumnal hues, ups the ante. For this shoot, I visited Two Medicine with Stormee Kipp, who wore traditional regalia that paired beautifully with the location.
Kipp excelled in the decathlon events at Haskell Indian Nations University and ran track and field for the University of Montana. He was also a Blackfeet Ultimate Warrior Champion, earning back-to-back titles in 2021 and 2022. After college, he entered the world of acting and won best actor for his performance in Sooyii, a film depicting the devastation of the smallpox epidemic on the Blackfeet. In 2022, Kipp appeared with a fully Indigenous cast in the acclaimed Hulu feature film Prey.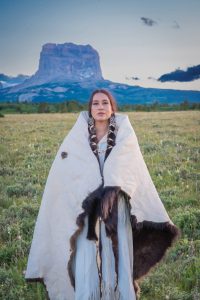 MARIAH GLADSTONE | Omahkaistaawakaakii | BLACKFEET AND CHEROKEE
Mariah Gladstone is the CEO of Indigikitchen, a business dedicated to revitalizing Indigenous food systems through culinary and ecological education. I met her at the base of Chief Mountain, on the eastern border of Glacier National Park and the Blackfeet Indian Reservation, where she taught me about Indigenous women's traditional clothing.
Buckskin dresses were the most common form of clothing for Indigenous women prior to colonization. These were made from soft suede leather, often deerskin. The dresses were almost always trimmed with a fringe, which allows the garment to shed rain and offers an easy resource for quick ropes or ties. White buckskin dresses are formal while tan are informal work dresses.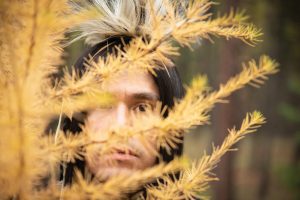 JONAS RYDELL | TURTLE MOUNTAIN CHIPPEWA AND COLVILLE
I photographed Jonas Rydell in Glacier National Park and the Swan Mountain Range just outside of the Bob Marshall Wilderness. Though currently working as an electrician, Rydell is passionate about elevating Indigenous voices and was recently cast as a tribal police officer in the hit TV series Yellowstone.
For Rydell, National American Indian Heritage Month "stands as a necessary reminder of the living people. As important as it may be to remind all peoples of the lush history and culture of our ancestors, we should also celebrate the contributions of our contemporaries. Native American Month is a way for Indigenous voices to be expressed and heard."
VICTOR A . CHARLO | BITTEROOT SALISH
I am honored to have met and photographed Victor A. Charlo. We traveled to Lake McDonald in the Mission Mountains, where I spent the afternoon capturing images of Victor; his friend Rita Adams; his daughter, April Charlo; and her son, Chief Charlo. Of particular note is Victor's headdress, which was made by his grandfather and is well over 100 years old.
Victor is a playwright, poet, elder, and spiritual leader of the Confederated Salish and Kootenai Tribes. His book Put Sey (Good Enough) includes poetry that highlights Indigenous bear poems, reservation life, and Native people. The Johnny Arlee and Victor A. Charlo Theater stands on the campus of Kootenai College in Pablo, Montana, recognizing his contribution to his community. He is also related to Chief Victor Charlo, head chief of the Bitterroot Salish from 1870 to 1910.
Some of the images here are displayed in and around Montana, while others are on exhibition in various national parks and at locations throughout the Northwest. Prints are available for purchase at americanvisionphotography.com, with profits donated to the Snowbird Fund, a Montana nonprofit that assists families and friends in searching for missing and murdered Indigenous people (MMIP). Lack of resources and a host of jurisdictional problems have led to a growing MMIP crisis throughout the United States.
I would like to acknowledge the time and energy each individual gave in order to help write and photograph for this story. Words are a compilation provided by the subjects.