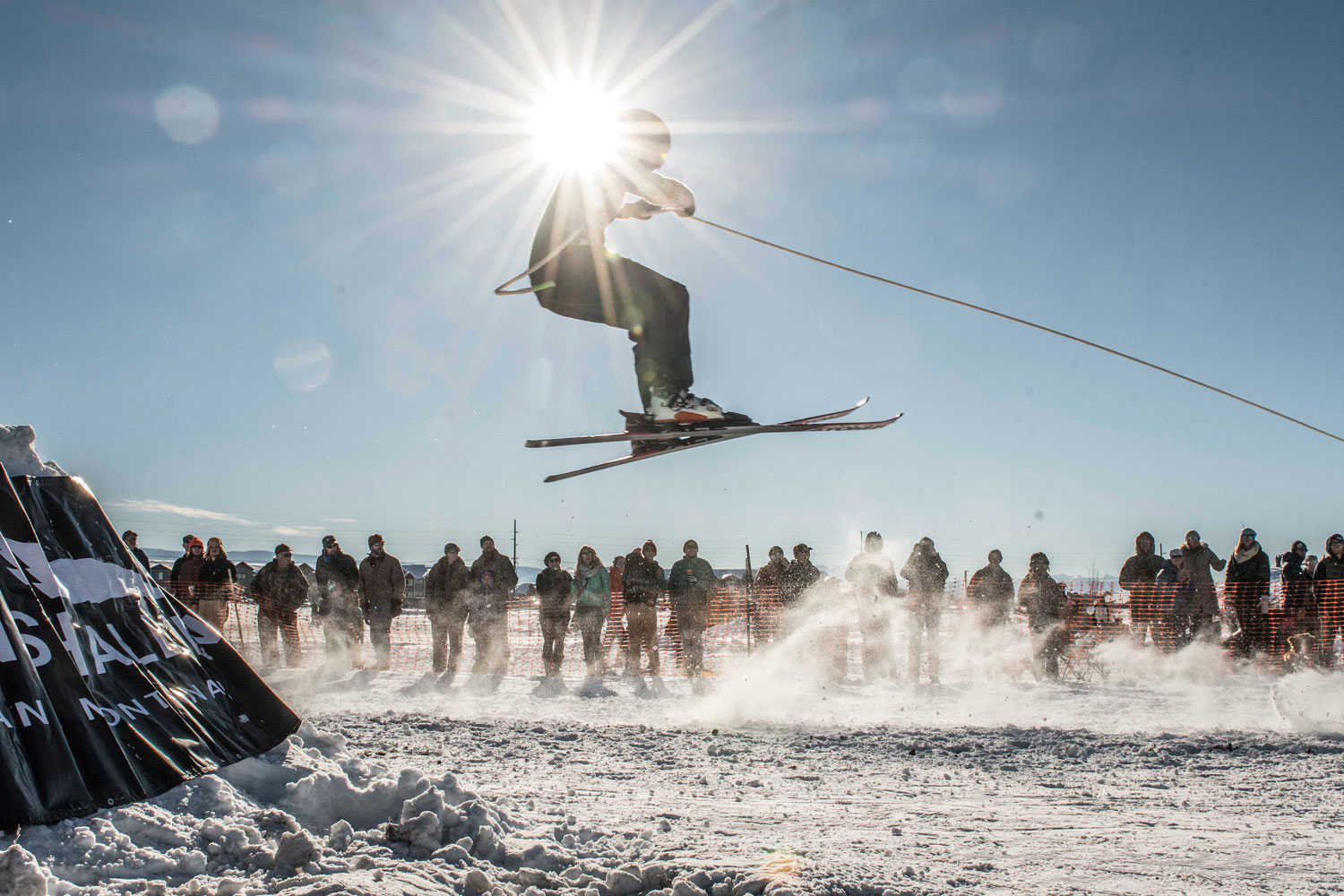 12 Dec

Images of the West: Skijoring

in
A winter sport with Western flair
Ebbie Hansen is a blur of color and motion as she tries to maneuver her anxious horse into the starting chute. The animal's muscles twitch and quiver, ready to release an explosion of energy. The Helena, Montana, cowgirl's demeanor calms as she finds a focal point down the track. She steadies the horse, takes a final look out of the corner of her right eye, and nods her head.
"Let's go."
A 40-foot rope connected to her saddle horn goes taut and the skier gripping the other end jerks forward. Brightly colored fringe — hand-painted by Hansen — flutters from her chaps and gloves. Her long blond hair blows back from under a brown felt cowboy hat. Behind her, Bozeman skier Aaron Griffen slaloms as Hansen pulls him through the 700-foot-long course, flying over jumps as they reach speeds of up to 25 miles per hour.
The crowd lining the course watches as Hansen leans in close to her horse, his hooves pounding the track. It's the end-of-the-season National Finals Skijoring Races in Red Lodge, Montana, and a championship title is on the line.
Skijoring has been around for centuries in one form or another. Its roots are in Scandinavia, where dogs did the pulling, but in the Western U.S., a horse seemed a natural fit. Aside from a fast horse, the sport requires a focused rider and a fearless skier. The object is for horse and rider to get from start to finish in the fastest time possible, while the skier collects hoops on his or her arm along the way, and also intermittently launches jumps.
Rules hint at the potential danger of the sport: The skier must finish in an upright position with at least one ski on and a rope in hand. Recommended gear for skiers typically includes a full-face helmet.
As a photographer with a love for both fast action and obscure sports, skijoring was a natural fit for me: a combination of rodeo and ski racing. Each winter, competitors haul horse trailers and ski gear to small towns throughout the West, where the two-day events are typically shrouded in a party-like atmosphere, with food vendors, lively spectators, and plenty of beer.
Several years ago, I loaded up my camera gear and ventured off to the tiny town of Wisdom, in Montana's Big Hole Valley, for their annual skijoring event. One of the few streets in the town was closed to traffic, transformed instead into a racetrack. A mix of folks cheered from the sidelines: spectators donning Carhartt coats and cowboy hats as well as Patagonia puffies and knit hats.
Since that time, the sport has grown, with new events cropping up each year, including inaugural races in Butte and West Yellowstone this winter. But Wisdom remains a favorite with the perfect combination: small town, beautiful backdrop, fast horses, and plenty of excitement.
Editor's Note: Erik Petersen's short film, "The Ride," covering Ebbie Hansen's attempt at a third national skijoring championship, was a finalist for the 2018 Banff Mountain Film Competition this past November. The film will be released publicly in 2019.
Erik Petersen is a Montana-based photographer and filmmaker. He lives in the Shields Valley with his wife and two sons, a dozen chickens, and a bird dog; erikpetersenphoto.com.