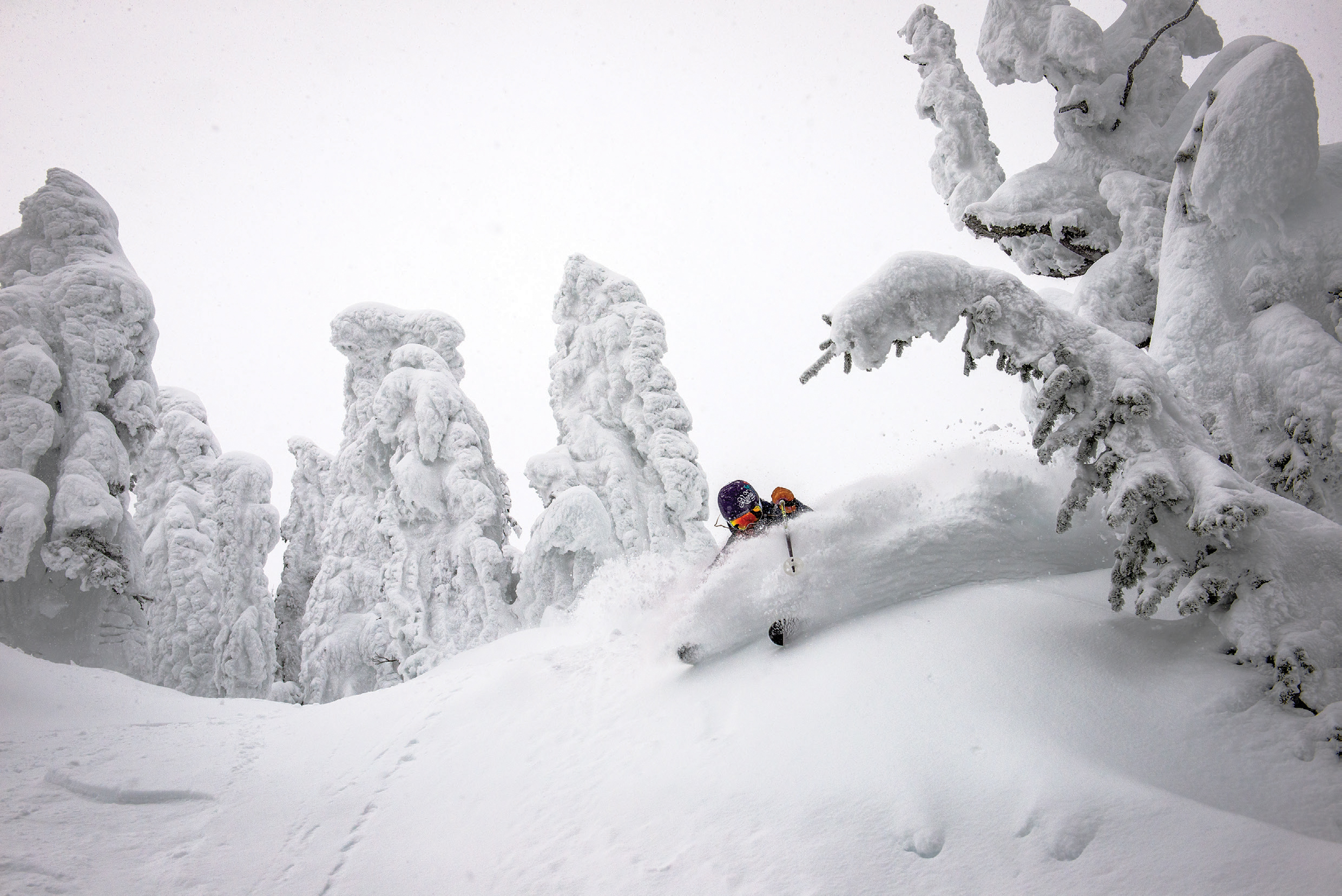 Professional skier Elyse Saugstad shreds through the snow-encrusted trees (called Snow Ghosts) at Whitefish Mountain Resort in Montana.
23 Nov

Images of the West: On Snow

in

"Snow is falling, you live in the mountains, your passion is skiing and snowboarding, you can't hold back," says Big Sky, Montana-based photographer Ryan Turner. "Once you become a lover of those kinds of snow sports, powder days become the ones you look forward to most. On those days, you need to be on the slopes. At least that's how it is for me."
Photographer Ryan Turner and his ski and snowboard buddies typically make the most of Big Sky powder days, getting out early for fresh tracks.
Turner grew up in Wisconsin and earned a Bachelor of Fine Arts with an emphasis in photography from the University of Wisconsin–Eau Claire. Since moving to Big Sky in 1998, he has carried his camera around the mountains of Montana and beyond, and he quickly became known for the images he captures on the slopes, working with a number of publications, including Powder, Skiing, Ski, Outside, Transworld Snowboarding, and Backcountry Magazine.
As his freelance photography business grew, Turner branched out, producing work for commercial advertising projects and delving into the world of fine art. In 2010, he and his wife, Angi, opened a gallery and studio in Big Sky's Canyon area, where they sell a variety of prints and landscape imagery, and his works now hang in many landmark buildings in the Big Sky area and in homes around the world.
Snowboarder Josh Marcus rips through the fresh powder on the ridge at Bridger Bowl in Bozeman, Montana.
Turner captures his buddy Chad Zeigler's silhouette as he makes his way along the ridge of the North Summit Snowfield on the Moonlight Basin side of Big Sky Resort.
"The passion for both riding and shooting pushed me to bring my camera whenever I headed into the mountains. I wanted to go further with both, so I chased the dream as much as possible," Turner says. "I've been lucky enough to travel to amazing places and witness amazing feats, and in doing so, it's allowed me to ski many 100-plus-day seasons and gain a family of skiers and snowboarders that I call great friends today."
When capturing action shots in the mountains, Turner explains that his approach depends on a variety of elements. "Every situation is different," he says. "Sometimes the light, the snow, or the terrain is amazing, and on occasion, all of those things line up. Like life, ski photography is unpredictable, so you need to go with the flow and make the best of every situation."
Turner adds that, "Often, you also need to use the dynamic action of the athlete to create the vision. And when you have the most beautiful landscape in front of you, you have to find a way for the action and the landscape to blend together in a natural way."
These days, while Turner's career centers more on fine art, he finds himself leaving his camera at home when freeriding on occasion. "But I still never get tired of being out in the cold for the pure joy of sliding down the hills and capturing my fellow companions and the places we often visit," he says. "Fortunately, I've been able to make that a big part of my career."