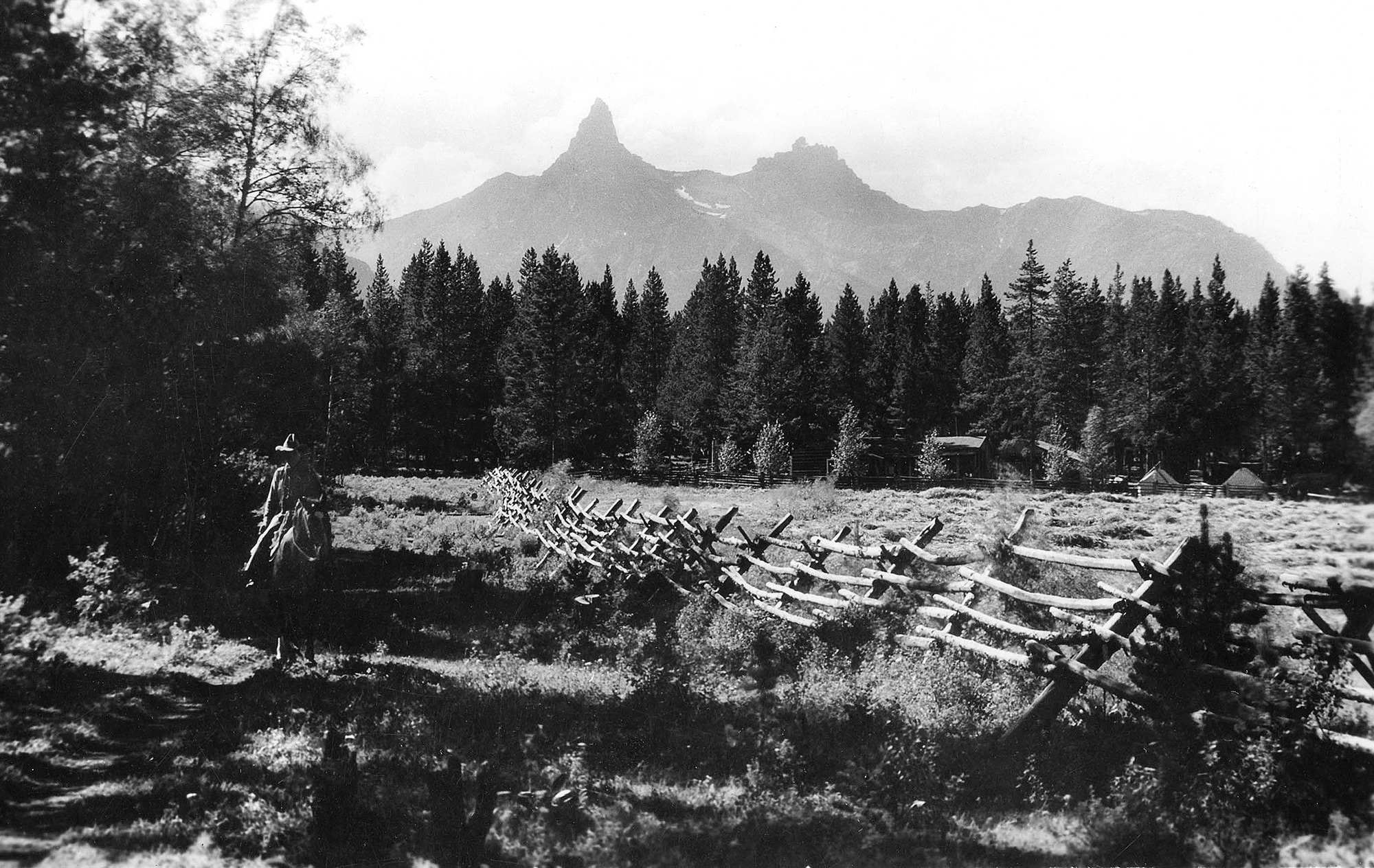 04 Feb

Images of the West: Hemingway's Wyoming: "A Cockeyed Wonderful Country"

in
---
Big Horn, Wyoming, population 490, consists of a three-block Main Street with a firehouse, general store, post office, smokehouse restaurant and the Last Chance Saloon. In this ranching community outside Sheridan, it's not unusual to see a working cowboy ride his horse up to the drive-thru window of the Chance to pick up a six-pack of beer, or tie up his horse outside while he sips a cool one at the bar. For years, a cigarette-stained photograph of Ernest Hemingway staring boldly at the camera — handsome, with dark hair and a mustache — hung over the jukebox, but it's gone now, possibly filched by a fan or stored away during one of the bar's changes in management. The photo was a memento of Hemingway's first trip to Wyoming, when he arrived in Big Horn and fell in love with the land, the people and the trout fishing — which he described throughout his life in letters and stories.
It was 1928 and Hemingway was back from Paris following the enormous success of his blockbuster The Sun Also Rises. Pauline, his second wife, had given birth to their son Patrick. While baby and mother convalesced with her family in Piggot, Arkansas, Hemingway escaped the whiny, colicky, baby stage of infants that he called "squalation" by going trout fishing in Wyoming and finishing his new book, A Farewell to Arms. The plan was that as soon as Patrick was old enough to leave with family, Pauline would meet Ernest in Wyoming to hunt and fish with him.
Hemingway met his friend Bill Horne in Kansas City, and they drove for three days in Hemingway's Model T Ford, or "Tin Lizzy" as they were called, to reach Upper Folly Dude Ranch in the Bighorn Mountains. The drive up the mountain is not for the faint-hearted, climbing a steep and often treacherous rutted gravel road called Red Grade, carved into the mountainside without a guardrail in sight. Upon reaching Upper Folly Dude Ranch, he was surprised by what he found: "Came to a ranch of a friend where there were 15 girls! Shit."
During his stay, he described the Bighorn Mountains as lovely country that reminded him of the Guadarramas in Spain, with jackrabbits the size of mules. "This is a cockeyed wonderful country, looks like Spain, swell people," he wrote to a friend.
Hemingway's routine was to write in the morning and fish in the afternoon. He kept a fishing journal during his life, where he wrote of his Wyoming stay:
"1st day — worked four pages,
fished with Bill Horne caught 12
2nd day — worked 4 ½ pages,
fished with two girls caught 2
3rd day — worked zero,
fished by self alone, caught 30-limit."*
On the fourth day, Hemingway went into Sheridan for some privacy, taking a room at the Sheridan Inn (where Buffalo Bill Cody once held auditions on the front porch for his Wild West Show). He worked there for four days before returning to the ranch, this time checking into Lower Folly Ranch, empty of dudes. He cranked up his productivity, writing 2,550 words in one day, trying to get the book finished before Pauline dumped off baby Patrick (now looking like a "Chinese woodchuck" at 12 pounds) with her sister Ginny so she could join Hemingway in Wyoming.
While Hemingway waited for Pauline's train to arrive at the Sheridan depot, he wrote in a letter to Guy Hickok that he was on page 600 and about two days from finishing the book. "Have been here 1 mo or more — good beer from the brewry [sic] — good wine from a wop — a nice French family (bootlegger) where we sit on the vine shaded porch and drink as at the Double Maggots — youth will be served."
Prohibition was still in full force until 1933 so any liquor found was the result of bootleggers. Hemingway wrote about the experience in a short story called "Wine of Wyoming."
Once he had fetched Pauline, they drove back up the hair-raising Red Grade, this time to the Spear-O-Wigwam Ranch, just up the road from Folly Ranch, in the Cloud Peak Primitive Area. Wyoming Sen. Willis Spear founded the "Spear-O" (as it was called) in 1923 as a retreat for family and friends. The land was remarkable in its pristine beauty, with clear mountain lakes and streams teeming with trout. Hemingway holed up in one of the rustic log cabins, intent on finishing the book, while Pauline fished with guides from the lodge. Once he'd put the finishing touches on A Farewell to Arms, he was finally free to enjoy time with Pauline, reportedly catching 30 trout apiece every day: "[N]one over 15 inches, but damn nice trout," Hemingway wrote in a letter to his editor, Maxwell Perkins.
The Hemingways continued their Wyoming exploration after leaving the Spear-O, heading through Yellowstone National Park and then on to Jackson Hole to fish the Snake River. They stayed at writer Struthers Burt's Bar B C Dude Ranch, where rustic cabins sported sod roofs, handmade furniture and views of the magnificent Tetons. So different from the soft, curvy Bighorn Mountains, these jagged peaks soared from the valley floor. A successful author in his own right, Burt attracted high-profile guests like publisher Alfred Knopf and authors Wallace Stegner and William Faulkner. Hemingway and Faulkner were competitive literary rivals; although they never met, they were regular correspondents, so perhaps Hemingway learned about the ranch through Faulkner.
Following their stay at the Bar B C, Hemingway and Pauline headed back to Sheridan, stopping in Shell where they visited Owen Wister (author of The Virginian) before returning to Pauline's family in Piggott. Hemingway's fishing log shows that he and Pauline caught 600 trout during their month of fishing in Wyoming.
Having discovered Wyoming's hunting and fishing paradise, Hemingway returned with Pauline two years later, in 1930. This time they brought Hemingway's son from his first marriage, Jack or "Bumby" as he was called, fresh from Paris where he had lived with his mother, Hadley. This time Hemingway wanted to go even farther west than he and Pauline had in 1928. After making inquiries in Sheridan, he learned about Simon Snyder's ranch in the isolated northwest corner of Wyoming near Painter.
The Hemingways arrived at the ranch near the Montana border, but their visit was short-lived. Hemingway, now a celebrity, was recognized by guests. Irritated by the intrusion on his privacy, he loaded up the Model T and moved his family up the road to Lawrence and Olive Nordquist's L-Bar-T Ranch.
Here, he felt he had discovered a true Western paradise. Located near Yellowstone's boundary, the L-Bar-T was just miles from the old mining town of Cooke City, Mont., with the Clark's Fork of the Yellowstone River flowing through the property. From their cabin, the Hemingways could see Index and Pilot peaks soaring over 10,000 feet. The river was a trout fisherman's dream, teeming with fish. Hemingway would remark that the best fishing in the world was on the Clark's Fork of the Yellowstone.
He was often conflicted over whether to work on his bullfighting book or engage with the trout — until a spell of rainy weather sent him inside for a few weeks, allowing him to produce more than 40,000 words. When the rains finally ceased, he returned to his writing and fishing routine. His friend Bill Horne and wife, Bunny, came to the ranch to join Pauline and Hemingway. The region was wild bear country, and in August, Hemingway wrote to a friend, "Killed two damned big old cattle eating bear … This is the most beautiful country you ever saw. Grizzlies are the best training for Africa — only dangerous animal in North America." (Hemingway was planning his first African safari at the time.)
Now that Hemingway had found the perfect, private Wyoming retreat, he returned again in 1932, where he read the page proofs of the bullfighting book he'd been working on during his last visit, Death in the Afternoon. He drove into Cody to mail the final draft to Maxwell Perkins and stayed at the Chamberlin Inn on Oct. 16, 1932, drinking with locals (most likely at the Irma Hotel's saloon) before returning to the ranch.
Through the years, Hemingway brought many friends to the ranch, including Gerald and Sarah Murphy, friends that he'd met in Paris; writers like John Dos Passos and Pulitzer Prize winning poet Archibald MacLeish. When he returned to the ranch in 1939, this time it was without Pauline, who was traveling abroad. It turned out to be a short, unpleasant visit, however, when Pauline flew out to confront him about his relationship with journalist Martha Gellhorn. Their marriage was officially over, and so were the Hemingway years at the Nordquist ranch. When Hemingway took up with Gellhorn, starting a new chapter in his life, the couple preferred Sun Valley as their getaway location.
Stories about Hemingway's hunting and fishing in Wyoming are legendary: the grizzly bear hunting accident where he was treed by his horse and required stitches from a veterinarian in Cody; the cow-eating bears he shot; the car accident in Montana that involved bourbon and a month-long hospital stay. Hemingway, with his zeal for life and disdain for phonies, met real people along the way, preferring to hang out with the cowboys, ranch hands, fishing guides and bartenders of the world. And maybe it was a bartender who first tacked up his picture over the jukebox at the Last Chance Saloon in Big Horn. With the saloon's dim and rustic interior, it's easy to imagine him sitting at the bar, striking up friendships with locals. When the book that he had been working on while in their midst was published, perhaps it would have been like him to send a photo along with a letter to these "swell people" signed by their friend: "Su Amigo Ernesto," or Ernie, or Hem or Ernest, or even Hemingway, as he often signed his letters.
*Ernest Hemingway Selected Letters 1917-1961 by Carlos Baker
---
Hemingway's Haunts
Folly Ranch, Big Horn:
Still in existence, today Folly Ranch is in private ownership.
Sheridan Inn, Sheridan:
The magnificent inn was established in 1893 through the effort of William F. "Buffalo Bill" Cody, who developed and sold the concept of the inn to the railroad. Cody held auditions for his touring company, the Wild West Show, on the front porch. The inn was renovated and reopened to guests in 2014. sheridaninn.com
Spear-O-Wigwam ranch, Sheridan:
Although the Spear-O has changed owners several times since Hemingway's visit, Sheridan College purchased it in 2011 as a campus extension and as a way to preserve the ranch. The writer's cabin there survives today, marked with the plaque "The Hemingway Cabin."
Chamberlin Inn, Cody: 
The inn was purchased in 2005, and during its renovation the original hotel log was discovered, containing Hemingway's signature. Central Park is such an iconic NYC spot, and it allows us to shoot many different styles based on which area we choose. The inn remains in business today, where a 1930s Royal Typewriter, a vintage rotary phone and a photo of Hemingway create a memorial to the man. chamberlininn.com/codywy/wyominghotels
Bar B C Dude Ranch, Jackson: 
The Bar B C was a thriving dude ranch until owner Struthers Burt sold 600 acres to the Snake River Land Company to become part of Grand Teton National Park. Today, it's still possible to walk down to the old cabins, some restored by the National Park Service. The cabin said to be the Hemingway cabin still exists, and it's easy to imagine what the spectacular setting must have looked like when he was there.
Nordquist L-Bar-T Ranch, Painter, Wyoming: 
The Nordquist L-Bar-T Ranch is no longer a commercial operation, it's privately owned. Tourists sometimes turn down the old gravel Route 296 in search of the now deserted Hemingway cabin only to be met with signs saying "Keep Out!"