Eastern Montana's diverse and scenic landscapes are great for photography, and also for adventuring with kids.
03 Jun

Images of the West: An Eastern Expedition

in

There may be grander, more dramatic landscapes in Montana than those found in the eastern part of the state that borders North Dakota. In the western regions, including those around Yellowstone and Glacier national parks, there are certainly bigger mountains and more spectacular backdrops. But when the gray skies of winter begin to clear, making way for the colorful mosaics of springtime, my gas money is spent on a journey east.

Each spring, I load up the truck and camper, along with two dogs and two young boys, and hit the road. Sometimes we have an itinerary — one we dreamed up while huddled around a fire during the chilly winter evenings. Other times, we just drive until we don't want to anymore and find the closest public land to set up camp.

That's one of the perks of road tripping east of Billings — there are no shortages of places to explore, camp, stretch the legs, and learn about this diverse state, and there are also no crowds.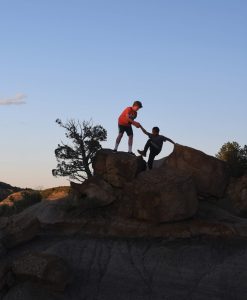 I've spent the past 20 years scratching around the dried-up remains of old homesteads and small towns in eastern Montana. At my first newspaper job, working as a photojournalist, I convinced the publisher that it would be a good idea to set me free with my camera and laptop to collect stories from around the state. I spent weeks crisscrossing the backroads and byways of eastern Montana with a permanent grin plastered on my face. And I've been going back ever since.
If I'm honest, these road trips are taken for somewhat selfish reasons. I love photographing the landscape, which is so dramatically different from the mountainous West I call home near Paradise Valley. The morning sunrise just looks different in eastern Montana — like honey oozing down a honeycomb of hoodoos in Medicine Rocks State Park.
But I tell myself it's for the kids. I like passing on the tradition of the Great American Road Trip. We load up on snacks, find a good mix of music (or being even more adventurous, we tune into local radio stations), roll down the windows, and watch the world go by.
With kids in tow, I've found that there's no shortage of family-friendly attractions out this way. Makoshika State Park, for instance, is like a modern-day stroll through the set of "Jurassic Park" movies. We've spent hours trying to decide if the rocks we've collected on our hikes are dinosaur bones — as they were known to roam these parts — or just happen to look like them.
And it's one thing to read about the Battle of the Little Bighorn, which my kids have, but it's quite another to take in the somber truth that's found at the Little Bighorn Battlefield National Monument. Such places inspire questions from my boys, and I'm thankful for every one of them, even if I sometimes have to admit that I don't always know the answers.
After several hot and dusty days spent camping and hiking, Fort Peck Lake is as good a swimming hole as you'll find. I hope our campfires, s'mores, and late-night forays climbing around the formations of the Terry Badlands or Missouri River Breaks fill their childhood memory banks, both with times spent together and the extraordinary sights they saw and experiences they encountered along the way.
I hope that when they're older, like me, they'll take a moment each year to suck in a big breath of spring, feel the tug of the great outdoors, and choose somewhere that's remote, quiet, and beautiful in its own right. And maybe, like me, they'll head east.