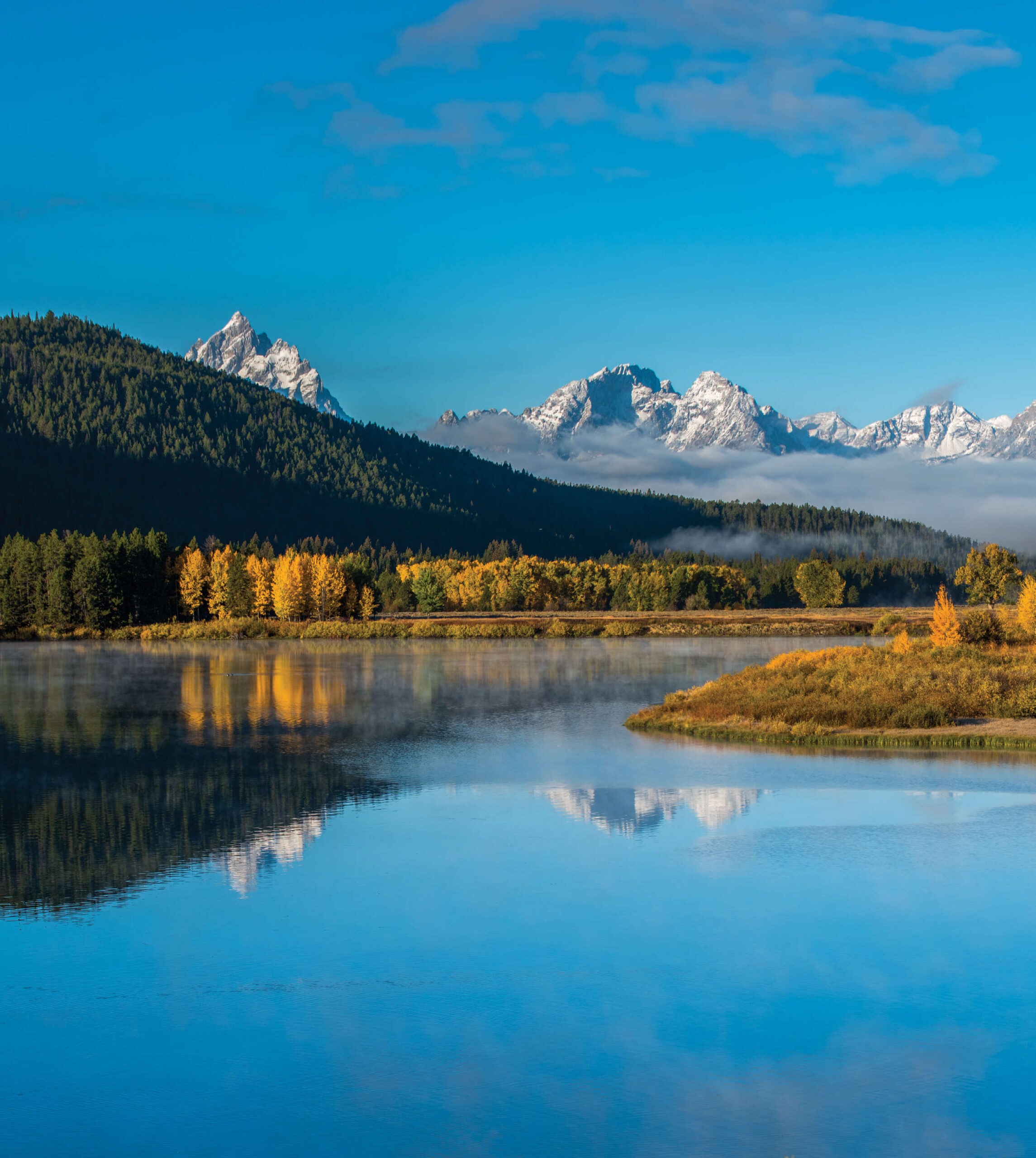 Numerous pockets of aspens and cottonwoods make Oxbow Bend the premier fall-foliage destination in Grand Teton National Park.
28 Sep

Hunting for Color

in

While many fall-foliage enthusiasts naturally gravitate to the fiery spectacle of hardwood forests in New England, if aesthetic horizons are broadened, portions of the Rocky Mountains offer a different impressive alternative. Accomplished landscape photographer James Kay has long adhered to this belief. Frequently focusing on the San Juan Mountains of southwestern Colorado, his work emphasizes the dramatic contrast between green conifers and the dazzling hues of vast aspen groves, which he features against the backdrop of craggy peaks, brilliant blue skies, and, whenever possible, a dusting of snow, which adds the final touch to this crescendo of color.

Unlike Colorado, where entire mountainsides are commonly carpeted with aspens, in Montana and Wyoming, pockets of fall color are often more widely dispersed. In 1976, I fell in love with Montana on a perfect late-September afternoon during my first visit to Glacier National Park. This life-altering event coincided with peak fall colors in the aspen groves that are prevalent on the east side of the park, and I now target the last week of September and the first week of October for fall-foliage pilgrimages there.

The timing and intensity of peak colors vary from year to year, depending on local fluctuations in seasonal weather patterns, but the period cited above is generally applicable to other regions in the Northern Rockies. For example, Joseph K. Lange, author of Photographer's Guide to Yellowstone & the Tetons, states that in the Teton Range, "the last week of September will usually see the start of the fall color, the best of the fall color, or the last of the fall color."

The Winds and Tetons certainly rank among some of the most iconic mountain ranges in the U.S. Revered by veteran backpackers and climbers, the Winds are less familiar to the general public than the Tetons, given the area's relative inaccessibility. Nevertheless, the Green River Lakes, Elkhart Park, and Big Sandy Lake sectors can be reached by roads that provide superb introductions to the grandeur of these rugged peaks and their fall foliage.

Leaf peepers in the Jackson Hole area can access vantage points along the Jackson Hole Highway that leads to Grand Teton National Park and Teton Park Road. These routes feature panoramic vistas — such as the Snake River Overlook — and traverse pockets of spectacular fall color. And while Oxbow Bend is the mecca of fall-foliage destinations in the park, connoisseurs of New England-style colors would be remiss if they failed to include Snake River Canyon and Palisades Reservoir in their itineraries. Just southwest of Grand Teton National Park, and heavily timbered with mountain maples, these areas exhibit more diverse palettes than the typical yellow-hued aspen and cottonwood stands in Rocky Mountain deciduous forests.

From my many years of fall color hunting, I have collected my favorite spots in two of my favorite places: the Wind River and Teton mountain ranges.
Fall-Foliage Destinations
Oxbow Bend
Teton Range, Grand Teton National Park
Located 1.2 miles east of Jackson Lake Junction on the jackson Hole Highway, Oxbow Bend features the most spectacular concentration of fall foliage in the Tetons. From the designated parking area, looking across the Snake River, Mount Moran appears to be bracketed by three aspen stands in the foreground: large groves to its left and right, respectively, and a smaller, thinner stand at the visual base of Moran.
With respect to the timing of peak color, Mike Jackson, a landscape photographer who specializes in the Tetons, offers this advice: "If someone pressed me to come up with one single date, I'd say October 3 for the region around Oxbow Bend." I visited the area on October 7, 2020, and conditions then exhibited a degree of color saturation that surpassed anything I've witnessed in years of fall-foliage excursions throughout the Rockies. Unfortunately, as Jackson observes, "controlled burns [near the Tetons] seem to always coincide with foliage season."
Scenic loop Drive
Teton Range, Grand Teton National Park
The aesthetic perfection of the Tetons — particularly the tallest of the lot known as the Cathedral Group — has the power to evoke awe in the human psyche and soul. Therefore, even the most ardent leaf peepers may want to strike a balance between time spent in pursuit of fall-foliage destinations and moments that are simply savored while gazing upon the breathtaking majesty of these mountains, which rise without foothills from Jackson Hole.
Panoramic views of the Tetons are most accessible along a 42-mile loop that includes U.S. 26-89-191 from Moose Junction to Jackson Lake Junction, as well as Teton Park Road, which provides more intimate glimpses of the high country. Immortalized by Ansel Adam's iconic 1942 photograph, the towering peaks visible from the Snake River Overlook are emblematic of Grand Teton National Park and, arguably, the entirety of the Rocky Mountains.
Photogenic stands of aspens and cottonwoods cluster on all sides of Jackson Lake Junction, including areas adjacent to the Willow Flats and Oxbow Bend turnouts. If, like John Muir, you believe that "Everybody needs beauty as well as bread, places to play in and pray in," the Chapel of the Transfiguration is uniquely qualified to address both needs. Nestled amidst several pockets of aspens and cottonwoods, this rustic log chapel is practically immersed in a sea of electric yellow when the fall colors peak.
Snake River Canyon & Palisades Reservoir
Teton Range, Wyoming-Idaho Border
When you take U.S. 26-89 from Jackson Hole to Alpine Junction, Wyoming, and then U.S. 26 to Swan Valley, Idaho, bigtooth maples begin to make their presence felt by the time you're within 10 miles of Alpine Junction. These mountain maples display a range of colors similar to that of their New England cousins and, on the Palisades Reservoir side of the Idaho border, put on an impressive show for the better part of 20 miles.
Bigtooth maples retain their foliage longer than aspens, and the two species usually do not achieve peak color at the same time, thus producing contrasts that are sharp, distinct, and dramatic. Foliage in the Palisades Dam Recreation Area exhibits characteristics that are more typical of the Colorado Rockies, where entire mountainsides are lined with discrete islands, horizontal ribbons, and finger-like pockets of individual colors that cascade down the slopes. During my visit on October 3, 2019, the predominantly lime-green color of aspens juxtaposed against the much darker hue of conifers, and were occasionally interspersed with yellow aspens and subdued shades of red, orange, and rust, all of which were manifested by maples that had not yet peaked. Collectively, they weaved an understated but masterful mosaic of color.
Green River Lakes
Wind River Range, Bridger-Teton National Forest
The views from the shores of Lower Green River lake — with Squaretop Mountain looming in the background — encompass the most uniquely recognizable landscape in the Wind River Range. Visitors to this showpiece destination will find themselves 52 miles from the nearest town, allowing them to savor every moment of solitude experienced in this remote and pristine country. Impressive stands of aspens first appear just before entering the Forest Service lands, and if caught at the right time, translucent shades of yellow — in addition to the changing foliage of riverine cottonwoods and willow thickets — accentuate the slopes of the foothills that border the Upper Green River Valley.
Several trails are accessible from the road's end, and one of the most popular is a 6.2-mile loop that incorporates portions of the Highline and Lakeside trails. If you choose this option, follow the Highline Trail for the outbound leg, which provides superior views of the surrounding terrain and aspen groves that become visible approximately 1 mile from the trailhead. According to landscape photographer Daryl L. Hunter, peak color for this area typically occurs around September 20.
To get there from Pinedale, Wyoming, head northwest on U.S. Highway 191 for 6 miles, turn right on Wyoming Route 352, and travel 25.3 miles to where the pavement ends at the boundary of the Bridger-Teton National Forest. Continue on Green River Lakes Road for 18.5 miles until you reach the Green River Lakes Campground and Trailhead.
Elkhart Park & Skyline Drive
Wind River Range, Pinedale, Wyoming
Skyline Drive begins at Pinedale and, over the course of 16 miles, gains more than 2,000 feet in elevation before terminating at the Elkhart Park trailhead. Fully paved, this road enters aspen habitat about 7 miles in, near the turnoff to Half Moon Lake. An interpretive pullout 1.4 miles from Elkhart Park provides one of the best glimpses into the heart of the rugged Wind River Range that a paved road could possibly offer.
If, however, this has only whetted your appetite, proceed to Elkhart Park and take the Pole Creek Trail to Photographer's Point, a 9.2-mile round-trip hike. The view from this overlook encompasses the spine of the Continental Divide and includes, among other peaks, Mount Helen (13,620 feet), Mount Sacagawea (13,569 feet), and Fremont Peak (13,745 feet).
WHAT YOU NEED TO KNOW
TIMING: The timing and intensity of fall colors are largely determined by local weather conditions. In general, a wet spring, followed by drought-free summer and warm, sunny fall days with cold nighttime temperatures (that approach, but don't dip below, freezing), should bring out the very best. Throughout the first week of October 2020, the forecast for much of Wyoming called for precisely those conditions, and we were richly rewarded with phenomenal color in the Tetons.
PLANNING: If you must book your fall-foliage trip weeks, or even months, ahead of time, the last week of September through the first week of October is your best bet. In the Northern Rockies, however, this period should be regarded as a game of high-stakes poker, particularly in northern Montana. Weather conditions at that time are often delightful, but high winds, a hard freeze, or snow can bring a meteoric end to a promising fall-foliage season or one already at its peak.
ITINERARIES: Since we're on Mother Nature's schedule, flexibility with the timing and order of destinations on your itinerary can increase your chances of witnessing peak colors. In the weeks prior to departure, carefully monitor the occurrence of major wind events, premature cold weather, and/or significant snowfall in the areas you plan to visit. These factors negatively impact the intensity of fall colors and contribute directly to the loss of foliage.
GEAR: It is imperative to be equipped with clothing that enables you to comfortably adapt to the wide range of weather conditions that can be experienced this time of year. If you follow this strategy and are blessed with good weather, you may ultimately conclude that nothing is so close to heaven on earth as the Northern Rockies in early fall.