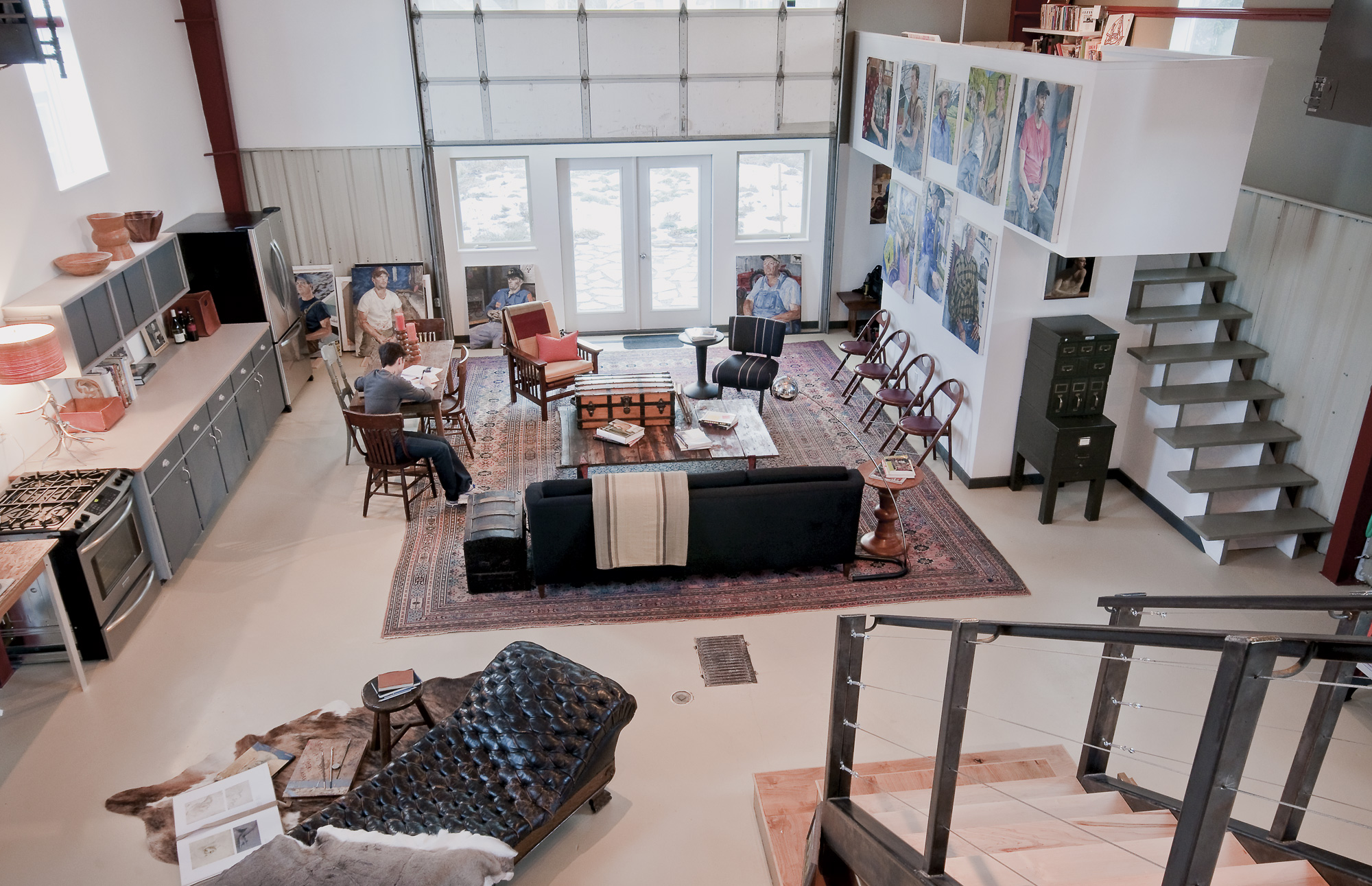 20 Aug

Western Design: In the Studio with Painter Hugh Wilson

in
---
Hugh Wilon is comfortable living nearly anywhere. He weathered mud huts in Algeria. In Niger he spent three months in a reed hut. He dwelled easily in a Brooklyn loft. In a camper. In migrant labor camps. But ask him about his studio in Livingston, Montana, and the response is riddled with mixed messages.
"I'm really not a studio painter," says Wilson. "I'm more of a reactive painter, I paint from life."
As he talks, world music plays in the background of his industrial studio. He's barefoot and at ease in the quiet, cool space. A converted shop that once housed a semi-truck, the ceiling soars overhead, punctuated by a metal staircase in the center of the space that leads to his bedroom. Large and small canvases lean against the stairs and furniture; others are stacked along the room's perimeter and hang on the walls in various stages of completion.
Shuffling through a series of vibrantly colored small landscapes from a recent trip to Salinas, Calif., Wilson explains his style and simultaneously derides it. He's grown accustomed to riffing off on Classicist painting, but has allowed a stretch toward a more contemporary color palette. In the paintings there is more than color. The horizontal pattern of farmed rows flows across the green field, broken only by the bend in the back of a red-shirted laborer. It's that subtle bend that gives meaning to the image and the subtleties are what make Wilson's work so arresting.
Until the Salinas landscapes, Wilson has painted portraits, as regal and striking as any 18th century aristocrat that might have hung over a French chateau mantle, but instead of a duke or duchess as the subject, he focuses a keen brush on the laborers of the world. Most of his work has been composed on site in the Algerian camps, a Tuareg village in Niger, the coal mine hollers of West Virginia, the seascapes of the Bayou, the valleys of Montana and the lush fields of Yuma, among other places. He creates compelling portraits in oil, many of them life-size and all of them about the people who work the land. Sitting with his subjects, the artist has developed strong relationships with the people he paints. He revels in the sand from the Sahara that speckles his canvases, in the smudged dirt from the coal mines. He loves the path his painting has taken him on these last four years as he's traveled internationally and then more recently, into the rough hearts of American workers from one coast to the other.
"The painting is almost an excuse for the experience," he says of his remarkable adventures.
Exploring his artistic style and seeking a project that would be socially relevant, Wilson embarked on a quest to capture the working life of people whose professions have changed little in the last century: coal miners, shrimpers, cowboys, migrant field workers. Raised in Washington, D.C., he attended prep school, then Duke University, where he got a degree in business, making him an unlikely participant in some of the hardest working labor pools in the nation. He's fished in the Bayou and cut lettuce in the fields with Hispanic workers. He now knows about back-breaking work and has lived in the poorest conditions along the way. Yet, he has observed the joy and satisfaction in this way of life, a principle of working, dreaming, living that essentially founded our country. His paintings celebrate that concept in an iconic way that Wilson hopes will surpass the individuals in each of his portraits and capture the essence of the working populace.
"I've been in transition these last two years," reflects Wilson. "Now it seems more about the journey than the painting."
When it comes to the idea of a home base Wilson wrestles. His need for comfort, for a sense of community apart from his subjects is a struggle for him. In a sense, he is most at home when he is painting out in the open, on site, depicting people in their human landscape, yet he remains an outsider even in that context. Likewise, his dedication to living with his subjects also renders him an outsider in his own residence.
"The road feeds into a romance that does not exist in the banality of life," he says without irony.
There is no small talk with Hugh Wilson; his intentions, like his paintings convey a bare honesty from the moment he locks eyes with a person. Similarly, his studio conveys the same transparency. In a quiet residential neighborhood, Wilson's home studio is different from the other boxy houses with vegetable gardens and swing sets in the yard. Set back from the street, it is a straight-lined utility building constructed of corrugated metal, steel and concrete with an open floor plan and a utilitarian sensibility.
By the time Wilson reached Montana in his American portrait series, his momentum had slowed a bit. He'd accumulated a mass of work and needed to regroup. Livingston seemed a fine place to settle.
Essentially his only prerequisite for the studio was a space with northern light. Relating to the open flow of a loft or apartment from his years living in New York, Wilson gravitated to the industrial structure. Embracing the honesty of the building, he called on his friend and designer Sam Dabney in Bozeman to convert the building into comfortable living and working space. He left the two huge overhead garage doors to utilize for insulation in colder months, but built sheetrock walls, added a wall of windows, framed in steel and a platform in one corner for sleeping space.
The result is a modern style with organic design elements. The hard-edged steel frame and concrete floor, for instance, are softened by a comfortable couch, a barn wood coffee table, padded chairs, a harvest table. A wall of windows overlooks a flower garden, patio and a huge cottonwood tree. Down the street are the local butcher and an elementary school. He's within walking distance from historic downtown Livingston — all the makings of a picaresque home.
Wilson moves gracefully between the living area and back to his working corner, where a massive canvas with an unfinished nude sits on an easel. Art books from Titian to Schiele, Matisse to Picasso and countless others are stacked on shelves. A chaise longue marks another sitting area for live models in a different corner. A kitchen lines the eastern wall, the sink functions as a place to rinse brushes and for washing dishes. His life and work, even architecturally, are seamlessly entwined.
Wilson's studio is welcoming. He appears at ease here, yet he yearns for the road, for wonder and discovery. So the studio has become a place to organize ideas. A former Wall Street refugee, Wilson wants to engage in the greater "conversation" in the art world. A graduate of both Otis College of Art and Design in Los Angeles and New York Academy of Art, he is exploring ways to create work that is fresh and interesting. Again, like his paintings, Wilson is engaged yet separate from life, a brilliant observer, cunning interpreter and gentle influence. And his studio, perhaps unwittingly, reflects all of this.
His recent portraits of working folks seem heavily influenced by artist Lucien Freud, whose subjects are often the people in his life; friends, family, fellow painters, lovers, children. Freud once said, "The subject matter is autobiographical, it's all to do with hope and memory and sensuality and involvement, really."
Wilson echoes this sentiment in his love for portraiture. He is working on a book about his experiences on the road and the studio is a venue to distill his years of traveling, of reading faces and sitting with people, of being part of lives who welcomed him into a greater community. He spends his days writing, experimenting with studio painting and planning to take his body of work to show in New York at some point in the future.
When asked if Livingston is "home" Wilson answers, "Yes …" But he lets the word dangle a little into a question of a question. The people and places of the world call to him even as he sits in his perfectly stylized studio; their voices resound from the canvases all around the room.