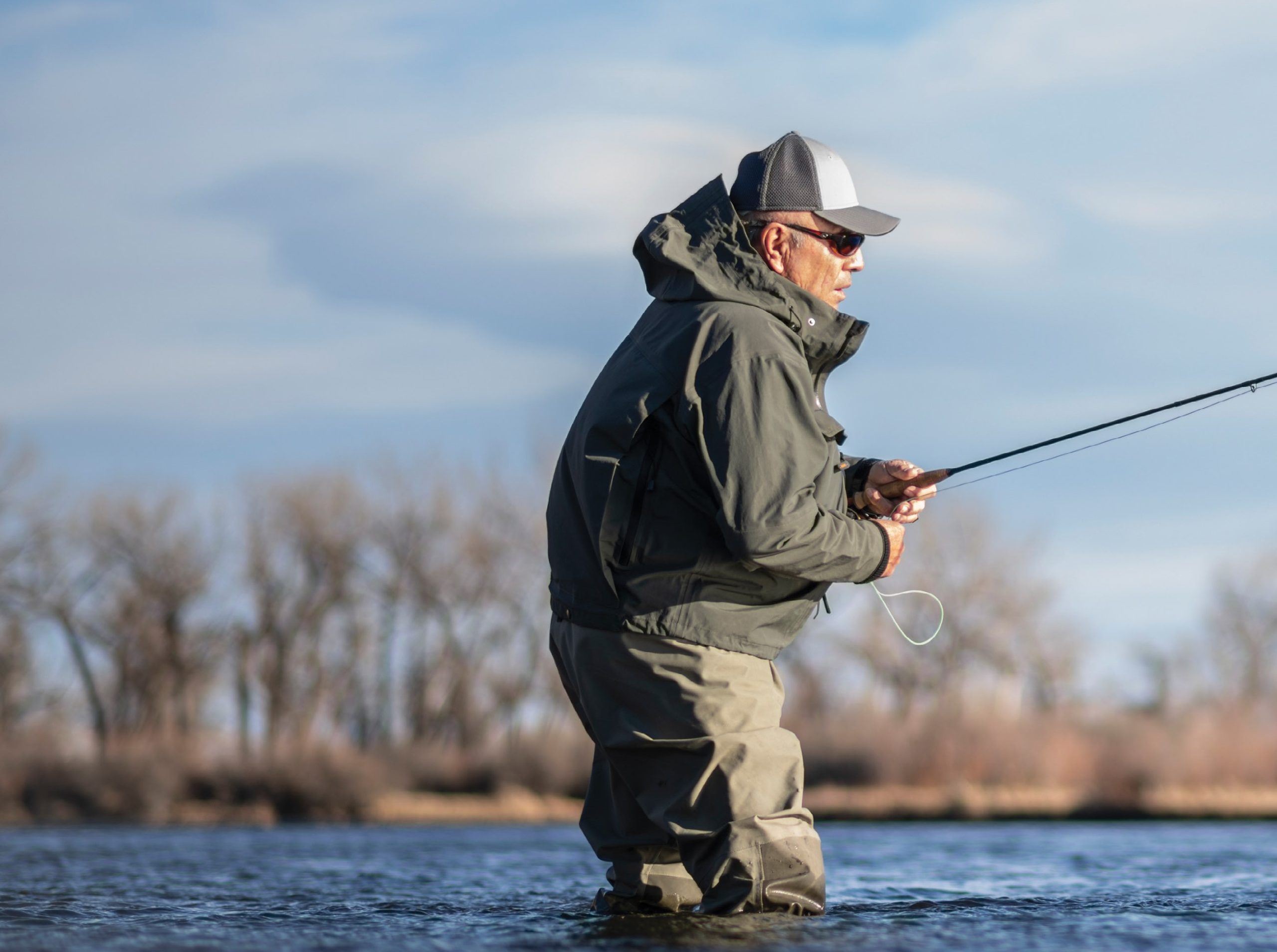 Longtime outfitter and fly-fishing guide Phil Gonzalez works a favorite reach of the Bighorn River.
03 Feb

Hooked by the 'Horn

in

Phil Gonzalez recalls fishing the Bighorn River a few times back before Yellowtail Dam transformed it into one of the nation's premier trout fisheries."It was muddy, that's mostly what I remember," says Gonzalez, who was raised on the Yellowstone River in Huntley Project, east of Billings, Montana, by a father who had fought with Pancho Villa's Mexican revolutionaries before settling in Montana. The eighth of 16 children, Gonzalez eventually built one of the first destination fly-fishing lodges on the Bighorn and became one of its most visible and enthusiastic advocates. But back then, prior to the dam, "if you caught a trout in that river, you were really something," he says.

More likely, the few anglers who fished it would catch sauger, maybe channel catfish, or one of the many other native fish of the eastern plains, including goldeye, shovelnose sturgeon, drum, and redhorse suckers. Then the U.S. Bureau of Reclamation built Yellowtail Dam — completed in 1967 — impounding the river at the mouth of Bighorn Canyon just a few miles inside the Montana border, and well within the boundaries of the Crow Indian Reservation. The Crow called the river "Iisaxpuatahcheeaashisee," or Large Bighorn Sheep River, and Yellowtail Dam, which was roundly opposed by the Tribe, almost immediately changed the river's fishery.

Born of snowmelt from Wyoming's Wind River and Bighorn mountain ranges, the river water is diverted to irrigate sugar beets in the arid Bighorn Basin before entering the plunging cross-state canyon, defined by red sedimentary rocks and geologic formations reminiscent of the American Southwest and Grand Canyon. Until the dam transformed it into a tailwater, discharging cold, clear water from the bottom of Bighorn Reservoir year-round, the Bighorn River was a changeable prairie stream, running high and muddy with snowmelt before dwindling to a warm-water trickle by late summer.

Gonzalez — by this time a masonry contractor based in Hardin, Montana — had become a devoted fly fisherman. He returned to the Bighorn in 1969, a couple years after the first hatchery trout were planted in the transformed river. "I remember catching a fat rainbow on a streamer, and that's when I decided that I was going to fish that river until I caught every one of its trout," Gonzalez recalls. But he didn't get the chance. In April of 1978, as he fished the Bighorn's "Pipeline Hole" with some friends out of a little aluminum boat, Gonzalez was confronted by Crow Tribal game wardens armed with shotguns, who waved the anglers to shore. They arrested him and his companions, and confiscated their fish and tackle. The wardens were enforcing a new regulation that defined the Bighorn as Tribal water since it flowed through the Crow Nation before joining the Yellowstone River about 100 miles downstream.
a landmark case
Gonzalez's arrest became a catalytic event in both water law and the history of the 'Horn. A year later, U.S. District Judge James Battin ruled that the Bighorn's water — though it flows through the reservation — belongs to the people of Montana, and therefore is open to fishing and public access, to be managed by Montana's Department of Fish, Wildlife & Parks (FWP). That ruling was upheld by the U.S. Supreme Court and, in 1980, the river reopened to non-Tribal recreational fishing. "The morning that it reopened, FWP called me and told me not to fish," recalls Gonzalez. "They were afraid that tensions were so high that somebody was going to get killed. So, I waited a few days, and by then people were coming. The fishing was off the hook since it had been closed for a couple years."
The start of the modern era of the Bighorn River had begun. Fly shops sprung up in Billings and Hardin, catering to anglers headed to the Bighorn. And outside of Fort Smith, the little village at the base of the dam, trout camps sprouted up in dusty fields and drift boats snarled gravel ramps. Anglers flocked to the 'Horn, especially in those months when runoff sullied the Rockies' freestone fisheries.
Gonzalez, marrying his love of fly fishing with a business opportunity, bought land a few miles downstream from Fort Smith and built one of the first lodges on the river. Bighorn River Lodge and Gonzalez's guiding business soon became fixtures on Montana's fly-fishing landscape.
view from the river
"The Bighorn has always been a prolific river, in terms of trout," says Gonzalez. "It seems like it has a 10-year cycle, with a generation of fish cycling out and a new generation of fish cycling in. Those early days were the height of a cycle, with something like 11,000 trout per mile and fly shops opening up all over the place."
Meanwhile, the FWP hired its first Bighorn River fisheries biologist, a recent college graduate named Wade Fredenberg. "For all intents and purposes, that river was a blank slate," remembers Fredenberg. "I don't know many biologists of my generation who have had the opportunity to take a resource with virtually no biological information and design a management program from the ground up."
Fredenberg often sought advice and insight from Gonzalez. "Fishing guides will all say how much they love the river, and that they don't care if they ever make a dime off it," says Fredenberg, who worked the Bighorn from 1982 to 1989, before ascending the ranks of the FWP and later the U.S. Fish & Wildlife Service. "The truth is usually different, but in Phil's case, I think he genuinely loved the river and the fishing."
But then, as now, the river could be loved to death. "We had a lot of anglers on the river, but there was a certain etiquette," says Gonzalez. "When you were guiding, you drifted to a spot, then got out of the boat and waded the runs. There were always enough fish to go around because everyone naturally spread out, and the boaters gave a wide berth to somebody fishing a run." That said, he explains that the guiding industry has gotten more competitive, and more out-of-area guides who don't know the Bighorn are crowding the river's best spots. "Today, you're not able to wade those runs," he says. "A guide will row their clients through the run, then hold them [on the run] until they get pushed out by another boat. The quality experience no longer exists, in my eyes."
Gonzalez also has specific ideas about how to fish the 'Horn. "The problem of any river is boat traffic and the population of anglers crowding it," he says. "That's what's happening now on the Madison. Fish need to have places where they can be left alone, but we don't give it to them because we have so much traffic and pressure. When you get pressure, you move anglers as well as fish. I've seen waders on the Bighorn standing in primary [trout] lies. I very seldom wade over my knees, because if I wade deeper and push fish out of their primary lie, then they have to go and find a secondary lie, and those pressured fish are hard to catch."
Gonzalez explains that the method of fishing the 'Horn has also changed over the years. "Back in the day, the Bighorn was known as a dry-fly fishery," he says. "Not that you couldn't catch trout other ways, but that was what guys came here for, to fish the prolific hatches: mayflies, golden stones, caddisflies. At any given time, you'd see a pod of fish rising, and anglers would selectively whack at them until they went down or moved. That being said, nymphing was always there and effective, especially the Red Fox Squirrel Nymph. I'm a streamer angler. I dry fly fish a lot, but give me a streamer rod in some seasons and I'll outfish you and catch bigger fish."
Gonzalez developed his own streamer pattern, the "Gon-Wright," that imitates a minnow, with exaggerated eyes and a black stripe that looks like the lateral line of a baitfish. "I've caught tarpon on that pattern and big trout in Argentina and Chile. What I've done differently is that I tie it with natural materials, no tinsel and mylar. You walk into a fly shop and look at most streamers, and you'll see that they're real gaudy. Fish shy away from that; it's mainly to catch the anglers."
But the Bighorn's larger fish, including the football-shaped rainbows and big snake-headed browns, key in on minnows. "A fish won't waste more energy on a food item than it will return to them in calories," says Gonzalez. "They decide what they eat, not you. That said, browns don't get as big on the Bighorn as rainbows. They're not aquatic insect eaters, and we don't have sculpins for them to feed on. Browns will get to 16 or 17 inches in a hurry and then stall out."
Still, the Bighorn is one of the most prolific trout fisheries in America. Fredenberg recalls pushing his fish technicians to see how many trout they could sample in a day. "On this particular day, we electro-fished something north of 1,500 trout," says the biologist. "And the average fish was over a pound, so we literally netted, weighed, measured, and released over a ton of trout in a single day."
fishing the world
By Gonzalez's second decade as a Bighorn River outfitter, he was getting invitations to fish around the world and spending many off-seasons in Belize, the Florida Keys, or the Bahamas. He parlayed his easy way with people and his body of fishing knowledge into a television series showcasing the world's fisheries that was sponsored first by Suzuki and later by Wal-Mart.
However, while Gonzalez was taking his talents to new and exotic waters, the fly-fishing world continued to descend on the Bighorn, and his well-appointed lodge. "I never went to college; I was too busy working," says Gonzalez. "But I got about the best education I could have right there on the banks of the Bighorn River. The world came to that lodge. We had vice presidents and secretaries of state and captains of industry come each and every year."
Fredenberg testifies to the powerful draw of the Bighorn River Lodge and Gonzalez. "I had a creel clerk working the river, and one day she ran into Phil and a party of his anglers," he recalls. "She said they were some famous baseball players, and that she had one of them sign her creel card. I looked at it, and there above his signature was a record of catching seven fish in five hours, including one rainbow over 18 inches. The signature? Joe DiMaggio."
business in crow country
Gonzalez says that he never took where he lived and worked for granted. He tried to befriend Crow Tribal members when he could, mindful that his entire life and business was located inside their homeland. "I had an old cowboy tell me one time that the secret to getting along with the Crow was to treat them all like 12-year-olds," Gonzalez says. "I never believed that. Even after my arrest, which I knew wasn't personal, I did my best to work with the Tribe. Two of my best guides were Crow, and I had good relations with the Tribal council and chairman."
At the height of the Bighorn River Lodge's popularity, before they sold the business, Gonzalez and his wife Patty hosted what they called Huck Finn Days at a big pond — scoured out of gravel just off the river — that was full of sizable trout and, later, largemouth bass. "I'd have 450 people come to those Huck Finn Days. I'd have lots of Crow families come, sometimes single parents with their kids. We tried to show everybody a real good time, and show them how to fish, not just fly fish," Gonzalez says. "One day a couple years ago, this big strapping Crow fellow comes up to me in the store. He's got a big belt buckle on, and he shakes my hand. He tells me thanks. He said when he was a 7-year-old kid he learned how to fish at our pond, and now he's teaching his own kids how to fish. That, to me, is the real point of everything we did."