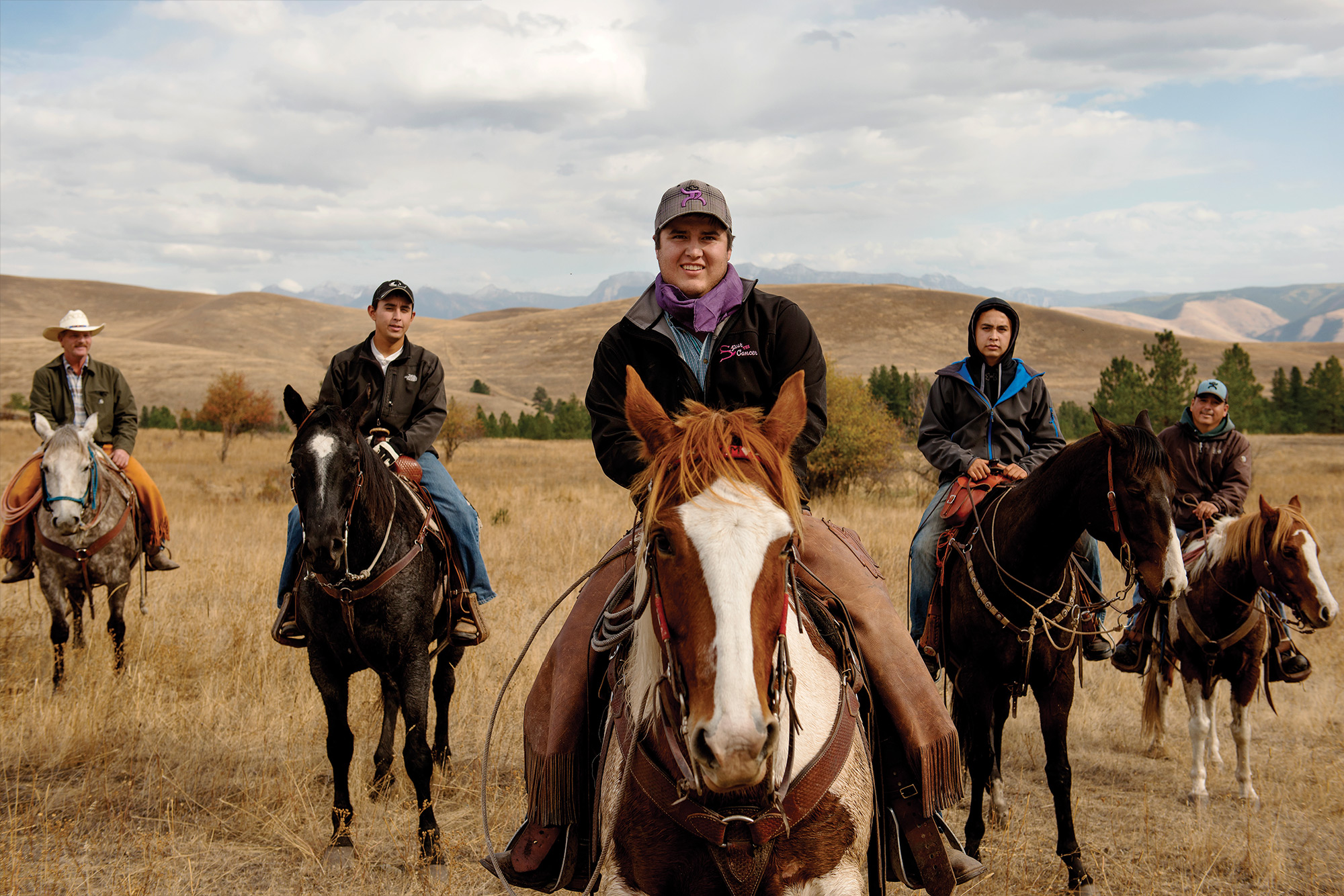 06 Jun

Local Knowledge: Hometown Hero

in
---
It is Saturday of Memorial Day weekend in Arlee, Montana, a small town on the southern end of the Flathead Reservation, and the sky is threatening rain. Twenty-three-year-old cowboy Leon Wieder, who is of Salish and Kootenai descent, is driving north to the ranch he owns with his father, Bradley. He's nervous.
He's nervous because tonight is his third and final fundraising rodeo for Spur the Cancer Out of Montana. Wieder founded the nonprofit, which gives money to individuals battling cancer. He began the rodeo series to honor his beloved aunt, Lynette Moran, who died on the Fourth of July in 2010, after a nine-year battle with leukemia. She was 42 years old.
Traffic on I-90 is thick as drivers race to camp and barbecue. Although he's no teetotaler (the man loves his Twisted Tea), for Wieder this holiday is about more than a good time. "People miss the point of Memorial Day," he says.
In four years, Spur the Cancer has donated nearly $40,000 to people in need. Wieder hopes to raise more tonight. Many are counting on him: rodeo contestants, the audience, and stock contractors like the Bird family (who own Chocolate Thunder, of Pro Bull Riding fame, the star of the night). Bradley is riding his first bull in 22 years because this is his son's last Spur the Cancer rodeo.
Rodeos are not the only fundraisers Wieder has carried out. He rode horseback across Montana three times, meeting cancer survivors, raising awareness and money. Funds were split among three cancer care groups and distributed directly to needy individuals. Each journey ended with an emotional homecoming: Wieder riding into Arlee during the Fourth of July parade.
Many people are responsible for Spur the Cancer's success, including Wieder's parents and cousins, especially R.T. Hendrickson, a rough stock contractor and Wieder's mentor. "Since I was little I have dreamed of being a stock contractor," Wieder admits.
At his ranch Wieder points out his bucking bulls. They are too young to rodeo, so he makes his living raising beef cattle and trucking. Their names reflect his sense of humor. "The one with the horn is a half-breed, beef and bucking bred, so I call him Leon," he jokes. The others are Brucellosis, Firewater, Scapegoat and Lost Boy.
Lost Boy Livestock is the name of Wieder's business. "Me and my buddies started calling each other Lost Boys because we were always looking for a Wendy to take care of us," he says, laughing. His levity contains a darker truth. In 2010, he was a lost boy himself. "I was in a bad situation, having angry thoughts and partying too much."
Wieder founded Spur the Cancer with the goal of helping his cousins mourn their mom (Austin was 21, Alex 11, when Lynette died) and to aid others with cancer. But in doing so, he also saved himself.
His first cross-Montana ride began in Beach, North Dakota, on May 17, 2011, his aunt's birthday. He struggled physically and emotionally in grueling conditions. Rain fell day and night. He dodged rattlesnakes. His horse fell over on him. He had numerous close encounters with trucks.
"When you're by yourself on a horse in the middle of nowhere," Wieder explains, "there's only one way to fix a problem — deal with it yourself." Miles in the saddle brought a revelation: "There's always someone who has been through more shit than you have." Many people have a similar epiphany, but few act on it. Wieder did.
The first person he helped was Carol Cheff, a mother of four from Polson, Montana. Wieder gave her funds to save her home when medical expenses threatened its loss.
Unfortunately, there were hard lessons, too. Wieder had just bought a new truck and a few local people speculated that he used the nonprofit funds to do so. Cheff told him, "People are always going to have something bad to say about you when you're doing something good."
Sadly, she died in 2012. That same year, Wieder received the ServeMontana Award from Lt. Gov. John Bohlinger. He held up a thank-you card from Cheff and said, "I appreciate this award, but this is the only 'thank you' I'll ever need." He placed the trophy atop his aunt's gravestone.
Back at the rodeo, evening falls. Seventeen-year-old Dalton Brooks rides Chocolate Thunder for 5.7 seconds. Bradley lasts 5.5, making his son proud. Wieder gives a moving speech. The downpour never comes.
The event only breaks even, which solidifies Wieder's decision that it will be the last Spur the Cancer fundraiser. But it serves its purpose as a celebration of lives lost and saved. Wieder accomplished what he set out to do. The mourning period is over. It is time for him to start living his dream. It's time to buck some bulls.