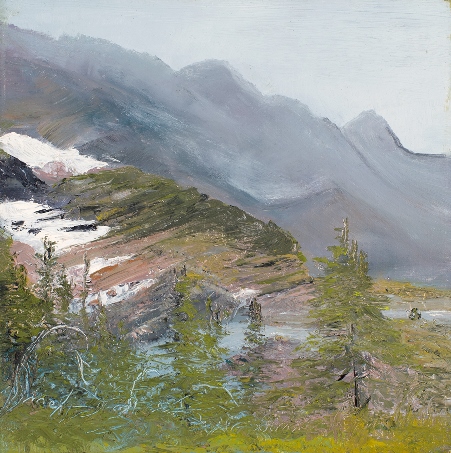 01 Oct

HOCKADAY HOSTS "GATEWAY TO GLACIER"

in

In August 2015, award-winning artist Mary Edna Fraser was Glacier National Park's Artist in Residency and stayed at the Sperry Chalet to inspire and create her work. The result: 14 plein air oils, photography, books, and numerous batiks on silk. 

Experience this variety of artwork in the upcoming exhibit, "Gateway to Glacier," opening with a reception on Thursday, October 3, 2019 from 5-7 p.m. The artist will be in attendance. The event is free for members and open to the general public for a $10 admission. With more than 100 one-woman exhibits to Fraser's credit, the Hockaday is honored to host this upcoming exhibition with this talented artist. 

Fraser, a master batik artist, teaches worldwide, and uses digital aerial photography, oil painting, monotypes, and watercolors in her work. Fraser has visited 31 National Parks over her career and takes her inspiration from these landscapes to work en plein air to capture the beauty of a specific time and place. 

Her "Gateway to Glacier" exhibit also contains a scholarly component, bringing attention to conservation of this cherished wilderness. Geoscientist Orrin H. Pilkey provides the text to accompany Mary Edna's art. Both have been featured by National Geographic, National Academy of Sciences, and the Smithsonian National Air and Space Museum. The austerity of geology is revealed in the monumental landscape when hiking to the retreating Sperry Glacier and the Continental Divide. 

With its mission to preserve the artistic legacy of Glacier National Park and the region, it is fitting that the Hockaday Museum of Art present this special collection to the community. Adding to the timeliness of the event is the nearly-completed construction goal to repair and renovate the Sperry Chalet after the 2017 fires. Join us for an inspiring exhibit of this committed and talented environmental artist whose career is devoted to the protection of public landscapes. 

The exhibit runs Oct 4-Jan 4, 2020. For more information, visit www.hockdaymuseum.org or call 406-755- 5268.