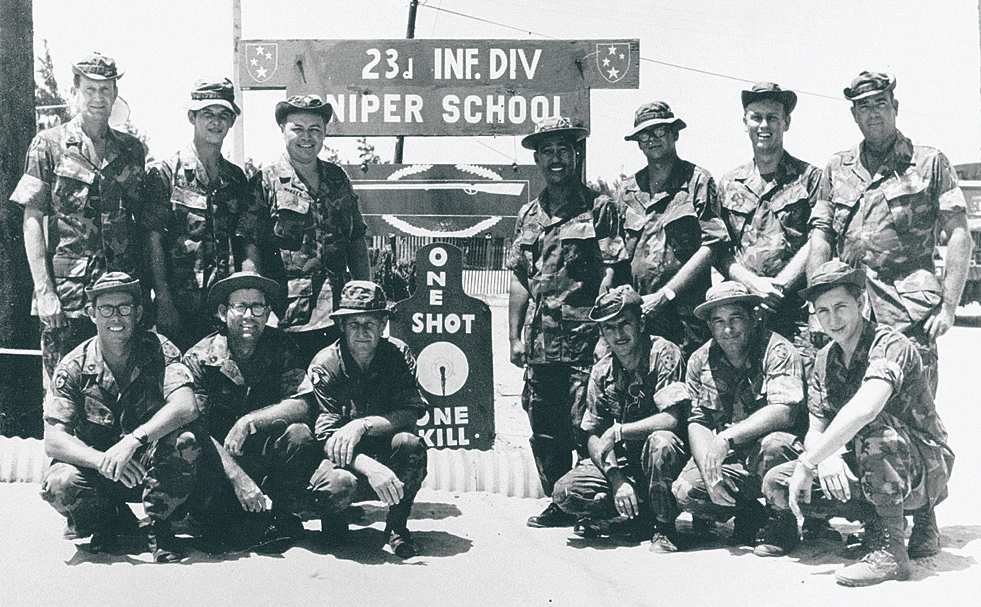 Maj. Lones Wigger (third from top left) is pictured here with the 23rd Infantry Division. COURTESY OF USA SHOOTING
29 Sep

History: Local Legend

in

Montana's Lones Wigger was, unquestionably, among the finest competitive shooters in American history. While his fame exists mostly in the marksmanship niche, Wigger's name belongs alongside the legends of the Old West when it comes to rifle skills. 

Wigger — who died in 2017 at age 80 — made the U.S. Olympic shooting team on four occasions. He represented the U.S. at seven World Championships and seven Pan American Games. He won gold medals at the 1964 Tokyo and 1972 Munich Summer Olympics, as well as a silver in Tokyo. He earned his three Olympic medals in three different shooting disciplines — a feat no other competitive shooter in history had matched to that point. Wigger won 91 national championships and 27 world championships in a range of shooting disciplines, and once held 29 world records in marksmanship. In all, he won 111 medals in international shooting competitions.

Long before he reached the international stage, Wigger was a typical kid from Big Sky Country — a farmer and an outdoorsman who gloried in everything his home had to offer. Lones (pronounced Lone-iss) Wesley Wigger Jr. was born in Great Falls on August 25, 1937, the eldest son of Lones Wigger Sr. and his wife, Violet. Wigger was raised in Carter, a town of 58 people located northeast of Great Falls and 14 miles from Fort Benton (population 1,200), the seat of Chouteau County and the closest town of any size to the Wigger family farm. When Wigger's success introduced Chouteau County to much of the world, Fort Benton hosted several events in his honor, including a Lones Wigger Day in 1972 to commemorate his gold medal in Munich. 

Wigger was a quintessential range rat. His father ran a local shooting range, the Carter Rifle Club, which formed before World War I but went dormant for a time until Wigger Sr. helped it to reopen in the mid-1930s. The younger Wigger's ties to the range provided him with ample opportunity to master his craft. Wigger Sr. taught his son to be a versatile outdoorsman in the harsh and beautiful terrain of Montana, schooling him in the ways a person could harvest from the earth and take shelter on it.

From an early age, Wigger was particularly focused on marksmanship, especially since his first sporting love, baseball, was not an option locally. Carter was too small to support a Little League team, so the younger Wigger worked on his shooting. He couldn't have asked for a better teacher, learning from a father who helped found the Montana Hunter's Education program and was a certified instructor in eight shooting disciplines by the National Rifle Association.

Certainly, the Wigger family knew the meaning of hard work. Wigger and his two siblings helped his parents manage a 2,000-acre spread of wheat and barley, along with their shooting range. By his teens, Wigger was winning marksmanship competitions across Montana. He attended Montana State University in Bozeman on an ROTC scholarship and joined the shooting team, where he was a standout and served as team captain, earning All-America honors on three occasions. 

While in Bozeman, Wigger met Mary Kay Spencer, a fellow student whom he married in 1958. The couple had three children: daughter Deena and sons Ron and Daniel.

After graduating, Wigger fulfilled his ROTC commitments by joining the U.S. Army, where he started competing in national and international rifle tournaments almost immediately. Second Lt. Wigger's acumen as a shooter helped him rise quickly through the ranks. He retired from the U.S. Army in 1986 as a lieutenant colonel. For much of his career, Wigger taught riflery to soldiers at Fort Benning, Georgia, working with the U.S. Army Marksmanship Unit. He instructed snipers during two tours of duty in Vietnam in 1967 and 1971, which interrupted his competitive shooting career. 

By the time he was training snipers in Vietnam, Wigger was already a legend in the world of competitive shooting. He was a sensation at the 1964 Summer Games, setting a world record in the 50-meter three-position (kneeling, prone, and standing) smallbore rifle competition en route to his gold medal. He then earned a silver medal in the 50-meter smallbore rifle prone competition. 

Wigger's service in Vietnam limited his ability to prepare for the 1968 Summer Olympics in Mexico City, where he finished eighth in the 50-meter smallbore rifle prone competition. In 1972, Wigger returned to the top of the podium, setting a world record while claiming gold in the three-position centerfire rifle competition from 300 meters.

In 1980, Wigger was again selected for the U.S. Olympic shooting team, but the American boycott prevented him from competing in Moscow. He returned in 1988 as team captain of USA Shooting at the Seoul Summer Olympics, where his daughter, Deena, a world champion in her own right, represented the United States on the women's shooting team.

After retiring from the Armed Forces, Wigger served as president of USA Shooting from 1987 to 1994, relocating to Colorado Springs, which remained his home away from Montana for the rest of his life. 

In retirement, Wigger accepted a cornucopia of lifetime achievement awards. In 2008, he was inducted into the U.S. Olympic Hall of Fame as well as the U.S. International Shooting Hall of Fame. Wigger was selected by the United States Olympic Committee in 1996 as one of the 100 Golden American Olympians — an honor bestowed on the 100th year of the modern Olympics. Wigger carried the Olympic torch at the 1996 Atlanta Summer Games, then again at the 2002 Salt Lake Winter Games.

Wigger battled pancreatic cancer in his later years. Not long before succumbing to his illness, USA Shooting dedicated the U.S. Olympic Shooting Center Range in Colorado Springs in his honor. He died on December 14, 2017, in Colorado Springs. His final resting place is where it all began — back home in Montana, at the Carter Cemetery. While Montana always remained near to his heart, his life's work brought him to places very far away. As he excelled in his craft and taught it to others, Lones Wigger became a fine ambassador for Big Sky Country.

Clayton Trutor teaches history at Norwich University in Vermont. He is the author of Loserville: How Professional Sports Remade Atlanta — and How Atlanta Remade Professional Sports (2022) and the forthcoming Boston Ball: Jim Calhoun, Rick Pitino, Gary Williams, and College Basketball's Forgotten Cradle of Coaches (2023).