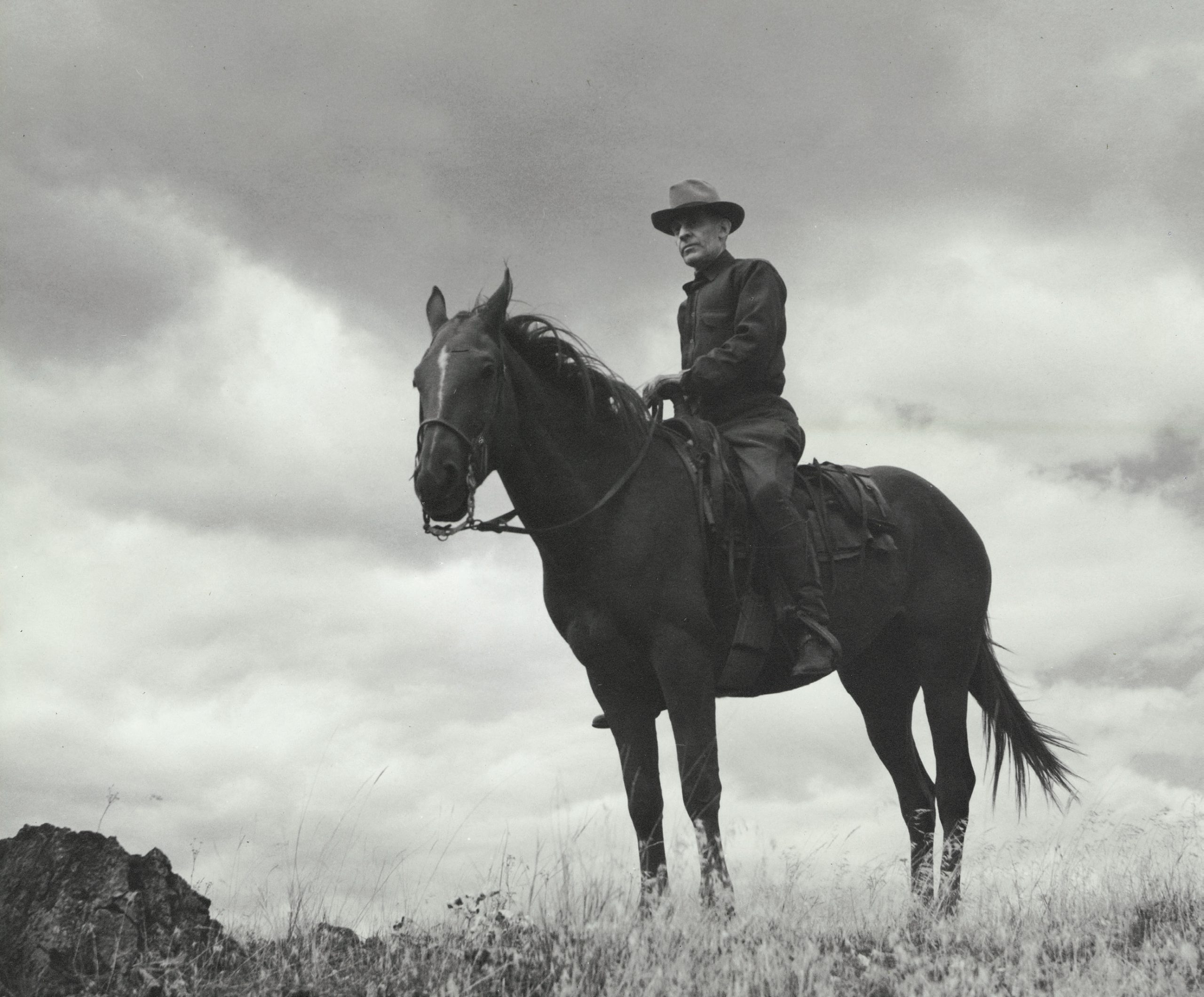 Elers Koch, on his horse Blaze, looks out over the landscape, circa 1940.
02 Jun

History: Forest Service Philosopher

in

In the summer of 1910, Idaho and Western Montana suffered one of the most devastating fires in the nation's history. It was a conflagration that historians refer to as the "Big Burn," which killed 87 people and turned 3 million acres of trees — an area the size of Connecticut — into cinder and ash. In response to the disaster, Congress doubled the budget of the newly formed Forest Service, which henceforth made the total suppression of future fires the cornerstone of its management philosophy. What came out of that was the infamous "ten o'clock rule," stating that when a fire broke out in one of the nation's forests, it had to be put out by 10 a.m. the next morning.

One of the chief foresters who fought the Big Burn was a Montanan named Elers Koch, and his experiences eventually led him to question the wisdom of the official response. Born in 1880 in Bozeman, Montana, the son of pioneer Peter Gyllembourg Koch and his wife Laurentze, Koch was known as a woodsman's woodsman, a man whose colleagues marveled at his ability to hike more than 20 grueling miles before dinner, and then relax with a few more miles for dessert. His prowess as a horseman and consummate skills in just about every aspect of outdoorsmanship made him the stuff of legend among his fellow foresters. It was no wonder that Gifford Pinchot, the first head of the Forest Service, recruited him to pursue a master's degree in forestry from the freshly founded Yale School of Forestry, which Koch completed in 1903.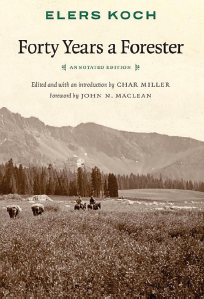 Pinchot first assigned Koch to survey the wilderness around Mount Shasta in California. Based on his superlative performance at that task, Pinchot then appointed him supervisor of the vast forests along the Rocky Mountains in Idaho and Montana. Throughout his career, Koch mentored generations of foresters and conservationists, including Bob Marshall, for whom a wilderness area in Western Montana is named. At the end of his career, Koch sat down to write Forty Years a Forester, a book that was originally published in 1953, and was recently reprinted as a fully annotated edition introduced by Char Miller, the W. M. Keck Professor of Environmental Analysis and History at Pomona College.
Koch belonged to a generation of outdoorsmen who exulted in the untrammeled forests of the West, but he also possessed a talent for writing about it, and for integrating the sciences with the humanities — a holism all but vanished from our STEM-education-obsessed academies. Forty Years catalogs a life in the woods that was driven by science, but tempered by a philosophical reverence for nature, akin to that of such philosophers as Martin Heidegger and Henry Bugbee.
Koch knew whereof he spoke, having been among the Forest Service men who valiantly waged war against the flames along the Lochsa and Selway rivers in 1910. Some 25 years after the Big Burn, Koch penned "The Passing of the Lolo Trail" in the Journal of Forestry, which has now become something of a masterpiece in environmentalist circles. In that essay, Koch wondered aloud about the dubious principle of fire suppression, among other misguided dogmas: "Has all this effort and expenditure of millions of dollars added anything to human good? Is it possible that it was all a ghastly mistake, like plowing up the good buffalo grass sod of the dry prairies?"
In "The Passing of the Lolo Trail," (included as Chapter 12 in Forty Years) Koch's views were articulated in numerous passages of memorable prose in 1935. The essay has become an environmental gospel for the 21st century, influencing the modern-day "let it burn" policy, which allows forest fires of natural origin to burn in controlled situations. In Koch's writing, readers encounter the quiet personality of a man who, after his death, became larger than life. He was not only important to the history of Montana, but also for the nationally-treasured public lands in the West, as he forged a new philosophy for their management.
In his writing, Koch examined the conception of the West — often in ways that countered the ordinary narratives of the exploitation and exhaustion of Native people and natural resources. He was not hesitant to question, and sometimes rebuke, our impulse to make a fetish of wildness and the big sky, or to idly sanctify this region of the West called Montana, a tendency epitomized in phrases like "the last best place." By 1935, Koch had already absorbed the tragedy of what vanishing wilderness would mean for the American psyche: "No more will the mountain man ride the high ridges between the Kooskooskee and the Chopunnish, 'smoking his pipe in the mountains, sniffing the morning cool,'" he wrote in "The Passing of the Lolo Trail." With poetic brevity, he anticipated environmentalist and author Edward Abbey, explaining with uncanny succinctness what really is at stake in the ongoing battle over the last of our roadless areas, writing that "Roads are such final and irretrievable facts."
At other times, and despite his seniority, Koch comes off sounding a bit like a progressive Young Turk: "If the old men in control of governments of the world could be suddenly and painlessly eliminated, and affairs turned over to young men under 40, we might get somewhere."
Koch spent his final years in Missoula, Montana, in a house on what was then the edge of town, not too far from the University of Montana, where he and his wife routinely hosted European-style salons on Sunday afternoons. After a lifetime of pushing himself to every imaginable limit in the woods he revered, he suffered excruciating pain from arthritis and sciatica, which compelled him to end his life on his own terms in 1954.
Like his mentors before him and his protégés after, Koch understood America's public lands in almost sacred terms, as an undeserved treasure that unites us as a country and endows us with a shared national trust. In Forty Years, he wrote: "While as a forester, I may be gratified at the success in reestablishing a fine stand of seedling pines, still I cannot help recalling what the virgin stand looked like, and knowing it will be one hundred years or more before we again have a big forest. … If we hope to retain any such areas for our future pleasure, they must be specially protected parks or natural areas."
In an age when those public lands are under constant assault from those who would like to privatize them, we would do well to heed the words of Koch.