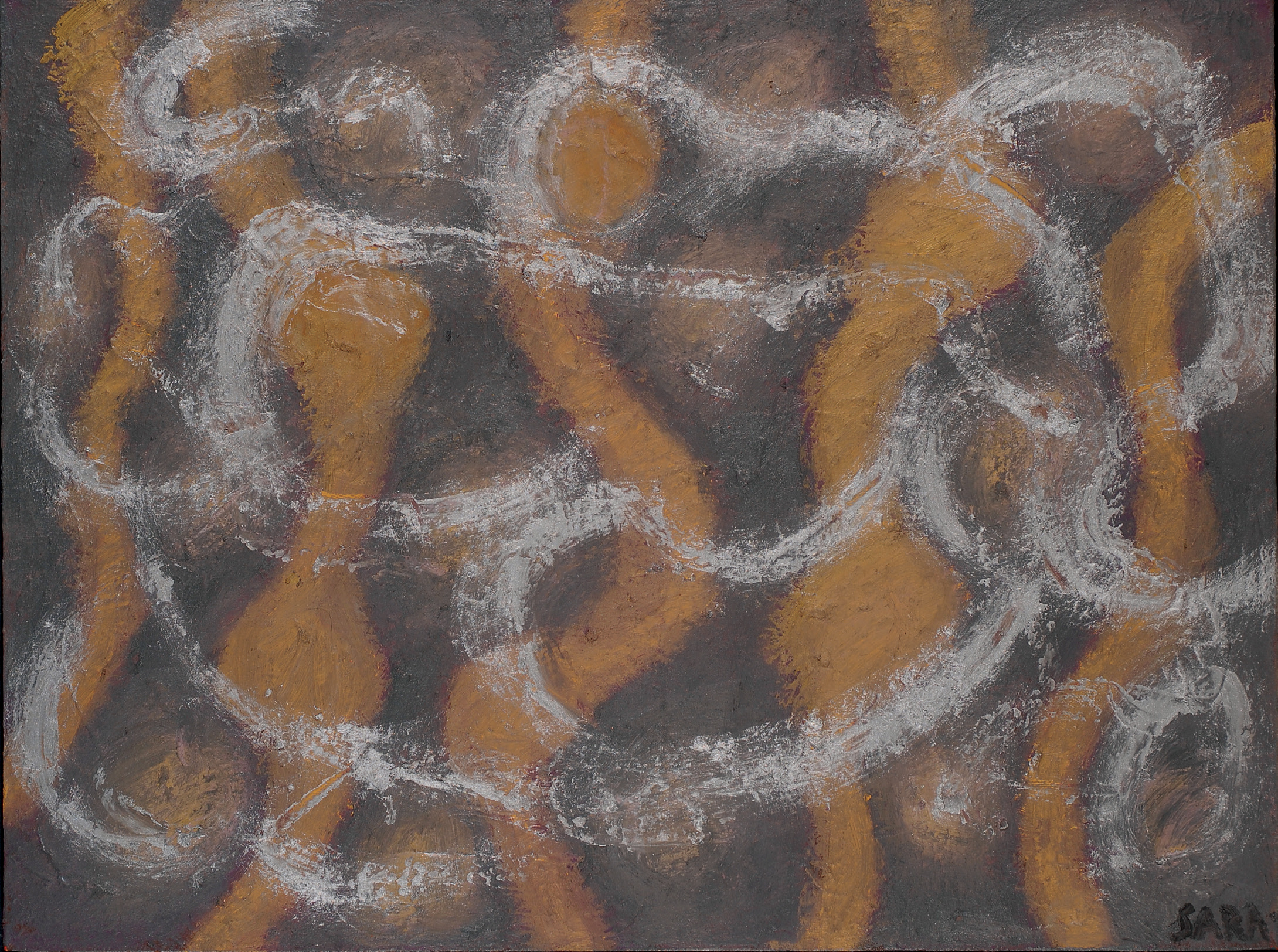 Worm Dance | Oil on canvas | 30 x 40 inches
05 Aug

History: Dreams of Idaho

in

The artwork of Sara Joyce (1923-2011) embodies her own personal language, a rich organic response to the Idaho landscape that was familiar to her, and a deep investigation of color. Her abstracted compositions in oils, fabric, and clay — derived from her dream journals — convey a complex understanding of Modernism at a time when it was not yet part of the language of the West.

Joyce's childhood was spent migrating around the Southwest while her father was seeking work during the Depression. These travels allowed her to absorb the landscapes that were home to the Navajo, Hopi, and Apache tribes. Once married and with children, she and her family were based outside of Pocatello, Idaho, where much of her time was spent concentrating on her artwork and feeding her inner curiosities, studying topics that included Paul Klee's color theory and Carl Jung's structures of the collective unconscious.

"Her life centered around her art," recalls her son, Bill Caccia. "She was dynamic — it didn't matter what she did, she would try to do it with her art in mind. She'd wake up in the middle of the night and write down her dreams, then the next day she'd get up and make art about it."

When Joyce died in 2011, she left behind 29 journals. "We use the term 'journal' loosely," Caccia says. "Some are art books, some are sketchbooks, some are ledger notes, some are dream drawings, some are written dreams. She'd cut open an envelope to draw on it, then insert it into the books."

All together there are roughly 3,000 pages filled with Joyce's insights into Klee's complex language of personal signs and symbols, imagery infused with the rhythms of musical compositions that, as Klee would say, could be played like a "chromatic keyboard." This color theory, based on the idea of color as a symbol for dynamic movement, includes the artist's interaction with the real world.

Joyce also delved deeply into Jung's ideas about universal meanings across cultures. The psychologist believed that symbols from different cultures are often similar because they have emerged from archetypes shared by the whole human race, and they are part of a collective unconscious. For Joyce, these often showed up in her dreams and were translated into art.

Courtney Gilbert, the curator of visual arts at the Sun Valley Museum of Art, recently included Joyce's work in the exhibition Behind the Sagebrush Curtain: Women Modernists in Idaho and Montana. "One of the things that's so amazing to me is that she was working in a style that was so Modernist and so atypical of painting in the American West in that period," Gilbert says. "Her work was rooted in Idaho, and you see references to the land, but she was wrestling with the ideas of so many cultures."

Gilbert appreciates the context that the journals give to Joyce's artwork. "You can see that she's looking at so many source materials from Jung to Buddhism," Gilbert says. "It's the way she's processing the ideas. There are all these sketches and drawings that appear to be pretty simple, but they are really extremely complex."

In the painting Worm Dance, Joyce's textures and colors combine to induce movement. Earth tones deepen to push the serpentine symbols through the dark to the lighter layer sifted over top. Her use of worm figures, which also could be interpreted as snakes, reflect a universal symbol that is used in Hindu, Judeo-Christian, ancient Egyptian, Mesopotamian, Buddhist, and Greek religions. The symbol itself has been used to represent everything from evil temptations to fertility and healing. Yet, in this painting it feels almost human and spirit-like; the dance conjuring. It could be ceremonial, or just springtime when the worms seem to dance in the dirt.

"One of the things I love about her abstract works is that in many of them you have these recognizable shapes and forms that allude to things in the real world, in symbols," Gilbert says. "In a way, she's asking you to look at these forms more closely, encouraging the act of close-looking in daily life."

This is a philosophy that Joyce lived by, Caccia notes, and when he was growing up, nothing was off-limits. "She was tolerant, accepting, loving, and caring," he says. "She was interested in so many things. … She had everyone who came over make handprints, and they were hung all over the house." She also set up work stations for making rock murals, or for gardening. "She was a humanist and intolerant of inequalities of any kind, she had strong opinions about that," he adds.

Joyce's textile work reflects both the complexities and simplicities of her paintings, in that she used visible stitching to create three-dimensional objects. Her piece Buddha Rock, for example, conveys the reflective quality of meditation. The fabric's design runs this way and that, and the stitching seems almost random. However, the image tugs at the mind: the way it sits, the way it is not one thing, and the way it asks the viewer to be present.

Joyce once said, "Creating interesting art causes unusual behavior." Life and art, learning and exploring, both became one and the same for her. Present in her work is the freedom of discovery, and during her lifetime, she rarely showed her work, and even more rarely sold it. She was not of a mind to make commercial art. The art was the thing.

"All of her work — fabric, clay, and painting — was interconnected," Caccia says. "Dreams, she would write about them, then do a clay piece about them, then a fabric piece that ties into that. It's all intertwined. My mother used to talk about an old Hindu saying: 'Identify what you are not, what's left is who you are.' She was a lifelong self-taught student of the world."

Since her death, Joyce's work has been acquired for many permanent museum collections, including the Pacific Northwest Quilt & Fiber Arts Museum, the Art Museum of Eastern Idaho, and the Boise Art Museum.