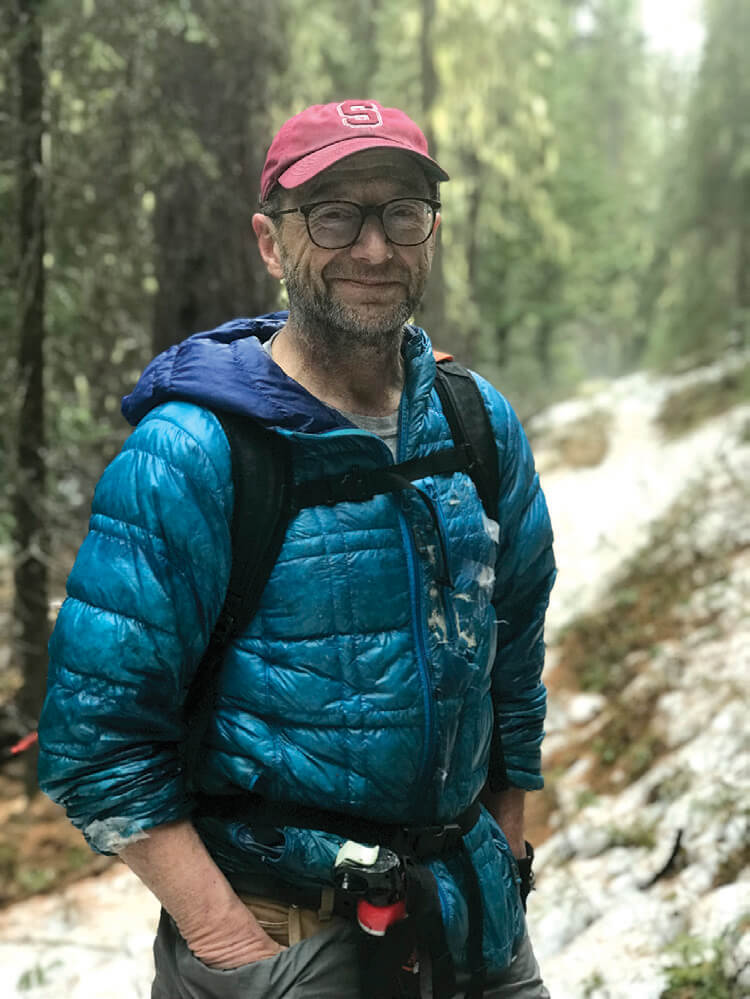 09 Aug

Headwaters

in

The wall behind Rick Bass glows in the early winter hours like sunlit jars of honey. He is set up to lead a writer's workshop from a young musician's Western red cedar-paneled studio. Bass is alone, save for a jumble of dogs and a couple of fostered kittens underfoot. It's a weekend in mid-December, and a group of eight writers from around the country has gathered remotely to study fiction, nonfiction, and poetry with the renowned author. And even the virtual, isolated format can't blunt Bass's enthusiasm for a committed writing path.

By way of introduction, he asks, "What are you hungry for? What are others hungry for?"

A high school English teacher is "hungry for emotion that's not sentimental, poetry that's not a gimmick." A sharp-eyed college athlete on a pandemic-induced break from her sports and studies hopes to fuel a passion more lasting than soccer or school. A fiction writer tells the group, "I'm hungry for work that acknowledges just how strange and bizarre life really is."

Each participant submitted a manuscript to share, examine, and, in some cases, re-imagine during a morning or afternoon session. At their worst, workshops have a sticky reputation for being teacher-heavy, writer-silenced hours, often bookended with tears. But in my experiences working with Bass, I've seen him turn away from this nerve-wracking playbook. The southern manners of his youth and a humility that's been earned through the work he's done to protect Montana's Yaak Valley, the place he calls home, are present now. These traits have proven to be a more effective way to share what he's learned over the decades. After a career mapping oil and gas reserves earlier in his life, for this self-taught writer, teaching holds a closer kinship to hunting — of buried treasure, elusive game, the unexpected ending to a short story — than any formal strictures or breezy trends of academia.

Bass is as devoted to knowing and defending the Yaak as he is to writing and teaching. He's the author of more than 30 books of fiction and nonfiction and a vital member of the Western writer-activist tradition. This complexity in Bass, one layer of devotion inseparable from another, means the weekend will reach beyond the usual limits of a writing workshop, seeping through the walls of the cedar-paneled room. Together, nine of us on a screen, will travel past any digital confines and on to California fires, a boy's coming of age, and surprising twists of reality in the woods of Michigan, among other things. With Bass's questions and encouragement, we will return again and again to the pages before us, keeping in mind the slippery terrain of our shared uncertain times.

The first story up in the workshop belongs to Claire Tolliver, a college athlete from Bozeman, Montana. A clean rhythm to her sentences grounds us in the new grass and soft mud of a spring pasture, a horse's gait, and a rider's compulsion, rich in all their physicality. But Bass is no ordinary reader; he inhabits the dream of each story with a rare intensity. "What's the story about? Who wants what?" are his fundamental questions.

While we work through Tolliver's piece, Bass's head often rests on his left hand, as if the connections popping in his mind about character and motivation, tension and endings — all the potential in a story — need counterweight. Then, like a dancer, he lifts his head and straightens his back, revealing the beauty and meaning that's present in the honey-colored air.

Digging deeper into Tolliver's story — his hands animating intensifying questions — Bass reads aloud from the work slowly, with care. There's no need for adornment, not in Bass's writing, nor in his teaching. This isn't a performance, instead, it's the rendering of attention, the labor of fitting words to a dream.

"What can we do to help the writer make the story better?" he asks the group, before adding, "Better often means more interesting. With an interesting story, a lot can be forgiven."

We consider the minor characters, reflect on the mother-daughter relationship, and focus on the last paragraphs. Bass cautions against an emphasis on endings. "If the ending isn't working, it means something in the beginning or middle isn't working," he says. "Endings will write themselves." Bass refers to his work as coaching as much as it is teaching, with a focus on fundamentals. "I have an aesthetic which you can reject or accept," he says. "Repetition and familiarity give you that choice, in the moment."

Circling back to the story's horse-thrown rider, Bass makes visible an interleaving of writing and life. "Conflict!" he says, with a characteristic shot of laughter. "We love a trainwreck. There's a tendency for writers to resolve conflict too soon." From his cedar bunker, Bass pitches a flag for the basics. "Conflict is living problem-solving," he adds. "It's what we do."

Tolliver takes notes on her manuscript pages as the other writers comment and wonder from framed zoom squares. With Bass's questions and suggestions, we locate the story's best writing and its missed opportunities, imagine how in revision, it can be made more complex or surprising.

"Is there anything else you'd like us to cover?" Bass asks Tolliver. "Anything we left out?"

"I'm excited for all the possibilities," she replies.

Over the next two days, Bass listens and prompts, pen in hand. His keen editorial sense never rests — not for his own work, which he revises in real-time at any public reading, and not for the work of emerging writers. "I've had a lot of great editors," he says. "The best editor asked me, and taught me to ask, 'What if?'" Bass learned to write through immersion, through reading, through sitting down with a cheap notebook and entering another world, filling lined pages by longhand, as he still writes fiction to this day. He knows well the difference between talking about writing and getting the work done. And he knows the work is fueled by desire, even obsession.

One of the last manuscripts we critique is from poet Jennifer Ruby, the high school English teacher hungry for authenticity. She's full of desire, and fire — the fire that tore through California last summer. Forced to evacuate, Ruby grabbed a few possessions and has been writing about it ever since. She's caught between the details of individual poems and settling the arc of her poetry collection.

"What can you take or leave?" Ruby asks, referring to evacuation, and also cuts to her poem. Like Bass, this poet often speaks in the twin-layered language of writing and life experience. "We're trapped by what we would save, what we would lose," she says.

Words hold a different weight in poetry than prose, each line indispensable — until it's not. Cuts are suggested and debated by the group. At her own urging, Ruby's work is scaled back to its essence: fire and grief. Then she laughs and throws up her arms, "There's nothing to save!" she says.

Bass tears his copy of the discarded poem in two, and in the same moment, with his ever-moving pen, preserves the poet's real-time incantations: When this thing first started, I could tell you stories. I've evacuated from earthquakes. What a crazy year. It all happens so fast and unexpectedly, I'm not sure who's more invigorated by the space that's been cleared.

"What can I do with this event that I have no place for?" Bass says, putting words to the poet's burden. "I think she can get there. And I think she'll discover new, bigger truths as she gets there." Sending his belief in her and her work into the ether, Bass adds, "I only want this poem to be your best."

The next morning, our final session, Ruby is late to arrive. She's stayed up into the night trying to figure out the arc of her whole collection. She's tired but grateful, and she's eager to return to her writing. I think we all are.

In the closing hour of the workshop, Bass sweeps his desk clean for questions about publishing, agents, and writing careers. He returns to the basics of hard work and self-care, asking, "Y'all drink enough water?" before stating, "A great story makes all questions irrelevant. You should write it so well [that] it's going to be published."

After the weekend, I imagine Bass leaving the studio, the long road home, and waking the next morning to hike, hunt, or ski in his beloved and threatened home ground. Here, among the giant Western larch and cedar, the seeps and the headwaters, Rick Bass — writer, activist, teacher, father, friend — moves within the landscape that matches his heart.

I think of his concluding words from the workshop, hewn from decades of commitment to his craft and the wilderness, and passed to new writers without restriction, like a snowmelt current. "Raise your flag. State your values. Don't shortcut. Share what you love. Keep it going," he says.

Bass skips a parting stone, even a hopeful stone, from his vantage: "We artists are leaders," he states. "I didn't used to believe that. I believe it now." This is a stone to pick up and fit in your pocket, to carry and sculpt along the way.