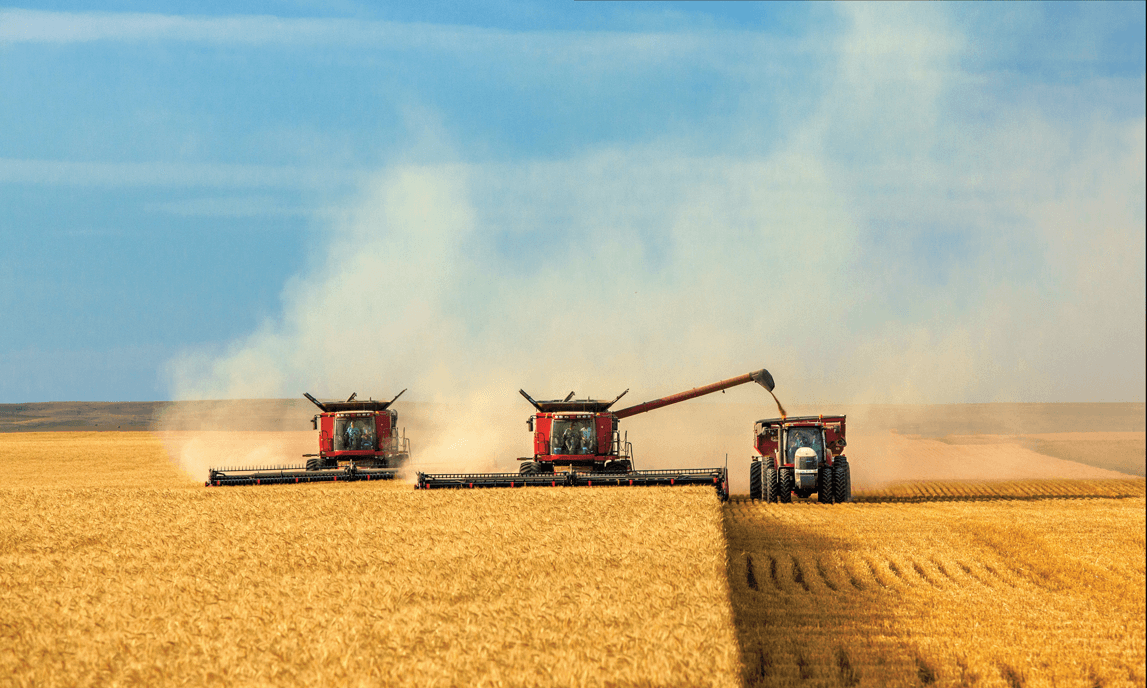 Barely slowing down, a farmer transfers his grain to a tractor and trailer. Farmers call it "the dump," and it is performed flawlessly over and over as machines and their operators keep to a tight schedule. Photographed by TODD KLASSY
29 Sep

Harvest

in

It's August and somewhere out beyond Big Sandy, behemoth machines crawl across the landscape. It's harvest time in Montana.

In late summer, the "Golden Triangle" of central Montana is alive with men, women, and machines bringing in the summer's crop of wheat — the iconic product of the Northern Plains. The Golden Triangle is generally defined as an upside-down triangle with the long base aligned neatly with the Canadian border from Glacier National Park eastward to Havre, and the "V" converging somewhere around Great Falls. It's about 20,000 square miles of some of the finest wheat fields in North America.

In bygone days, high school boys would hire on with local farmers, pickin' bales just before the start of school. Small open-air combines operated by individual farmers struggled against tall grain fields. Now, machines of bewildering size and complexity do all the work. And many of the largest local farm owners contract with seasonal cutting crews to bring in the wheat. They are a roving, peripatetic bunch, seasoned to the rigors of living away from home for months and steeped in the demands of long days and nights in hot fields punctuated by brief moments of rest in travel trailers. With their machines, they are the go-to gatherers of the product — the harvest season's hired guns.

Inside the operator's station of the air-conditioned and stereo-imbedded cab is a dizzying array of digital displays not unlike those found in a small aircraft. All are on a small pedestal touchscreen monitor that tracks every moving part, every bushel of product. The operator drives the 300-horsepower machine using a joystick plastered with push buttons. Most have pneumatic, cushioned power seats with a nearby refrigerator full of cold drinks. 

These days, modern combines have lasers that guide the cutter bar into the standing wheat with precision accuracy so that no stalk is left untouched. That's not to say that the operator doesn't need to be vigilant. There are screens, fluid levels, and power settings to monitor to ensure that each pass is measured for maximum output. There are even exterior 360-degree LED lights so the operator can work through the night. Nighttime is often the best time for harvesting wheat, the evening moisture content and air temperatures at that just-right level as measured by onboard sensors in the swathers. 

Entombed underneath the combine's many service hatches are a bazillion moving parts, any one of which can break and shut down the whole operation. That's why there are service trucks, too — hulky, bulky vehicles designed to be the urgent care on wheels when machines break down. And when a breakdown occurs, the mechanics roll out immediately, because downtime for the field crews must be minimized. They carry welders, vises, fluids, belts, cranes, grinders, compressors, drills, and side-bunkers full of parts.

Combines come with wide swather bars and headers (also called drapers) that can cut passes up to 45 feet in width, but can also be hitched to the machine and hauled lengthwise down the highway to the next field. Farmers seed their fields in dimensions that replicate the width of a standard swather so that each field equates to a tailored number of passes, no more and no less. And when a field is harvested right, each swath path is left with a clean, crew-cut stubble field.

Custom cutter crews also include diesel grain trucks that haul the product to the farmer's field silos or commercial grain elevators usually located along the BNSF Railway's main line, the Hi-Line that spans northern Montana. The big 18-wheelers look preposterously out of place far out in a stubble field or lumbering down gravel country roads. License plates run from Kansas to Colorado to Oklahoma and tell the nomadic story of custom cutter crews who move as fields ripen.

Aaron Hooper of H & H Harvesting in Oklahoma is one of these rovers. He and his crew spend six to seven months away from home, chasing the crops. By mid-August, he finds himself in Fort Benton. He and his crew bunk at the Pioneer Lodge or in travel trailers parked near the Choteau County Fairgrounds. The Front Street Palace Bar is his informal office, where he works his phone, sorts paperwork over a cold beer, orders parts, and keeps in touch on FaceTime with his wife and two children back home. 

"She married into it," he says of his wife, "and she's stuck through it all for 13 years." 

Since there are few places to eat in Fort Benton, Hooper often arranges to have food brought into the bar for his crew. Natasha Cook, owner of the bar, has her mother prepare beef stew, stroganoff, meatloaf, baked potatoes, and fruit salads in a sort of small-town catering symbiosis. H & H Harvesting contracts with six area farmers for nearly two months each year, keeping their eight combines, ten grain trucks, three service trucks, and five tractors humming every day. 

"We can do 1,500 acres in a day if all our machines are working well," he says.

This year, some of Hooper's crew members are from South Africa, here on H-2A work visas. "It's tough finding young men back home who are willing to be gone this long," he says. "We'll work straight through to Thanksgiving." Hooper requires workers who commit to the May-through-November season. They must submit to background checks and drug tests, and supply strong references to apply for the positions of semi-truck, combine, or tractor operator. After the wheat is in, Hooper will head south again, working the harvest of other crops in Kansas, Nebraska, and Colorado: "Corn, sorghum, milo — you know, cow feed."

Once the season is over, Hooper's South African employees return home, as required by their visas, where they typically work on fishing boats or for trucking companies. This year, eight of his crew of 13 are new. "I get workers by word of mouth — friends, referrals, family connections," he says. 

In so many ways, cutter employees are no different than seasonal firefighters or ski lift operators. In a world of unconventional workplaces, it suits many.

Meanwhile, up north toward Havre, Rob Meyers is broken down, his $750,000 combine suffering from a phantom hydraulic leak he and his son, Travis, are trying to locate. 

"Second time this week," he says as he walks toward his service truck to grab wrenches. "I do believe it would be easier to fly a jet airliner than [operate] one of these things. They've gotten so complex." 

He gestures to the array of belts, hoses, sorting plates, and wiring underneath an access hatch. A father-and-son team that farms in the area, Rob and Travis own their equipment and pride themselves on not having to rely on professional custom cutters. "Some are just born to this. Been doin' it so long ourselves that it don't make sense to us," he says, speaking to the custom-cutter culture. "Besides, we don't have the acreage to cover. We manage to get grain in on time."

Certainly, timing is everything. Farmers are the consummate meteorologists, with a watchful eye to the sky, Internet forecasting sites, and radar screens. In addition to a dog and lunchbox, the laptop and handheld GPS are fundamental essentials in the contemporary farmer's pickup.

Over near Dutton, it's lunchtime. Fourth-generation farmer Kate Stephens and her family gather in the shade of a grain truck to enjoy ham-and-cheese croissant sandwiches, watermelon, potato salad, and lemonade. Lots of it. They hire Lily Wahl each season to bring lunch from her home in town. Wahl's husband, Steve, also drives a grain truck for them in the storied legacy of the small-town ag partnership. Unlike the roving cutter crews, and in a similar fashion to the Meyers, the Stephens crew does it all themselves, recruiting locals, family members, and friends looking for short-term work.

With lunch over, it's back to the combine and off to the next field on a landscape that seems to stretch in endless acres to the horizon.

Parker Trucking and Harvesting, based in Kansas and owned by Amanda and Brett Parker, is preparing to pull out of the Golden Triangle and head south after the traditional harvest party the night before. The gathering, usually fueled with barbecue and beer, is hosted by the farmers, whose fields are now stubble, and is an annual ritual. 

The Parker family has harvested commercially for nearly 80 years. Theirs is a large operation, with over 300 tires on the ground between Fairfield and Cut Bank — that includes 14 different farms bringing in lentils, chickpeas, mustard, garbanzo, flax, and canola, in addition to the staple spring and winter wheat. 

"When we pack up and leave at the end of August, we look like a military convoy snaking down the highway," Amanda says, laughing.

Like Hooper, the Parkers rely on foreign workers from South Africa to fill out their 20-person crew. "Eighty percent of our employees are foreign workers," Amanda says. "They are white male 20-year-olds who have limited job opportunities in South Africa. We have trouble finding that kind of traveling workforce in America." 

As additional reinforcements, and to maintain some semblance of family life, the Parkers bring along their five daughters, aged 6 to 16, to help with food preparation, equipment cleaning, and camp chores. "The people we work with — the townsfolk, church members, farm families — and the strong relationships forged over the years make all the hardship worth it. Though our home is in Kansas, these people have become extensions of our home life." 

To start the crew off each day, Amanda provides them with fixings for breakfast at the "bunkhouse" — a 53-foot van trailer that can sleep 31 people. She sends them off with drinks and sack lunches and feeds them a meat-and-potatoes dinner upon their return. "They could be 50 or 60 miles from town on any given day, so the days are long and tiresome," she says. "Those pioneer women, I don't know how they did it. Sure, it was smaller operations back then, but man, you gotta admire their toughness."

In a Willa Cather O Pioneers! tradition, Amanda, her family, and her crews work the fields. This year, the Parkers will harvest almost 60,000 acres of Montana crops in the time-old practice of bringing in the sheaves.

In the likely future, fully autonomous harvesting machines will be self-driven, guided by satellites to GPS-gridded fields, while some farmers adhere to bringing in the wheat the old way, themselves. But for now, it is late summer in central Montana, and men, women, and their powerful machines mingle in the dust: It's harvest time.