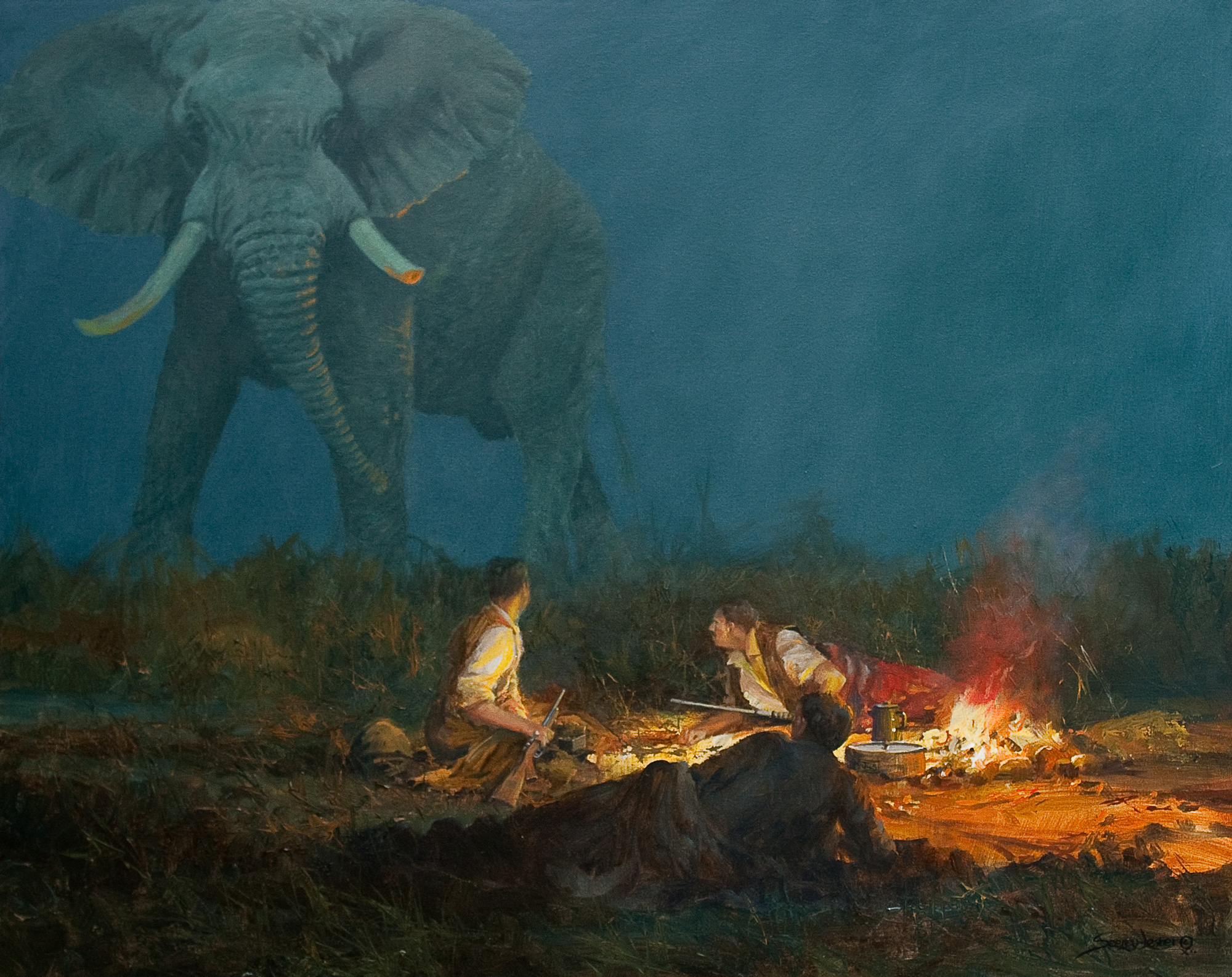 15 Jul

Arts 2012 Round Up

in
---
Summer at the Russell
Charles M. Russell, the iconic and revered painter known for creating more than 4,000 images of the daily life of cowboys and Plains Native Americans during the late 1800s and early 1900s, captured the Western spirit in his narrative and dynamic work. This summer, his namesake museum in Great Falls will offer three shows including the opening of a permanent sculpture garden, an exhibition of Montana painters and more than 100 well-preserved Russell watercolors.
The dedication ceremony for the museum's newest and permanent installation, a life-size sculpture garden donated by the Charlie Russell Riders, will take place at 10 a.m. July 7, at the museum. The garden will open with four major pieces: Bronze Buffalo by T.D. Kelsey; Trails Plowed Under by Jan Johansen; The Emperor by Dan Ostermiller; and Nose to the Wind by Joe Halko. All of the pieces are bronze sculptures, except Trails Plowed Under, which is one of the original fiberglass sculptures featured in the museum's Buffalo Hunt project. The ceremony will include talks by members of the Russell Riders along with appearances by some of the artists who created the sculptures. The garden will develop with future acquisitions.
In addition to the dedication, the museum will host an exhibition featuring some 24 Montana painters during the Montana Painters Alliance: Historic Ranches of Montana. The show will feature both plein air and studio works from May 17 to September 3. Patrons of Russell's work will also have the chance to view a significant exhibition featuring more than 100 preserved watercolors during Romance Maker: The Watercolors of Charles M. Russell from June 15 to September 15 at the museum. For more information, visit cmrussell.org or call (406) 727-8787.
— CR
---
Got Red Ants in Your Pants?
The Red Ants Pants Music Festival will bring the lovely voices of Emmylou Harris and The Red Dirt Boys, Mary Chapin Carpenter and Taj Mahal to "the best cow pastures around" at the Jackson Ranches in White Sulphur Springs, Mont., from July 26 – 29. Along with headlining acts, 13 other bands will perform and there will be dancing downtown, vendors and camping. Weekend passes are $115 in advance and $130 at the gate. One-day passes run for $45 in advance and $50 at the gate. Camping passes, available at the grounds, are $10 for the weekend. Profits will benefit the Red Ants Pants Foundation, a non-profit organization that supports women's leadership, family farms and ranches and rural communities. Red Ants Pants are work pants designed by women for women. For more information, band bios and tickets, visit http://www.redantspantsmusicfestival.com. Volunteers are also welcome.
— CR
---
Western Visions: An Artful Month
Never has there been a more opportune time to rub elbows with working artists of the West than at the 2012 Western Visions event at the National Museum of Wildlife Art. In fact, it's the 25th anniversary for both NMWA and Western Visions, and this year's month-long event, from August 18 through September 23, include the Sketch and Original Prints shows and sales; Jewelry and Artisan Luncheon; the Miniatures and More Show and Sale; the Wild West Art Party, and much more. And that's not all! How about lectures, hands-on workshops, and parties galore? Plus, there will be ample opportunities to mingle with artists, including this year's featured creators, sculptor Richard Loffler and painter Tucker Smith, who will conduct an art workshop on horseback. The event will also see the unveiling of Loffler's 64-foot-long sculpture, Buffalo Trail, the last installation on the museum's sculpture trail.
For the full skinny on the 25th anniversary of the National Museum of Wildlife Art and Western Visions, visit www.wildlifeart.org.
— MM
---
Western Rendezvous
The Western Rendezvous of Art will take place Aug.16 – 19 in Helena. Sponsored by the Montana Historical Society, the show is a four-day celebration of the best in contemporary art featuring work from some 45 artists. Attendees will have the opportunity to purchase original art in a relaxed environment where prominent and up-and-coming artists will be on-hand to discuss their process. There will be a reception and awards on Friday night along with other activities during the weekend. Most events are held at the Red Lion Colonial Hotel. For more information, visit www.westrendart.org or call the Rendezvous at (406) 442-4263. — CR
---
Icons of the West
Dudley Dana spent Memorial Day weekend working 12-hour days, painting the walls of his gallery and arranging 120 pieces of art in preparation for the second annual Icons of the West show in downtown Missoula.
The summer exhibit, on display at the Dana Gallery through July 10, invited artists to create unique interpretations of Western icons to reveal visions of the West past and present. The nationally advertised show drew 234 submissions, which were narrowed down by a jury to 120 entrants who competed for $25,000 in prizes.
Icons of the West winners  were highlighted by the Best of Show award, which was granted to newcomer Julie Chaffee, of Missoula, whose painting titled Woman Kills Two Geese With One Shot received the $5,000 grand prize. Additionally, the Southwest Art Award of Excellence went to Jeff Hams for his art, Mislabeled; the Big Sky Journal Award of Excellence to Kevin Red Star; the Western Art & Architecture Award of Excellence to Wanda Choate; and the Western Art Collector Award of Excellence to Caleb Meyer.
Dana explained that after successfully hosting national exhibits, including two Oil Painters of America shows in 2006 and 2008, he wanted to create his own national show. After thinking about the concept for a few years, he was struck by a painting of a buffalo, titled Icon, that he saw in a gallery in Great Falls.
" … I thought 'oh, that's it! That's definitely an icon of the West.' It's the perfect idea for a show because there's all these icons that we've come to love and cherish, but the idea is also good fuel, it gets you out of your box," said Dana, who suspected he'd see paintings of bison, grizzly bears, cowboys and horses, but was surprised by images of oil wells, prostitutes and Apple computers.
"So that's kind of the fun part about it, is to leave it open to interpretation," he said. "It's almost like a spring board to discussion."
Dana hopes to expand the show into a week-long community event by working with other galleries next year. This summer the Dana Gallery will also host two plein air events; one in Missoula from July 6 to 11 and another in Big Sky from Aug. 15 to 18.
— CR
---
A Day in the Life
When Sam Easternson says, "Up close and personal," he means it. The videographer (aka "video-naturalist") has created Running Wild: A Video Installation by Sam Easterson. Displayed on seven flat-screen monitors, this first-of-its-kind installation was created specifically for the National Museum of Wildlife Art (NMWA) in Jackson Hole, Wyo.
If you've always wondered what it might be like to ride atop a bison, or better yet, be a bison, this is as close as you're likely to get without risking life and limb — or arrest by park authorities. These point-of-view cameras capture daily and nightly life of such creatures as gyrfalcons, bison, and squirrels. NMWA's curator of art, Adam Harris says, "Easterson's art is of particular interest to us because it shifts our vision from looking at an animal to seeing things from the animal's perspective."
The exhibit runs at the National Museum of Wildlife Art from May 26 through April 28, 2013 — plenty of time to imagine yourself as a bison. For more information on this not-to-be-missed exhibit, visit NMWA www.wildlifeart.org.
— MM
---
Art … on Speed!
Art will become a fast-paced spectator sport this August 17 – 18 at the Montana State Fair in Billings when the Western Art Rodeo Association will hold the Art Rodeo Competition as part of its show and sale at the fair's Western Art Gallery. With more than a quarter of a million folks attending the Montana State Fair each year, 2012 sees the Western Art Rodeo Association poised to take advantage of all those potential art lovers.
Jeff Wolf, founder of the WARA, likens the fast-paced event to "American Idol." A piece of art is paraded on a stage and judged by three professionals in the art industry — for one minute only.
Art categories include sculpture, carving, wet and dry mediums, photography, and silver and leather arts. Odd as it sounds, live audiences enjoy the event and react favorably to the fast pace. Visit www.westernartrodeoassociation.com for more details.
— MM
---
Edgar Paxson Watercolors at the Alberta Bair Museum
The Charles M. Bair Family Museum is currently featuring a special exhibit, Edgar Samuel Paxson: Illustrations from The Life of L.B. Stateler, A Story of Life on the Frontier. The work is on loan from Virginia Lee Speck and runs from May 1 to July 15, 2012.
Unlike other Western artists of his day, including Charlie Russell and Frederic Remington, Edgar S. Paxson was largely unknown, yet he was a prolific artist who lived in Montana from 1877, and personally knew many of the participants of the era's major events. Best known for his most famous painting, Custer's Last Stand which now hangs in the Buffalo Bill Historical Center, in Cody, Wyoming, in the early 20th century Paxson accepted several commissions to illustrate books, and the eight original watercolors in this exhibit were completed in 1907 for the Life of L.B. Stateler, A Story of Life on the Frontier: Containing Incidents, Anecdotes, and Sketches of Methodist History in the West and the Northwest by Edwin James Staley.
The Bair Family Museum is located at 2751 Montana Hwy 294 in Martinsdale, Montana between White Sulphur Springs and Harlowton.  For information, contact the museum at (406) 572-3314 or www.bairfamilymuseum.org.
---
Rendezvous Royale
To experience the wets at its best, block out the week of September 19 – 22, 2012, for Cody, Wyoming's Rendezvous Royale — when the rodeo is the rowdiest, the cowpokes are in their finery and the famous Buffalo Bill Historical Center hosts the nationally recognized art show and spirited auction of the best contemporary Western art, an exhibition highlighting genres of Western design, a downtown festival, and an elegant ball as the grand finale. Get your boots ready! For tickets, contact the museum at (307) 587-4771 or www.bbhc.org.
---
10th annual High Plains BookFest
Showcasing the literary tradition that is prevalent in the region, the High Plains Book Awards and BookFest will take place October 18 – 20, in Billings. The public can join some of the region's most interesting writers for a reading on Friday, October 19, at the Babcock Theatre or for the Awards Banquet and a public reading at the Yellowstone Art Museum on Saturday, October 20th. The authors come from 11 different states — Nebraska, Colorado, Wyoming, South Dakota, Texas, Maine, Washington, Iowa, Connecticut, Arizona and Montana as well as the Canadian providences of Alberta and Saskatchewan. For information contact Parmly Billings Library at (406) 657-8295 or www.billings.lib.mt.us.
---
Honoring Joyce Lee
The Yellowstone County Museum in Billings will honor artist Joyce Lee, who died in March, 2011, with a retrospective of her work during their 2012 season. Lee was known for her authentic paintings of ranch life and horses, drawing on her experiences of growing up on ranches in Wyoming and Montana. Her paintings range from large images of cowboys and horses to landscapes and sketches of Yellowstone Park.
"It's historical in nature; she paints a lot of ranch life and Western scenes so it fits in with our mission statement of telling the history of the Yellowstone Valley," said museum director Charles Weldon.
Lee's work has been featured in several solo shows in prestigious Western art galleries. The Yellowstone County Museum is open from 10:30 a.m. to 5:30 p.m., Tuesday through Friday and is closed on major holidays. Admission is free.
— CR
---
Art Walks Around the Northern Rockies
---
MONTANA
---
BOZEMAN: Bozeman ArtWalk
Businesses and galleries downtown feature new exhibitions, receptions and provide complimentary refreshments. Find works that range from contemporary to Native American. July 13, Aug. 10 and Sept. 14 from 6 to 8 p.m. in downtown Bozeman and at the Emerson Center. Info: www.downtownbozeman.org or (406) 586-4008.
BILLINGS: Artwalk Billings
A self-guided tour of more than 25 galleries. Buses will be running in a loop to help you hop from gallery to gallery. Aug. 3 from 5 to 9 p.m. in downtown Billings. Info: www.artwalkbillings.com.
BUTTE: Uptown Art Walk
Some abandoned buildings in historic Butte are turned into galleries and nearly 30 businesses and galleries participate. A reception for a featured artist is held at the U.S. Bank, located at 10 S. Main St. July 5, Aug. 2, and Sept. 6 from 5 to 9 p.m. in uptown Butte. Info: www.mainstreetbutte.org/artwalk.htm  or (406) 497-6464.
GREAT FALLS: First Friday Art Walk
The event includes free historic trolley rides to galleries and various businesses exhibiting art. July 6, Aug. 3 and Sept. 7 from 6 to 9 p.m. in downtown Great Falls. Info: www.greatfallsculture.com/firstfridayartwalk.html.
LIVINGSTON: Art Walk Fridays
More than 10 galleries in downtown Livingston feature a variety of works from ceramics to classic Western art. July 27, Aug. 24 and Sept. 28 from 5:30 to 8:30 p.m. in downtown Livingston. Info: www.livingstongalleries.com.
MISSOULA: First Friday Gallery Night
Featuring art openings from around 15 to 20 galleries, museums, stores and coffee shops. The event often includes wine and food, musical performances, poetry readings, gallery lectures and more. July 6, Aug. 3 and Sept.7, from 5 to 8 p.m. throughout Missoula. Info: www.firstfridaysmissoula.blogspot.com or (406) 541-0860.
WHITEFISH: Whitefish Gallery Nights
Enjoy refreshments, appetizers and view or purchase work from around 14 different galleries offering everything from fine jewelry to pottery. July 5, Aug. 2 and Sept. 6 from 6 to 9 p.m. throughout Whitefish. Info: www.whitefishgallerynights.org.
---
WYOMING
---
JACKSON: Jackson Art Walk
Enjoy world-class exhibits offered by some of the 30 galleries located in Jackson. July 19, Aug. 16 and Sept. 7 from 5 to 8 p.m. throughout Jackson. Info: www.jacksonholegalleries.com/events.
---
IDAHO
---
IDAHO FALLS: First Thursday Gallery Walk
Some 11 participating galleries will offer a diverse look at contemporary, emerging and established artists working in a variety of mediums. There's also refreshments and music. July 5, Aug. 2 and Sept. 6 from 5 to 8 p.m. throughout Idaho Falls. Info: www.idahofallsarts.org or (208) 522-0471.
SUN VALLEY: Sun Valley Gallery Walks
Locals and visitors alike take in thought-provoking exhibitions of newly installed art. Enjoy wine, mingle with friends and meet the artists. July 6, Aug. 3 and 31 from 5 to 8 p.m. throughout Sun Valley. Info: www.svgalleries.org or (208) 726-5512.
---
Arts Notebook: In 1916, Elks Conventioneers in Butte, Mont., were greeted by a massive, 62-foot-tall, 44-foot-long plaster elk sculpture. Created by Broadway Theater stage designer Edmund Carns for $4,000, the gargantuan wapiti sported 10-inch, 75-watt lightbulb eyes, purple and white lights on its antler tips, and skin that glowed green from (local!) copper mixed in the plaster. So massive was the big deer that streetcars were able to drive between its legs. Following the convention, supporters of the great elk tried in vain to secure the necessary funds to keep it a permanent Butte attraction. Eventually the great sculpture was dismantled. — Adapted from Butte Trivia by George Everett (Riverbend Publishing)
— M.M.